Buy Backlinks Guide for SEO [2023]: Reasons, Best Places and Costs
The debate about paying for backlinks continues, even despite the experience of thousands of SEO professionals. So, if you decide to add the item "buy backlinks" to your link building strategy – this article will help you to turn your hopes and concerns into a confident and accurate action plan.
If you think you get any links for penny and your website will immediately appear as one of the TOP-3 search results, this is not true.
To get maximum benefits for SEO purposes, you should know the following:
What does "buy backlinks" mean?
Where to buy SEO backlinks?
How to purchase it correctly?
Can high quality links be cheap?
And what does Google think about all this activity?
Let's figure out together the pros and cons of buying backlinks for site promotion. Below you will find the actual facts and decide whether to pay for connections and how to find the best place to buy links to your Web2.0 resource.
Also read: 
200+ Free Guest Posting Sites List 2023 
What is Parasite SEO? Best Strategies [2023]
What Exactly is Backlink Buying?
Buying backlinks, in plain English, is a way to get your site mentioned on another internet resource for the money. 
The classic  "paying for links" process looks simple – you pay money for mentioning your website. But sometimes, you can agree to place a link for free or in exchange for a product or service. 
Does it mean that you got the link for free? No, it doesn't. After all, you paid for the work of the outreach manager who arranged the placement, the author who wrote the text, and other people who contributed to the communication. Also, add the costs of services and tools you used when selecting donor sites and sending mass emails to the final check.
Therefore, getting any link is essentially paid. The price and the process of getting references may vary depending on the link type, the credibility of your brand, your relationship with the owners of the donor sites, and simply the mood of the webmaster😊 
The main thing is the result: to get a link.
But don't get us wrong – the rule "the more links you have, the better" does not work now. If it were that simple, the link package sellers would make millions.
Should You Buy Backlinks?
Getting backlinks is one of the ingredients of a website's success in search engines. In the Best Link Building Strategies 2023 article, we have already figured out that this method allows you to
boost domain authority metric;
get more traffic to your website;
increase the rate of recognition: more people will know about your business, product, and benefits;
increase loyalty among customers, etc.
So, should you buy SEO links? Yes and No. 
Experienced SEO and link builders know that Google forbids purchasing links. It means that if you pay for backlinks or give discounts or products for mentioning your website on the Internet – this is paid posting. But the paradox is that Google and other search engines trust your site more if they see other online resources referring to you.
To be as specific as possible, we answer some crucial questions: 
Can you buy links? It's officially not recommended. 
Buy company references to their sites despite possible bans? Yes! 
Can I buy a link safely and not get sanctioned? Yes, we will tell you how to buy quality backlinks below.
"Buy links" is a popular strategy used by small and large businesses to achieve their goals. And these are not just words. If you analyze the websites of Amazon and other large companies, you will notice a pattern. There is a direct correlation between the number of backlinks and high organic traffic to the internet resource.
If large companies buy quality backlinks, then you need references.
Do Paid Links Work?
Each SEO specialist has an answer to this question based on his own experience. Some experts do not recommend buying links, and others claim that your site can rise to the TOP through the purchase of backlinks.
We consider – if you buy high-quality backlinks, it will work.
Long ago, search engines found all links to your site valuable. But now you need to get quality links only. Keep that in mind whether you are building links in cryptocurrency or any other niche.
Of course, it is not football where to win, you need to buy one link more than the competitor.
As we mentioned above, thanks to the increase of backlinks, search engines increase the domain authority of your Internet resource. 
Is It Safe to Buy Backlinks?
In fact, there's a market economy. If you buy a low-quality product or service, you take risks. Therefore, the better links you buy, the more valuable it is for your website. Accordingly, you should know where to buy backlinks safely and always analyze your link donors. If you do not control the process of getting backlinks, your site will not only not grow, but even fall under sanctions.
Let us dwell on this question and discuss the links for purchase right now. And we will also tell you about most common mistakes when buying links for SEO.
Which Backlinks are Safe?
To some extent, buy links for SEO is a manipulative strategy with which you should always be careful. But three basic rules will allow you to enjoy the benefits of this method safely.
The link will only be useful if it is placed on a site with similar topics. Check the niche leader sites with SimilarWeb and see where they are placed.
Place the link in unique, relevant content. A trusted website will only let you leave a link on a page if you create content. It will be ideal if the content is hot.
You only need references from trusted sites. Check the site on which you want to place a link with MOZ DA Checker. High PA/DA rating / pagerank should be 50+, and the SPAM rating should be about 1%.
Neil Patel also believes that links to the sites with a high DA rating are valuable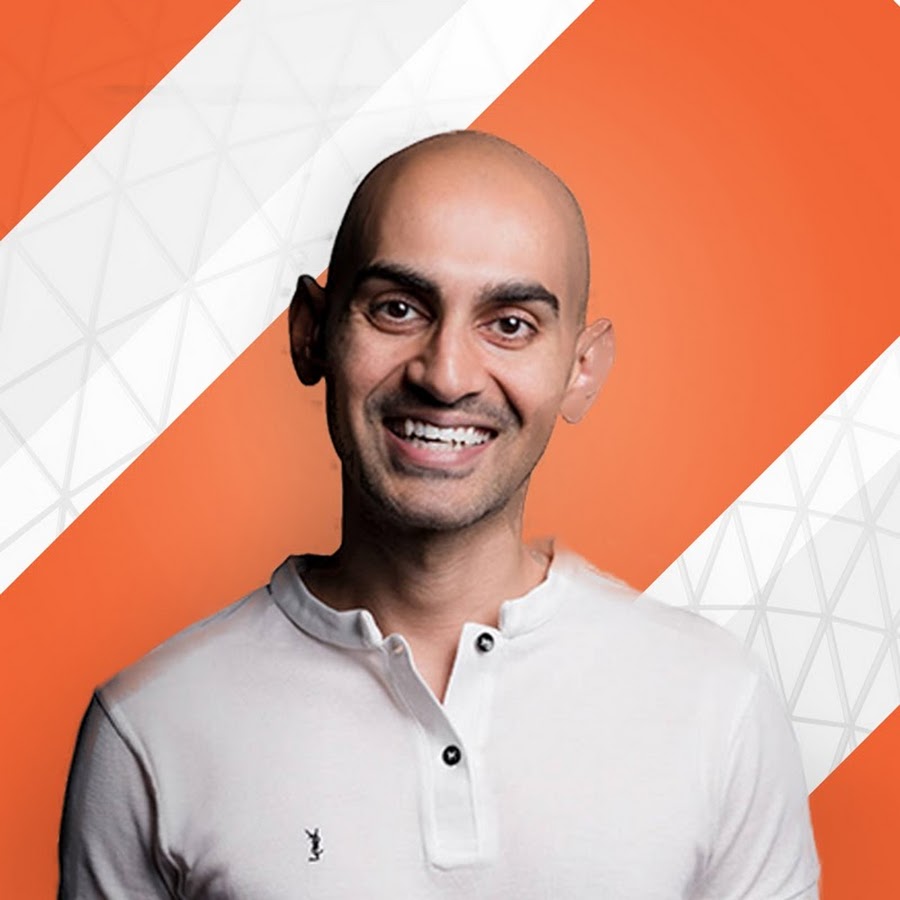 ...the links are from high domain authority websites, they are also more valuable than other backlinks.
Without a doubt, these are only some of the terms for obtaining secure links. You can find many SEO experts' recommendations such as placing links in longreads, combining nofollow/dofollow links, etc. But first, you need to make sure you use these three rules.
What Links Do You NOT Need to Buy?
And to avoid mistakes when buying links, we will tell you how NOT to do it. 
You can not buy links on sites with a low DA rating and a high SPAM index. 
Do not buy links on pop-ups, in the footer, or on banners – search engines can recognize them as a spam.
The Service Manager offers you a pocket of links "for sale at the best price"? Politely refuse and look only for secure links.
How Much Do Links Cost?
The price of links depends on many indicators – niche, rating of the donor site, location, and resource popularity. 
Also, do not forget about "associated costs":
platforms and browser extensions for finding site manager's email – for example, FindEmail about $100 and others – about $100;
content writers – you will pay for writing the text with reference;
other automation tools – for example, Right Inbox for tracking email and creating triggers.
Let's talk more about the cost of links.
Cost of Difference Link Types
Ahrefs found that the average link today costs about $360.
To make it easier for you to understand which links you need, we have created a summary table in which you can find general information about reference types and prices. We have analyzed dozens of link-selling platforms like Upseo, content marketplaces like Collaborator, expert testimony in open sources, and others and prepared information to help you correctly plan your budget.
That way you can learn more and plan your budget.
Link Types

Brief Information

High Authority Do Follow Links

These are links from high-ranking sites that search robots can navigate. Google finds such links useful, so your SEO indicators will grow if you buy them. But the price may be $500 or higher.

Guest Posts

This is the classic link building White Hat strategy in which you write an article for another website with reference to your resource. The advantage of this strategy is that you get much more than just a link.

Use the Collaborator platform if you need a quality link from a website with a high DR. You can find the right sites to buy guest posts and improve your backlink profile.

Niche Edits

If you find an article on the site from your niche with a high PA, but without mentioning any services – you can contact the owner and ask him to place a link to your resource. It can be just a mention in the text or the hole chapter about your expertise. 

On average, such a link can cost $300-$500.

Diversity Links (complex, white-hat, high DA)

These are links that are different from the normal text — to videos (reviews and comments), presentations, slideshows, special forms etc. 

Such links are typically sold for $10-$50. Cost – average $150-$200 for the whole package.

Pillow Links (foundational backlinks to establish, insulate, and protect)

It's a White Hat strategy that helps diversify your reference profile. It can consist of a set of links that have niche edits, social profiles or citations.

Cost – average $70-$100 for the package of 10-30 links.

Social Profiles

What everyone who starts a business profile in social networks should do is to make a link to the site page. 

According to DataReportal research, 4.75 billion people have a social media profile, and more than 50% visit them every day. Social media links are a White Hat strategy and Google will not fight.

Cost – average $200+ for 100+ links.

Citations

This strategy is perfect for an offline business. You get links to your address, phone number, site, and social networks.

Cost – average $40 for the packages of 10–70 links.

PBN Links

It is a Private Blog Network – the links network that leads to the main site. 

The cost of such links depends on the number of sites and their Trust Flow.
Factors Affecting the Cost of Backlinks
To get good quality links and not pay for them all the money in the world, you need to know the factors that affect the changes in their price.
Type of Website
If you are looking for a place where to buy high quality backlinks cheap, you will definitely choose sites with high performance to get more benefits for SEO. The higher the DA rating, the more publication reach, and the more expensive the purchase.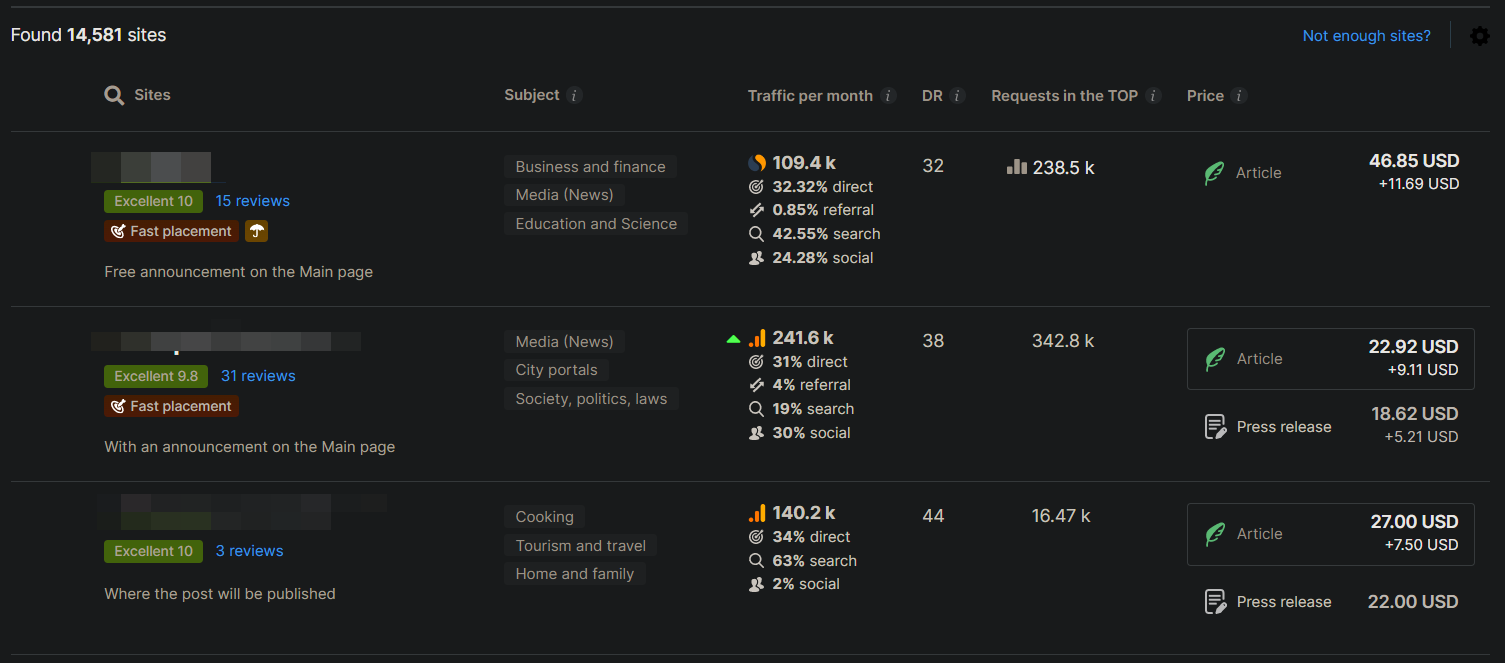 The content (quality)
Expert articles from well-known professionals are valuable and attract the audience's attention. But writing of these texts and placing links into them are expensive. According to different estimates, you will have to pay from $500 and up. Also, remember that the total sum depends on the level of writing – content creators – native speakers will increase the cost of text by at least 20%. Moreover, you might also need to create a poster or use other visuals to make it easier for people to read your content, which means investing some money in online design tools.
Creative control
You should always be in the "creative investigation" for new Internet resources for your links. It is not enough to be only on Medium, Reddit, or popular social media networks. You will definitely find popular resources with high reach but at a lower price.
The quality of links
Reliable sites with traffic and excellent link history have a high placement price (average $700-$1000). Your chance to get a link from such sources can be increased either:
through a price increase;
or if your brand is very well known.
Brand strength
The more famous your brand, the faster you will respond and the more willing it will be to place your link. You can also get a lower price and better conditions.
Industry
The more competition in the field, the more expensive the links are. In practice, links in "Business and Finance" or "News and Media" always cost more than, for example, in "Logistics."
Agency and in-house costs
The agency is the easiest and quickest way to get backlinks to your site. Because if you have link builders or SEO specialists in your state, you need to pay them thousand dollars each month for their work and for using the best tools for link building. In cooperation with the agency, you pay only for their work and ready links.
Paid vs Unpaid Backlinks: Which is Better for Your Website?
Few talk about this, but each way of getting backlinks has pros and cons. And if you use paid and unpaid mentions in your strategy, you can minimize risks and increase benefits.
Pros and Cons of Paid Backlinks
| | |
| --- | --- |
| Pros | Cons |
| Link from authoritative publication | Backlinks can be expensive |
| Save time on content creation | Google can ban  |

Pros and Cons of Unpaid Backlinks
| | |
| --- | --- |
| Pros | Cons |
| You save money | A lot of SPAM sites |
| Can be obtained naturally | You need to create unprecedented content to get organic links |
| Google likes it  |   |
We do not encourage you to choose just one way to get links – use them together. But remember that Google likes organic links more.
How to Buy Backlinks Safely: 9 Steps
Now that you know the theory, let's get to the practice and you'll figure out how to buy backlinks.
To buy links safely, you should follow these 9 steps: 
Checking site's reliability and age.
Traffic analysis.
Checking for link sales.
Analysis of the backlink profile of the donor's website. 
Prioritization of sites for link placement
Studying the reviews.
Exploring communication opportunities.
Discussion of conditions and warranties.
Placing a link. 
Let's take a closer look at each step.
Step 1. Carefully check the site for reliability
The first thing you need to check in the process of choosing a donor to buy a link is design. If you see that it is made on a shoestring budget, it is most likely created only to sell links – you do not need such a site.
If the website is user-friendly and aesthetic, go to the following check:


If the domain age is older than the site's age, then this resource is "moved." And this may be a "bad signal."
You can also check domain age with Bulk Domain Names Availability Checker by Collaborator. This free tool also shows the age of the domains being analyzed. 
Step 2. Find out what traffic passes through the site
Before buying a link on the website, ensure that people, not bots, visit this resource. You can do this by using the SimilarWeb or SEMRush platform:
Go to Traffic Analytics. 
Put the website to check.
Watch the Overview section.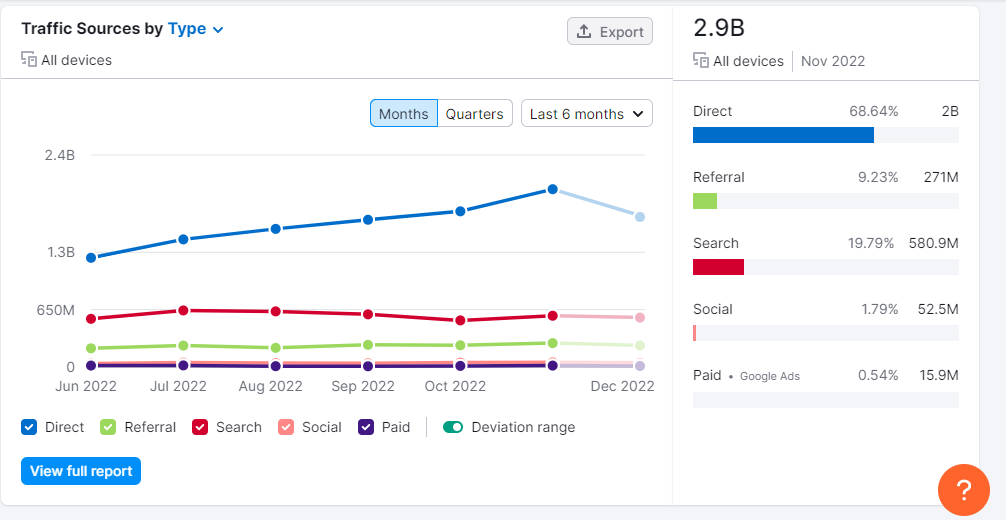 Your goal is to ensure that organic coverage grows incrementally without jerking up/down. If so, you can check further. Also, you should analyze traffic growth (or the next drop) that occurred earlier.
Step 3. Determine if the site sells links
Although you want to buy a link, never buy references on sites that openly sell such links. If you remember, Google is against buying any mentions. So you are risking being banned instead of hitting the TOP of search results.
For this check, use Ahrefs:
Go to Site Explorer.
Put domain name into the field.
Watch Outgoing Link Anchors tab.
If you see a do-follow anchor with themes that are not relevant to the site's niche, you should ignore this website.
Step 4. Find out what links lead to a potential donor site
And before you go too far, check where and how your future donor site gets links. You can also check this with Outgoing Link Anchors. If you find unnatural anchors, so can Google. It is walking a tightrope because if the donor site is banned, you will not get the right SEO points and lose money.
Step 5. Find close connections
You should have a list of 10+ potential donor sites with traffic at this stage. Now you need to see if there are any donors with references to niche leaders. 
Open the MOZ platform:
Go to MOZ Link Research.
Put the website's address into the field
Click Inbound Links.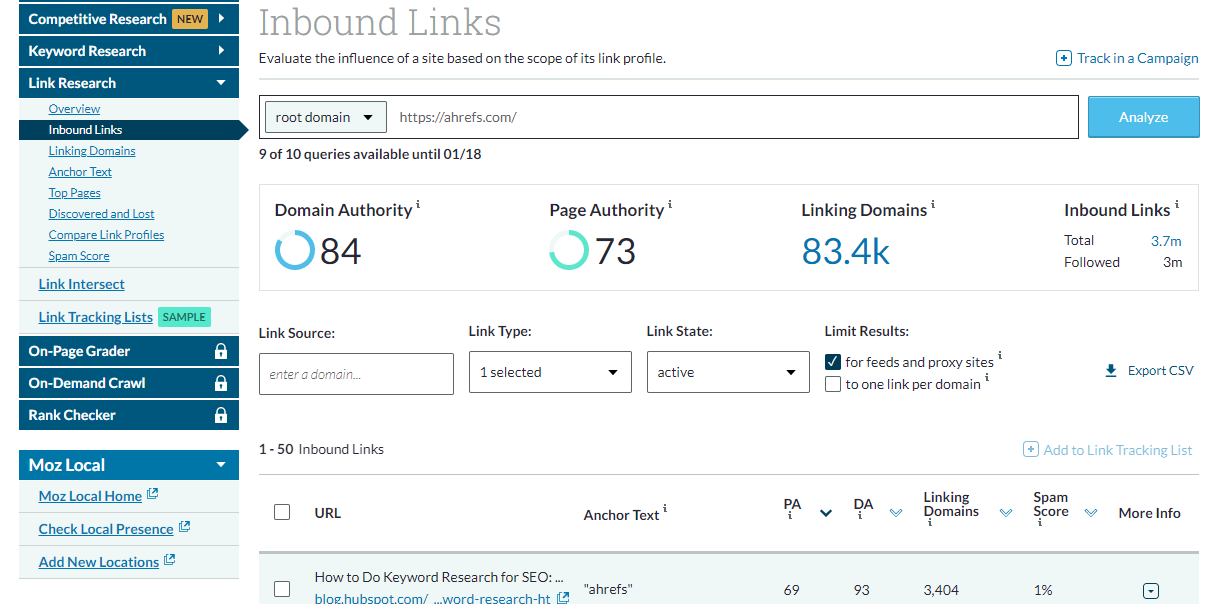 You can compare and select suitable donors for your web resource from the list of sites on the screen.
Step 6. Look for real reviews
Of course, reviews will not give an absolute guarantee of a successful backlink campaign. This is the way to discover the customer focus of a platform and possible "blindsides" of future cooperation.
See reviews on the platform's website. 
Try to find peer reviews on forums and chats (for example, Quora).
On Collaborator, you can see reviews of cooperation with guest posting platforms and the publisher's rating in the system. This also helps you decide whether to post on this resource or not.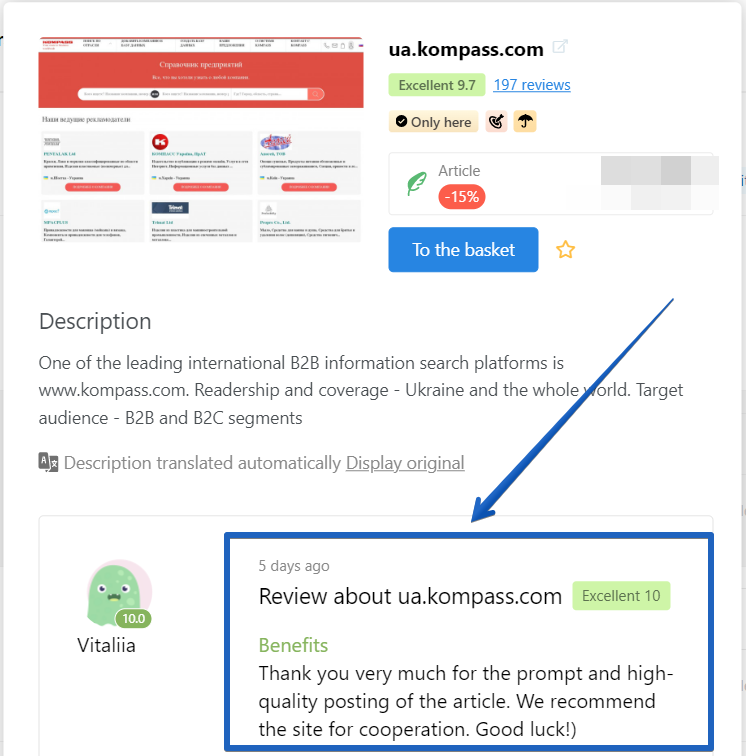 Step 7. Having a support service or personal manager is a plus
Support service on trusted donor sites always answers questions promptly. Try to write them the usual question (for example, What is the average price of a link in your niche?) and follow how long it will take to solve.
Step 8. Choose service, not a headache
Experienced link builders know how difficult it is to control all the backlinks. So the service should help – give additional guarantees that the links will work during the entire period you paid for. 
That's how we do it in Collaborator. We guarantee that the link and text will be indexed. In case of deletion – we return the money to your account. You can find out more about warranties.
Step 9. Successful and fast communication with the manager
The final step to convince you of the right choice is communication with the manager. The faster you get a response and a link, the quicker your site will get ahead of competitors in search rankings.
For example, with the help of Collaborator, you can contact the site managers and place the link within 24 hours.
How to Buy Backlinks: Best Ways to Use
Every business is looking for a better "time/money" backlink ratio. We'll look at all the ways you can get mentions so that you can choose the right one. 
How to Buy Backlinks — the most common ways: 
In-House Link Buying
Marketplaces
Agency Link Buying
Private Link Buying
Middleman Link Buying
Online Forums and Groups
Let's talk about each of them below.
In-House Link Buying
It will be difficult for you to create helpful backlinks, write excellent content, find contacts for site managers, and at the same time perform critical strategic tasks. Especially if this is your first time doing it.
However, if you decide to buy quality links, you will need:
understanding of basic link building principles – to do this, listen to the Ahrefs Free Link Building Cource;
paid and free access to Ahrefs ($199/month), MOZ ($179/month), SEMRush ($225/month), or SimilarWeb tools (choose on your own);
professional writing skills or a full/part-time content creator (or a freelancer) – from $150/text.
Plus, you'll also need to find the correct links. It increases the final price because you will likely use additional tools such as Snov.io, Email Finder, or other platforms.
Only then you can get links. But that's not all. If you or your team are buying backlinks for the first time, then be prepared for the first failures – you can overpay or be mistaken in choosing the right site.
Marketplaces
It is one of the best places to buy cheap backlinks. Here is why to use Collaborator's guest post service:
There is already a list of suitable sites on the platforms. You need to enter the data into the filter to find them.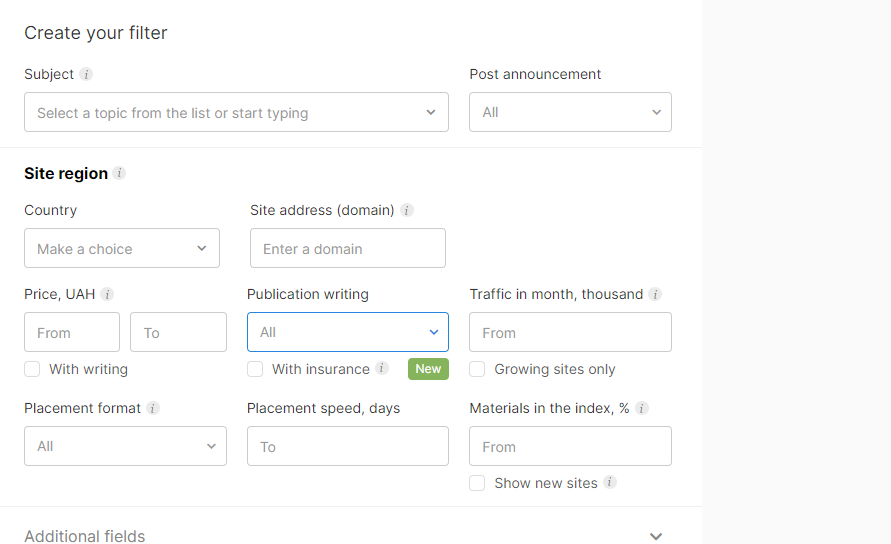 You save your budget, as the service replaces several paid platforms for checking websites in many ways. For example, the Collaborator platform has built-in fields for checking with Ahrefs. This means you save at least $200 per month.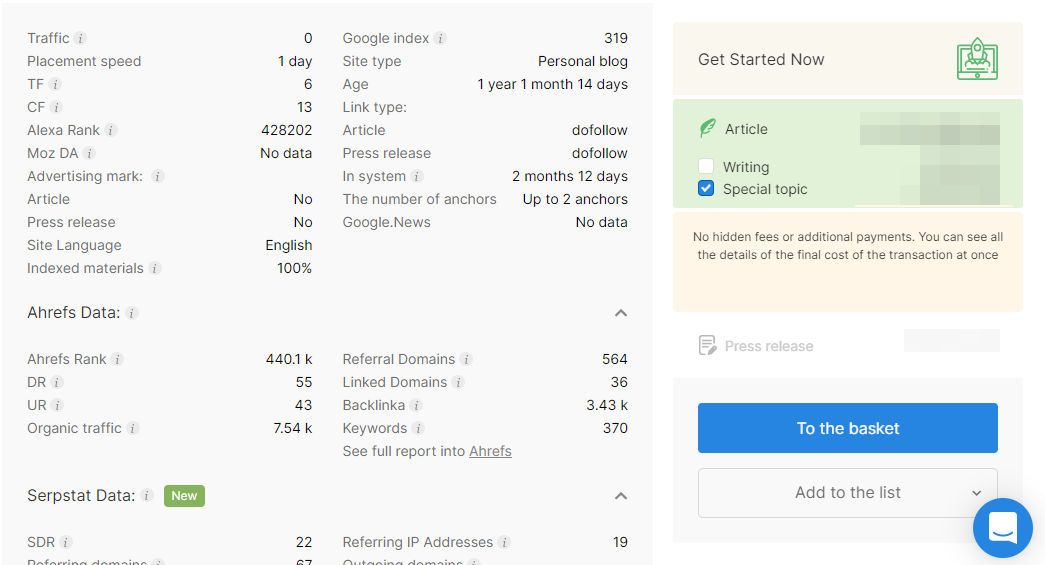 Often, you will be able to find honest feedback about cooperation with a specific site.
And if you compare the terms of several marketplaces, you will use the services with a percentage of the final transaction amount.
Get Backlinks with Collaborator👈
Agency Link Buying
It is a great way to get backlinks to your website if you don't want to search for them yourself or hire new professionals full-time. Hire an agency, and you get professionals who get paid for a particular result. You do not need to train new specialists or give them time to swing. Once you have paid the advance, you can access the team's work and performance reports.
Three tips to help you choose the agency and enjoy your cooperation:
Make sure the agency has a portfolio with relevant cases.
Ask to provide detailed project research with a definition of the target audience, geo, and examples of suitable sites for getting backlinks.
Fix the terms of cooperation.
Private Link Buying
This backlink strategy we know as Outreach. As part of this strategy, we find suitable sites and negotiate with the owner of this web resource to place references to our website.
To implement this link building strategy, you need:
Middle Outreach Specialist full-time (project), who will independently find trusted sites and contacts owners/managers to negotiate with (salary $1000+)
Paid access to site analysis tools – Ahrefs, MOZ, SimilarWeb, SEMRush (about $800/month)
Paid access to platforms and browser extensions by searching email addresses – Find That Email, Hunter (about $150)
Below, we will explain how to communicate with the manager.
Middleman Link Buying
Want to save money and time? Order purchase backlinks from a middleman.
One of the main advantages of this getting links method is that you can calculate the link budget without having to search for the necessary sites. 
Consider the example of service LinksManagement. 
You specify the keyword and your site, and in five minutes, you get 2–3 sites in your niche with the approximate calculation of the cost of links.
Next, in your account, you specify the exact goals and conditions:
indicate permanent links or monthly;
a total number of links; 
the number of connections per month.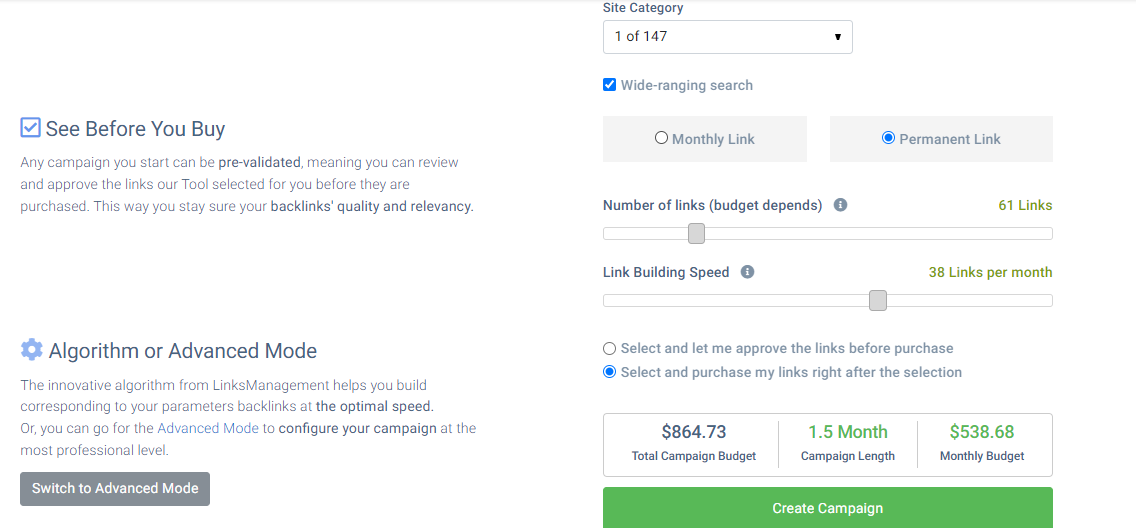 You get an accurate budget right away.
Online Forums and Groups
According to Findstack, 95% of consumers see reviews (including at the forum) before buying. So, if you are conducting your e-commerce project, consider this strategy carefully. Here you are not just getting links, but starting a new promotion tactic for SEO – crowd marketing.
We recommend NOT using the services of platforms offering low price mentions because you need comprehensive work. On the contrary, choose well-known platforms with costs "above average" and an incredible portfolio. For example, the Brandcitations service.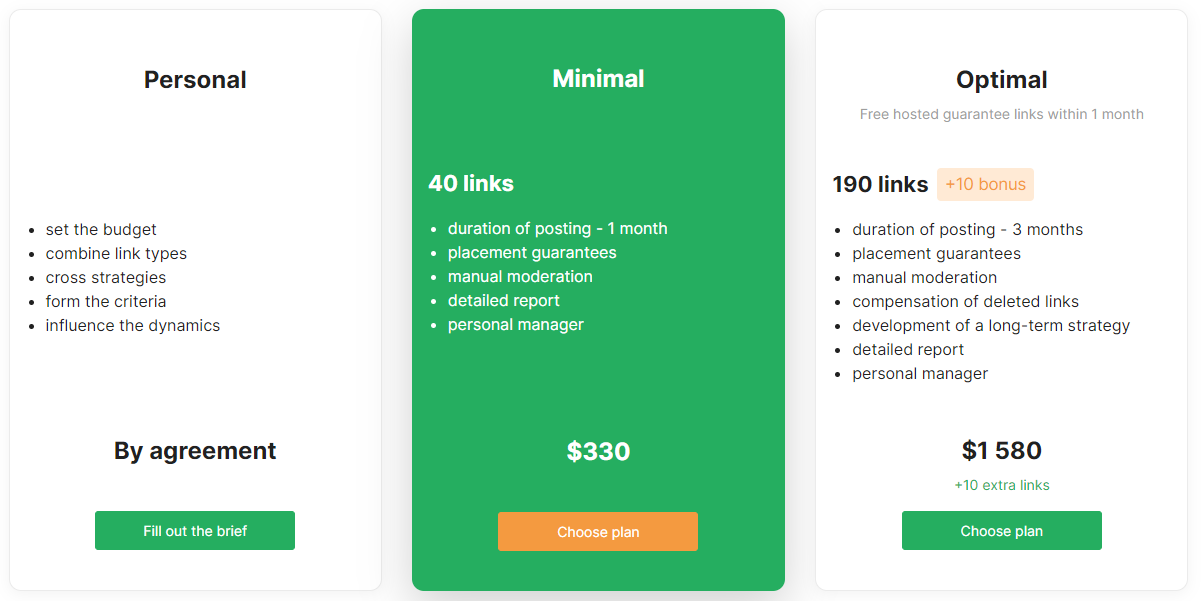 Not only will you post a link, but you will get a positive image from the target audience.
Why Collaborator is the Best Place to Buy Backlinks 
Collaborator is a sponsored guest post marketplace where owners of thousands of trusted sites who want to get benefits from website advertising for publishers and those who want to make money on Telegram can connect with millions of advertisers.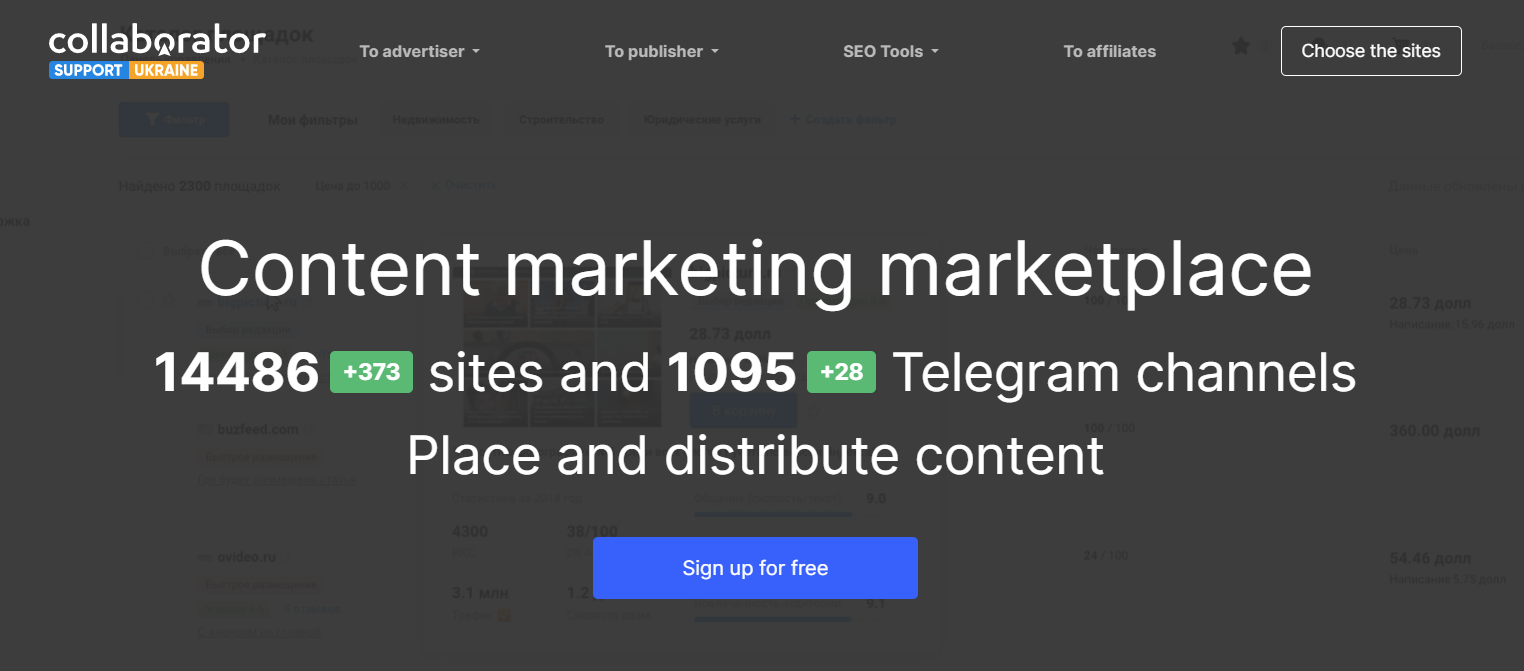 Here are five reasons why you should buy high-quality links on Collaborator:
14,000+ high-quality sites and 1,000+ trusted Telegram channels are at your service.
All metrics you need to choose the right site for your project in one place – evaluate Ahrefs, MOZ, and Alexa's indicators of thousands of sites in one tab. Besides, here is a number of free tools including a Checklist for on page SEO.
Contact manager is already inside – get answers from site owners and post links in 24 hours.
Links to your sites under our control – your links will work 100% of the time, or you will get a refund.
Technical support is in touch – we are always ready to help you.
Link building for ecommerce, crypto, and other industries can be challenging, Collaborator simplifies the process. Register the project in Collaborator for free to receive quality and safety links to your site.
FAQ: frequently asked questions about buying backlinks
Question 1. What is the best place to buy backlinks?
You can find reliable sites in any of the ways we discussed in detail above. The only question is, "How much time will you be looking for?". But if you use Collaborator or similar marketplaces, you will quickly get backlinks cheap.
Question 2. Is it worth to buy backlinks?
Yes, you should at least try it. If you follow nine steps we have mentioned in the article, your site will move confidently into the TOP search results.
Question 3. How many backlinks do I need for a successful campaign?
Such information is kept secret by Google representatives. But here are three crucial tips that will help your site to be higher:
The higher the keyword difficulty, the more keys you will need. 
Increase your DA/DR rating.
Keep an eye on your competitors and implement what they've got.
Question 4. What if Google penalize your site?
You need to understand why this happened urgently. As soon as you find a problem link, ask the site owner to remove it. After the removal, wait for the search engines to update your information, and the ban must be removed.
Question 5. How can I get backlinks without paying?
Of course, you can. This is a great part of the SEO specialist's work. To do that, you need to create unique content – research, surveys, and roundups, which will be shared. You can also create photo and video content and require your links to be listed under copyright. We write a lot about different link building methods in our Collaborator blog. For instance, we have an article on the best link building strategies for crypto websites.
Conclusion
Google encourages sites that mention other online resources. But at the same time, its search algorithms are constantly improving and fighting against bought backlinks.
Three main conclusions you need to draw:
Use the tips in the article and choose only trusted sites for links.
Find your best place to buy backlinks for SEO.
The better the content you create, the more you will get quality free links from reputable sources.
Need help figuring out where to start creating links? Create your project in Collaborator and follow our tips. That way you will quickly get the correct number of backlinks and climb to the TOP of search results.