How to Write a Press Release: Examples, Types, Structure, and Tips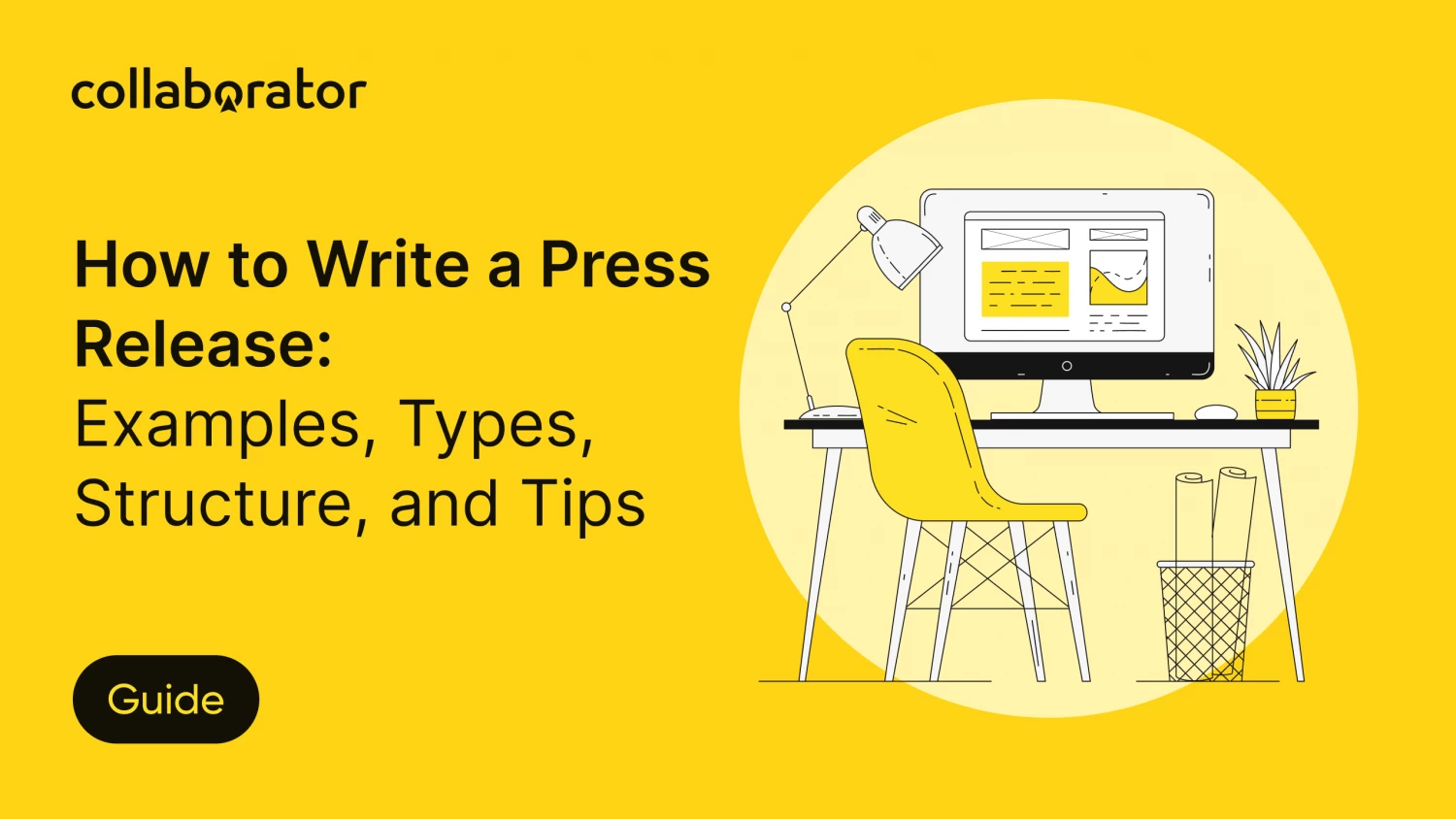 Every fourth company publishes over ten press releases annually, and, at the same time, 68 percent of enterprises report an increase in the popularity of their brand/product thanks to this practice. Such statistics prove press releases are effective tools for distributing information about the business or product that makes the company's presence in the market more noticeable, which is crucial in highly competitive conditions. Yes, a press release is still alive. In the marketing sphere, it is a means of image formation, business promotion, and building public relations.
This article covers everything you need to know:
how to write a press release;
templates with detailed explanations;
press release examples of all types;
10 practical tips for making a press release attractive for news outlets and audiences.
What is a Press Release?
A press release is a type of textual publication that contains company news, upcoming event announcements, or advertising of products or services. Internet marketers and marketing agencies use it to disseminate information through media coverage to draw attention to the brand, attract a target audience, and get referral traffic.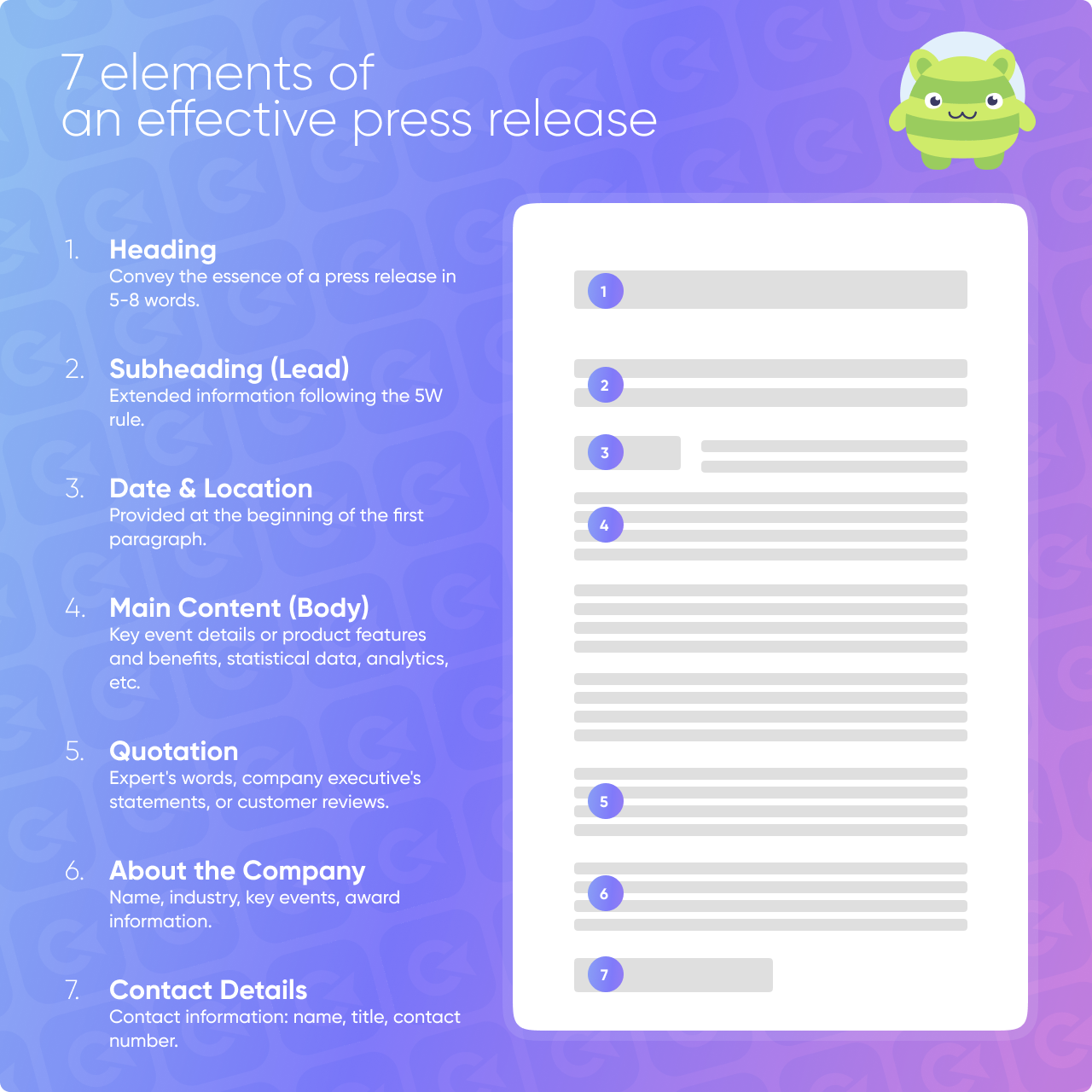 A press release has key characteristics:
its length is from 1,000 to 2,000 characters (it is approximately 400-500 words);
contains 1-2 thematic links;
provides current, unique content that is valuable and important to a reader.
Such material is published on the trusted online resources. It is placed in special sections, "Press releases" or "News" in local and news media. Today, it is not just the form of presenting information but one of the effective tools of website promotion, which allows for obtaining traffic and improving rankings in search engines.
Features & Benefits of Press Releases
A press release is not simply a way of interacting with the media and the public. The distribution of quality, unique, and important for the audience content will help you achieve the following goals:
attracting a targeted audience;
website traffic improvement;
obtaining referral traffic and leads;
acquiring backlinks from trusted resources;
building up the external referential mass;
enhancing brand image;
boosting brand awareness;
fostering trust in the company.
A well-crafted press release is one of the ways to obtain a backlink from an authoritative website, which is a widely used link-building method. A quality resource is ranked high by search engines as it offers credible, relevant, unique, and valuable information. It is characterized by high traffic, positive traffic dynamics, often a solid domain age, and other essential parameters.
Every time information about you appears on reliable resources with a mention in the form of a link to your website, you get a backlink. And this directly affects its promotion, trustworthiness improvement, and popularity increase.
An important advantage of a press release as a link building method and SEO promotion is cost-effectiveness: you can gain significant benefits from placing your materials on a trusted resource by investing a small amount of money. 
So, how to write press releases to achieve the desired effect? First, assessing the topic's relevance to the specified press release format is essential. If you plan to tell the audience about the launch of a new product or an update of the existing ones, changes in company activities, a partnership with another player in the industry, or an upcoming event, a press release is ideal for disseminating this information.
Press Release Structure
The press release template includes the following main components:
headline;
subheading (lead);
body (main part);
the quotation from an expert/specialist;
additional information.
Journalistic press releases should also include information about the place and date of publication typically provided on the top left corner and contact details for communication provided at the end of the publication.
The standard press release format is typically presented as an inverted pyramid, where all parts of a press release go from the most important to the least significant: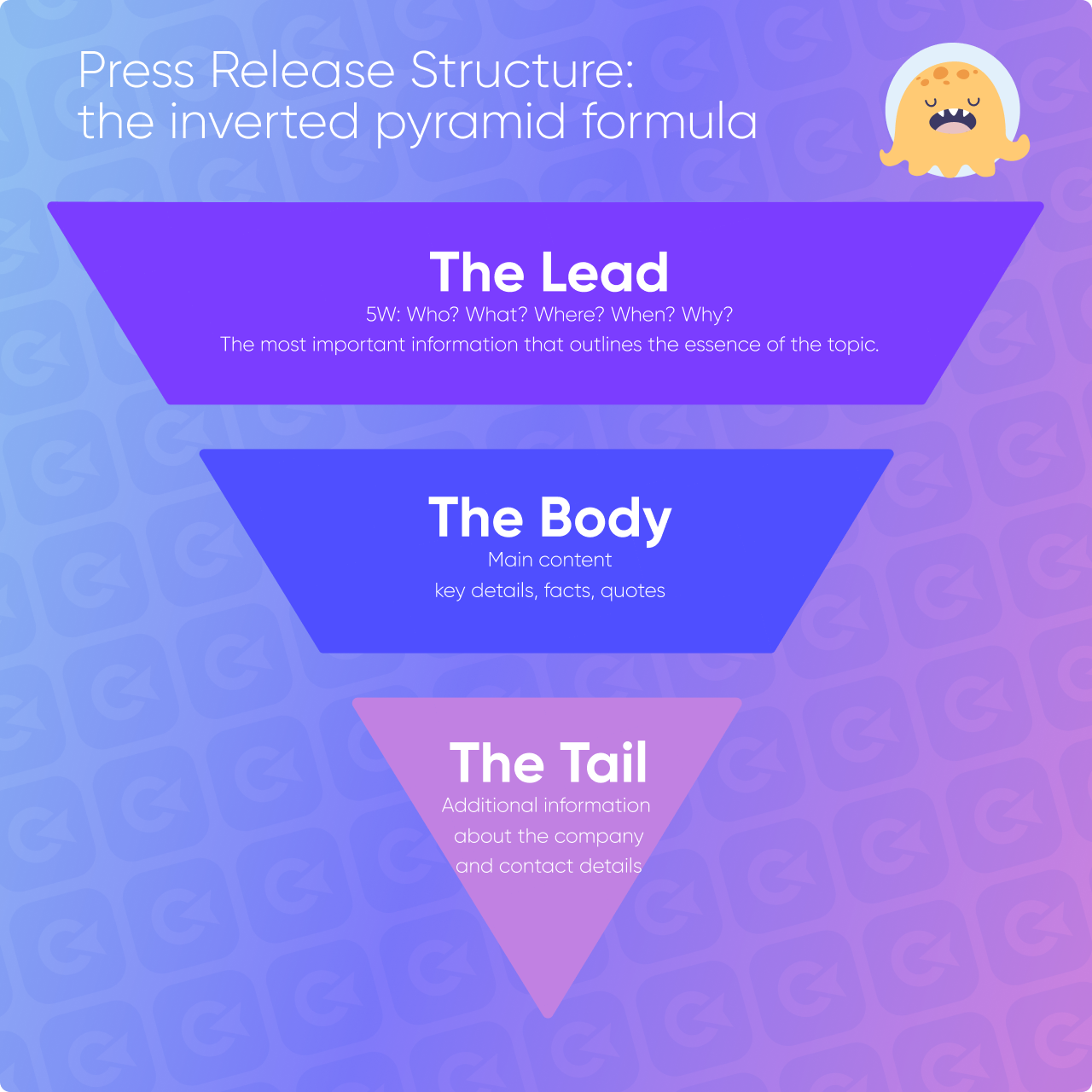 Each of the required parts has specified length and semantic load norms. Below, we will discuss them in more detail so you will know how to format a press release.
Headline
A press release should have an attention-grabbing headline. The main requirements for it are clarity, understandability, conciseness, and informativeness.
In other words, a compelling headline is a perfect blend between the language of facts that conveys the essence of a press release and creativity that engages the audience. To achieve it, use active verbs, numbers, and facts and add a unique twist, but keep the intrigue simple.
Ideally, a press release headline is between 50-80 characters or consists of up to 8 words. After reading it, readers should completely understand what will be discussed further.
Subheading/Lead
It's worth adding other details to the introduction, which will help convey the main idea of a press release. It can be achieved using the '5 W's' method.
5 W's stands for five adverbs: who, what, where, when, and why. The volume of this structural block is 300-400 characters, which is approximately 2-3 sentences.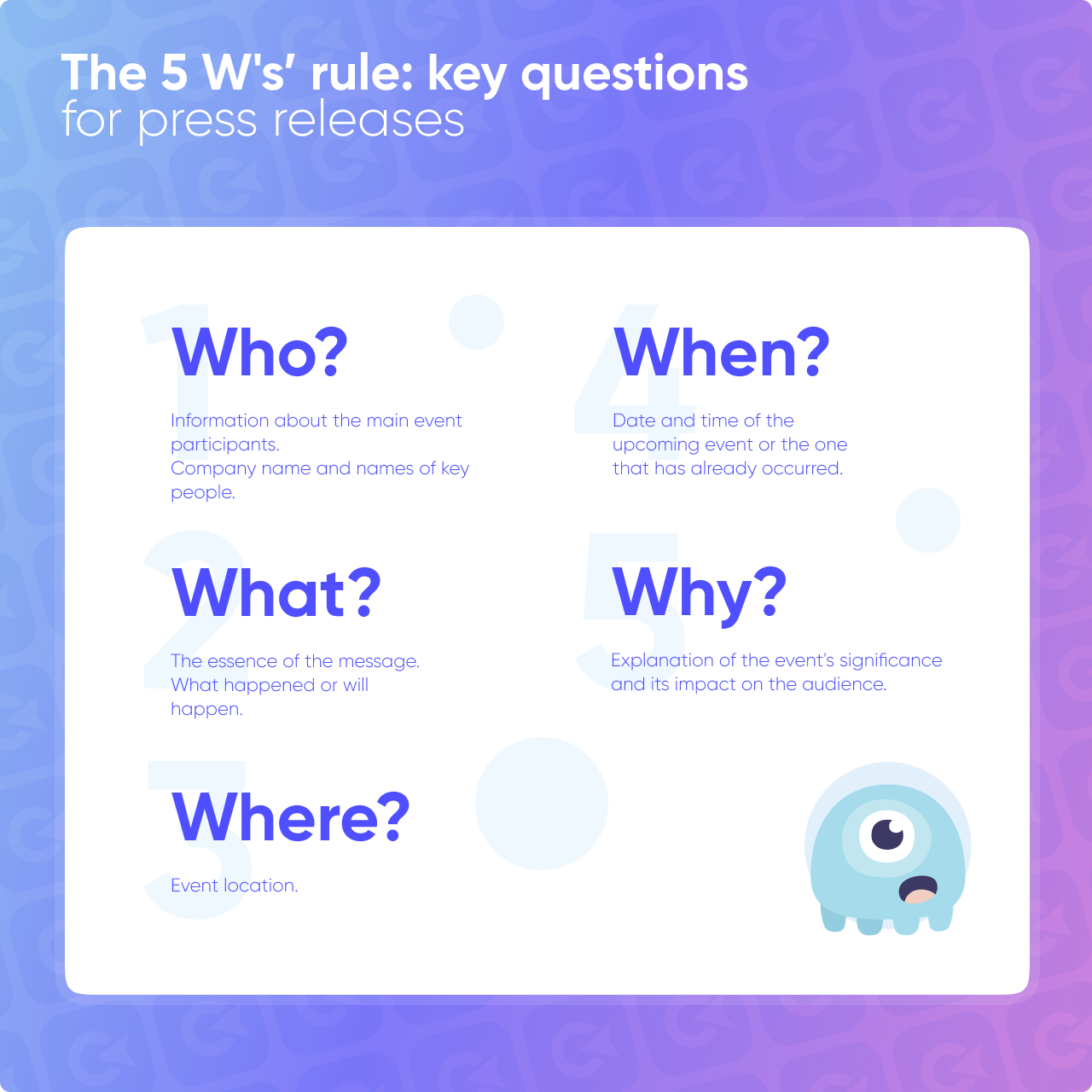 It is crucial to provide more context in the lead. Focus on your target audience: create content to generate interest and encourage people to read it.
Body
The part that comes after the headline and the lead is called the body. It contains key details and an extended version of the information mentioned earlier: the specifics of an event or occasion, benefits and features of the product being discussed, etc., in two to three paragraphs. It's worth uncovering all the intriguing nuances of the topic and backing them with analytics and research.
Avoid non-informative words, cliches, and industry jargon, as they won't convey the essence of the news and will only clutter the text. Write concisely, highlighting the key information. 
At the end of the body, summarize the logical conclusions in 2-3 sentences and leave a kind of call-to-action that encourages the reader to interact: click a link, learn more about the company, explore the offer in detail, purchase the described product, and so on.
Quotation
Pay special attention to quotes. Readers are likelier to trust the content backed by an authoritative expert opinion. Using concise and impactful quotes (not just a few words) can emphasize the important message, which will sound with the voice of one of the key figures in the company – top executives, department heads, new partners, or investors.
Avoid uninformative words. Make sure that the quotation is directly related to the news. Irrelevant or generic expressions can only weaken the impact of the message.
Additional Details
It is a standardized final paragraph that contains the key company information and its mission and field of activity. It also includes links to the website and social media profiles.
This block can be used almost unchanged in various publications.
Press Release Types & Examples
There are several main types of press releases:
Announcement — a notice of important events that will take place soon (exhibitions, conferences, etc.), the launch of a new product line, and so on;
News — a record of an event that has occurred in the past, presented in an official style;
Informational message — a narrative about rebranding, updating information about products and services, etc.
Typically, the websites of media outlets have separate sections for press releases. However, publications of different types vary in format and content.
A product launch press release introduces it to the mass media and the public. The publication should include the biggest perks and features of a new product, justification of its importance in solving a specific problem or meeting the target audience's needs, and quotes from representatives about it.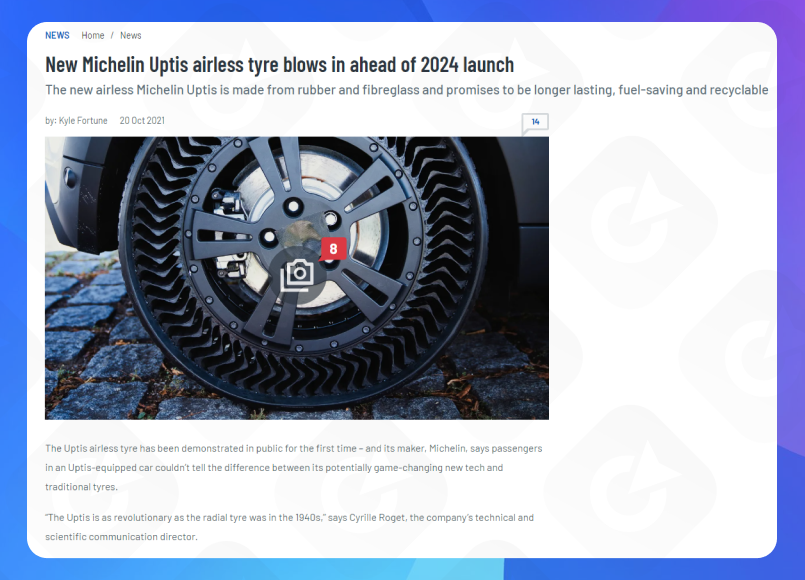 Michelin made the announcement of new airless tires, Uptis, being added to its product line.
The announcement typically includes information about the unique features, distinct advantages, and an approximate release date of the product.
Information about the upgraded version of a product, published in news media, is an effective marketing tool for its promotion. It is worth mentioning the following:
improvements, features, and additional functions of the product;
its advantages over the previous version;
new possibilities for users.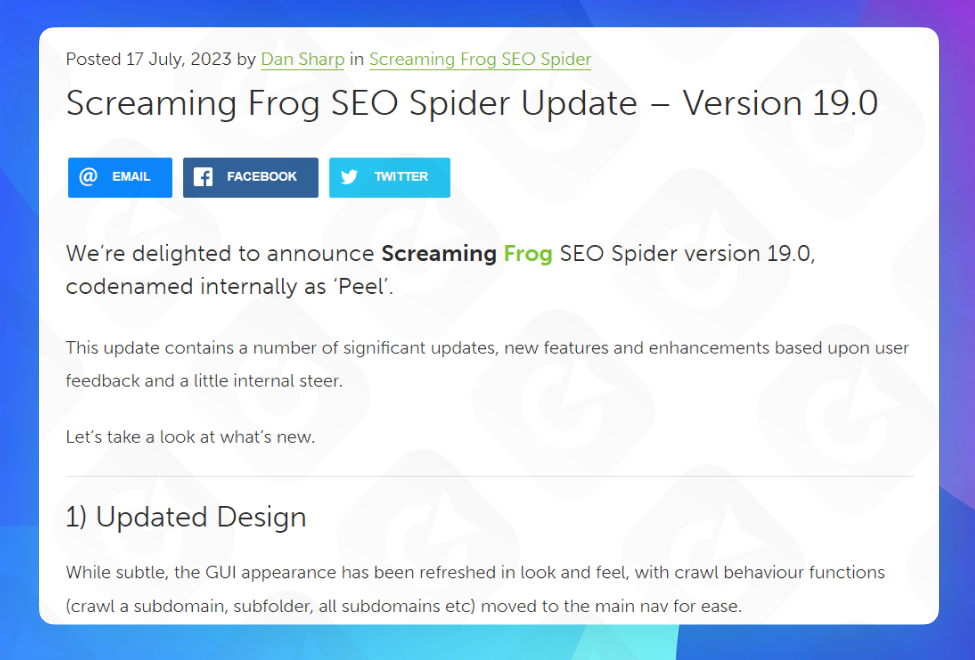 In the press release, Screaming Frog announced the release of a new version of Screaming Frog SEO Spider and unveiled new possibilities for users.
You may also find our Ultimate Guide on How to Use Screaming Frog SEO Spider useful.
The headline and lead highlight the upgraded product's main advantages and key features. The additional characteristics and new user capabilities are listed. In the end, it is helpful to provide a link for ordering or accessing the new version of a product/software/service, and so on.
An event press release can be used to announce and market an upcoming event that will take place soon or as a summary of one that has already been held.
In the first case, the announcement should be made approximately 2 weeks before the event. It includes details about the time and location and a list of activities, speakers, and presentations. It also describes the purpose, theme, and significance of an event.
In the concluding section, you should provide detailed information and instructions for those interested in visiting the event and standard company information and contact details for the media.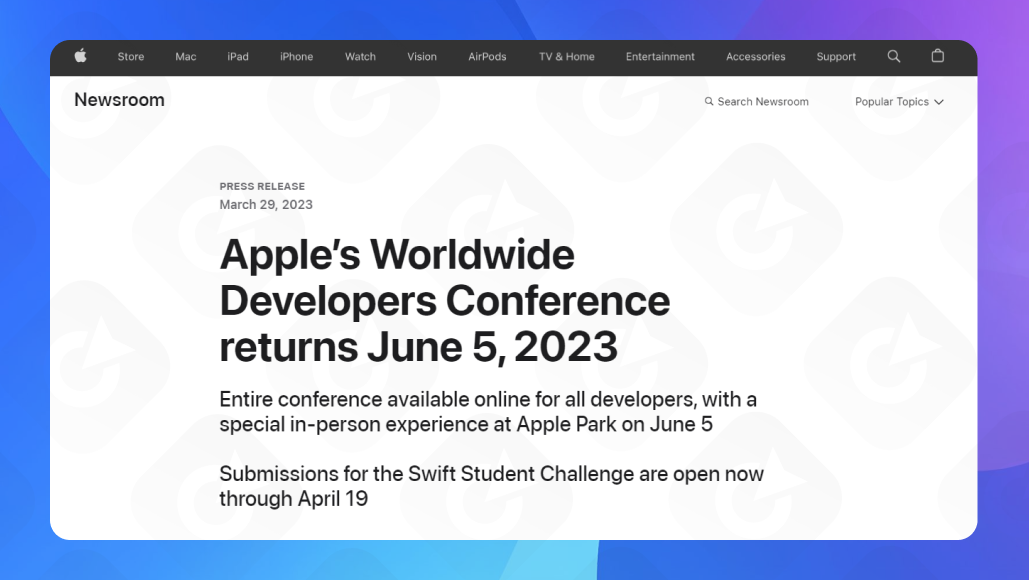 In 2023, Apple invited developers to WWDC, the same as every year, and announced the event program in its press release.
The primary goal of any event publication is to generate buzz and capture the target audience's attention. Note that a good press release will share the facts, while a great one will convey the significance and unique relevance of the event.
4
Company/division merger
Structural changes within a company are important and often inevitable steps at various stages of any business's development. They are highlighted to inform about such processes' necessity and importance and predicted and expected impact on the industry's development.
One of the notable cases of a successful merger of companies is the acquisition of Pixar Animation Studios' shares by The Walt Disney Company in 2006. This resulted in the latter becoming its subsidiary.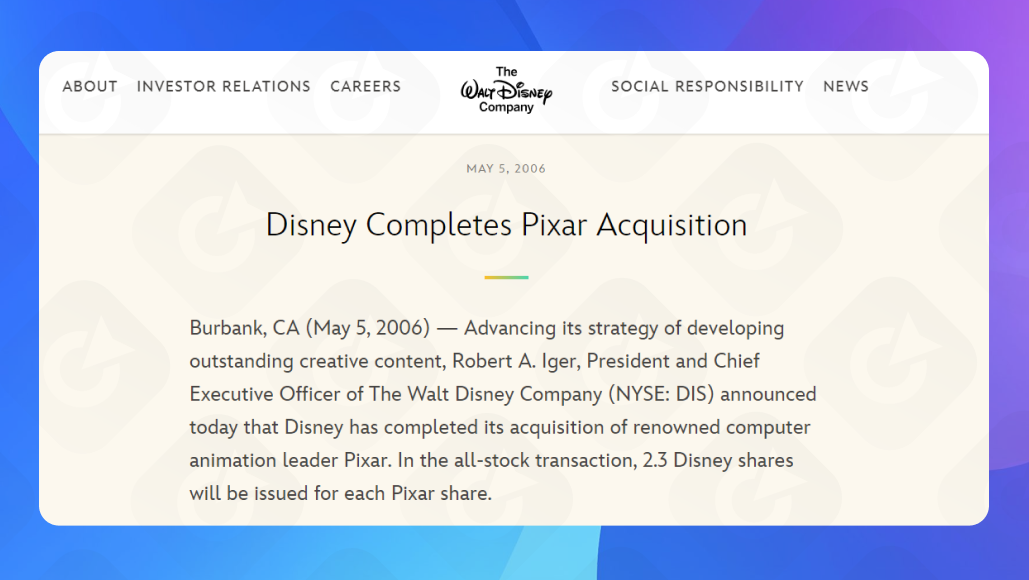 In a 2006 press release, Disney announced the completion of the acquisition of Pixar shares. Then Steve Jobs, the former head of Pixar, joined Disney's Board of Directors.
It is necessary to provide information not only about the essence of the deal but also about changes in leadership and the prospects and opportunities that open up for the companies thanks to the decision.
Such a press release is used to officially inform about a new partnership of the company in a certain business segment, within a particular project, or in the context of creating a new product, improving a service, etc., by joining forces in achieving a common goal.
Tips for writing such a publication:
highlight the advantages of the partnership for the industry and customers;
add quotes from the leaders of each organization that entered the partnership;
devote separate paragraphs to each of the companies.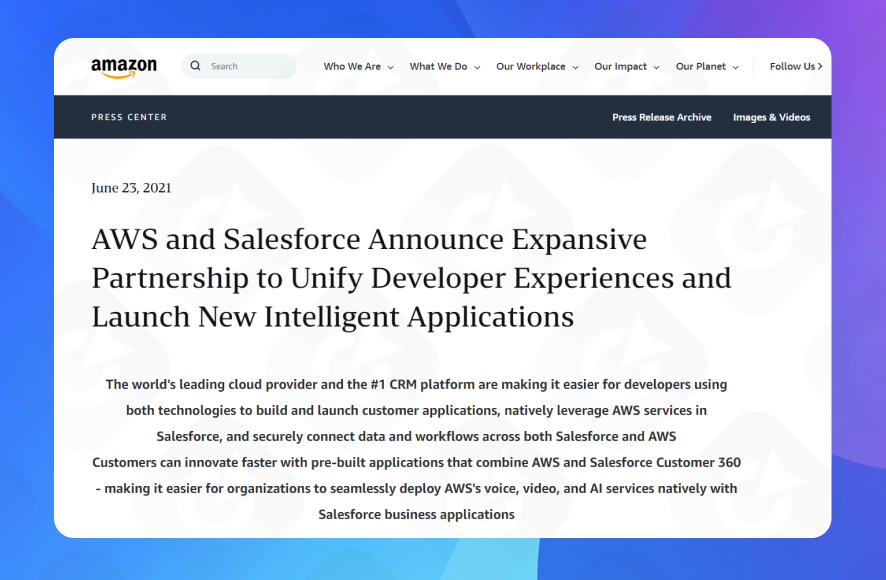 In 2021, Amazon Web Services, the world's largest cloud services provider, and Salesforce, a global leader in CRM, published a press release announcing a partnership to unify developer experience and launch new intelligent applications.
In the announcement, it's crucial to emphasize the value of combining efforts and list customer benefits.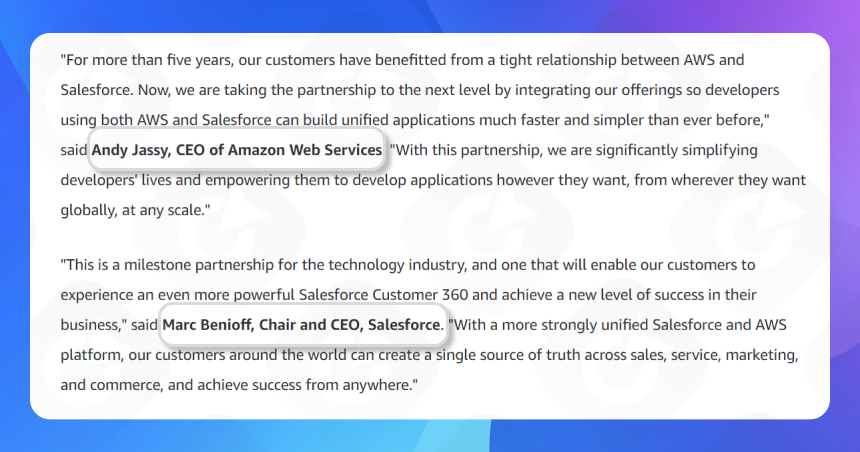 Separate paragraphs in the press release from AWS and Salesforce feature direct quotes from the company's leaders regarding the importance of the partnership.
It's also worth describing the new opportunities available to customers afterward. An interesting detail is the feedback section about the event from service users who positively assess the event and anticipate improvements in their workflow thanks to the companies' partnership.
A publication about appointing a new executive of the company, its structural division, or its department is an effective way to officially announce changes in key positions.
There is an official announcement about the appointment of Sabina Bernabe as the new Director-General of Evaluation in the World Bank's press release issued in April 2023.
It is recommended to highlight two main aspects:
Introducing the new individual as an expert in a specific field, highlighting their position in the business, and listing their key responsibilities and areas of influence.
Announcement of the company's development, declaration of strategic plans that arise from appointing a new individual, and so on.
Such a press release also allows for creating or reinforcing the personal brand of the mentioned individual.
7
Honors, awards, and distinctions
A prestigious award received by a company serves as a clear signal to the media and clients of its leadership in a specific segment. If effectively highlighted, such an informational occasion can attract press attention to the business's achievements.
Write a press release to share information about the prestigious awards received by your company. For example, LG announced receiving the CES 2023 INNOVATION AWARDS.
Tell what makes you better than competitors and highlight your strengths that help you receive a prestigious award. Present the product recognized as the best in a specific category and emphasize its features. Media coverage of such a story fuels building customers' trust and loyalty.
Press release publication contributes to attracting investors and new clients, increasing brand awareness, and improving brand image.
Press release publication contributes to attracting investors and new clients, increasing brand awareness, and improving brand image.
Announcement of the launch of a new advertising campaign is one of the elements of a PR strategy that helps increase audience awareness about your product or business in general. It's an opportunity to discuss a new brand direction or create a strong association with a product through advertising imagery.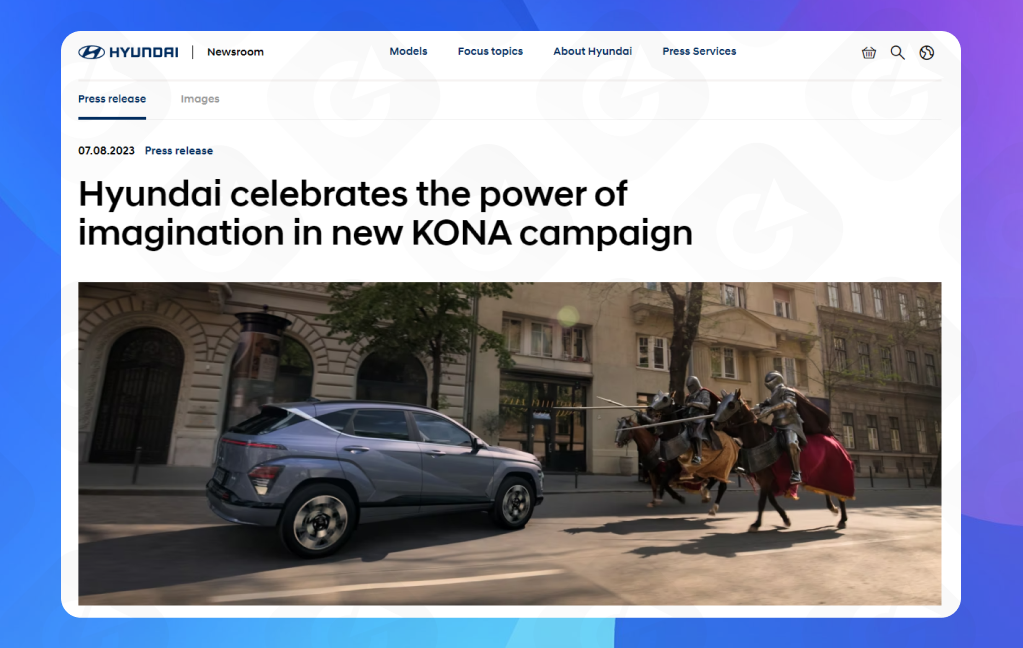 Hyundai's press release about the launch of the KONA advertising campaign not only discusses the car's technical details but also emphasizes the importance of emotions in creating a desire to purchase the new model.
In the provided news release example, the publication not only highlights the features of the new model but also unveils the overall concept of the advertising campaign and creates specific emotional impressions, which is also a powerful tool for increasing sales.
9
Response to social changes and crisis situations
Press releases as a response to crisis-driven factors, addressing local or large-scale issues, help demonstrate the brand's involvement in resolving them. For example, the Covid-19 pandemic was one of the recent challenges. Businesses initiated numerous social initiatives to aid those affected.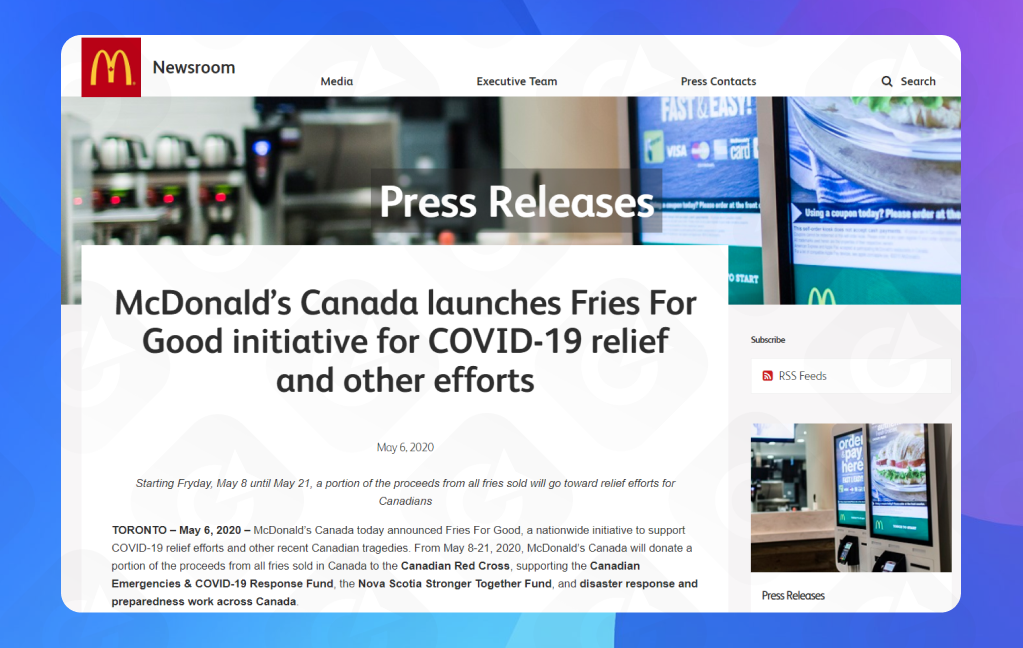 One notable example of this format is the press release from McDonald's announcing the launch of the 'Fries For Good' campaign for the residents of Canada.
A press release of this type greatly improves the brand's image as it reinforces its values and solidarity with those affected by a specific issue.
How to Write a Press Release: 10 Practical Tips 
High-converting press releases contain interesting, timely, well-crafted, properly structured, and valuable content. To create one, we recommend following the below-listed recommendations:
Follow the basic press release template: headline → lead → body + quote → about the company. Create a press release outline before proceeding with writing the text itself. 
Focus on the target audience of the platform for which the PR article is intended. Use clear thematic vocabulary.
Check the text for spelling, punctuation, and grammatical errors. A professional press release has none of them. To streamline the process, you can use special tools like Grammarly. 
Pay special attention to the uniqueness of the text. It should be no lower than 75%. Services like Copywritely, Plagiarism Detector, and Unicheck can be used to check press releases for uniqueness.
Write concisely and to the point: remove everything that doesn't add value. The best press releases include facts and accurate information without meaningless information.
Emphasize the relevance and value of your press release. It's always a good idea to include the current year in the headline of a press release and trigger words like 'recommendations,' 'tips,' 'examples,' 'guide,' 'top,' etc. Including quotes from experts is also a great way to enhance your content.
Complement the information with relevant illustrations and analytics. High-quality visual elements (images, videos, gifs, screenshots, banners, infographics) set a professional press release apart from others.
Write a press release in an engaging and lively manner. Only then can you capture the reader's attention. But you also shouldn't miss out on relevant keywords.
Structure the text into paragraphs and use bulleted and numbered lists. These blocks are essential for better perception of information.
Pay attention to the websites where you want to publish press releases: familiarize yourself with their themes and examples of press releases already published on the site.
How to Add Links in Press Releases
The important attributes of every press release are an anchor text and a hyperlink. They help increase coverage, attract targeted traffic, and increase the reference mass. It is, in fact, the heart of a press release, as it promotes a specific page of your project based on the chosen query.
We've compiled top tips on how to organically incorporate anchor text into a press release:
There can be up to 2 links in a press release.  However, placing them both in the same paragraph is not advisable. You should place them at a distance of 300-400 words from each other. For example, you can use one in the first sentence of a press release and the other in its last paragraph.
An anchor text at the beginning or end of a sentence is not recommended. It's better to integrate it in the middle, surrounded by text.
Pay attention to the correct structure of a sentence containing the anchor text. The information in it should logically and thematically correspond to the link.
The anchor text itself should be readable and clear.
You can link to key phrases you plan to rank for (direct commercial anchors) or use non-anchor phrases like URLs, brand names, or words like "here," "learn more," "source," etc.
Following the basic writing guidelines, you will create a well-crafted press release to reach your audience, attract traffic, and improve your website's ranking in search results. When selecting the right news outlets for your publication, you will get press coverage and a permanent backlink for a one-time fee.
How to Distribute Press Releases with Collaborator
Before writing a good press release, whether you are creating it yourself or opt for professional copywriting services, it's important to find the right website to publish it. This is because it can significantly impact the effectiveness of your PR efforts, including brand reputation enhancement and customer acquisition. Collaborator, a direct advertising platform, will aid in it.
Among the biggest perks of Collaborator are:
Catalog with over 20K websites and over 35 thematic categories. 
Convenient filtering system: fast search of a site by country, region, city, and other parameters.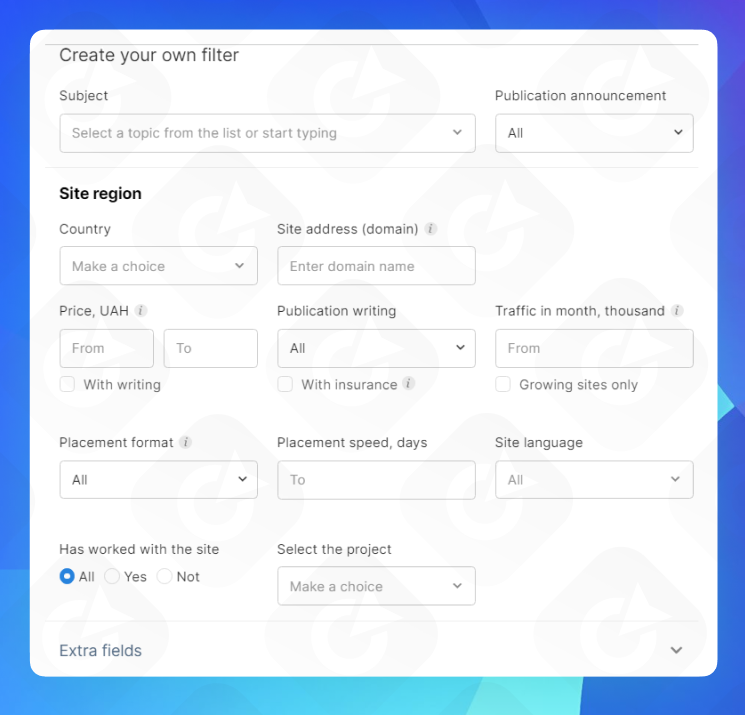 Free insurance from removal and non-indexing for 3 months.
Choose trusted websites with relevant content, high Domain Rank (DR) score, monthly traffic, and good posting speed from the available options. These and other parameters can be confirmed using authoritative services such as Ahrefs, Majestic, Moz, Google Analytics, and Similarweb.
Collaborator regularly adds new websites that accept articles to its catalog. To find a site for publishing a press release, you need to:
Sign up (it's quickly and absolutely free).
Go to the catalog.
Specify the necessary filter parameters: topic, region of the platform, the desired price for placement (with writing or without), placement speed, and more.
Choose from the provided options the website that meets your criteria for traffic, authority, and other important metrics.
Add it to your cart and discuss all the details with the resource owner.
To make a thoughtful decision, you should consider a number of factors, including your niche, media budget, and so on.
You might also find our Buy Backlinks Guide  & Free Press Release Submission Sites List useful 👈
Final Thoughts
A press release remains an effective way of indirect communication between a company and the public through the publication of major news, event announcements, and the introduction of new products and services. It helps to increase brand awareness, attract a new target audience, improve reputation, and enhance the company's image.
To promote your business, use Collaborator, a direct advertising platform that offers high-quality and relevant platforms from around the world.