Collaborator Officially Integrated Ahrefs Metrics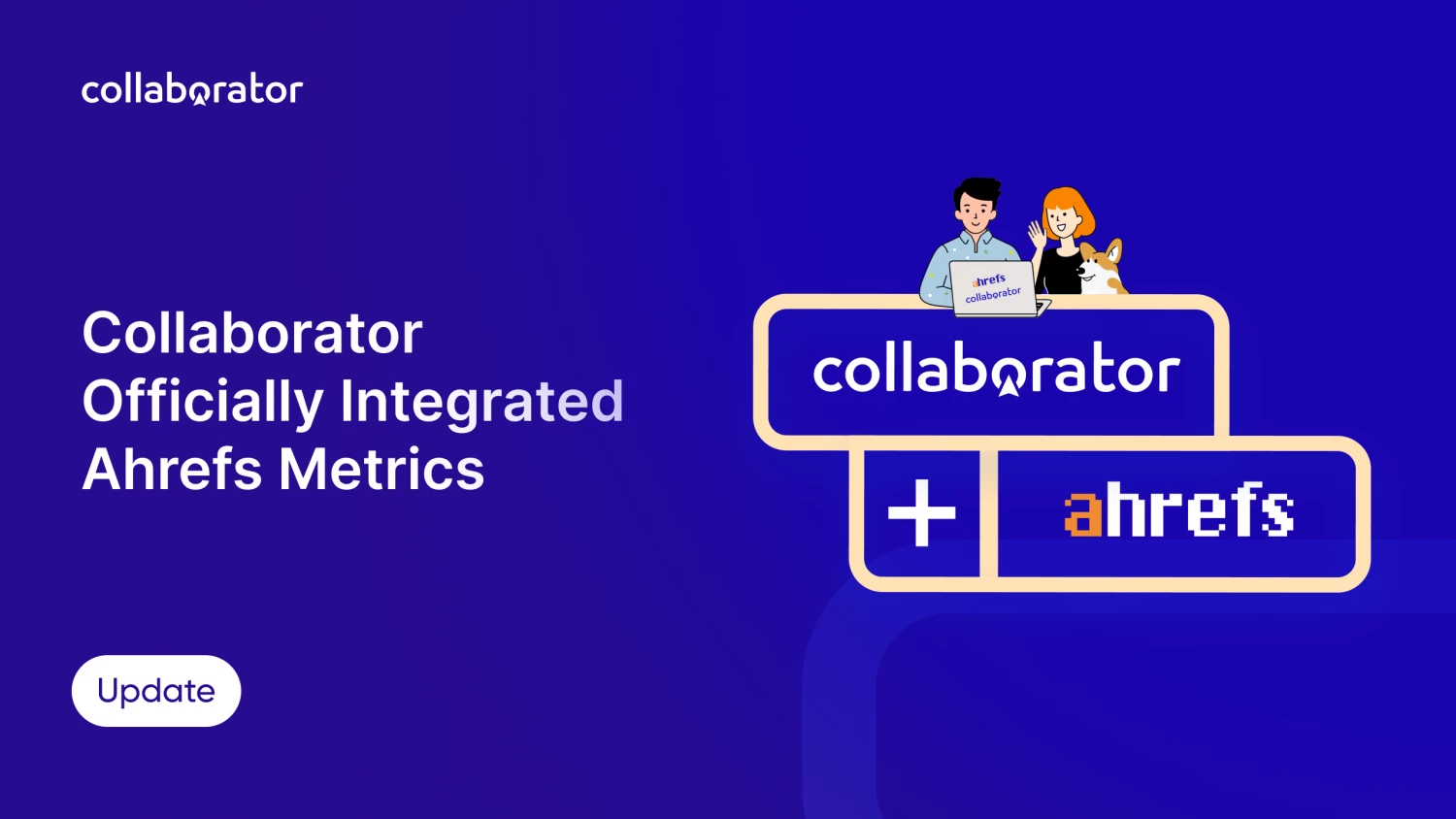 Analysis of donor sites for ordering guest posts has always been and remains a priority for us. To optimize this process for users, we have implemented an official integration with one of the most popular and sought-after analytical platforms — Ahrefs. Now, data sufficient for SEO analysis is available directly in the customer's interface on the Collaborator site. 
This is a unique official partnership, which has no analogs on the market. 
Watch Igor Rudnik's video about the integration features of Ahrefs and Collaborator to understand all the opportunities that open up for users
👉🏻press to watch with English subtitles
Ahrefs is a powerful set of tools for researching backlinks and analyzing search results.
The site metrics provided by Ahrefs allow you to:
optimize your site;
analyze competitors;
study search queries;
find the best examples of content in a niche;
track rankings.
Ahrefs is used by SEOs and website owners around the world for link profile analysis. It not only collects data but also visualizes it conveniently. Thanks to relevant metrics, you can optimize your overall SEO strategy, attract more traffic, and also select high-quality link-building sites. 
Also read An Overview of the Ahrefs' Capabilities
We took all this into account when planning the partnership. 
Surely, many of our customers and site owners use Ahrefs paid plans. The cost of the tool starts from $89, and the most popular plan is $179. Full functionality is available only to experienced specialists or representatives of agencies. 
It is especially valuable that after the integration, Collaborator users will have access to some of the actual Ahrefs metrics for free right from the interface. 
2
7 Ahrefs Metrics Available in Collaborator
Ahrefs provides a lot of the most diverse site data. The Collaborator displays the 7 most important metrics:  
3
Where to Look and How to Filter Sites by Ahrefs Indicators on Collaborator
Ahrefs integrated data in the Collaborator is located in several placements: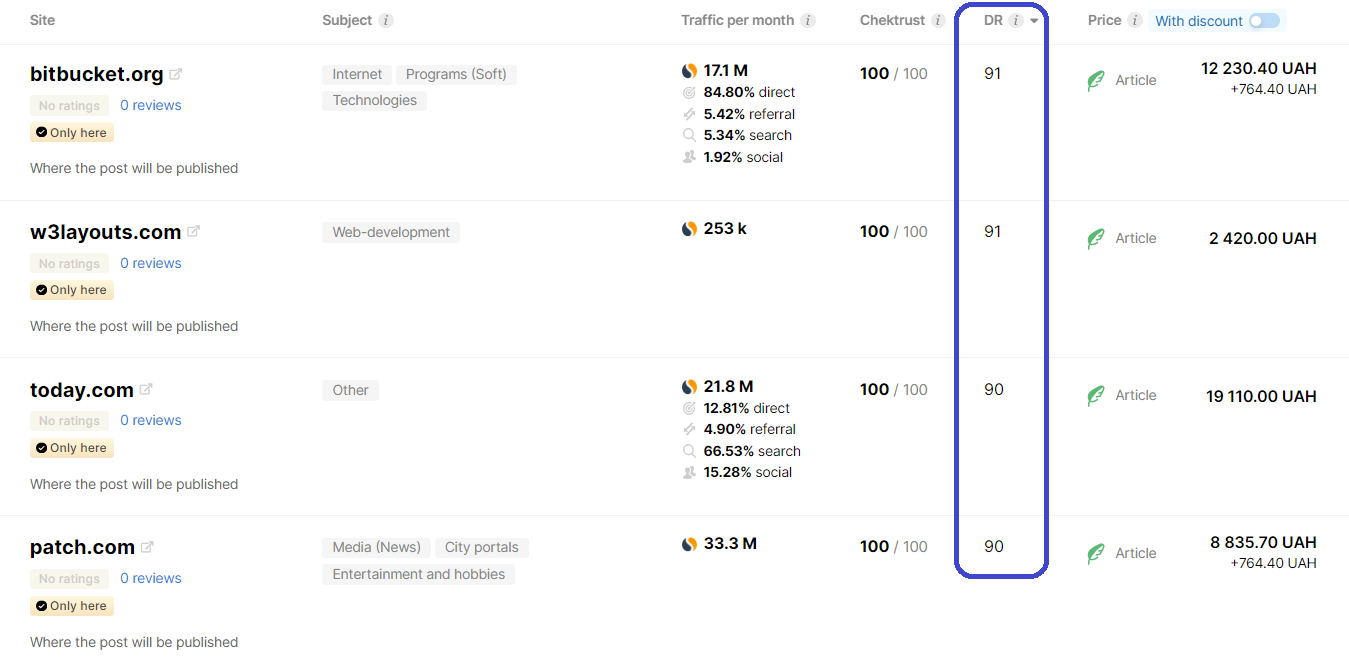 By default, only DR is displayed in the table, but other metrics can be selected in the settings.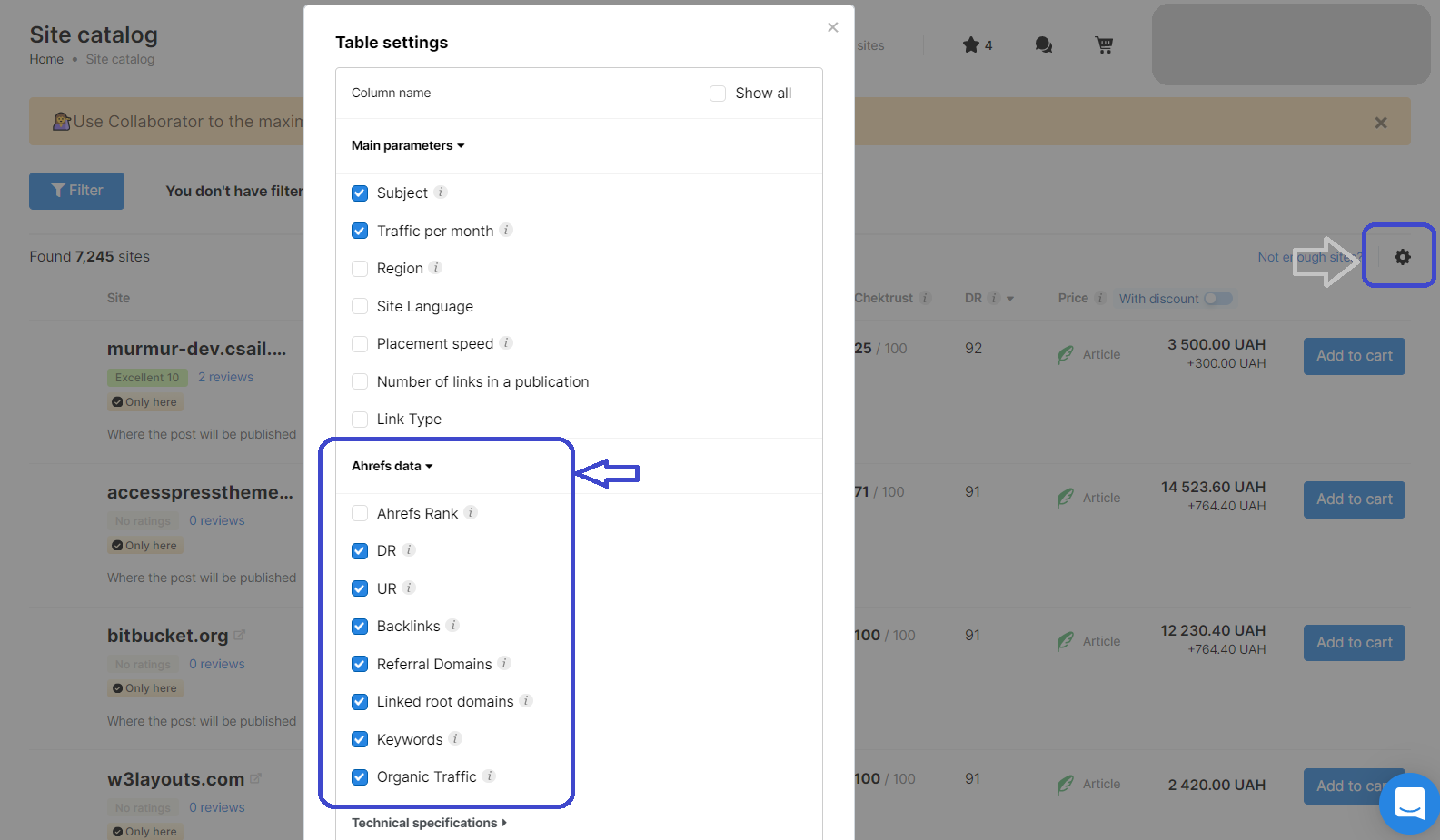 Sites can be filtered and sorted by Ahrefs data.
Here, the DR indicator is available on the top of the page along with the traffic and trust:
The remaining metrics are visible when scrolling down in the section along with all the numerical indicators of the quality of the site.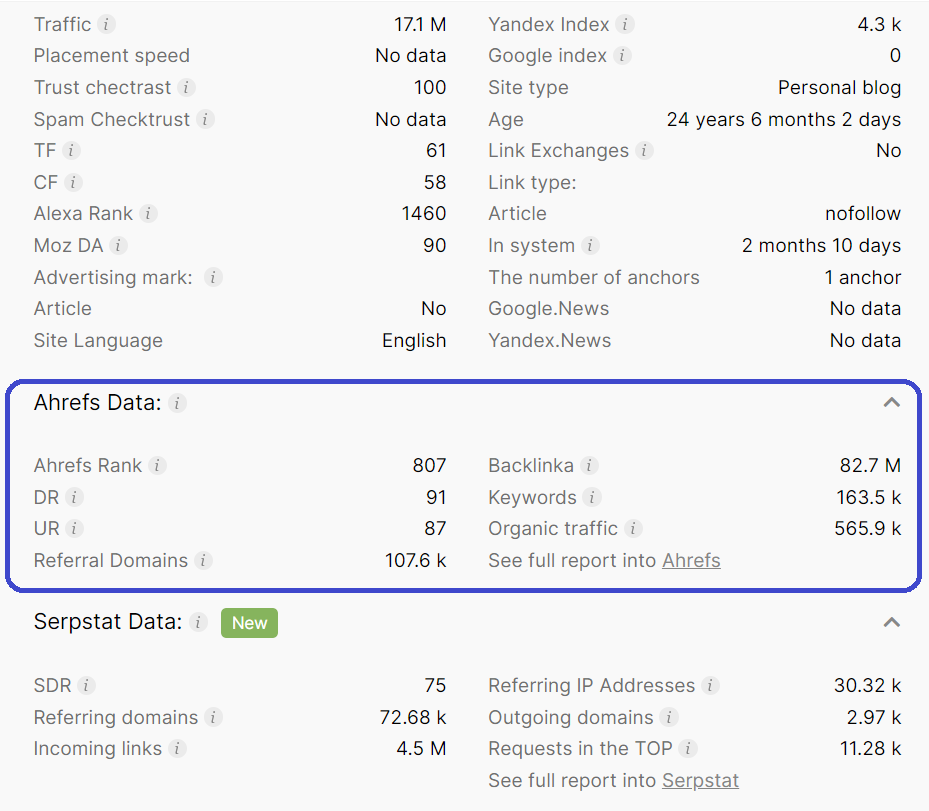 If you need to analyze more data, you can click on "View the full report in Ahrefs". This will take you to the website, where you can log in and get a report available under the terms of your plan. 
4
Benefits of Integrating Collaborator and Ahrefs 
Collaborator and Ahrefs integration is unique in the market. This partnership makes the work of our users faster and more efficient. 
The main advantages of integration: 
The main thing is the availability of metrics to everyone. 7 main indicators can be viewed without leaving your profile on Collaborator
Speed. Now you do not need to go to a separate window if the key seven indicators are enough for you. Those who bought an Ahrefs account were forced to download the list of interesting sites and collect metrics separately. Now you do not need to do this and all the data is available directly in the catalog
Directly go to Ahrefs if you need more data. With one click you can go to your Ahrefs account.
Uniqueness. Other platforms do not allow ordering links and guest posts at the same time. This makes working with Collaborator many times more efficient
The ability to filter and sort sites by Ahrefs indicators. You can quickly select the best sites for your articles and press releases even from the Catalog. 
Ahrefs metrics will help you make the right choice of where to buy backlinks. 
5
Ahrefs Data on Collaborator: Guidance 
We know how difficult it can be to find a worthy donor for your articles. Therefore, we are actively working to speed up and simplify this process for you as much as possible. 
Ahrefs metrics tips for more efficient search: 
use filters and sorting;
configure the Search Agent by the specified filter;
place the sites in Favorites so that they are always at hand.
Ahrefs data is already available in the Collaborator catalog and is updated regularly. Analyze, compare, and explore metrics to quickly and professionally select guest posting sites.

Good luck with your deals 😉