Offer for Guest Authors: Share Your Experience on the Pages of the Collaborator Blog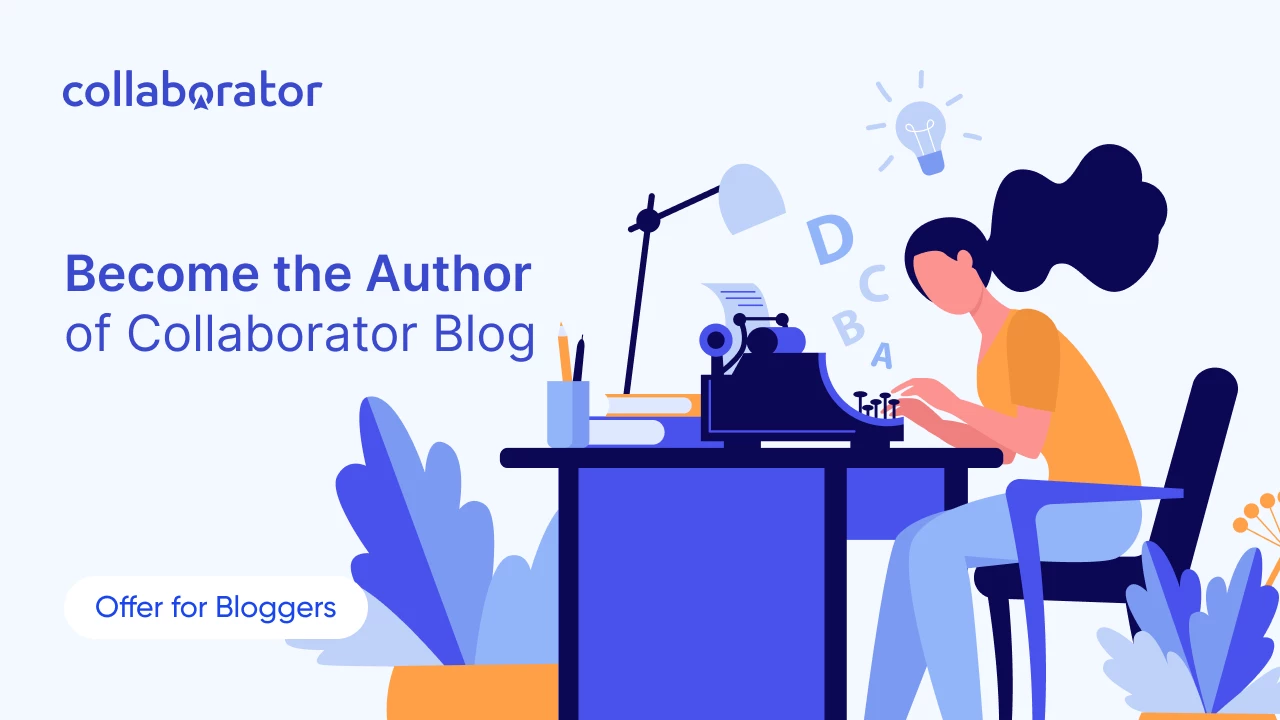 Our Collaborator Blog is a digest of current expert information about SEO and digital marketing. We periodically publish posts by guest authors — our partners and experts in narrow niches, who give really cool tips from their own experiences. Do you want to participate in the creation of our online magazine? Do you have demonstrative cases or want to share really effective work-life hacks?
Welсome to our Blog🤗
What you will get from cooperation with us
Publishing your own material on the pages of our Blog is a great opportunity for you to show your expertise, find new partners and clients, and get a link from a best guest post marketplace (we are SEOs here, and we understand, how important it is😉)
Every day read by: 
SEO practitioners with experience in cool projects and well-known companies and agencies;
SEO beginners who are just taking the first steps and looking for educational content, 
team leads of SEO and marketing teams, 
site owners and webmasters, 
marketers and content specialists, 
CEOs of digital agencies, business owners,
owners and administrators of Telegram channels, as well as marketers who advertise in this messenger etc.
Thus, by preparing material for us, you get a publication on a specialized resource with a narrow, active, engaged audience. 
We also make the content distribution: the most interesting materials of the Blog are sent by e-mail newsletters to the experts, are placed in our social media and specialized communities, and the most useful are published in the telegram channel of Igor Rudnyk. 
Publishing an article in the Blog guarantees getting into our short-list of Collaborator experts: SEO specialists, whom we turn to for expert comments, when conducting surveys, for writing collective materials, etc.
What is our Blog about
Our readers want to see in the Blog everything related to search promotion and a little more😊
Indicative topics:  
link building, crowd, and other strategies
keywords, clustering, and SEO copywriting,
technical SEO
SEO analytics and SEO forecasts
site usability, work with social factors
SEO tools (own experience and lifehacks of use)
work in the SEO team (in-house) / features of SEO on a freelance basis;
SEO agency practices
SEO field (salaries, terms, and company reviews)
SEO management (team management)
SEO marketing (promoting your services and finding clients)
SEO education
TELEGRAM and everything related to it (new topic)
any other topics that may be interesting for our audience.
You can propose your own topic or choose it from our list
Choose the topic from our list👈
What materials are of primary interest to us
experience of using our Collaborator system — both customers and site owners. Tell us how our marketplace helped you publish a quality guest post, promote your product or get a link from a relevant resource;
analytical materials, market analysis, statistical data, and niche sections that may be of interest to the audience;
description of the experience: cases, anti-cases, experiments, real situations from the practice of specialists, clients, your personal experience: «such actions/inactions brought such a result (both good and bad)»;
overviews, tables, comparisons, and any other materials that help you quickly compare, contrast, and present information;
work algorithm: «how» (organize interaction in a team, look for customers, do a site audit or a promotion report);
niche (medicine, agriculture, etc.) and regionality (promotion to a specific territory).
Examples of our top publications: 
case studies, life hacks: 
Step-by-step case on how to get a link to a site for free
selection of tools, services, information resources, etc: 
Chrome extension for SEO: best free plugins for search engine optimizers
Link building strategies round-up: 12 SEO experts tell about how to get links in 2022
Why They Love Ahrefs: An Overview of the Service's Capabilities
Requirements for materials
We publish articles for free and do not publish advertising materials. 
If you want to talk about your service, it is appropriate to do so only for the benefit of our readers. 
Read the Guest Post Requirements 

👈
How to publish the material
It's easy to start cooperation — leave us contacts in any convenient way: 
in support (in the lower right part of the screen)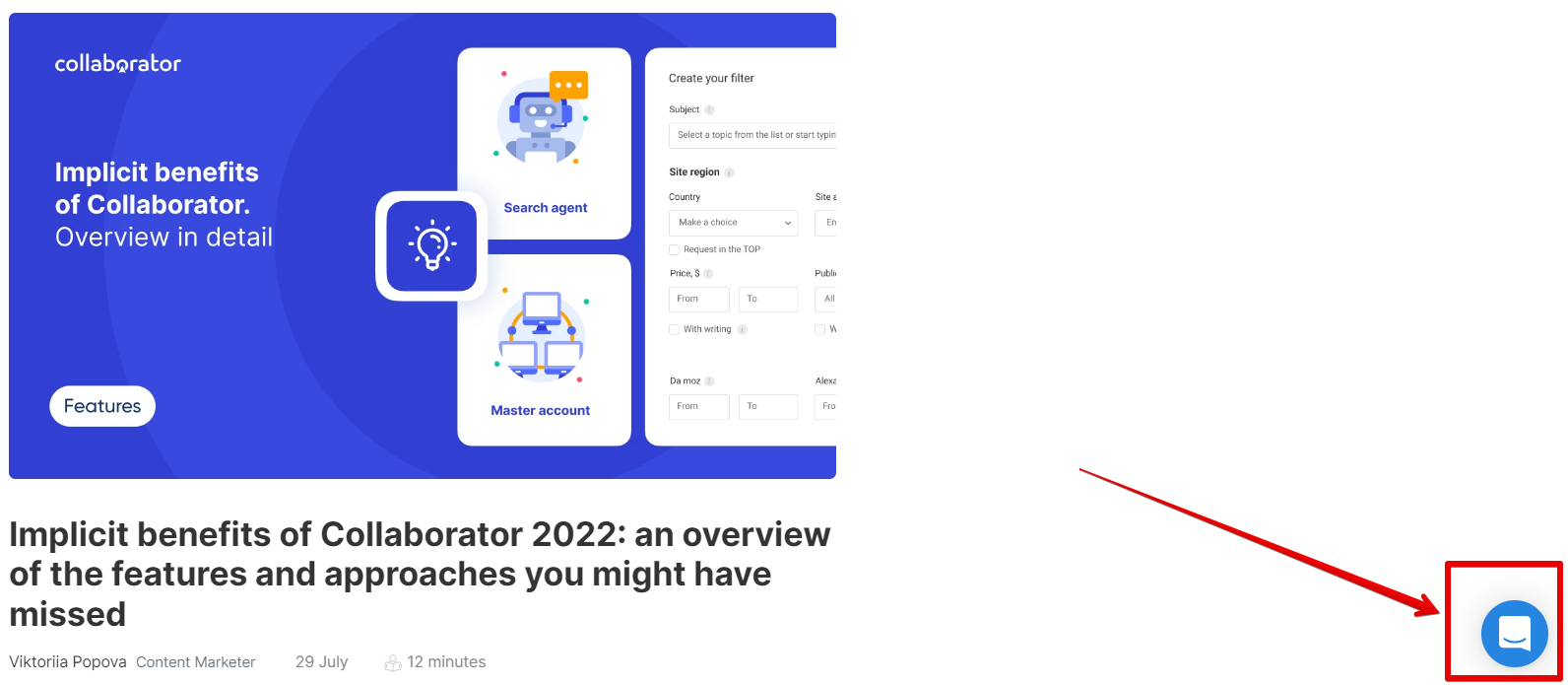 We will contact you and agree on the topic / plans / formats / deadlines. 
Do not prepare text specifically for our Blog without agreeing on the topic in advance! It can be taken up by another author at the same time, or we could have written similar material before.
After the agreement, you write your material in Google Docs, taking into account our style and the requirements described above.
After editing, we publish the material in the Blog and distribute the content. 
Everyone is happy, we are friends and continue to communicate on professional and other topics.
Important details
It takes time. We will not publish the material immediately, we plan the content in advance. And from the approval of your text to the publication in the Blog, some time may pass. We don't worry - we communicate.
Editing is a tool for preparing really useful material. There is no limit to perfection, but we strive to do the most useful. We do not worry — we discuss and finalize.
Watch out. Do you want to write, but do not yet feel superpowers and have doubts? Here you need to orient yourself in our style and subject matter. Don't worry — subscribe to the newsletter and follow what we publish.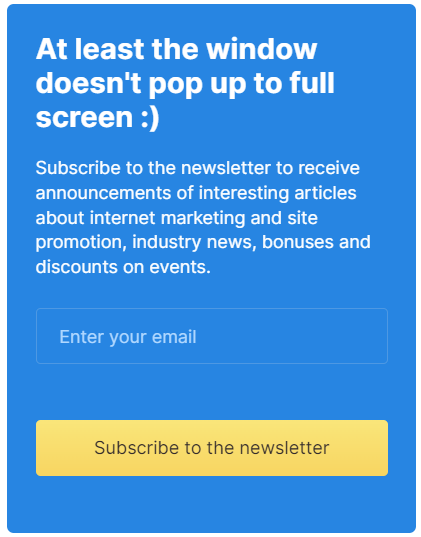 The editors reserve the right to make final changes. 
To publish material on your behalf, you need to have an account on Collaborator.
Ready to write material for our Blog? Leave an application, we will discuss the details.