14 Best Link Building Strategies for 2023
Even ten years ago, the primary link building strategy was "The more sites refer to mine, the better." The skilled SEO specialist directly shed a few tears, recalling cases where they pulled yard and garden sites (for example) in the TOP-3 search results, simply getting links from websites of medical, news, legal, and other resources.
But today search engines are improving and making link builders more resourceful and careful in their site selection. So we have prepared an exhaustive SEO Link Building strategies guide. It will be helpful for beginners and experienced SEO specialists, link builders, and marketers, who want to break the site into the top of search results.
Here you will find topical linking strategies, the best link building techniques in SEO, secret tips, and experts' advices. This information will help you save money on tests, determine the steps to achieve goals, and you will know exactly how to get backlinks cheap in 2023.
What Is a Link Building Strategy?
Link building strategy – a way to improve the performance of your site, which affects the position in the search results. 
Here are the 3 main goals you will achieve using working link building techniques for SEO:
your site will take higher position in search engines;
website traffic will increase;
you will find more customers and increase sales.
But! "Not all links that lead to your site are equally effective!" – that's what any link builder will tell you. You can get links from 10 ANY websites and get no results at all. At the same time, you can negotiate to place references with the owners of 1-2 RELEVANT sites and enter the TOP-10 search results.
How to do link building for SEO? How to build SEO links proficiently? How to link building in SEO? These are the questions that link building strategy answers. We will discuss this in the text below, with examples.
You may also be interested in reading our SEO link building guide 🧐
Why are Link Building Strategies so Important?
The first reason to use backlink strategies is that any search engine evaluates your website by the number of reliable sources that refer to it. You can post your content on paid or free guest posting sites, but the better you choose such sites, the higher you will be in the search results.
We explain it simply. Formerly, Google and other search engines collected "rumors about you" all over the Internet. And the more your site was referred to, the more it valued you. But now, Google is not so naive.
In 2023 net spiders:
measures the sites that link to you and decides if it can trust them,
if it thinks the source is reliable, so will have more trust in your site.
But if it decides that you can not trust the site for some reason, it can "punish" your internet resource.
Summarize:
If you know and use external linking strategies, you will be several positions ahead of competitors and rank up more.
Through SEO linking strategies, search engines will trust your site more and recommend it to your target audience.
And most importantly. If you do not use backlinks strategies, then hopelessly lag behind the competition and miss opportunities to earn more.
14 Best Link Building Strategies for Marketers
We will talk about how to build links for SEO, and it won't be a dry theory. You find out effective link building techniques with examples, tips for link building, and tricks.
Below you will find a list of the most relevant SEO link building tips in 2023. 
Broken Link Search
Link reclamation
Guest Blogging
Outreach
Round-ups and Surveys
Statistics and Research
Crowd Marketing
Infographics
Social Media
Brand Mentions
Unique content / Use cases
Manage Your Backlinks
Competitors' Backlinks & Replicate their Best Links
Grow Your Personal Brand
Choose the most suitable for you or mix it with each other, and then you will definitely hit better results in search engines. You can also use ChatGPT to improve your link building strategy. To do it effectively, read our article on how to use ChatGPT to build backlinks.
1. Link reclamation 
"Before you get new links, check old ones", — says Link Reclamation strategy.
We strongly recommend checking and recovering all broken references on your site. Below, we explain why this is important.
Unfortunately, all sites lose links. But not all owners check their sites to find out which links have the "lost" or "404 not found" status and fix it. And if the link stops working, you lose potential customers and Google's trust.
You can use SEMRush to recover links. In this tool, you need to run Site Audit and find "red code" links.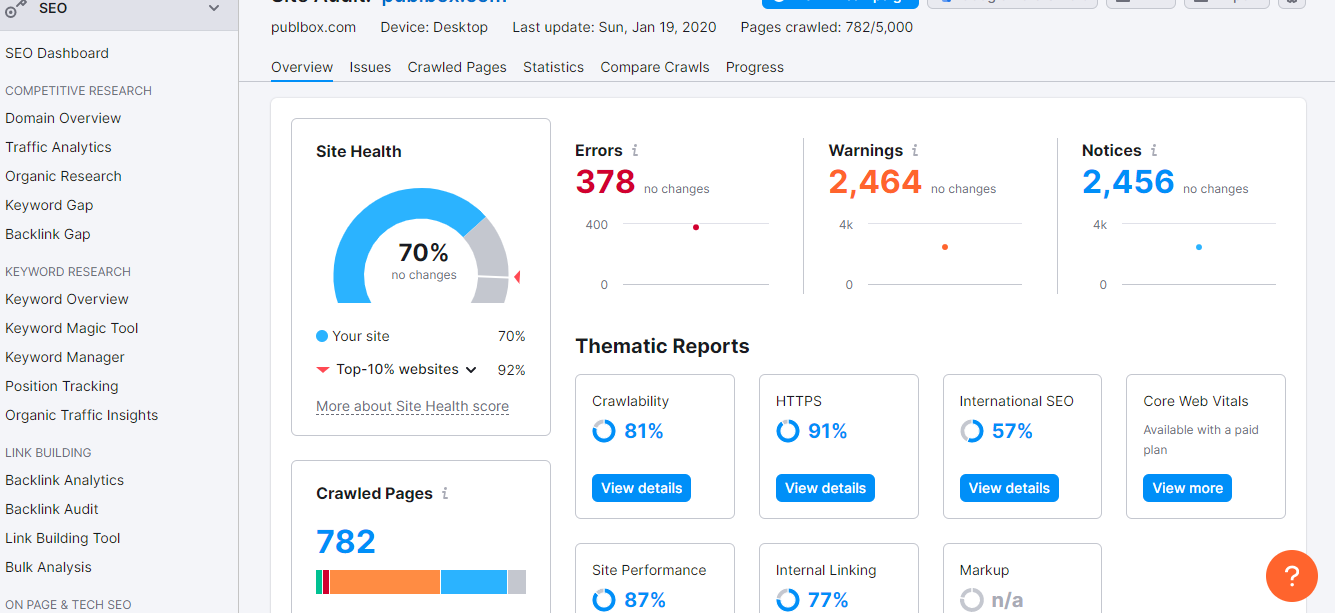 After you have found the lost links: 
know the contacts of the owners / managers of the sites on which there are no working references;
contact them and indicate that their web resources have irrelevant link;
ask to replace the correct link. Or you can set the redirection of old references to the necessary page.
If you do not first check the lost links on the website, you risk doing double work and switching between tasks many times. So first, be sure that all broken references on your site are active and working.
2. Broken Link Search
Broken Link Search is a link building strategy to find and fix broken (lost) links on relevant websites.
According to SEMrush statistics, 43+% of all sites on the Internet have broken links. This can be due to various reasons: page no longer exists, the site owner has not paid for hosting , the content manager made a mistake ect.
If you find a good site with lost links to a keyword you are interested in – act as quickly as possible.
Why is it a "win-win" position for everyone:
the donor site owner regains the weight of his page;
you get a mention from a good website and do not write any guest posts;
users can access the resource again.
You can check the site for broken links with Ahrefs:
Click Site Explorer and enter the donor's site address.
Click the "Backlink profile" menu.
Choose the "Broken backlinks" option.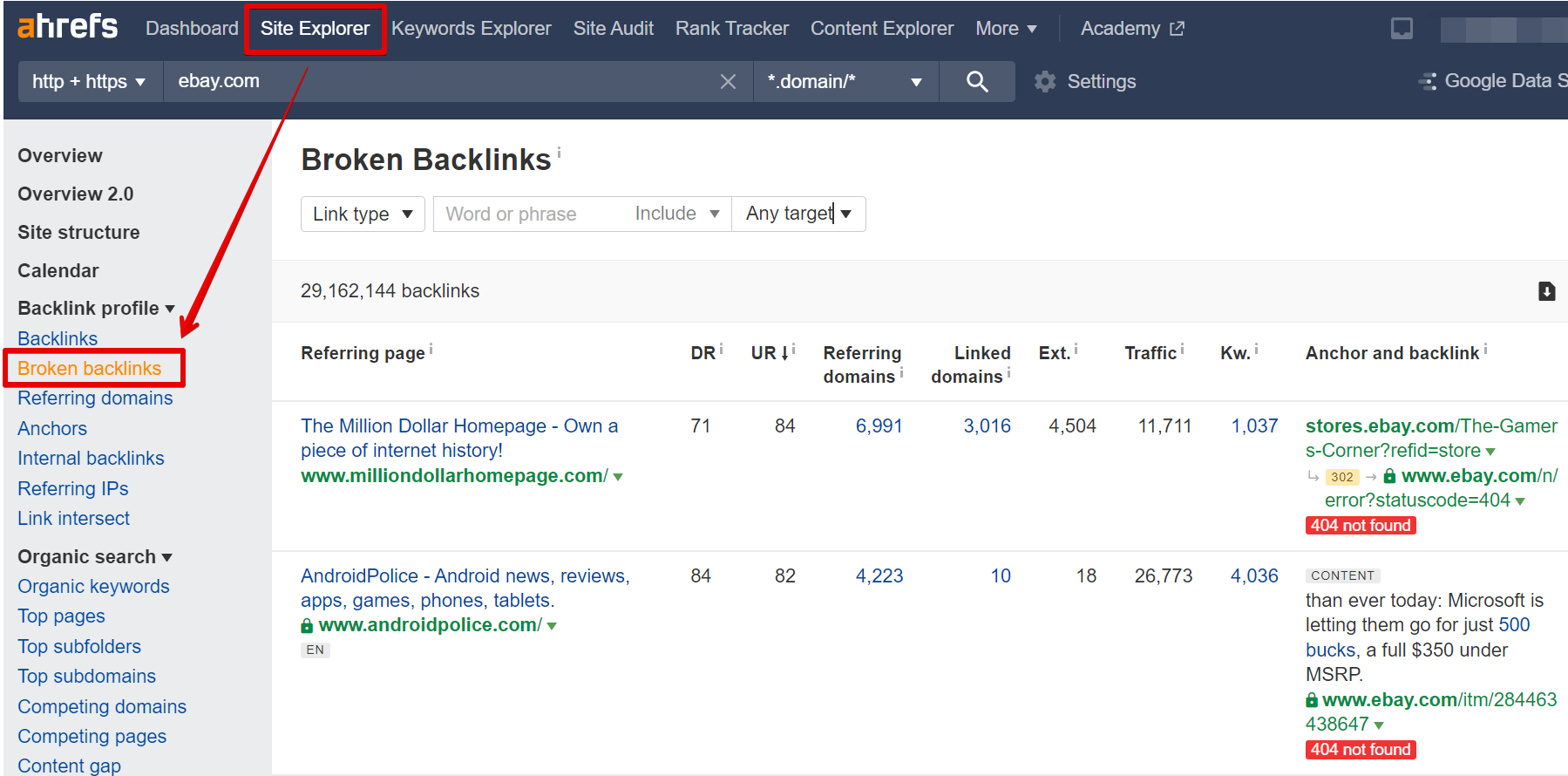 Once you have found the necessary sites, it remains only to contact the owners and ask them to specify your link instead of the corrupted one.
3. Guest Blogging
Guest blogging is one of the easiest and most popular link building tactic used by professionals worldwide. 
We especially recommend this backlink strategy, because it conveys the whole essence of the work of search engines. You get more than just a mention on a site that is "respected" by search engines. And a full overview of your benefits, which will appreciate the customers.
How do you get backlinks from trusted sites with Guest posting – 4 key steps:
You are looking for a trusted site in your niche.
Negotiate with the owner to place information with a link to your Internet resource.
You will find out the conditions of publication, prepare the article with the necessary links and send it for approval.
Your article or press release will be posted after fulfillment of other conditions.
Usually, guest articles are placed for free, but there are cases that the owners offer barter: "You will write about me and I about you."
In this way, we placed a link to Collaborator in the blog of another well-known SEO service.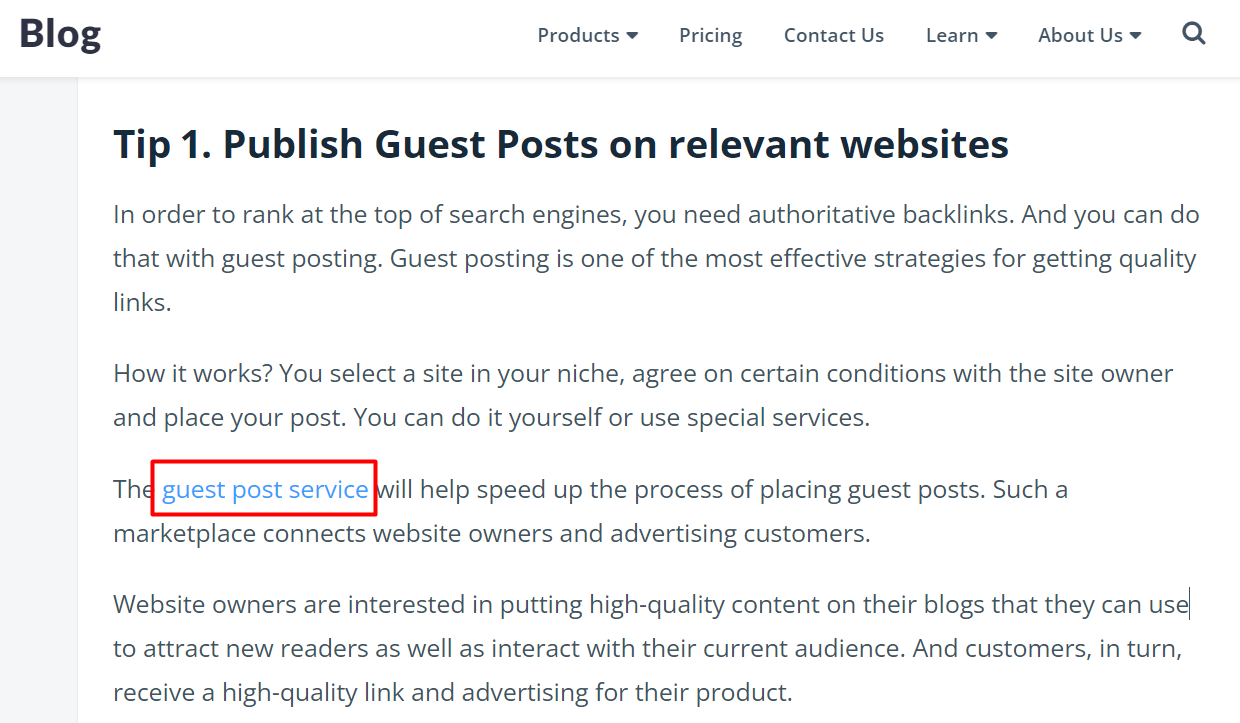 And published their guest post in return.

But don't try to cheat search engines and post boring SEO articles on good sites just for links. Google has already warned builders that "he does not like it". Therefore, we discussed the topics of guest posts for a long time so that they fit into the general concept of blogs and were interesting to readers.
Note! If earlier it was necessary to create lists of trusted websites, using different tools & services, then now there are special platforms. For example, Collaborator is defined as ONE service for the ALL successful implementation of the working SEO linking strategy! Whether you are interested in publishing press release or an article, Collaborator can help you.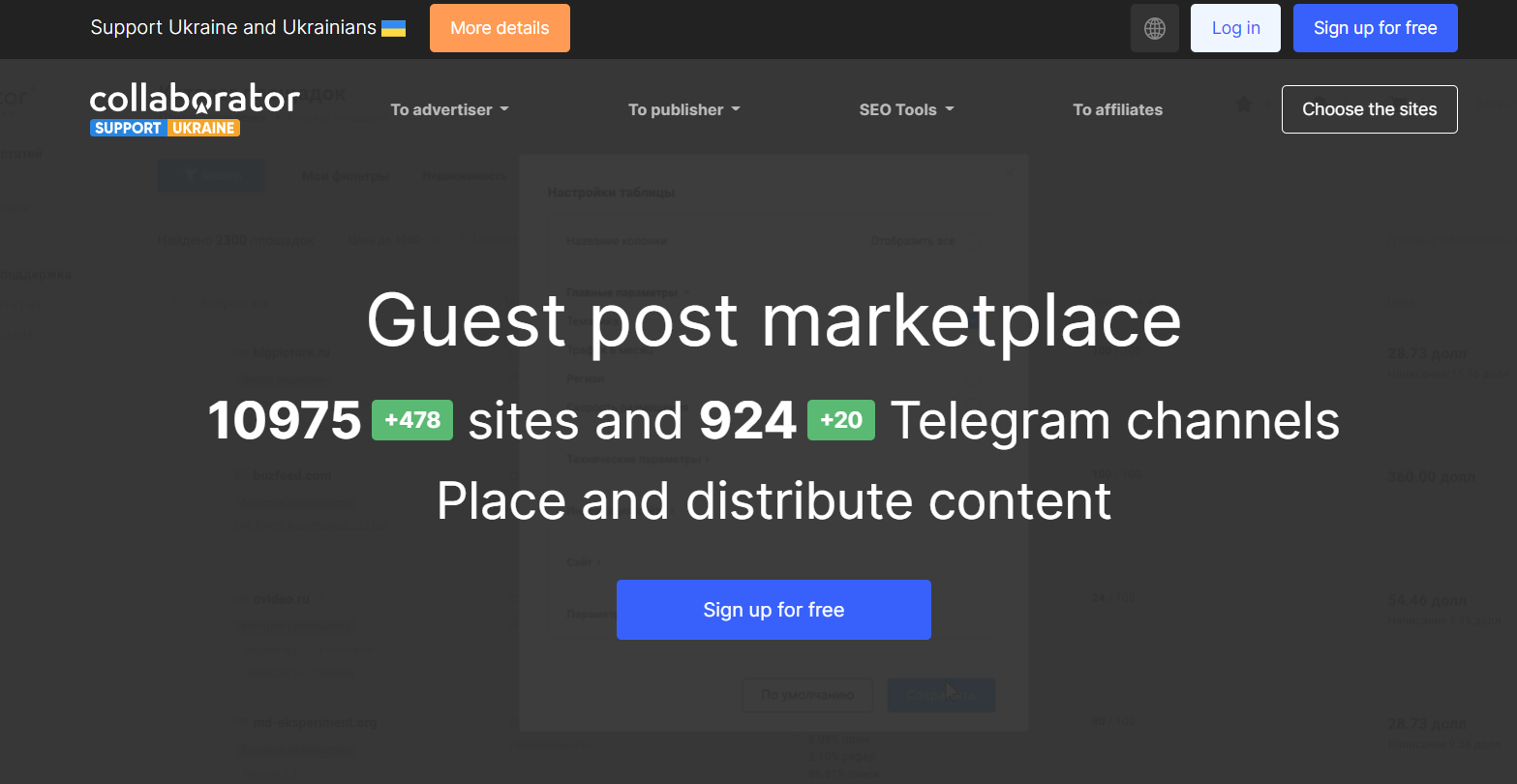 Collaborator is a catalog of trusted sites in your niche. Due to the convenient and clear filter, you can easily choose the best Internet resources with 40+ SEO parameters. By the way, you pay a fee not for showing the search results, but for the fact of placing a link to your resource. And one of the main advantages of placing through this platform – it guarantee that this link will work throughout the term.
So if you want to get the maximum benefit from a Guest blogging strategy faster and save money, try to find your first donor site in Collaborator.
4. Outreach
Outreach, in simple words, is the placement on a certain site of advertising links that lead to your website. It can be a small article, a banner with an advertisement, or just a backlink to your site, which the owner places in a certain section of the internet resource.
This advanced SEO link building technique used by everyone, from small startups to Apple and Google. 
We're sure you've seen thousands of good and bad examples of outreach strategy. So let's talk about it. 
Look at the example of the banner below and answer the question – "Do you think this is a good example of using the strategy of outreach?"

"Yes!" – Say you and will be right... but not quite. But, what if we told you that we found this banner in an article about social media user behavior? "In that case, no!" – and you'll be right, too.
The first conclusion is that for the linking strategy to work, you need not only to select the right site, but also to make sure that the link will be natively written into the content of the webpage.
Now, let's take a closer look at what you need to get the most out of the Outreach strategy:
Go to your Ahrefs account & click on the Keyword Explorer.
Make a list of potential sites from which it would be important to get a link: use top-100 in SERP overview. 
Find the contacts of the owner or manager of each site, and… now you have to prepare for the most exciting Link building adventure of your life.
You will need to contact the representatives via email or social networks. And at this point, you need to be extra careful. Let's go in order. 
Email
Let's figure out how to start email communication on the example of Brian Dean (Backlinko).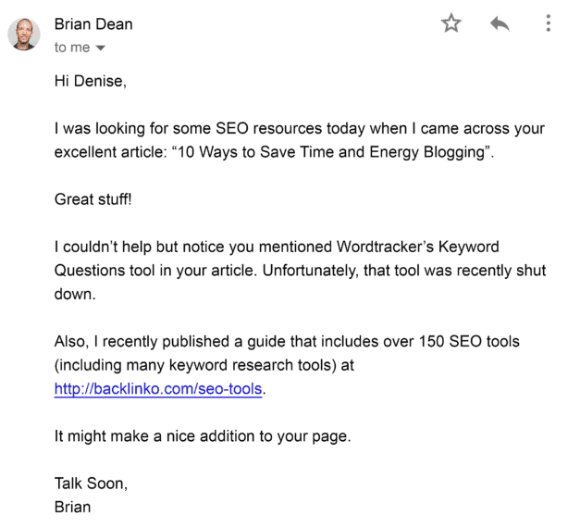 If you start searching in Google, something like "TOP Best of the Best Email Templates for Outreach", you will find hundreds of tips that look exactly like Dean's email. Here is a small checklist that will help you to draw up no less catching letter for yourself:
begin by welcoming. It is advisable to contact the addressee by First Name.
self-presentation. A few words about yourself, the name of the company. You can add links to your social networks or messengers.
find common ground. You can compliment the recent work or indicate that you are subscribed to the newsletter.
tell him why you write and what can be useful. Do not say something like "Link from your site will be useful to me". You should write that your products or services are closely related, and you would like to discuss this. Be sure to describe it from the "win-win" position.
write that you will wait for his answer and say goodbye.
Next, you can install yourself a Google extension Email Finder and as soon as the site manager reads the email you will receive a notification. 
Social Networks
Do not be afraid to write on Facebook or Twitter. But it is necessary to do this if you do not answer your email for a long time. The text of the letter should be restrained – do not write that "I saw in Find Email that you read my letter". It will be enough to write something like "maybe you missed my letter" and further state the essence of your message.
5. Roundups, Surveys and Digests
Data obtained from surveys, roundups, and influencers' interviews are always of interest to a business audience. Because it shows real facts, not speculation.
Let's take the example of our survey. We asked some questions about the advanced Link Building strategies to 10+ SEO professionals, link builders and founders.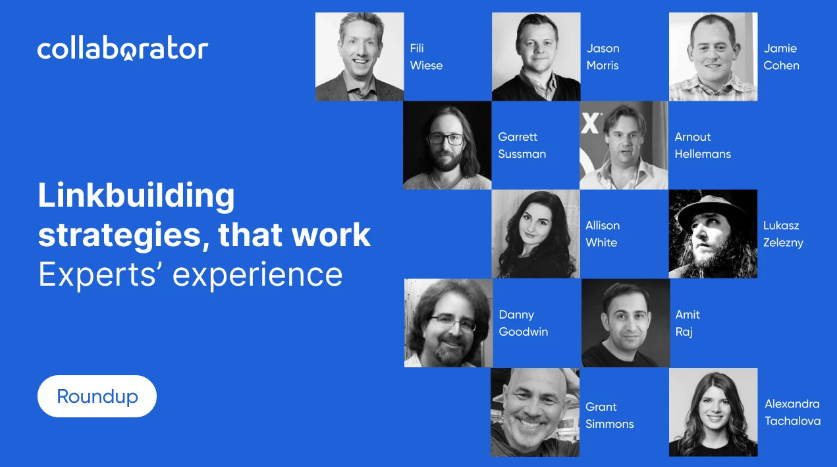 We have referred to this material several times because expert opinions help to create both internal and external content. And Google is watching. 
But the most interesting is not in this. The expert will almost always indicate a link to this guide on their websites and in social networks. That means we not only created unique and expert material but also automatically got valuable links to our website.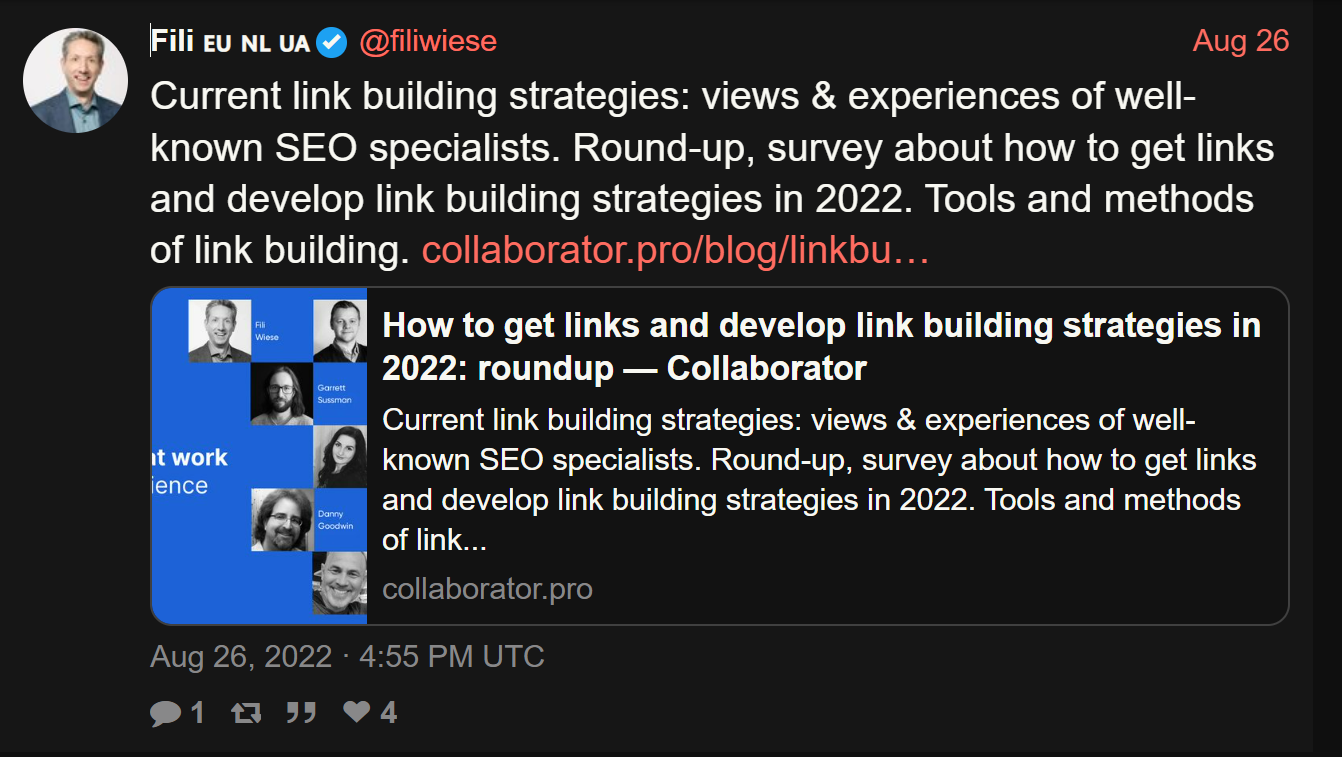 You can make your research more representative with special services, for example, Google Surveys. Enter boring numbers and other data, and this tool will create convenient filters and highlight results.
Also recommend you to use digests:
you can do a digest of the best articles of the month or a selection of the most needed publications for a link builder with links;
create a digest about services that will be useful to your users. Here is an example of a site founded by students to help other students. Recently, their Blog has appeared a digest with paid survey services – so that students can do assignments and earn.
Start creating useful data and links to your content will be transmitted across the Internet.
6. Statistics
You might think this link building tactic is not for everyone. But you don't need to be Statista, MIT, and similar resources to publish statistical results. On the contrary, every research you do within your niche increases the chances of getting backlinks. 
To create this article, we shared 5+ sources with current statistics. Because serious topics require really advanced statistics and research. If you give users such information, they will necessarily refer to you. Just because it's easier than reinventing the wheel over and over.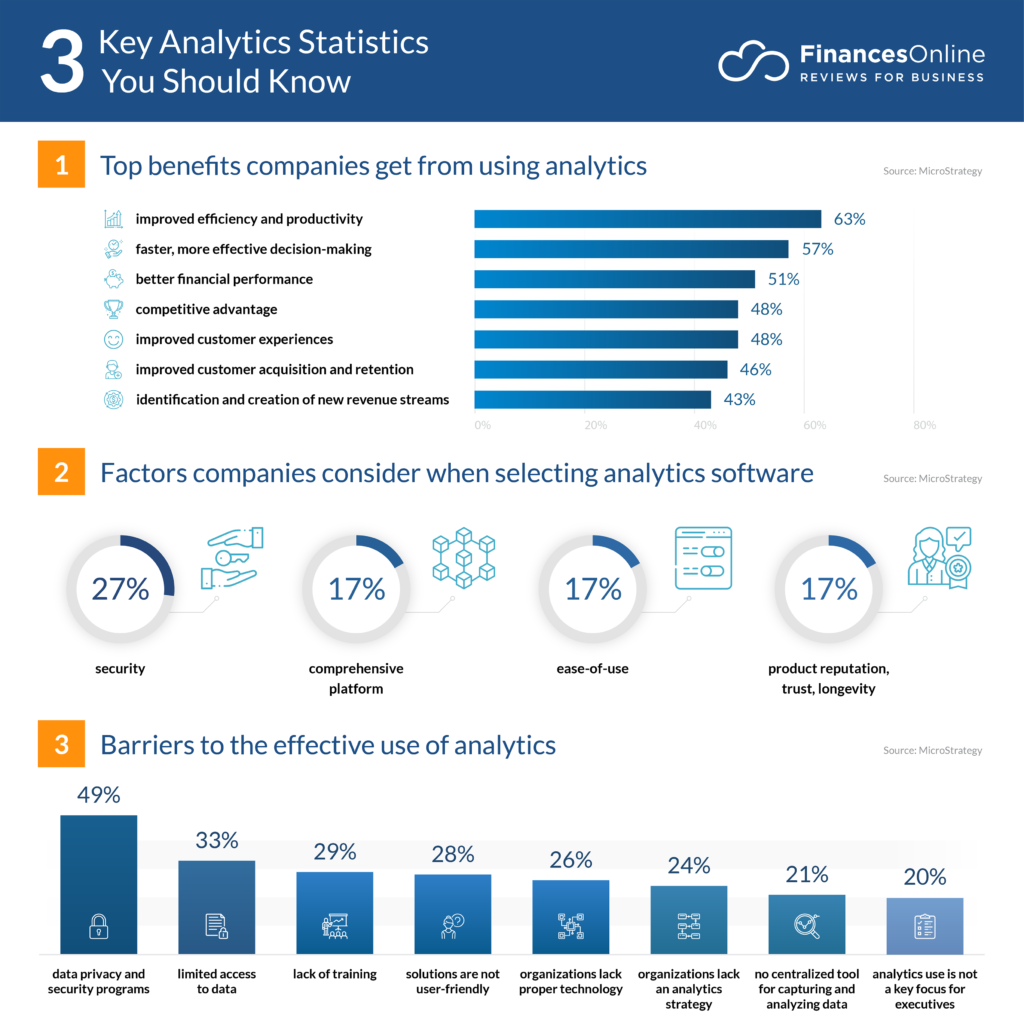 For example, this is an interesting statistic that will show why it is important to collect and use statistics. By the way, this is a good example, which shows how to put numbers correctly. If this information were submitted in a text format, it would not be more interesting than the annual financial report.
7. Crowd Marketing
Crowd Marketing is one of the advanced backlinks strategies that involve working with forums, review sites, and comments. You get the link for free, without the need to contact webmasters and owners of reliable Internet resources. 
Here's a list of valuable resources if you've started Crowd Marketing:
Thematic forums – collect a list of relevant forums and go through the thematic discussions. Leave comments and, where appropriate, leave a reference to your site.
Comments on thematic blogs, and sites. Place a link to the page you need in the discussion of the relevant topic. So you can not only increase the SERP, but also try to agree on cooperation.
Review sites. It is important to work with reviews, and if they also have links, you need to. You need to make sure that the Tripadvisor, Foursquare or Yelp profiles have a link to your site. It is also important to sometimes respond to clients with links to the pages you need.
Search engines always carefully evaluate how you work on reviews. So even if the client wrote you a bad comment – add a link to the feedback form on your site. This will probably save the situation with the client and will definitely become a "+1" to your SERP Rate.
Statistics show that mentioning on forums, in comments and on review sites improves the performance of your site, as well as increases the awareness of your brand, products, and services. 
 The facts support that link building strategy:
95% of users watch online reviews about a product or service before buying;
94% of consumers avoid a product or service if they find bad reviews or do not find it;
88% of small companies in America and Europe follow reviews and work on their reputation on the Internet.
8. Infographics
According to MIT neuroscientists, the human brain perceives visual information of 0.13ms. That's 60,000 times less than the perception of text information. Here's why creating infographics on individual issues is the advanced option to get links to your website.
We strongly recommend not doing an infographic just to make an infographic. To make a helpful viral infographic, you must adhere to the following criteria:
Be clear. Make an infographic that is understandable to your target audience. For example, write a transparent header and select a simple format (diagram, flowchart, or table).
Be unique. Even a trite, boring story can go viral if approached from an unconventional perspective. 
Be statistic. If you add only your opinion to the infographic, no one will need it. You need numbers in your visuals, unique data, and useful information.
An example is an infographic on carbon emissions on the planet. Assess how simple, clear, and informative the visual.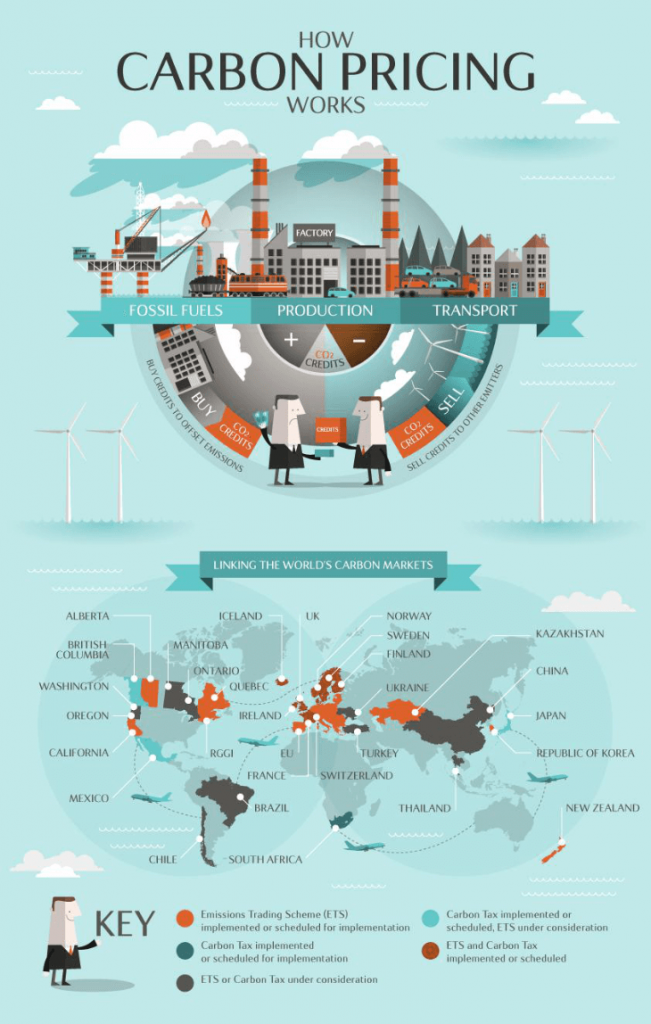 To come up with a topic for infographic creation, you need:
follow current news in your niche to identify the best news break;
know and use your evergreen themes;
use the "hottest" news that will make users discuss them.
When you create a unique and representative infographic, it is time to act.
Place visuals on your site and offer unique content to donor site managers. You have two ways to do this:
 Create a personal project in the Collaborator platform and find reliable sites to place references to your infographic.
Filter site performance, find the right resource, negotiate with managers, and place a cool infographic. All from one tab.
9. Social Media
Social media from being a "go hang out with friends" has become a powerful tool for creating a unique backlink strategy. Almost all modern brands run their social networks not so much for backlinks, but for traffic. And the key is activity.
Twitter, Facebook, LinkedIn, Reddit and others – social networks in which you need to be, because the links from them stimulate SERP rate growth. So you need to:
be sure to leave a link to the site in the profile;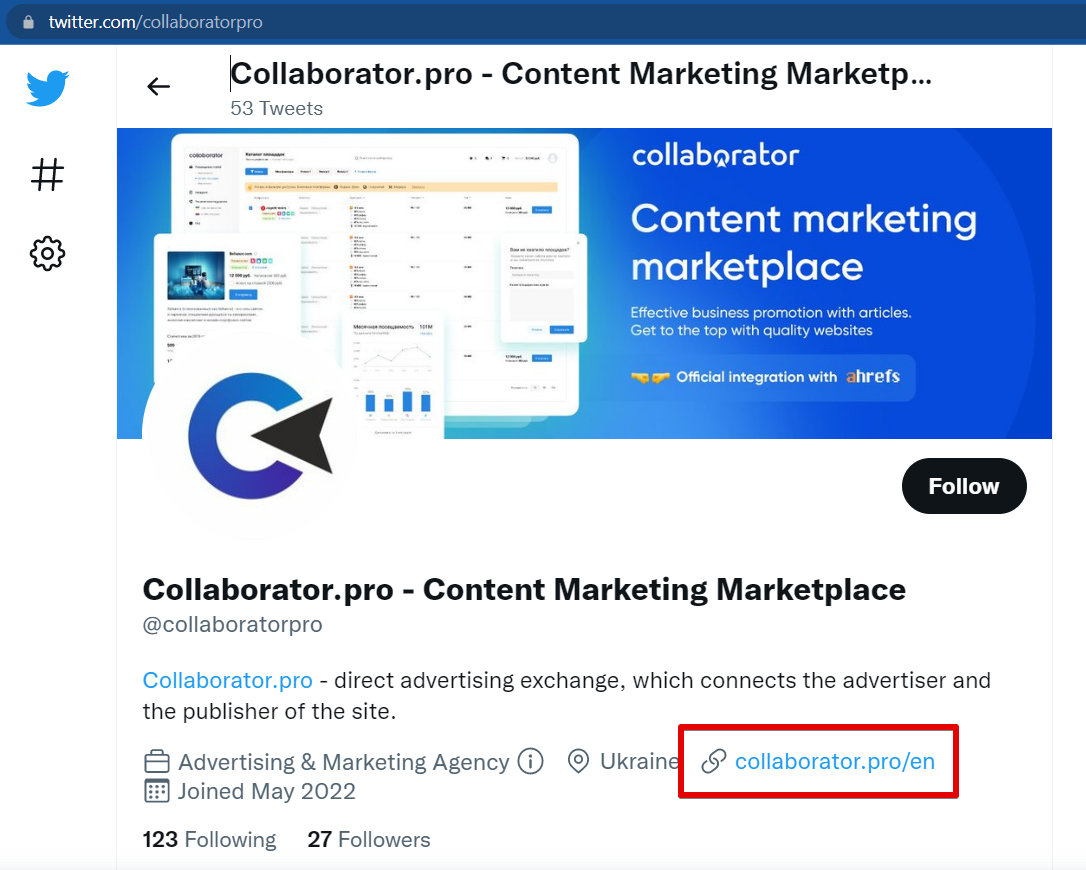 publish with links to the pages of the website – new articles in the blog, press releases about your products, etc.;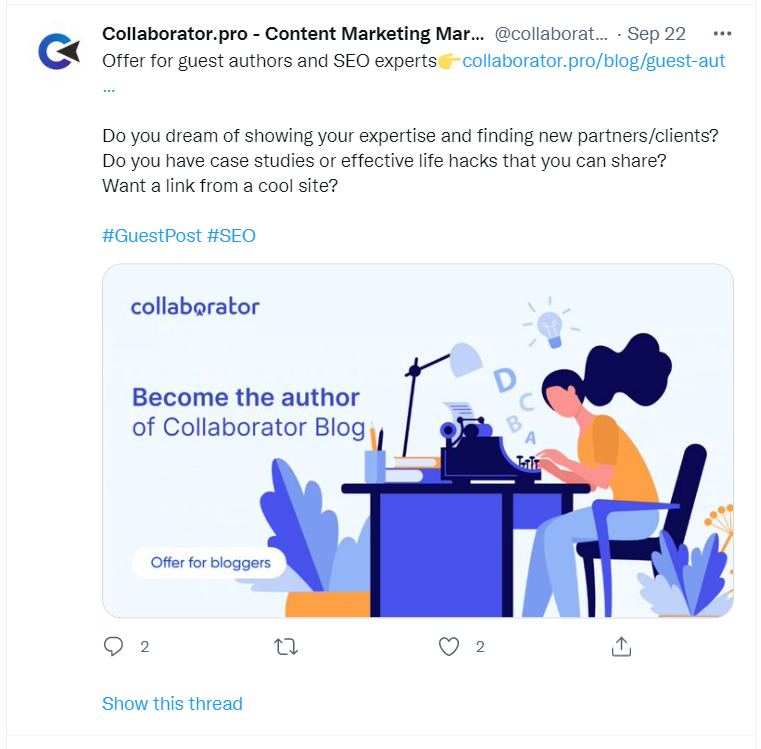 communicate with users in comments, and do not forget to attach links to the desired resources.
10. Brand Mentions
If you are doing a great product or service, then be sure that there are sites on the Internet that have written about you but have not inserted a link. So, this SEO link building method in 2023 will help you find these references and contact the site owner.
To find people who already use your thoughts or indirectly refer to you, we recommend the BuzzSumo platform:
go to the home page of the site or the account;
write the domain or keyword you need to check;
set up a filter and get a result.

Next, all you will have to do is select the results that concern you, find the contacts of the responsible persons, and write an email with a request to specify a direct reference to your site. Address to the donor's site manager or owner can be written on the model described in the Outreach strategy.
You can also agree to cooperate in the future.
11. Unique content / Use cases
As professionals in your field, you can (and should) create Use Cases. Any interesting result of your experiments is already a compelling case worthy of a separate article. And later also links from other sites that write about your niche.
To create a unique Use Case, you need to be interested in the statistics of your niche and not be afraid to experiment. And as a result, feel free to write articles such as "How to increase ROI by 750%" or "How to get high authority relevant backlinks to promote your website", etc.
Here's an example of Use Case by Wordstream.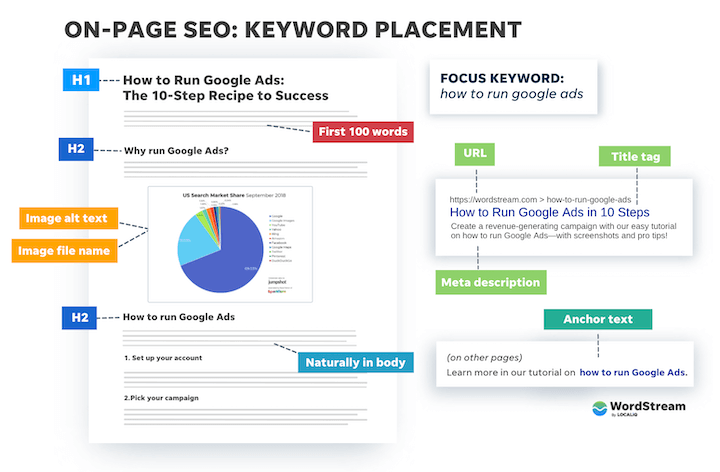 Wordstream analyzed surveys by HubSpot, Optinmonster, and others to create the Use Case "How to-Do's on-page SEO". By the way, this case study is perfect proof of how important it is to do research and collect statistics.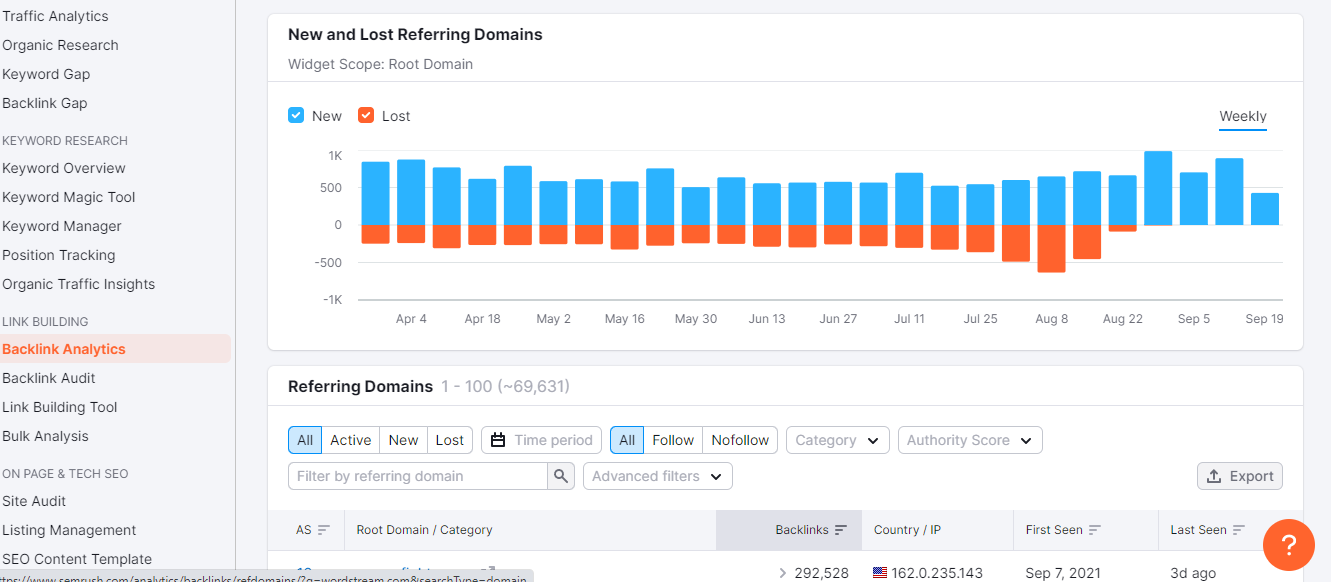 It is thanks to the approach in creating Case Studies and statistics that the number of links per week increases by 400+. And what other arguments are needed to use this backlink strategy?
12. Manage Your Backlinks
We already mentioned the need to restore lost links at the beginning of the article. But you don't have to wait for many of these links to come together. You need to constantly monitor how the graph and the number of your backlinks are increasing. And to do this, you need to react as quickly as possible if the links are not indexed or get the lost status. 
In simple terms, you can at least increase the number of links to your page daily. But if you lose them and don't understand "why", your SERP will remain low. And this will put off your trip to TOP FINDER until you do what needs to be done.
Take advantage of Ubersuggest and quickly find active and inactive anchors. To do this, go to:
Log in to your account or enter your domain in a special platform section.
Click "Backlinks" and "Backlinks Overview." 

Even just working on recovering broken links, you will strengthen your search results and increase the number of visitors.
13. Competitors' Backlinks & Replicate their Best Links
In simple terms, this best SEO link building strategy can be called "Watch your competitors and do as they do." This is how you will "kill two birds with one stone."
Spying on competitors will always tell you the current "Dos and Don'ts" strategy and will save hundreds of dollars on searching donor sites with good trust rates. You can check competitors' broken links and place your links there.
What do you need to track competitors successfully?
More about these and other link building tools read here.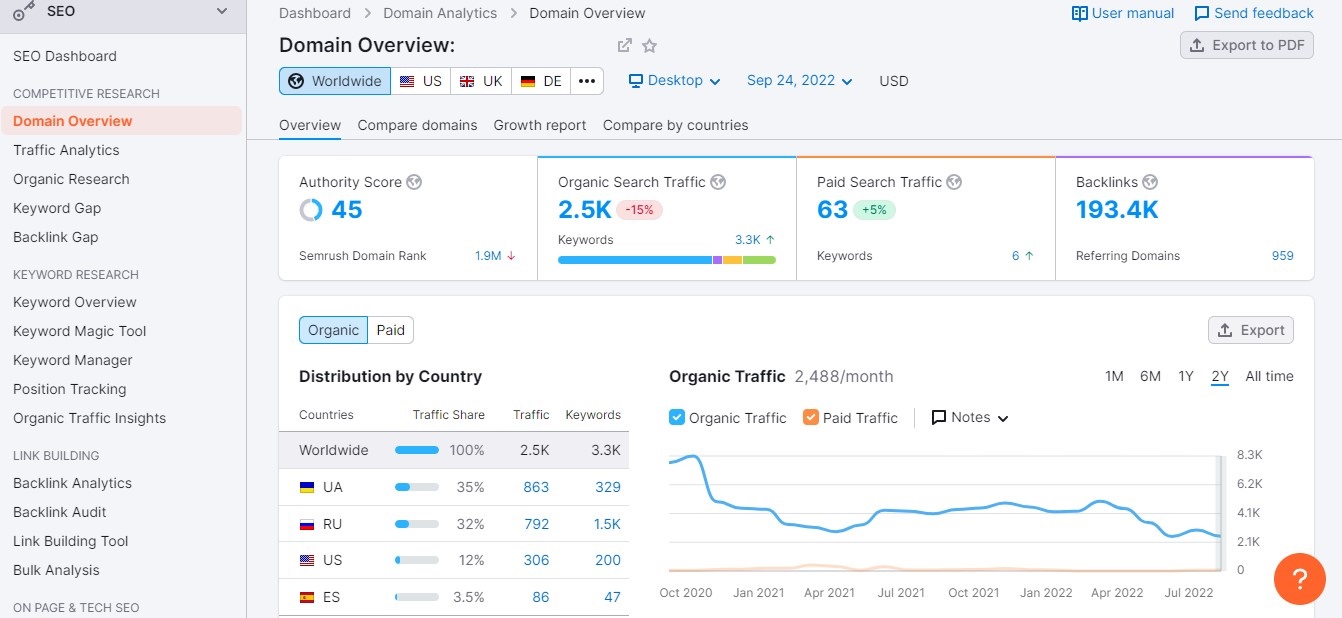 Once you have identified your competitors' best practices and have seen their misses – act! Get links from trusted sites, and you will see how you get higher to top search results and get more customers.
Use these platforms, and your strategies will be as accurate as Robin Hood's arrows.
14. Grow Your Personal Brand
The development of your brand is any action that may entail mentioning you on the Internet.
We've discussed guest blogging and outreach, social networking, and using cases. Along with that, you need:
to attend profile events;
give interviews;
communicate with other experts in your field ect.
The more you are in front of users, the more links to your site. And therefore, the more famous your brand is, the higher the search engines will rank your resource.
Link Building Ideas That Can Also Help
In the table below, you will find additional link building methods.
| | |
| --- | --- |
| Additional Linking Strategies |   |
| Graduate pages | Many universities, schools and courses have their websites. Sometimes you can see pages with alumni names and links to their internet resources. |
| Directories | This is one of the most needed helpers of the link builder. For example, in Google My Business, you can accumulate reviews and backlinks. |
| Job search sites  | Create an account and add vacancies with a link to your site. So vacancies, for example, with Jooble, Jobandtalent or Fiverr, can be posted for years and positively regarded by search engines. |
| Bulletin boards  | Keep in mind that these are free ad sites (for example, Amazon Bulletin board). So, it is important to carefully approach the placement of links. Be sure to check the trust and spam rates. |
| Сollaborations with influencers | In a Digital Marketing Institute survey, 50+% users trust influencers, bloggers, and representatives of big businesses. |
| Get links from friends sites | If your friends or relatives keep their blog, or they have a YouTube and same channels – ask them to share your link on their website. |
| Participate in surveys | This will not only help you show your competence, but will also allow you to get a link from an authoritative source. |
| Create RSS | Your subscribers will "stream" your content and links to the site. |
| Use Slideshare | This is a LinkedIn platform that helps create perfect presentations for your article or share them with other users. |
| Become a sponsor of event | Yes, it will require attachments. But you will get a great link and the ability to place the right material. |
| News jacking | Follow the news and create "hot" articles and publications. |
| Use discounts and coupons | If you offer discounts – contact the platforms that can place your link.  |
| Create a page on Wikipedia | Make it easier than it seems. And you will get a serious link from a trusted source. |
How to Create a Link Building Strategy for Your Website?
When you have a whole set of types of link building – it's time to act. Let's start the preparatory work together.
Know your target audience
Link building strategies for crypto websites and ecommerce ones will differ as they deal with different niches and audience. You need to know not only the "mythical" target audience, but also to represent a particular person. You need to know the gender, age, and social status. Only then you will create the most convenient site and always will select relevant site donors. 
Review your website
The main rule – before you begin the best link building strategy, make sure that your site is 100% ready.
Make a full audit of the site:
On-page (content, keywords, etc.);
Off-page (internal links); 
Technical Analysis (HTTPS, Page Speed);
Our free tool will help you to carry out the checklist in detail and forget nothing. And after you have identified mistakes – fix them and go to the strategy.
You need to determine what your site needs:
make a list of keywords by which users will find you;
create and feed content to pages that will lead to other sites;
look for site errors and fix them.
Go over Collaborator's SEO basics Checklist to make sure that you are not missing anything when analyzing your website. 
Make a list of competitors
We have already talked about the TOP 5 platforms that will help you track the performance and actions of competitors. They will help you use only the best practices and avoid mistakes.
Update your content regularly
It is not enough to write content. You must check and update it. 
Collect customer reviews (friendly and not significant).
Follow the news in your niche.
Subscribe to your competitors on social networks to acquire about the latest updates.
This way you will receive more information and update your content to increase the flow of leads.
Is It Possible to Promote the Site to the Top without Links in 2023?
In the summer of 2022 we have already asked this question from 10+ SEO experts, link builders, and founders of European and American companies. As a result, we received ambiguous and, most importantly, practical answers.
Most of them said, "YES! But...".
You can get into the TOP search results if you choose the right keywords and configure the internal links. BUT it also depends on how:
the target audience knows you;
how much better your site is configured than the competitors' sites;
your competitors use link building tips and strategies.
Here is an example. You have a chain of stores across the country, but it doesn't have a website yet. Customers visit you daily and discuss your store on social networks and forums. Once you create a site and place relevant content, you will immediately hit the TOP search results, leaving competitors lower.
Now let's look at this from the other side. You have a small toy store that only a few regular customers know about. So you decided to create a website. If big competitors in your niche use backlinks strategies, then you can hardly get to the TOP search results.
So, if you have created a site and filled it with relevant content – it's time to use personal backlink building strategies.
What is the Most Important Criterion for a Quality Link?
The main rule today: "Quality links should be relevant."
This means that the content on the donor site should be interesting and useful. It should "force" to click on the link that leads to your website.
But at the same time, almost all experts from our roundup noted the importance of indicators of site trust. The higher the trust in the donor's site, the more the search engines will trust its links. That means the more they will trust your internet page.
We also recommend the following criteria for links to make your link building tactics work 101%:
appropriate anchor text;
quality of the publication;
organic traffic & backlinks profile of donor site;
link's place on the page.
How Collaborator Helps Create Custom Link Building Strategy
Collaborator – is a multifunctional platform that helps link builders, SEO professionals, and marketers to find trusted internet resources and place a mention on their websites.
We have been working in the guest posting sphere and unifying website owners and content customers for five years.
Marketers, SEO link builders, and outreach professionals use the Collaborator because:
you can place links on any of 10'000+ trusted sites in a few clicks;
we have a convenient and detailed catalog of sites: 36 topics, 40+ SEO indicators, which you can adjust for any link building plans. Use a smart website filter and select only resources you need;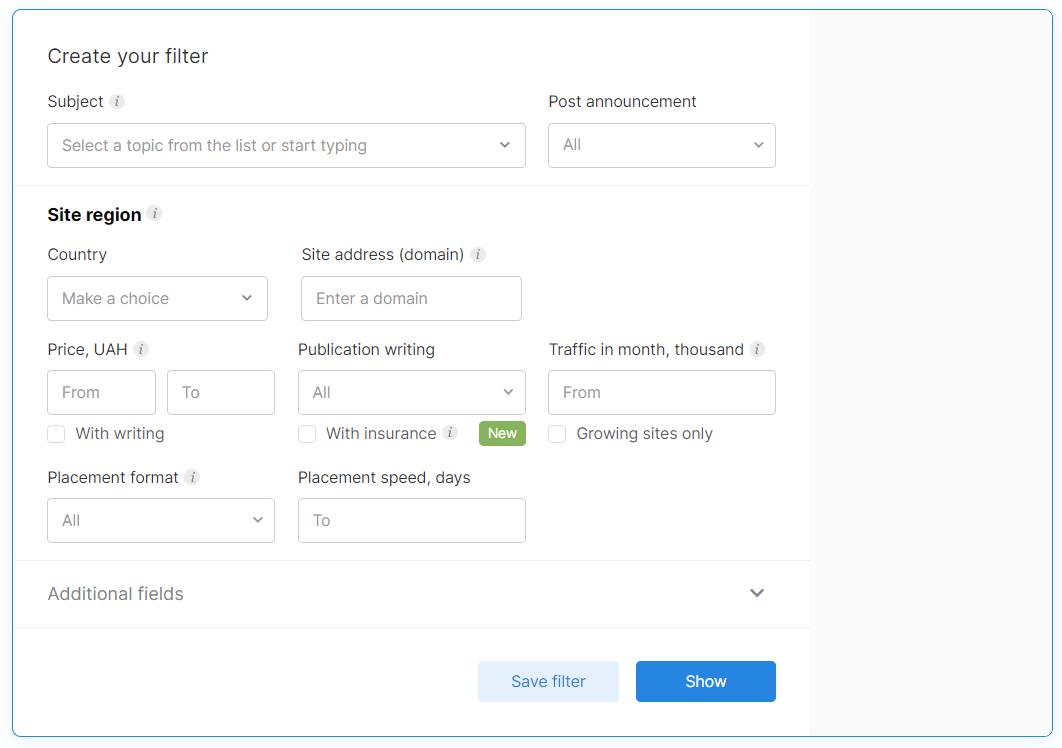 you communicate with website owners and discuss any important questions directly. No "gray schemes" and brokers;
we value honesty, so we allow advertisers and internet resource owners to leave feedback. It will help you make the right choice and work only with the best;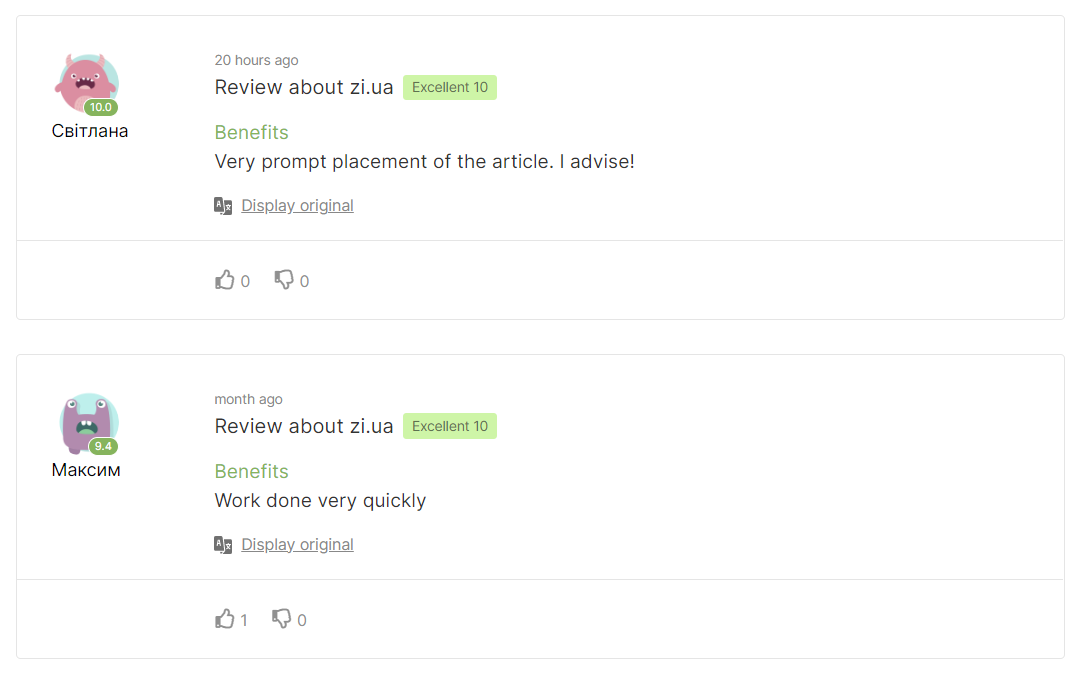 if you order guest articles for more than one customer, you will be easier and more convenient to control the team's work with the Master-account feature.
It is with the Collaborator that you create your link building strategy in 3 times faster because:
From zero to a link. You can easily find a suitable site, agree with the owner and place the necessary link in one tab.
The link will already be active in just 1-2 days. You don't need to check your email every day in the hope of seeing a response from the manager – you can negotiate directly on the platform.
You don't need to control the links. The Collaborator will do it for you, because we work only with permanent links.
So, if you haven't already tried the Collaborator to create your unique linking strategy, it's time to do it.
FAQ: popular questions about Link Building Strategies
How to choose link building strategies that work specifically for your site?
Experiment. The most effective is a backlink strategy that brings real results specifically for your site. And these results you can define and measure. In the Guide, you will get to know SEO link building tips that are currently used by link builders of large companies worldwide. Use their principles to create your custom linking strategy. Besides, use best SEO plugins for Chrome to speed up your SEO processes. 
What's the most common link building strategy?
Marketers, SEO-Guru, and Link Builders consider Guest Blogging the favored link building tactic worldwide. The main advantage of this backlink strategy is that everyone wins – you, the owner of the site, and the users.
Are there some tools that help to build links to your website?
Yes. There are tools for
auditing website link profiles and competitor sites;
analyzing donor sites, 
searching and checking email addresses, etc.
Many of these have Chrome extensions. More details about SEO tools are in our article on Best Link Building Tools for SEO.
What link building strategies can you implement for free?
Most methods described can be implemented unconditionally free of charge: Guest posting, outreach, marketing theft, etc. However, it takes more time and effort. Working with free & paid tools is faster and more reliable.
What effective link building strategy gives the quickest result?
Link Building – it's a long time process. It's essential to approach the tasks in a complex rather than limited to one strategy.
Final Thoughts
In this article, we reviewed the TOP potent link building strategies 2023. This is a full-fledged SEO link building guide you can use right now. Or select only the most appropriate elements to create unique, custom SEO linking strategy.
If you are already looking at link building tactics like Outreach, Guest blogging, and Crowd Marketing – we recommend you use Collaborator. Our platform will save you time to find reliable sites for placing donor links.