Collaborator Added European Top-Up Methods: Paypal and VAT Bank Transfer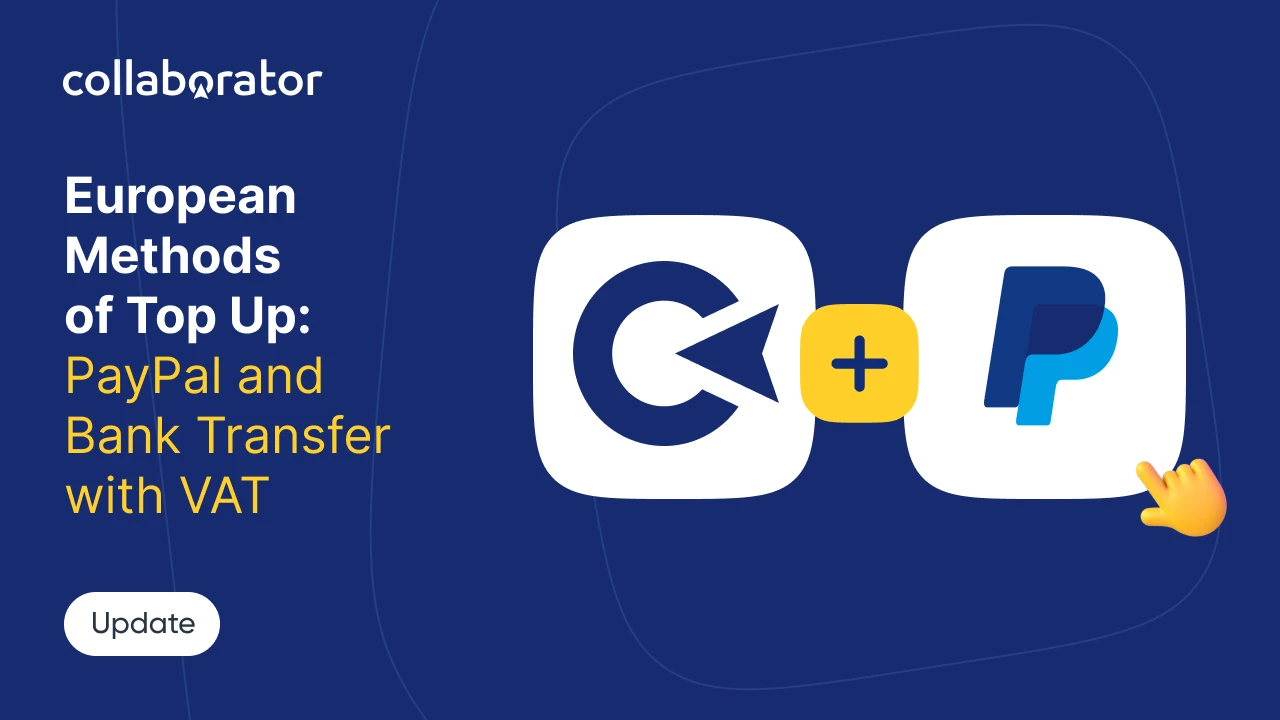 In collaborator.pro, it is possible to top up the balance via Paypal and through invoicing from the European legal entity Collaborator OÜ.
Main theses:
the flexibility of working with Europayments,
greater speed of financial transactions,
maximum independence in invoicing for payment,
system hints will help, so don't worry about funds.
Ihor Rudnyk shows in a short video where to find and how the new options work👇
[turn on subtitles and choose English]
Send a link to this post to your accountant, he will be happy for new opportunities😉
As we enter new markets, we are constantly working on adding currencies to the system other than USD. The priority is the euro. If you need to work with other currencies, contact support or leave a comment, and we will consider it.
Top-up via PayPal. How it works
You can pay lightning fast through Paypal and get your balance credited immediately.
Step by step: 
Go to the top-up page and select PayPal 
Fill in information about yourself or your company. This is done once. The specified details can be reused for subsequent top-ups 
If necessary, the system will take into account VAT. It depends on the data you have filled in. But don't worry, there's nothing complicated here)
Enter the top-up amount and go through the payment process on the payment system website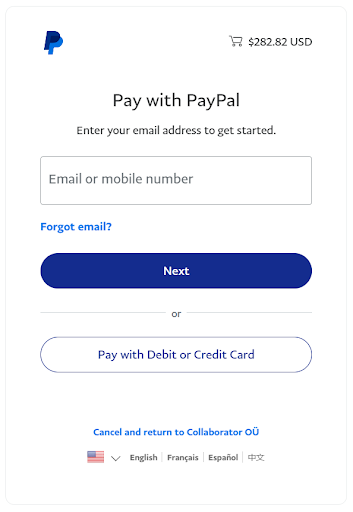 All proforma invoices are stored on the Accounts page, here you can view the history for the entire time of using the service. 
Replenishment through invoicing
The process is similar to the one described above with PayPal, but at the end, you will receive a ready-made invoice in PDF.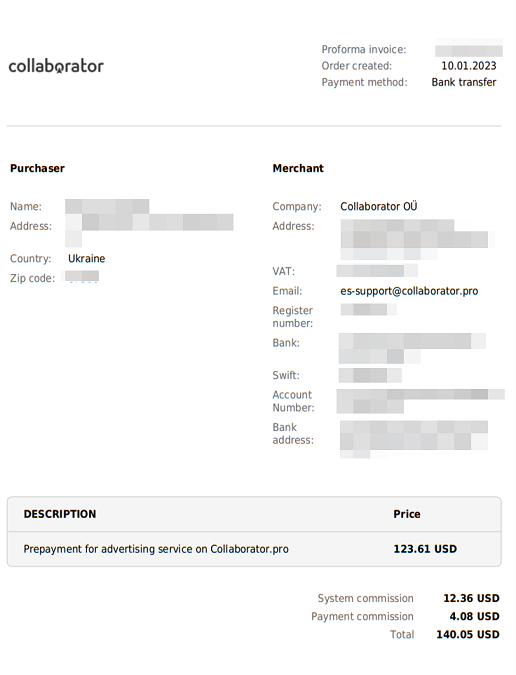 After its payment, the funds will be credited to your balance.
👉Please note that each EU country has its own VAT, which is also the same as VAT in Ukraine. The amount is calculated immediately in the top-up window.
FAQ 
How do I know if I have to pay VAT? 
— The smart Collaborator system will immediately tell you whether you need to pay VAT and in what amount, depending on the choice of country. Each EU country has its own VAT. 
Are there any restrictions on bank transfers with VAT? 
— Yes, there are restrictions for some countries. As of January 2023, the list consists of 22 countries where this method is not available.
Africa: Burundi, Central African Republic, Chad, Democratic Republic of Congo, Eritrea, Guinea-Bissau, Libya, Somalia, South Sudan, Sudan.
America: Cuba, Venezuela.
Asia: Democratic People's Republic of Korea (DPRK).
Europe: belarus, russian federation, Serbia.
Middle East: Afghanistan, Iran, Iraq, Syria, Yemen.
What currencies can be used to top-up the account using a bank transfer? 
Hryvnias and dollars are currently available. But we are working on making it possible to top up the Collaborator account in euros. Follow the news.
We will be glad to receive feedback and your questions. Write in the comments or in the support chat your impressions of working with the functionality and wishes for improvement🤜🤛