25K+ Websites in Collaborator's Catalog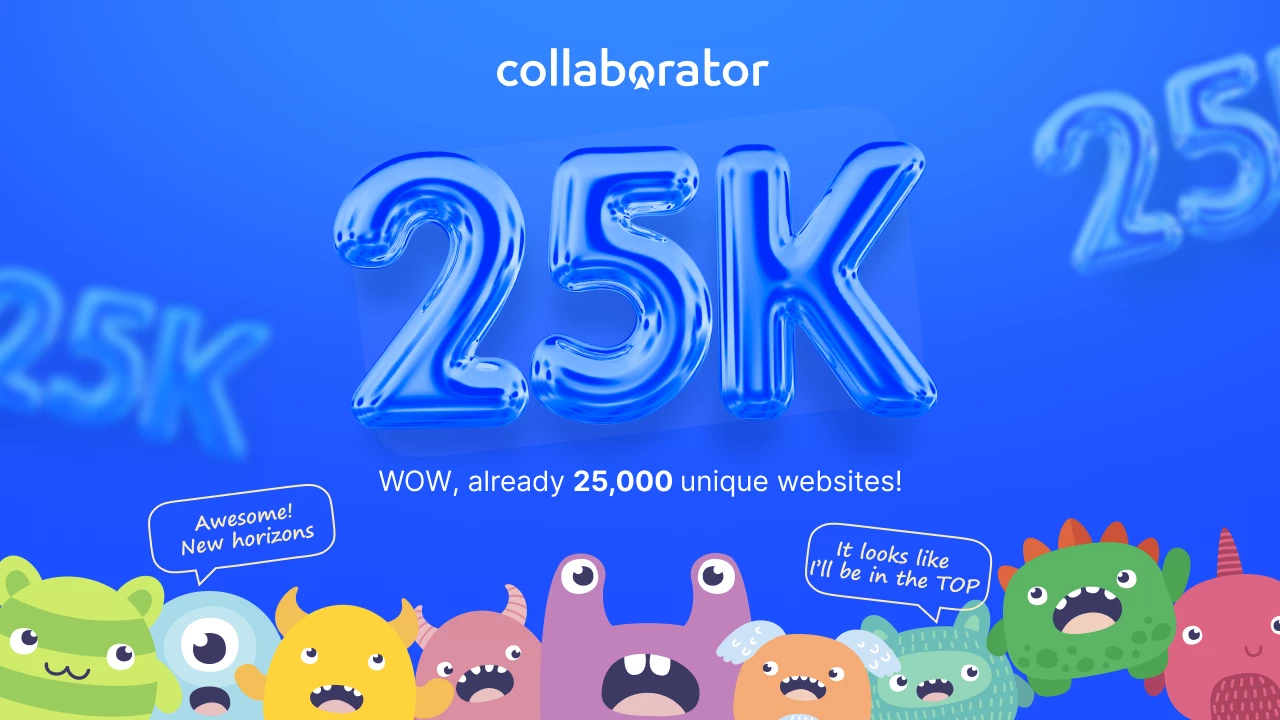 At the end of August, we talked about 20k+ websites in the system. We've worked hard on expanding our assortment to open up even more opportunities for you to enter new markets in various regions. Today, we are pleased to announce a new achievement.
There Are 25,000 Websites in Collaborator's Catalog
The number of websites is growing daily, and each site is manually verified by moderators. We are expanding geography, so you can choose the relevant websites with confirmed analytics from around the world.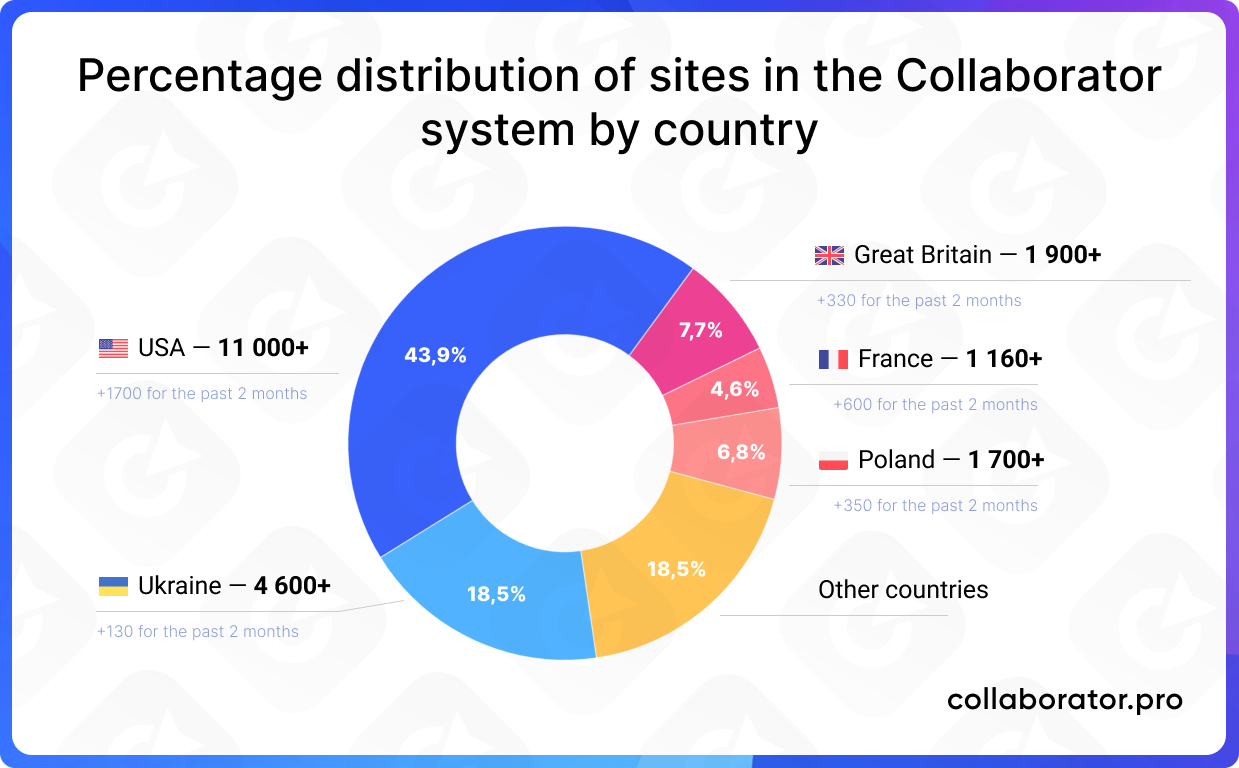 There are 25,000+ websites from 130+ countries of the world in Collaborator's catalog. Top-5 countries by the number of sites are the USA, Ukraine, Great Britain, France, and Poland. 
Unlock new opportunities for promoting your business/project in the markets of countries within the European Union, the USA, Latin America, Asia, Africa, and Australia. To see new websites, filter sites available in the catalog by the date of addition to the system. For even greater convenience, choose the geographical location, subject, language, publication format, cost of posting a publication, and other important parameters 😉
Globalize your projects and conquer foreign markets with Collaborator.
Popular Categories and Prices to Publish Content
We add new websites to our catalog every day. The following categories occupy the top 5 positions in the catalog by the number of websites: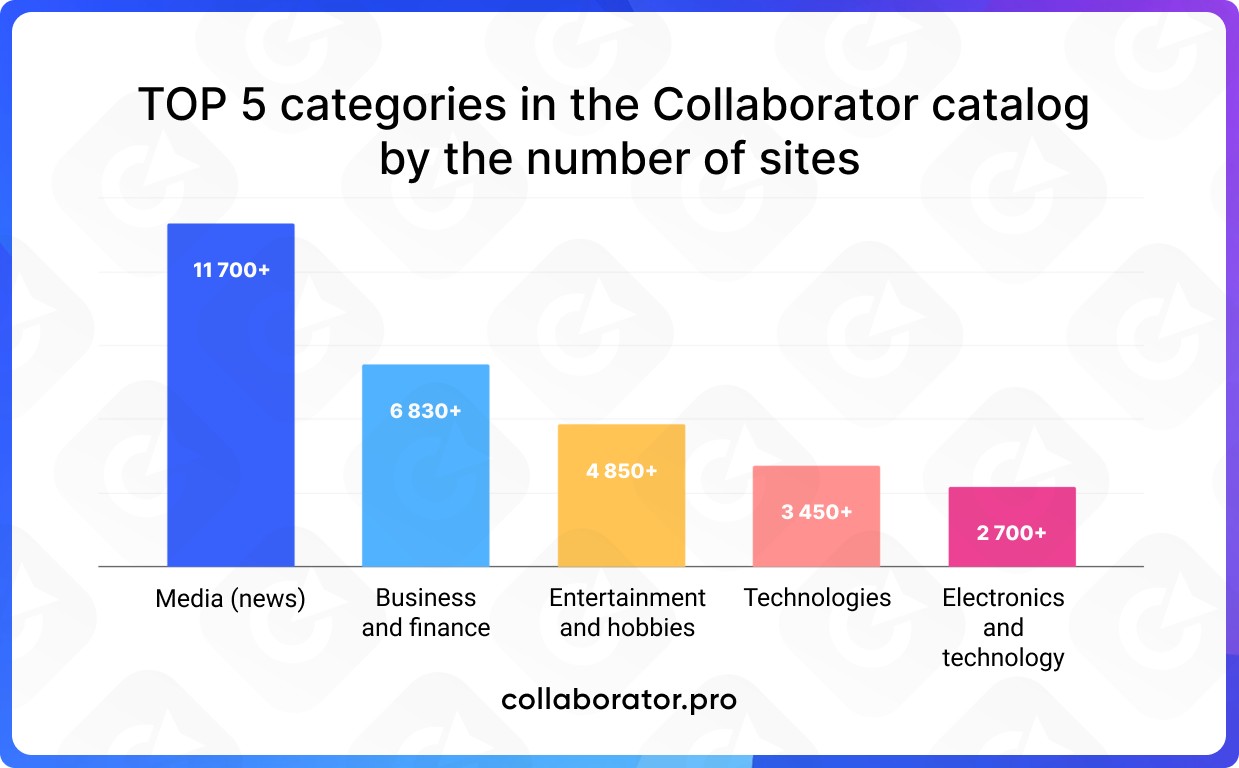 Niche categories and special themes also have considerable popularity and numerous deals made within them.
Cryptocurrency;
City portals;
Home and family;
Sports;
Health and medicine;
Fashion and beauty;
Culture and art, etc.
With over 35 categories in the catalog, finding a website relevant to a particular theme is easy. Besides, we have significantly expanded our range by various languages over the recent period:
English;
French;
Spanish;
Polish;
German;
Turkish;
Romanian, and many others.
Choose the relevant website from a particular region and niche to promote your business/project.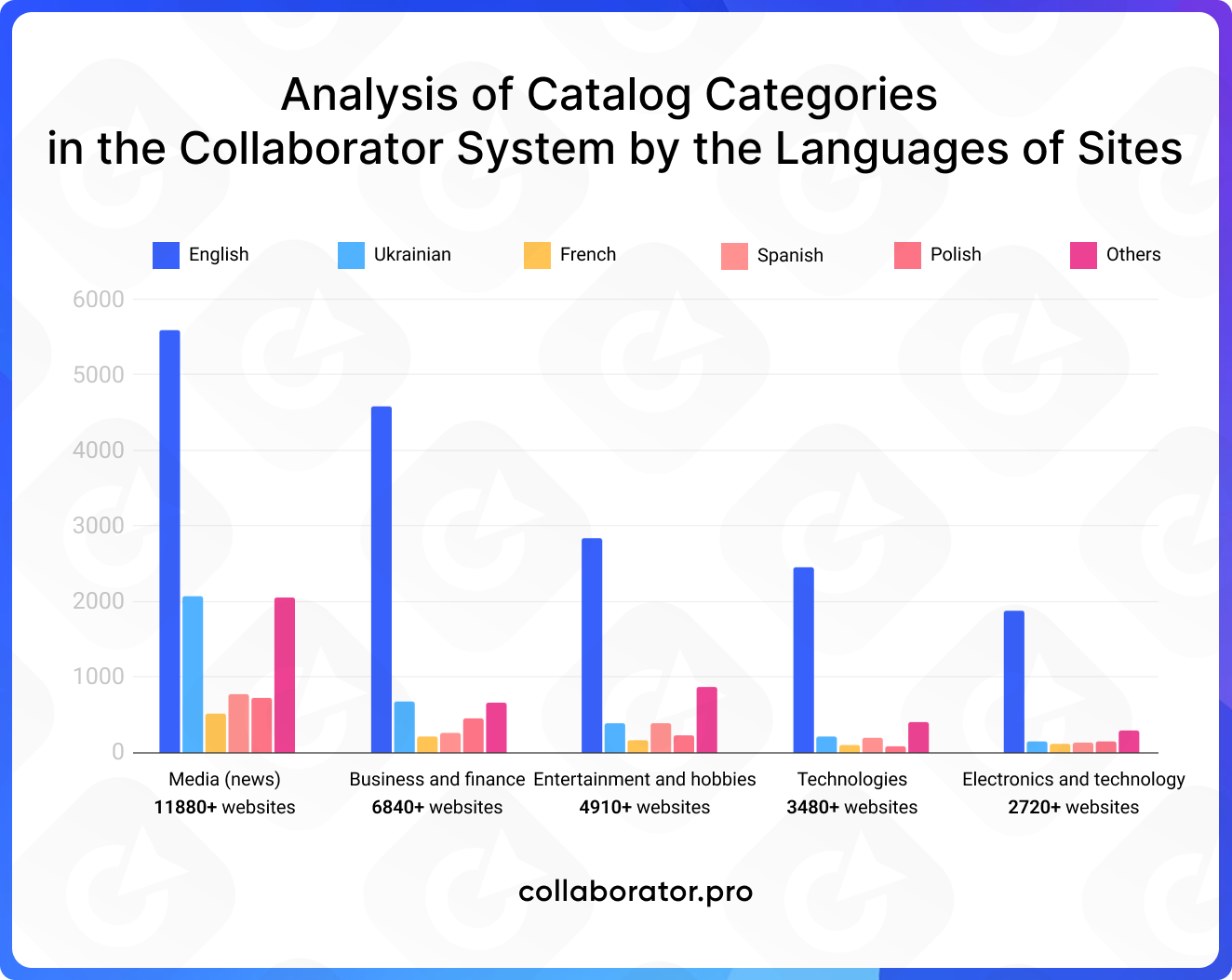 Analysis of websites available in the catalog by the languages of sites. 
In addition, information about the website's audience geography, confirmed by Google Analytics and Similarweb, greatly simplifies selecting and analyzing the necessary media for promotion in specific locations.
How Much Does It Cost to Publish an Article or a Press Release?
It depends on various factors: country, traffic per month, DR (Domain Rating) of a website), etc. 
In the most popular categories, prices for content publication are distributed as follows:
| | |
| --- | --- |
| Media (news) | from $0,53 |
| Business and finance | from $1,22 |
| Entertainment and hobbies | from $0,53 |
| Technologies | from $1,69 |
| Electronics and technology | from $4,16 |
Costs vary depending on the country. Let's see the average prices for content publications on websites from 10 countries from different continents: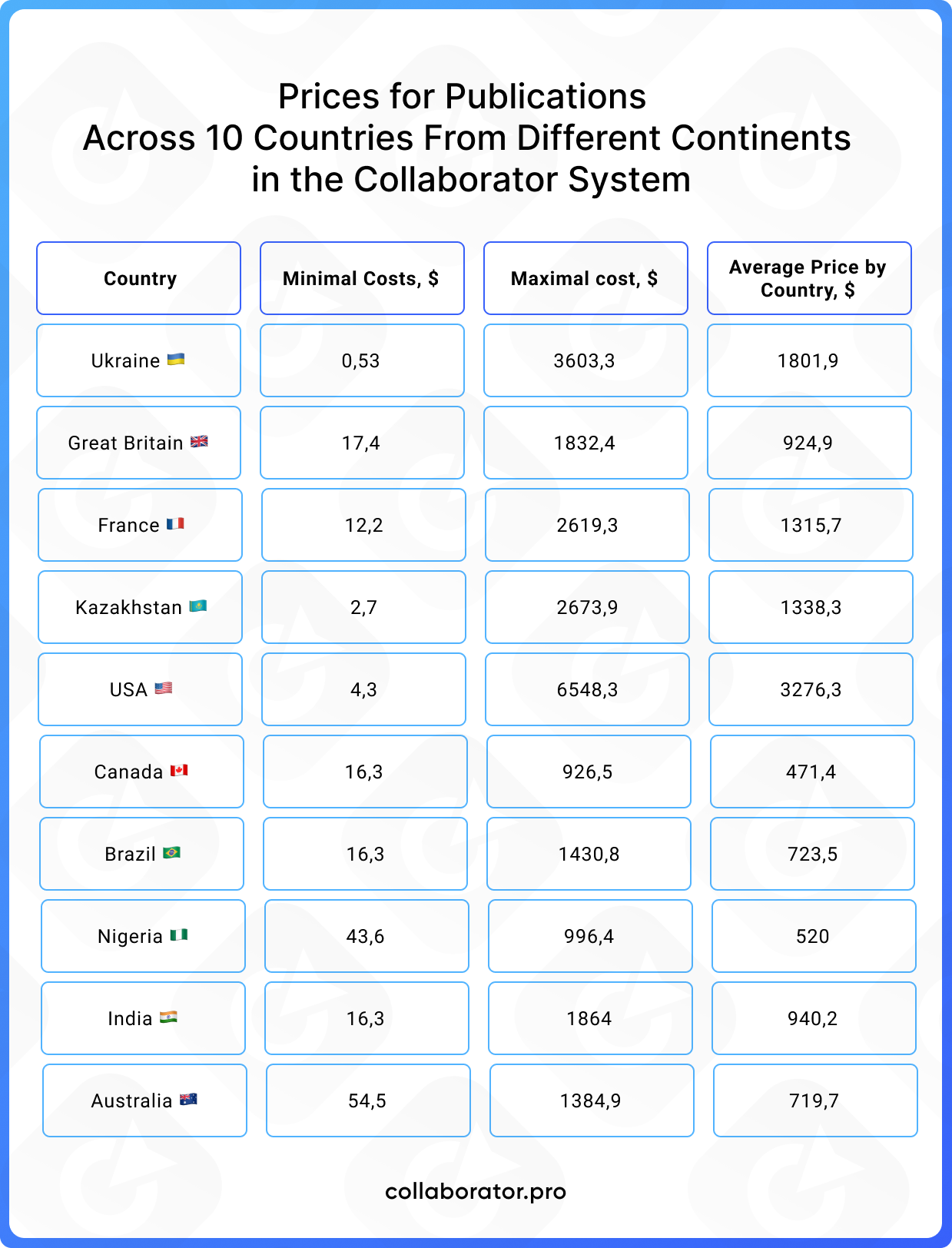 The price is directly influenced by the size of the website's audience. In Collaborator's catalog:
277 websites (1,11%) with monthly traffic from a million.
270 websites (1,08%) with an audience from 500 thousand to a million.
1584 websites (6,34%) with monthly traffic from 100 thousand to 500 thousand.
All data is confirmed by Google Analytics and Similarweb. For each platform, you will find comprehensive analytics on traffic sources and distribution by geography and dynamics over the past 6 months.
To get familiar with prices for content publication, go to the catalog.
How to Choose the Relevant Website
To find a website for publishing an article or a press release, you need to:
Register (it is free and takes just a minute).
Go to the catalog.
Select the necessary parameters based on specific queries in the filtering panel.
Choose a website from the provided list that matches your criteria.
Our convenient filtration system with a quick search for media by country, region, city, and other parameters will help you quickly select a trustworthy site with relevant content and data confirmed by authoritative services, such as Google Analytics, Ahrefs, Majestic, Moz, and Similarweb.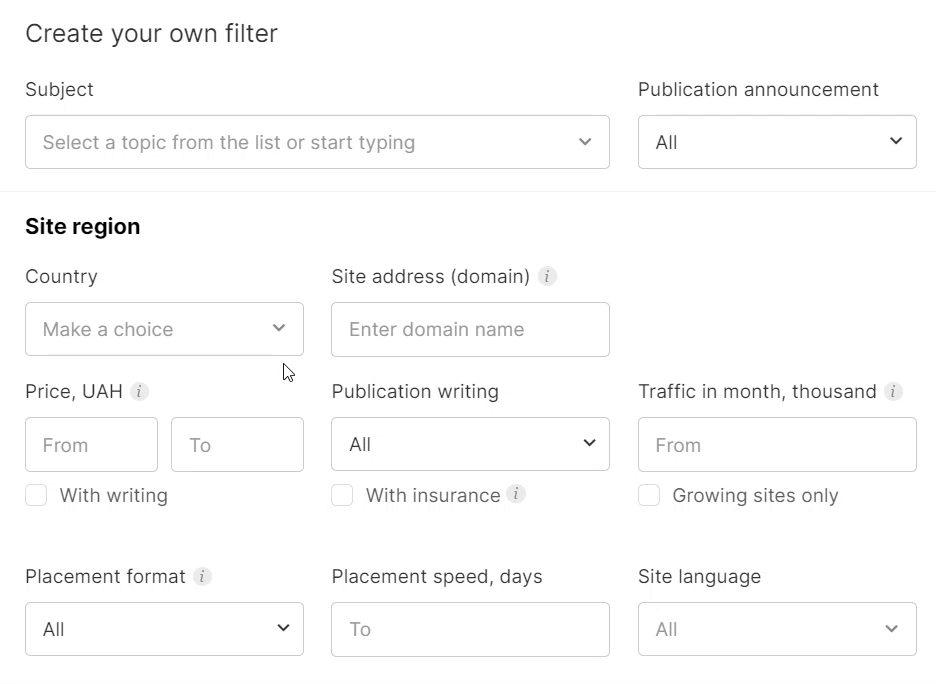 Several useful tips for personalized and convenient searching in the catalog under specific queries.
1. To do this, click on the gear icon, check the boxes next to the necessary data, and edit the order in which data is displayed in the catalog.
2. Enable the Search Agent, which will notify you when new websites meeting the parameters of the created filter are added to the catalog.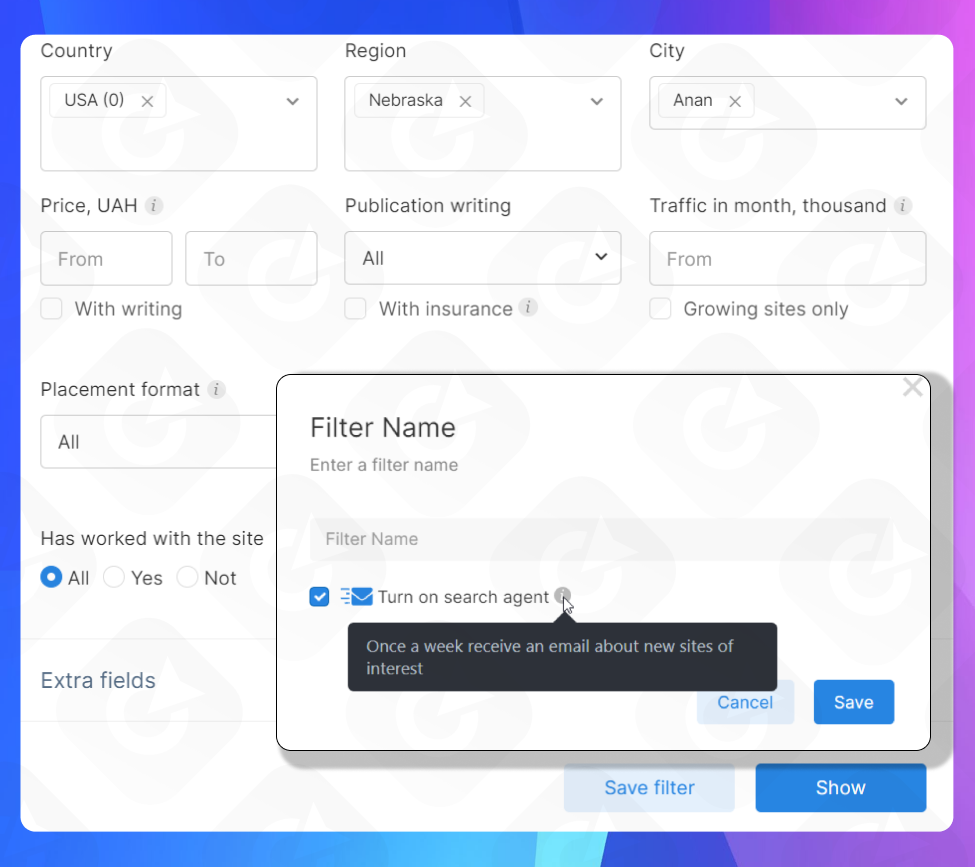 3. Not enough websites? Let us know what sites you'd like to see in a greater variety: specify the category or provide specific domains, and we'll take care of finding them and do our best to add them to our catalog. 
The cool advantage is an opportunity to rate and leave feedback about their experience with the platform and read reviews left by other advertisers. Nearly 9% of all sites available in the system (2200 ) have the highest rating of 10 points for the quality of cooperation, while around 4% have a rating from 9 to 9.9.
We strive to ensure that using Collaborator is convenient for our users. We constantly improve the platform, work on system updates, and listen to user requests and needs.
We would appreciate your feedback and suggestions regarding the assortment of our catalog. Please leave them using the "Not enough sites" button at the top right in the catalog or contact our support team.
Wishing you successful deals 💙