Link Building Strategies Round-up: 12 SEO Experts Tell About How to Get Links in 2022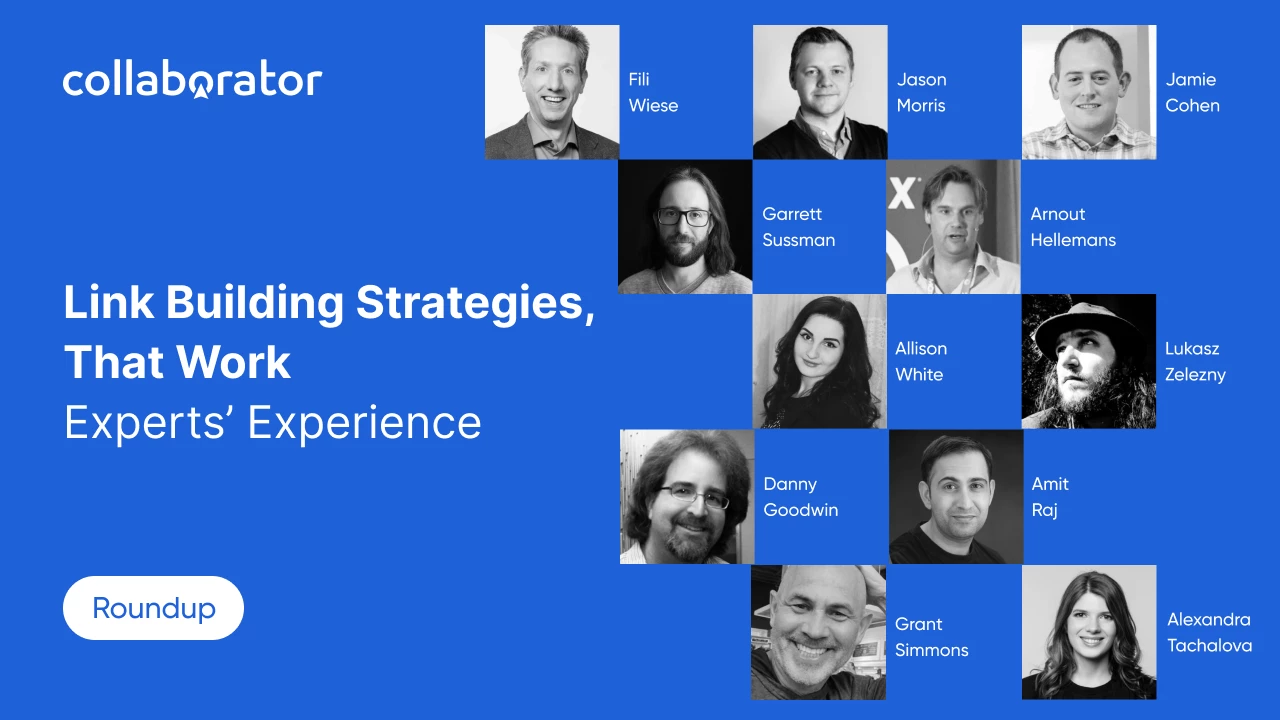 We have asked well-known SEO specialists about how to get links and develop the best link building strategies in 2022. We are sure that their expert opinion will be interesting to our readers.
Participants of the survey 
We are very grateful to experts who took part in our survey and shared expertise with other specialists:
Tools and methods 
Before developing the strategy of link building, you should perform a website audit. This is when an on site SEO Checklist will come in useful. Then it is essential to analyze keywords and the quality of donor sites. Since the weight of the received links and the success of ranking your resource depends on it. 
Link analysis tools
Among the proposed tools for the analysis of links the most used was Ahrefs 64%. It is worth mentioning that Collaborator, a SEO marketplace for guest posts, officially integrated Ahrefs metrics. 18% use Semrush, and 9% use Bing webmaster tools. Also, 9% look at statistics on all proposed tools and others.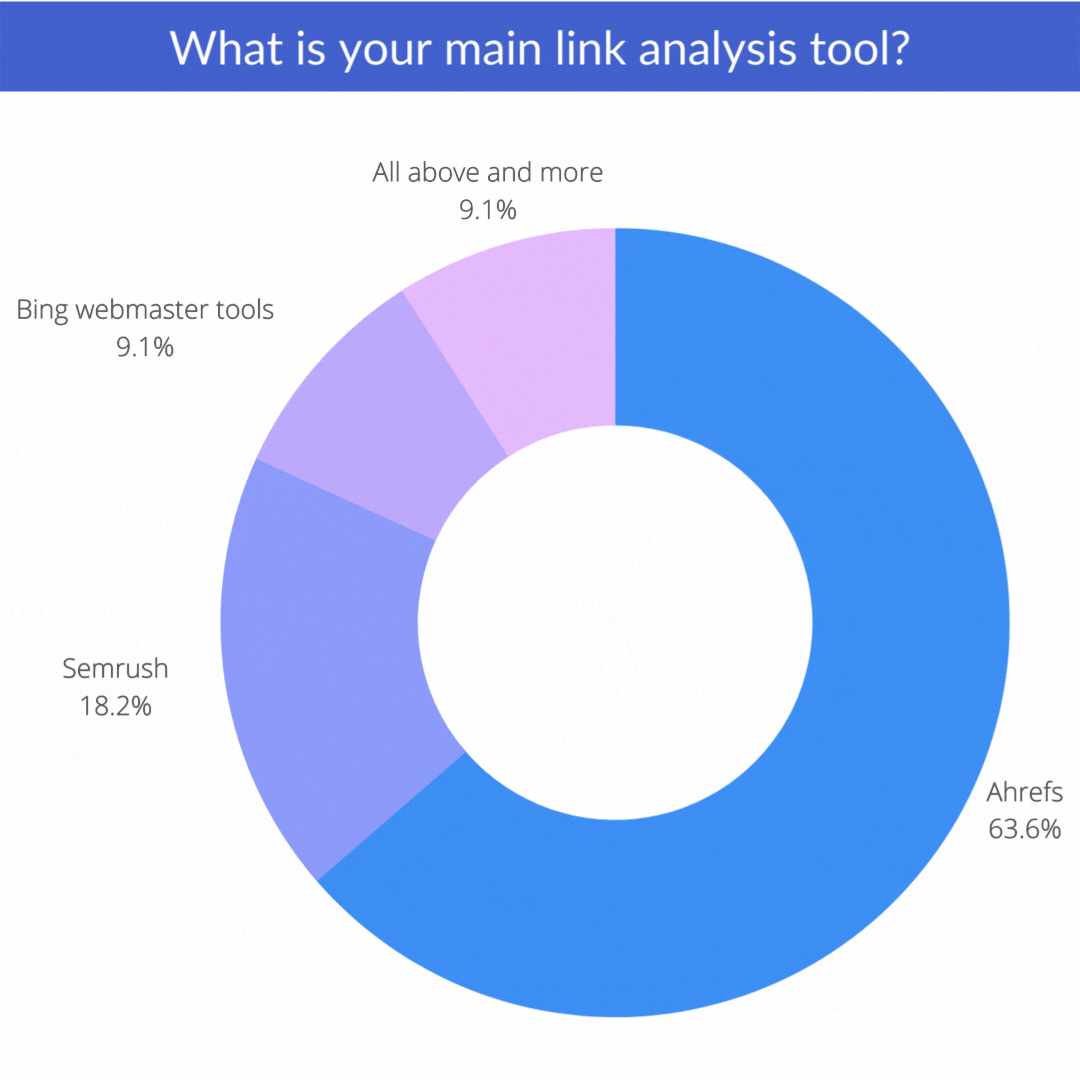 Link building methods
Of the proposed methods of link building our respondents most liked: 
Guest posts 
Link insertion
Unlinked mentions 
Broken link building 
Link Reclamation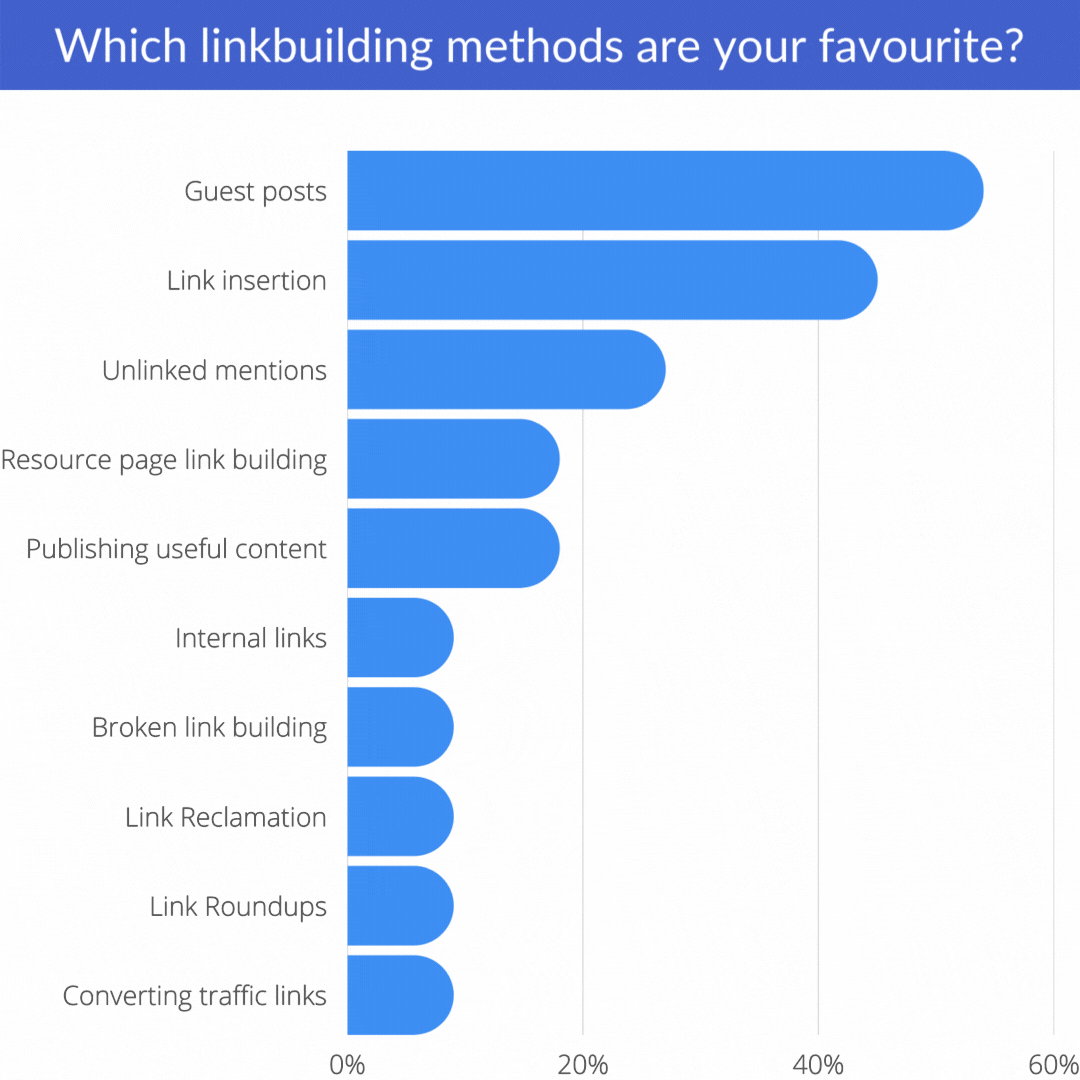 Named also Resource page link building, Publishing useful content, Internal links, Link Roundups, Converting traffic links. 
Link building providers
Contact the intermediary is a very popular step that optimizers make to build and implement a link building strategy. Among our respondents, 81% do not use link building providers. Two of them are representatives of agencies providing such services. One of the participants said that he preferred the outreach.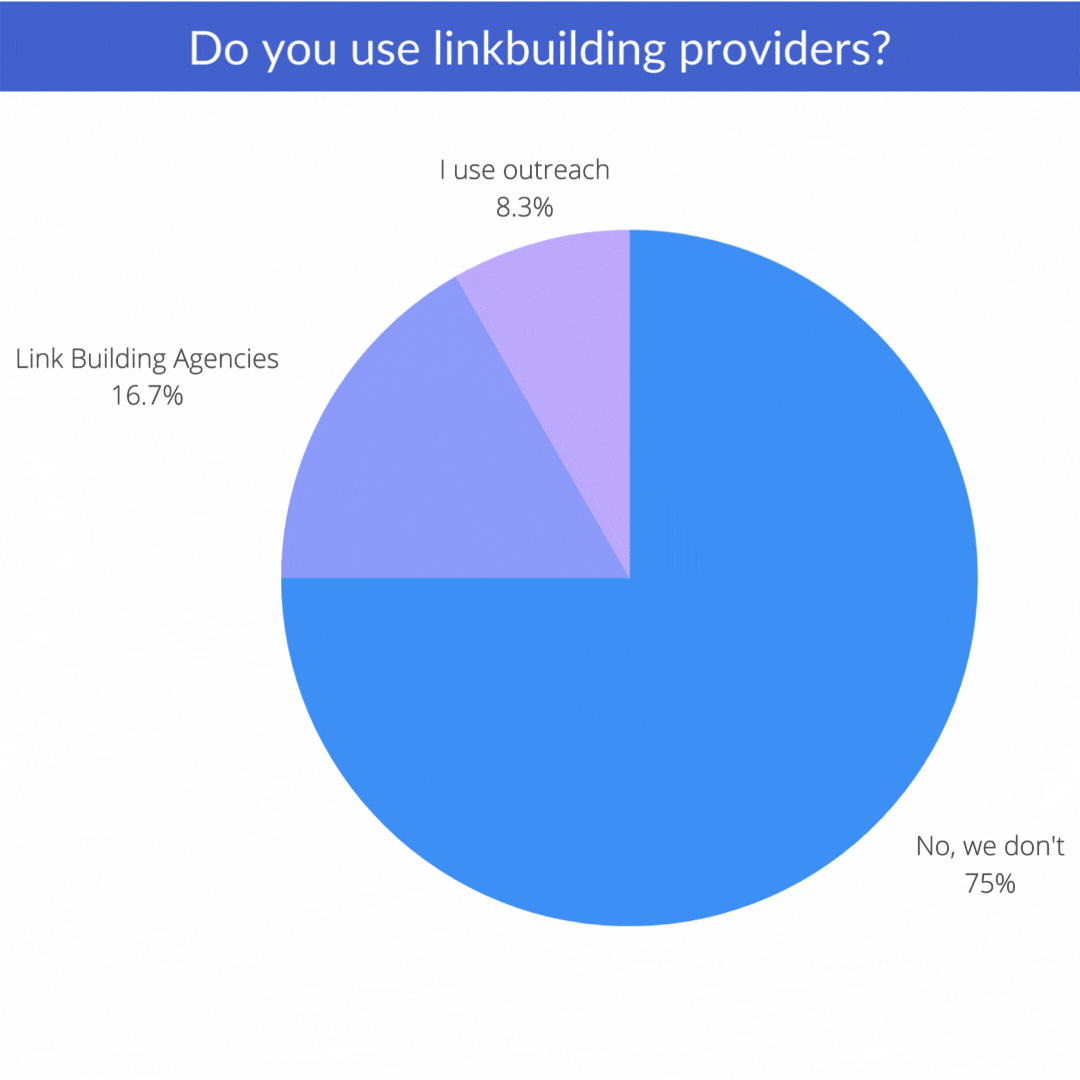 Among those who use the services of intermediaries, the agencies get a clear preference.
How much money to invest in links per project per month
Buying links is a rather controversial issue of search optimization. 27% of respondents do not spend on links at all, and the same number of respondents spent $500-1,000. Two of the 12 respondents put up to $3,000 in the budget, and one respondent from $3,000 to $5,000.
Agencies, of course, spend more money — more than 5,000 and even 10,000 dollars.
Next, we give the first-person answers to the open questions of our questionnaire. These are the views of practitioners on current issues of link building.
Is it possible to promote the site to the TOP without links in 2022
Garrett Sussman: Yes, without external links. For a query with average competition, a well organized website that's established topical authority on other pages can earn a top ranking or featured snippet. The page needs to perfectly identify the intent of the query, provide comprehensive coverage of the topic, and well-placed internal links.
Lukasz Zelezny: Rather impossible
Allison White: Yes
Jamie Cohen: Yes, it's possible to rank with just topically relevant content and proper internal linking in 2022. However, it becomes easier when relevant external links are added into the equation.
Amit Raj: It all depends on the number of links your competitors have. I think with long tail keywords or in niches where sites generally don't have a lot of links it's possible.. but not in the majority of cases.
Danny Goodwin: Yes. Anything is possible. It's much easier to do this if you're a large or authoritative brand. You'll need some combination content (useful, optimized, relevant), good UX, a technically sound site, schema, and other elements to do it though.
Arnout Hellemans: Yes, it is but it's easier with some links and outreach.
Jason Morris: It's pretty much impossible to rank highly without links for any type of average competition keyword.
Fili Wiese: Yes, of course it is. Most URLs have few or even no external backlinks. On-topic and internal links can absolutely be helpful to rank prominently for relevant queries. But they are not as critical as other factors. Including the most important one which is a clearly defined unique selling proposition. Only if a landing page represents added value, not readily available elsewhere on the web does it stand a chance to perform well in a competitive environment. This a central point explained in my article on the most important ranking factor.
Grant Simmons: Yes. Content still rules in most niches, competitive niches do need a link strategy to improve rankings. Building a brand that acquires links easier is the better option.
Alexandra Tachalova: I think the right answer will be «yes», but! It all comes down to a good number of factors that will let or not let a site with a very weak backlink profile rank well in SERPs.
For instance, let's imagine that there exists a very well-known offline brand that has no site. But they have tons of brand mentions since everyone knows them, they're always in the news, etc. So, if this business creates a site at some point, it would rank extremely well, even without any links. Why? Google knows this business well, so there's no need to create additional social proof.
Now, let's take a 100% opposite situation: a very weak brand that is a part of an extremely competitive niche where everyone is into link building. I don't think there's any chance for such a site to rank well for the right terms without acquiring some meaningful links.
Luca Tagliaferro: Very unlikely.
Powerful links you can proud of: practical cases how to get
We asked the experts to tell about the most powerful link that they have obtained and that they are really proud of.
Garrett Sussman: At iPullRank, our team earned a link from Google Developer documentation to our E-A-T content article on our blog. We're really proud of the link because it was earned with quality content, not outreach.
Personally, back when I was working at graphic design marketplace, 99designs, I'm proud of our team earning placement in ESPN, CNNSI, and Buzzfeed for a blog post about a community logo design contest that we ran for the NBA's New Orleans Pelicans.
Lukasz Zelezny: Link from Wix.com ;)
Jamie Cohen: For a B2B SaaS client, I was able to obtain a guest post link from the parent chapter of a nationwide small business association. I was able to showcase this guest post to hundreds of local chapters of that association using outreach. This secured additional link opportunities for my client. It was a big win!
Amit Raj: We get them all the time but we get links in major US and UK universities all the time. We also get links on government sites. One of the most interesting ones we got as a link MIT. That was a really cool one
Danny Goodwin: Once got a link from The New York Times. That was pretty exciting. Though it didn't drive much traffic or move ranking for the page, it's still a link from nytimes.com.
Arnout Hellemans: BBC link for a local business.
Jason Morris: As a link building agency we build a LOT of links. Our goal is ranking our clients over time so we are less focused on individual link wins. With that being said we did score a number of links for a B2B client on sites like the New York Times. It was a right time right right pitch scenario.
Fili Wiese: As a professional SEO consultant and former Google Search engineer I know better than to check for new backlinks. Or to spend time contemplating which one may be "powerful". Expert SEOs do not care for backlinks or PageRank but exclusively for relevant, converting traffic. For that reason a great backlink can well be a no-followed link placed prominently at a relevant platform that costs €50.000 a year. As long as the traffic originating from that backlink generated double the revenue, it remains a great investment.
Grant Simmons: My last gig we created a survey that asked 'which new york borough is best', we had the mayor of one of the boroughs reference our survey on the official government website and in their email newsletter to every borough resident.
Alexandra Tachalova: The most powerful links are the ones that keep growing in their value over time as well as helping grow your brand's authority. I think such links for me are the ones that are associated with my expert columns on Moz, SEJ, and similar blogs.
Luca Tagliaferro: Link from Moz.
What is the most important criterion for a quality link?
Garrett Sussman

The authority of a relevant website, the absence of a no follow directive, and keyword driven anchor text.

Lukasz Zelezny

I always ask myself - Would my mom click that link? If I answer yes, that means link is good.

Jamie Cohen

Relevancy is the name of the game for me. DR is useful but SEOs over rely on it.

Amit Raj

Relevance is key. Because of that, what is a powerful link for one client, may not be as powerful for another. I think this is the best way to approach it rather than focusing on arbitrary metrics like DA or DR

Danny Goodwin

As the late Eric Ward used to ask: Would you build the link if Google didn't exist? If the answer is yes, it's a quality link. Many people get hung up on link building metrics (e.g. DA). But these are just numbers. Google doesn't use them.

Arnout Hellemans

Quality of the publication

Jason Morris

Relevancy and increasingly anchor text selection

Fili Wiese

There's really only one criteria for backlinks and that is whether they help generate relevant, converting traffic.

Grant Simmons

Relevance

Alexandra Tachalova

We look at a combination of factors when it comes to building the best of the best links:

- A site should represent a legit brand (we try to focus more on building links on SaaS blogs)

- A decent flow of organic traffic from EN-speaking countries (not less than 1k visitors per month)

- Domain rating not less than 30

- Healthy anchor profile

Luca Tagliaferro

Relevancy, backlinks profile, organic traffic
Link building strategies, that work
We've asked to share an example of a link-building strategy that worked for expert.
Garrett Sussman: The best link build was designed around quality content the resonated with a targeted digital PR campaign. Before even creating the article, image, video, or collecting the data, you need to know who you'll be pitching it to and whether they'll find it valuable or entertaining for their audience. Then when you start your outreach, target publications where you have a relationship with the writers. Keep the pitch short and to the point. Make it easy for them to consume your content. Make the ask.
Lukasz Zelezny: When your name is Lukasz and surname Zelezny you have no issues to track your brand and ask to link unlinked brand mention. Aside from that asking people to stop linking to your social media profile and instead to your website is the way to go.
Jamie Cohen: Guest posting works very well for me. It sometimes has a negative reputation that is unwarranted. If done correctly, it's a really powerful method to get good links that can drive ranking improvements and traffic!
Amit Raj: Reaching out to local councils or local/state government institutions where we have a resource that we think is useful to the general public. If We have such resources and it's free to use (not behind a paywall) , we always think about whether there are official organisations or institutions we can reach out to, and if they'd be interesting in placing it on a relevant resource page. Anything to do with social issues, recycling, health etc can do quite well with local gov.
Danny Goodwin: I have always taken a content-led approach to attracting links. I don't build links. I want to build an audience. Links are a byproduct of creating and marketing great content. You must create relevant and optimized content that is educational, informative, entertaining or inspirational. You must make people aware of it. And you must do this consistently over time. If you do, you should build an audience and plenty of links.
Arnout Hellemans: Have a pr strategy ready for the moment it happens, think about what can become a pr moment in your niche and prepare for that. Another big one is bringing out a state of xxxxx ( where this is the main topic of your niche), invest in a template and your unique data. And stick to this. I have done this multiple times in different niches and it keeps bring in links, even more each year.
Jason Morris: During COVID lockdown we used a clients data on the impact of COVID on business travel to secure some great links. Digital PR can be a great strategy although it is becoming more and more saturated. Targeted guest post outreach remains the key strategy that drives our link campaigns.
Fili Wiese: Rather then boasting about personal triumphs that are little applicable to other webmasters situation, I recommend a blueprint how to build links for converting traffic, see.
Grant Simmons: Guest posts are still a relevant and effective tactic if targeting sites that actually «want» your content due to its uniqueness and value to their audiences. So the host site needs to have an audience and a focused topic or expertise.
Alexandra Tachalova: We use a hyper-personalized email outreach focused on building meaningful relationships instead of begging for links. You can learn more about our approach in my email outreach guide.
Luca Tagliaferro: My best strategy was designed around original research about the ROI of guest posting. Before writing any content, I pitched and interviewed dozens of SEO experts on the value of guest posting. I never targeted any publication because the experts naturally shared the content on their social accounts, including the likes of Rand Fishkin, Brian Dean and many more. This lead to a domino effect that generated more than 100 domain links without any outreach.
We hope that this format of the material was useful for you. And the described strategies and lifehacks of link building will be useful in your professional activity.

Also read our article on 10 interesting techniques to use ChatGPT for link building.