Top 50+ Google Chrome Extensions for SEO You Should Know
Browser extension is a program that complements and expands its functionality or integrates an existing service into the browser to help the SEO specialist and Internet marketer.
They are also called:
browser extension;
SEO plugins;
SEO addons.
The Collaborator team has collected and prepared a list of SEO extensions for Chrome for you. We've tested each SEO Chrome plugin before recommending it to you.
How Can SEO Extensions Be Helpful?
Optimizers, digital marketers, and webmasters install best SEO plugins for Chrome that help reduce the time it takes to complete tasks. After all, you will agree that it is very convenient to learn the information that you need to look for in full-fledged tools, with just a couple of clicks on the extension in the browser.
There are a host of SEO extensions ranging from simple add-ons to more complicated plugins currently available for Chrome. So you are sure to find the ones that can make your workday much easier and more productive. They can help you with but not limited to the following tasks:
conducting keyword research;
making on-page SEO;
analyzing your competitors;
checking your website ranking.
The number of Chrome SEO extensions which can cover all your needs varies depending on your particular tasks. Some specialists use from 6 to 10 plugins on a regular basis, while others install only 2-5 chrome extensions for SEO.
Important! Despite the fact that all these extensions are cool, we do not recommend installing them at the same time and actively using them, because you can slow down Chrome.
Free Backlink Checker by LRT
Free backlink checker by LRT allows you to check all external and internal links on a web page, broken and unverified links, and identify links to track. It also shows the power and trust rating for all Backlinks so you can identify the ones worth keeping. You can export all link data (in CSV or XLS format) or analyze the source code by hovering over it.
Download Free Backlink Checker by LRT →
Link Redirect Trace
The plugin helps you check the HTTP headers and redirect paths of your web pages. The extension indicates all unwanted states (codes 301, 302, 404, and 500). It also helps identify Meta and Javascript redirects. In addition, you receive information about the server (IP address) and information about other HTTP headers associated with the web page.
Download Link Redirect Trace →
Link Research SEO Toolbar
Link research toolbar combines a complete set of SEO tools in one extension. They can help you increase your online visibility and ranking. The plugin focuses on domain and page authority and trust, backlink profile, content updates, and influence, and helps you find better link building opportunities.
Download Link Research SEO Toolbar →
Read more: Tools for testing and analysis of backlinks
LRT Power*Trust – PageRank Replacement
LRT Power*Trust is one of the most used SEO extensions that reports the trustworthiness of web pages/websites. The total score is a multiple of power and trust. Considered an alternative to the old Google PageRank tool. It helps:
to see the power and trust of the page;
find a relevant donor to place links (or search for backlinks);
check your backlinks.
Download LRT Power*Trust – PageRank Replacement →
SimilarWeb – Traffic Rank & Website Analysis
The SimilarWeb plugin offers information on key SEO metrics and traffic (including source data) on any website. This is a powerful competitor analysis tool as it gives you insight into the traffic of your peers.
The functionality of the SimilarWeb extension allows you to see:
the rating of the website;
the number of visits and refusals;
website traffic sources (paid, regular, social media, etc.);
geography of the visitor/user base.
Download Similarweb - Traffic Rank & Website Analysis →
Google Analytics Debugger
Google Analytics Debugger is an extension offered by the Google Analytics team that allows you to download a debugger version of every web page you visit. It «extracts» relevant information and places it in the Javascript console, including error and warning messages.
Download Google Analytics Debugger →
Ahrefs SEO Toolbar
Ahrefs SEO is a toolbar that helps you perform basic SEO analysis and get report on-page SEO without accessing any Ahrefs metrics. The report includes:
indicators of indexation;
analysis of titles and descriptions;
allocation of canonical URLs;
display of headings/subheadings H1-H6;
social tags.
Read also:
MozBar
MozBar is a quality SEO toolbar extension that greatly simplifies web page analysis. Setting up a search by region will allow you to get the following data:
the authority of the page/domain;
link profile;
comparative link metrics.
This is in the regular version of the plugin, and to use the professional version of Moz, authorization is required.
Serpstat Website SEO Checker
Are you looking for the best SEO checker Chrome extension? Try the Serpstat Website SEO Checker. It is a tool that allows you to check a large list of SEO indicators for any web page: yours or your competitors. Internal SEO parameters and indicators:
page sources;
title and description meta tags;
analysis of pages and domains for free.
It also offers information about the range of SEO scales and displays the ranking status. 
We have integrated some Serpstat metrics into the Collaborator system
Download Serpstat Website SEO Checker →
SEO Pro Extension
SEO Pro extension shows basic SEO information of any page you are on. You get data about:
basic web metrics;
headings;
scheme;
links;
images;
structured data.
The extension will help with both technical and content SEO audits and will allow you to optimize your site for better performance and speed.
Google PageSpeed Insights API Extension
Google PageSpeed Insights API extension offers data about the speed of your web page, derived from the PageSpeed ​​analytics provided by Google. It checks the time spent on FCP, First Meaningful Paint (FMP), LCP, Time To Interactive, and Total Blocking time. The data is distributed over time for the desktop and mobile versions of the web page.
Download Google PageSpeed Insights API Extension →
SEO META in 1 CLICK
SEO META in 1 CLICK improves the analysis and correction of meta tags, metadata, and some other things on the web page that you can work on to improve SEO. The plugin shows a comprehensive overview of your web page's SEO performance and detailed information about titles, images, backlinks, and social media links. It also offers links to other SEO tools for more thorough analysis.
Download SEO META in 1 CLICK →
Read more details about metatags in the article.
SEO Analysis & Website Review by WooRank
SEO Analysis and Website Review provide you with new SEO data for any web page, including the following SEO metrics:
structured data;
usability of web pages for mobile devices;
ease of use;
backlinks;
traffic.
It also provides information about the technologies used on the website. This extension can be used to optimize your own website and get information about competitors.
Download SEO Analysis & Website Review by WooRank →1
Web Vitals
Web Vitals is an extension whose main purpose is to inform you about the basic status of a website. The indicator turns red when even a single-core web host crashes. You can either check the status from time to time or work with the extension all the time (using its HUD overlay feature). This is useful during development.
Link Grabber
Link Grabber extracts all links from web pages and lists them in a separate attachment. This is a clean way to get link information. This URL data can be used in your own link building campaigns, especially if you are getting data from your top-ranking competitors' websites.
Page Load Time
The extension reports the loading time of your web page (in ms). Slow pages affect user behavior, and by optimizing load times, you can save more traffic to your website. The plugin breaks down the time spent on DOM, response, request, connection, DNS, and redirection so you know which element affects speed.
SEO Site Tools, Site Analysis
SEO Site Tools, Site Analysis provides data on:
the number of indexed pages;
backlinks;
Alexa rating;
server IP address location;
traffic graphs, etc.
The plugin also comes with SEO tools like keyword density checker, metadata analyzer, and more. The extension offers a useful collection of SEO tools and audit data.
Download SEO Site Tools, Site Analysis →
OnCrawl SEO Page Audit
OnCrawl SEO Page Audit allows you to conduct a comprehensive SEO audit on any web page and include information such as indexing, content optimization for SEO, and content duplication. Colored markers easily determine the status of individual SEO indicators, and you will immediately notice what needs to be optimized.
Download OnCrawl SEO Page Audit →
Tag Assistant Legacy (by Google)
Tag Assistant is a tag management tool from Google that allows you to leave new tags and manage existing tags on a web page. This may include Google Analytics tags and marketing tags such as Adwords. The extension also improves the analysis of the tag implementation and provides suggestions for its improvement.
Download Tag Assistant Legacy (by Google) →
Spark Content Optimizer
Spark Content Optimizer is more than just content optimization for SEO. It allows you to:
conduct a technical SEO audit (calculates more than 40 indicators),
research keywords and track their ranking,
understand the profile and authority of backlinks of a web page (data taken from Majestic).
The extension can be used for free if you are authorized.
Download Spark Content Optimizer →
SEO Checker Tool
SEO Checker Tool is a free extension that gives you an overview of the SEO status of any web page. The SEO checks it performs are divided into four main categories:
basic (ideal for identifying your competitors),
content check (with suggestions on how to improve it),
speed (desktop/mobile),
social media associations.
DNS Checker – SEO and Domain Analysis
DNS Checker is a simple SEO and domain analysis tool. Its function allows you to track IP and geolocation data, analyze redirects, page performance, traffic and ranking data, website link profile, status indicators, etc. The tool is comprehensive enough for technical SEO analysis, but not quite ideal for content optimization.
Download DNS Checker - SEO and Domain Analysis →
Essential SEO Toolkit
Essential SEO Toolkit offers a wide range of SEO tools. They are all divided into seven categories by default, although you can customize and create your own. These tools cover almost everything from technical SEO, and link profile analysis to user engagement and social signals. This extension is complete enough to replace an entire set of SEO tools.
Download Essential SEO Toolkit →
Robots Exclusion Checker
Robots Exclusion Checker informs you with simple colored indicators: Blocked, Warning, or Allowed if a robot exclusion is stopping your web page from being crawled or indexed on the Internet. It looks at robots.txt, x-robots-tag, and Meta robots to highlight relevant details. If the page is blocked, the reason for blocking is revealed.
Download Robots Exclusion Checker →
Rich Results — Structured Data Test Plugin
Structured Data Test Plugin helps analyze a web page for micro-markup. It indicates both warnings and errors in the data structure and you can send them. It can be quickly used to test schema micro markup, JSON-LD, and microdata. Redirects to a tool from Google. Thus, you will save time for this task. 
Download Rich Results - Structured Data Test Plugin →
The 15-Minute SEO Audit
The 15-Minute SEO Audit looks for 10 SEO issues on a web page, including canonicalization, page breaks, and rich text issues, metadata issues, and more. If there are no problems in the category, the tab will be green. But if there is, there will be a red cross on the specific SEO check and the number of problems will also be displayed. Output is carried out via F12.
Download The 15-Minute SEO Audit →
Yet another flags
The extension shows the flag and more detailed data about the city, region, and IP address of the website you are visiting. If the tool can't get the right geographic domain data, it just shows you a globe. You can also quickly go to the Whois service and view all data about the domain.
Greenlane SEO Sitemap Tools
Greenlane SEO Sitemap Tools offers a small set of SEO tools used for sitemap testing and validation. An unoptimized sitemap can cause problems with search engine optimization and disrupt the full crawling and indexing of your resources. You can check if all status codes are 200, find redirect paths and broken links. And also change the sitemap and test the changes in real-time. To do this, simply follow the sitemap URL. 
Download Greenlane SEO Sitemap Tools →
Ryte structured data helper
The Ryte plugin allows you to test and validate the micro markup of your web page and fix any problems you may find in it. At the same time, you can even not leave the site. This will likely increase your chances of being eligible for rich text results, which will make your position in the search results more attractive and give you a better chance of getting a click.
Download Ryte structured data helper →
SEO SERP 2
SEO SERP 2 allows you to analyze the search results page and extract useful information from various Google top-level domains. You can use it not only for keywords but also for images and videos. It displays information about the total search results, the number of them at the top of the page (useful for image data), what percentage of the results are used by the secure protocol, the average length of the headers, etc. To do this, enter a request and receive data.
RDS Bar
RDS Bar is an old but quite comfortable tool. With its help, you will be able to quickly analyze the SEO indicators of the site and its individual pages. It is more suitable for optimizers and webmasters. There are also functions that can be used by ordinary users.
After installation, a button will appear in the browser panel for:
comprehensive analysis of the site or page, from data grouped by blocks;
highlighting of external links, noindex/nofollow;
showing closed blocks on the page.
It also has a group of tools that extend the functionality of pages for search results (blocks with results), placing special parameters under them. 
SERP Preview Tool
SERP Preview Tool is a tool for previewing SERP. A simple plugin that shows how your header/title, URL, and title/description will appear in organic search results. This can be an important step in creating content and writing meta tags of the right length, which will increase your chances of getting a link. 
SEO Minion
SEO Minion is a set of simple SEO tools. The plugin is available in 6 languages. Useful tools include:
SEO analysis of the page/site (with warnings about problems);
allocation of links (difference between external and internal links);
analysis of broken (non-working) links;
checking Hreflang tags;
locator for Google search (you can change the search result region);
a couple of search utilities.
Hreflang Tag Checker
Hreflang Tag Checker is useful for websites that have multiple language versions with different target audiences. It automates the process of evaluating Hreflang tags on a website. You can check if all the language versions refer to the same URL of the web page you are visiting. This ensures that the language version is suitable for the right audience.
Download Hreflang Tag Checker →
WebRank SEO
WebRank SEO is a tool that takes data on Alexa. It shows information in the form of:
traffic graphics;
indexed pages (both Google and Bing);
backlinks;
and also checks website security.
It allows you to compare your website to your competitor's website, making this plugin ideal for detailed niche analysis.
Keyword Surfer
Keyword Surfer is a free keyword research plugin based on the core of Surfer SEO. For any keyword searched using the extension, you will be able to see:
estimated traffic;
word count for all top competitors or their web pages;
price per click;
list of keywords.
Keywords Everywhere — Keyword Tool
Keywords Everywhere is available in both free and paid versions. Using this extension, you can simply do a Google search and get related keywords, as well as data on what people are also searching for. There is an opportunity to see estimated organic traffic for a keyword for free. To calculate cost per click, trends, and search volume, you need to use the paid version.
Download Keywords Everywhere - Keyword Tool →
Link Klipper — Extract all links
A simple but very powerful extension for Chrome that helps export all links of a web page to a file. You no longer need to copy each link from a web page and save it separately.
Download Link Klipper — Extract all links →
Linkclump
Allows you to open, copy or bookmark multiple links at once.
Linkclump gives you the ability to drag a selection box around links with your mouse to quickly work with them. 
LinkMiner
Scans web pages for broken links and collects link metrics.
LinkMiner takes broken link checking to a new level. With this plugin, you can learn more about the links you're checking to make faster decisions about them.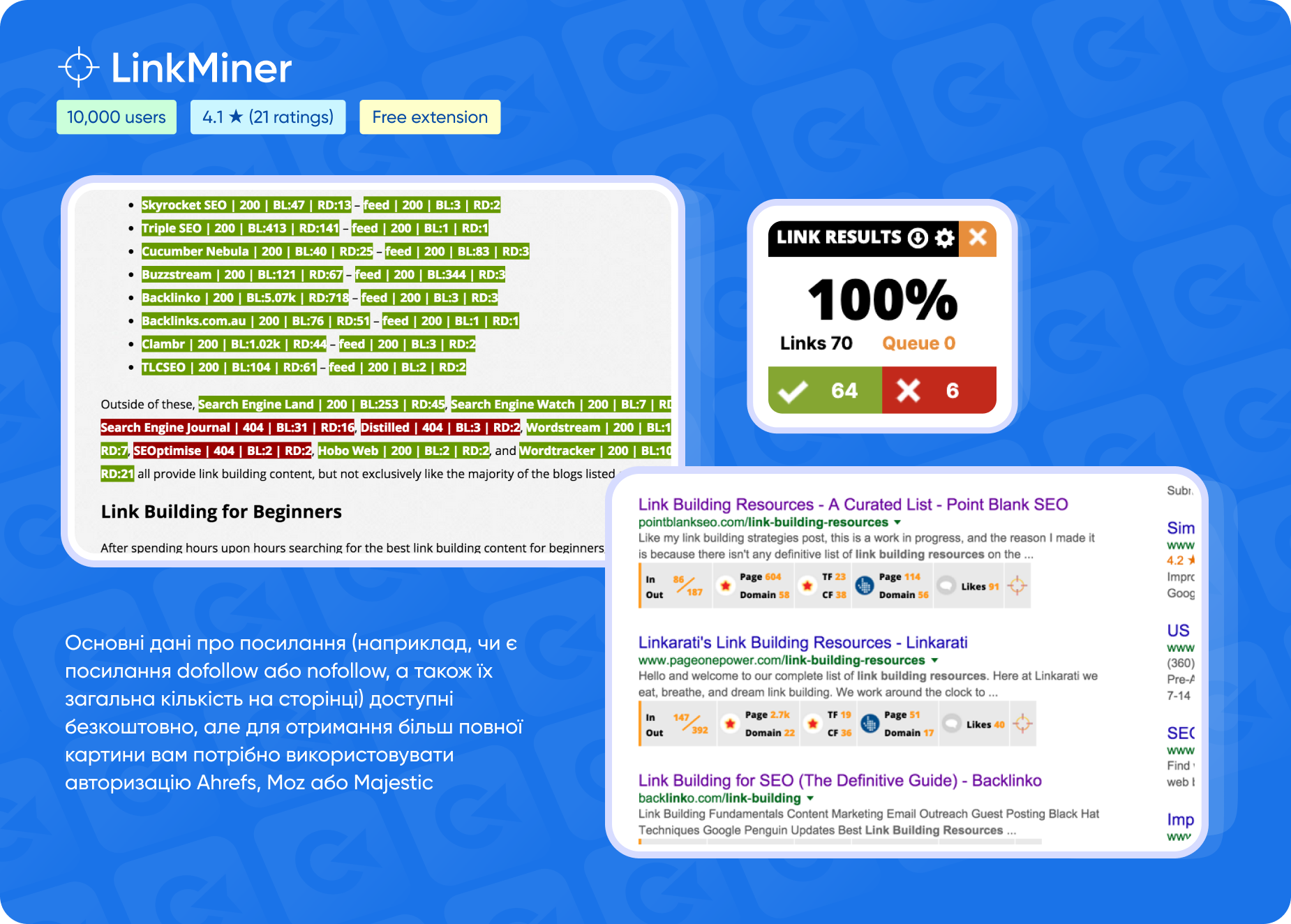 META SEO inspector
Checks metadata found on web pages, finds problems, and gives advice on how to fix them.
This extension is primarily intended for web developers who need to check their site's HTML code against Google's webmaster guidelines. 
NoFollow
Detects nofollow links, nofollow meta tags, and noindex on web pages.
Features:
supports nofollow, UGC, and sponsored attribute values
​​supports custom meta tags for search engine robots
Can disable or enable extension for specific websites.
Open SEO Stats (Formerly: PageRank Status)
An extension for easy access to the SEO statistics of the current web page. This rank checker gives information about backlinks, indexed pages, cached pages, social media, Whois, geographic IP location, etc.
Website SEO Checker: Free Audit & Analysis
Sitechecker, a free Chrome extension, helps you quickly identify technical SEO issues on a page. After they are corrected, the position of the site improves, which increases traffic and sales. 
Download Website SEO Checker: Free Audit & Analysis →
Portent's SEO Page Review
The browser add-on that allows you to review the main SEO elements of a website: Title, Description, Canonical, HREFLANG, on-page links, Open Graph, Twittercard, and other metadata so you could quickly analyze your page.
Doanload Portent's SEO Page Review →
Redirect Path
Checks HTTP header and redirects for SEO.
Shows HTTP status codes 301, 302, 404, and 500 as well as client-side redirects like Meta and Javascript redirects, drawing your attention to potential problems that otherwise you would not be able to quickly find.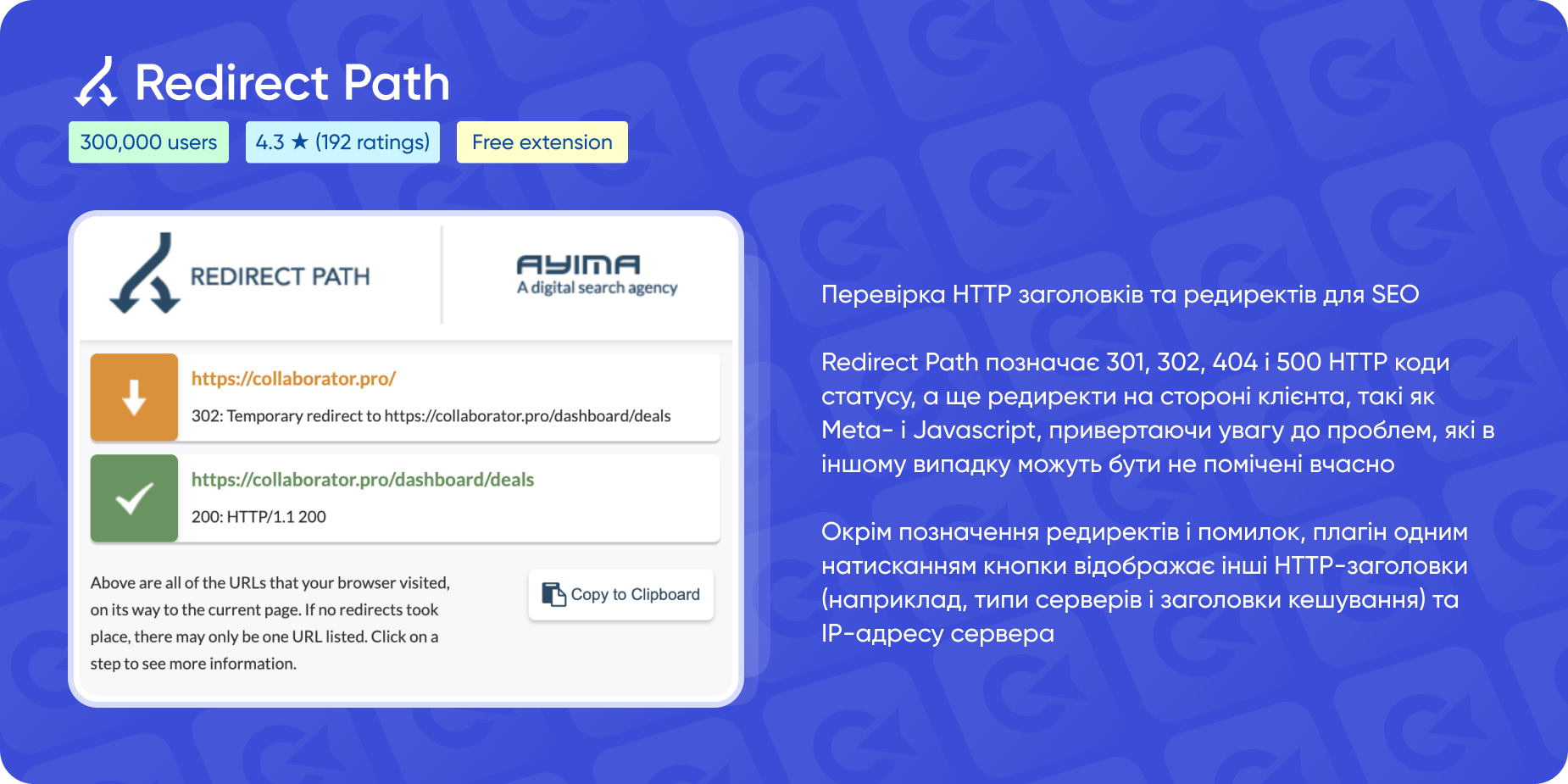 Save All Tab URLs
Get the URLs of all open tabs in the browser.
The extension shows all the URLs of your open tabs in a convenient way for you to copy/paste and save anywhere, allowing you to revisit all the open tabs you had the last time you used the browser. 
Schema Builder for Structured Data
Allows you to create a validated json-ld structured data markup for any web page. Required to provide advanced results on Google. 
Download Schema Builder for Structured Data →
Search Laboratory Regional SERP Selector
Allows the user to download the Google search results page for a specific location and language.
This is a Chrome extension that allows the user to reproduce searches in any region in the appropriate languages ​​of the region. There is also a feature to save your preferred SERP settings to predefined settings. 
Download Search Laboratory Regional SERP Selector  →
SelectorsHub
SelectorsHub is an xPath and cssSelector plugin. It can be used as a smart editor to write and validate xpath, cssSelector, Playwright, jQuery, and JS Path selectors. SelectorsHub can also be used to automatically generate a unique xpath, css Selector, and all possible selectors.
Semantic inspector
This extension shows you the structure written with HTML microdata.
Search engines provide users with a wider experience with its help. This extension can analyze the web page, understand the structure of the elements, and show it in a simple way when you just click the button of this extension. 
SEO Extractor
An SEO extraction and analysis tool that allows you to quickly collect data right in your browser.
GMB Everywhere 
GBP audit for local SEO. With the help of this tool, you can check GMB categories and do a comprehensive audit, including competitors. After installing the plugin and going to Google, you will see GMB categories and check buttons that appear by default on every business page and search results page.
Bonus: NOT SEO plugins, but useful too
Here are the plugins that are not designed for SEO, but can simplify the work of optimizers, as well as those who work with online tools. 
| | |
| --- | --- |
| Plugin | How it will help |
| Email |   |
| | One-time temporary mailbox. Protects Email from spam, bots, and phishing attacks |
| | Helps manage multiple mailboxes, manage emails without opening Gmail |
| | Tracks emails in Gmail and Inbox, lets you see if emails have been read by the recipient or not |
| | You can create a button in your email to get more clicks on your emails |
| | Synchronizes two useful and necessary services |
| | Finds email addresses from anywhere on the Internet with one click |
| Images, screenshots |   |
| | All GIFs and stickers from GIPHY.com in a compact extension |
| | A tool for designers to measure screen dimensions |
| | Takes a full screenshot of the current page |
| | Shows Google Images as they were before August 6, 2019 |
| Browser management |   |
| | Quickly enables/disables Google Chrome extensions |
| | Adjusts management tags (Google Tag Manager, DTM, Tealium) and implementation of analytics |
| | Blocks ads |
| Texts |   |
| | Checks spelling, supports 12 languages |
| | Specifies the font type on web pages |
| | Checks grammar, punctuation, etc. |
| Development and page quality |   |
| | Alerts about JavaScript errors |
| | Test and reports on the effectiveness of the page |
| Work with data |   |
| | Saves data from web pages in the form of tables |
| | Saves articles, videos and other content on all devices |
| | Plugin for screenshots and screen recording |
| | Quickly translate words and whole pages |
| Security and privacy |   |
| | Hides geolocation from sites |
Collaborator is Your Trusted Partner in SEO Link Building
Generating the right backlinks through guest posting to your website gives you lots of benefits. It allows you to improve your brand recognition as well as increase domain authority and make your site rank higher in search engines. However, it is crucial to get the right websites to buy SEO links to yours. It takes a lot of time and effort to find them. 
This is when you should use various SEO tools and best SEO extensions for Chrome. Additionally, you can also use Collaborator, a content marketplace with thousands of quality guest posting sites in various niches. What benefits can you get if you decide to buy backlinks with us? 
As an advertiser, you will:
save your time on searching for the right site (you can use key indicators of Ahrefs and Serpstat along with other parameters to filter websites according to your needs); 
get your article published quickly (most deals are successfully closed within 24 hours)
be sure that your article is published and indexed and isn't removed soon after being published;
get money security guarantee.
As a publisher, you'll appreciate:
cooperating with trusted advertisers;
opportunity to participate in advertising campaigns;
fast payoffs;
low fee;
Sign up for Collaborator for free to connect with the owners of reliable sites and trusted advertisers and reach your link building goals in a safe and effective way.
You can also use other tools for link building. Find more information about best link building tools in our dedicated article.
Final Thoughts
As you can see, there are many Chrome SEO plugins created for certain SEO tasks. Many of them are approaching full-fledged tools containing a whole range of functions.
We especially pay attention to the following SEO plugins for Chrome:
SEO META in 1 CLICK
RDS Bar
Ahrefs SEO Toolbar for Chrome
Keyword Surfer
SimilarWeb – Traffic Rank & Website Analysis
SEO SERP 2
SEOquake
Free Backlink Checker by LRT
DNS Checker – SEO and Domain Analysis
Google PageSpeed Insights API Extension
These are the best Chrome extensions for SEO analysis and a must have for SEO specialist, but it is up to you to decide based on tasks and personal preferences.

Test different approaches and share your experience in the comments👇
Aside from plugins, you can also use specialized SEO services. For instance, when using Collaborator for link building, you can see many SEO metrics including domain authority, traffic, and so on for the sites from the catalog on one page. Overall, there are 40+ parameters which you can use to find a website for your guest post. So you are sure to find the right resource to give you a backlink to yours.
FAQ (Frequently Asked Questions)
Question 1: Do you really need to use any Google Chrome SEO extension?
It depends on your own needs and preferences. Some specialists benefit from using this or that SEO tool for Chrome, others install many of them. The truth is that search engine optimization takes a lot of work. Using Chrome SEO extensions can save you time by providing you with all the data you need with just a few clicks of the mouse. 
Question 2: Which SEO optimizer extension is free?
All extensions mentioned in our article are free. However, some of them have a paid version that gives the user added functionality.
Question 3: How to choose the right SEO audit Chrome extension?
Today, there is a huge number of add-ons available to choose from. The best way to choose a Chrome extension for SEO audit or a couple of them for your tasks is just to try all of them. On the list above, we have gathered the best SEO Chrome extensions for technical and content SEO audits such as Spark Content Optimizer, SEO Pro extension, the 15-Minute SEO Audit, OnCrawl SEO Page Audit, etc. We describe each of them and provide a link for installation in our article.