Overview of Ahrefs: Complete Guide on How to Use Ahrefs Webmaster Tools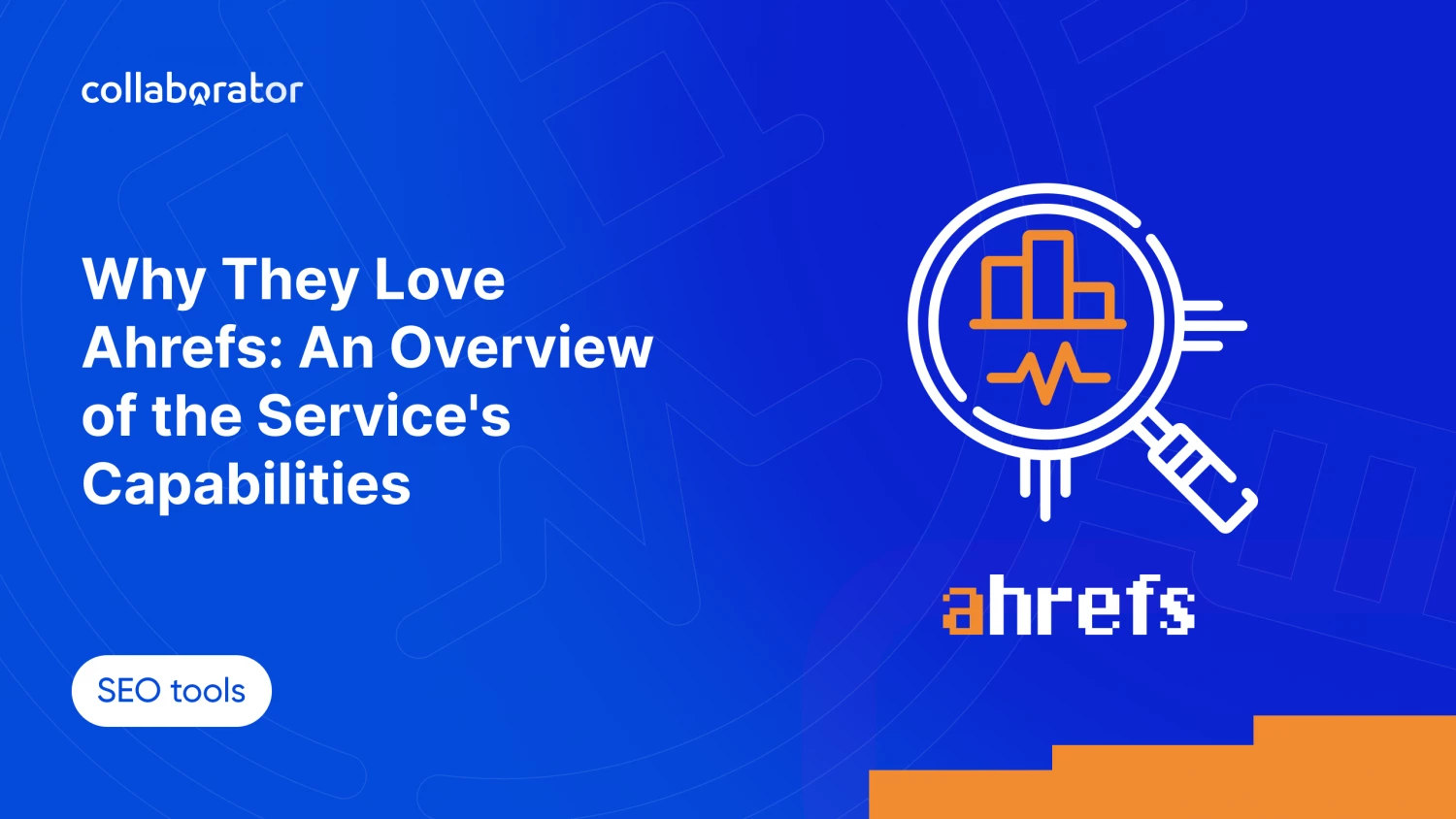 In the blog, we write a lot about tools for SEO specialists that speed up work and provide reliable data for the site audit. Such as backlink checker, keyword explorer. And in every list or tools review, there is it — the Ahrefs service. 
Recently, we talked, that Collaborator officially integrated Ahrefs metrics. Now some of the data from this service are visible directly in our site catalog, which makes choosing a donor for a guest article faster and easier. 
We are proud of this partnership because the service is really useful for anyone who wants to develop their site, especially when analyzing backlinks. What functionality is there, how does Ahrefs work and why SEOs love it, you'll understand in our Ahrefs webmaster tools review. 
1
Competitive advantages of Ahrefs
Ahrefs is a set of tools for working with the site at all stages: from competitor analysis and structure planning to taking current positions and analyzing the result. Most of the features are useful for marketing professionals who promote sites in search engines.
Ahrefs was launched in 2011 as a website backlink analysis tool. Modern functionality is much wider. But even today, in comparison with analogs, the service is focused on working with links and the English-speaking segment. 
First and foremost among SEOs, Ahrefs is known as a link analysis tool. 
How Ahrefs differs from competitors:
accurate and diverse link analytics, the world's largest real-time backlink index;
a huge array of data for search marketing: the robot scans the network and all site data is stored on its servers;
works similarly to a search engine, focusing on the needs of SEO-specialists: when you enter a query, all pages that are ranked are displayed with useful SEO indicators;
tools for diverse work with the site in one service;
always fresh data about sites, information is updated faster than anywhere else;
a large database of keywords with distribution by country; 
own website performance metrics: Ahrefs Rank, Domain Rank, and URL Rank;
visualization of data.
All this, together with a simple, thoughtful interface, makes Ahrefs an indispensable tool for search marketers. The service helps to create, analyze and promote your websites. Working with it is intuitive. And a lot of training materials help to understand the functionality and metrics.
The service also provides unique features that have no analogs. We talked about them in detail in this Ahrefs overview.
The cost of using the tool depends on the chosen plan. Plans and prices for Ahrefs: 

The cost depends on: 
the number of projects and users;
credit for scanning per month;
duration of storage of scanned data;
the number of keywords that can be tracked;
frequency of data updates;
the number of domains and URLs that can be tracked per week;
the completeness of the submitted reports and the time frame for which they are generated;
the number of competing pages available for viewing;
the number of notifications that come to the mail.
A detailed comparison of the plans can see on their website. 
There is no free version, but there is a weekly trial for $7.
Below we will look at what does Ahrefs stand for, and what are the free tools. 
Among other platforms, Ahrefs webmaster tool highlights the presence of its own developed metrics. They are used not only when working with this service, but practically live their own lives. And they enjoy authority among experts as really high-quality indicators of the effectiveness of the site.
The metrics are derived based on a continuous network scan. We will provide a few key parameters. They are not the only ones, but the flagship ones that SEO specialists rely on in their work. Let's start the Ahrefs review with the main service metrics. 
Ahrefs key metrics
| | | |
| --- | --- | --- |
| Metric | Expression  | What shows  |
| | 0-100 | Strength of a site's backlink profile compared to others in the Ahrefs database. The higher the DR, the more «link equity» is transferred to related domains. Used to select websites from which links will be built |
| | 0-100 | Strength of the page's link profile. The higher, the stronger the link profile of the page. Both internal and external links are considered. |
| | 1-∞ | A website's position in the Ahrefs database by the size and quality of its backlink profile (mostly DR). The higher quality backlinks a site has, the higher its DR and the closer its AR to #1 |
| | 0-∞ the | Number of all backlinks found according to Ahrefs |
| | 0-∞ the | Number of unique referring domains according to Ahrefs |
| | 0-∞ | The total number of keywords for which the site ranks in the Google TOP 100 according to Ahrefs. Searches from different countries are summed up |
| | 0-∞ | Estimated monthly organic traffic from Google according to Ahrefs |
| Anchors |   | Most used anchors in the site's link profile |
| Parent Topic |   | The general topic that the keyword refers to (e.g. «link building» refers to the parent topic «SEO») |
| Traffic Potential | 0-∞ | The amount of traffic you would get if you ranked first for this keyword |
| Keyword Difficulty |   | How difficult (or easy) it would be to rank on the first page of Google for a given keyword |
| Also Rank For |   | A list of keywords, by which the top 10 results also rank for (e.g. pages that rank for «content marketing» might also rank for «what is content marketing») |
These are the main site metrics that Ahrefs calculates and that most SEOs work with. They are great for evaluating resource positions, comparing with competitors, and for choosing a donor when buy backlinks. 
4
Where else can you see metrics from Ahrefs
From August 2021, key Ahrefs metrics for the site can be viewed not only in the service panel but also in the Collaborator.pro direct marketing exchange sites catalog. The data is officially integrated into the system and is constantly updated. 
According to different Ahrefs parameters, you can select potential donors for your links in the Catalog settings or the Filter panel. 
Thanks to this partnership, Collaborator users can work with the list of sites much more efficiently and place ads on really high-quality and relevant sites.
More about the possibilities in the video of Igor Rudnik. 
👉🏻press to watch with English subtitles
5
How to Use Ahrefs: Toolkit
Let's move on to the Ahrefs review. The entire toolkit of the service by tasks can be conditionally divided into several areas: 
analysis of the site's link profile; 
site audit;
competitor analysis;
selection of keywords;
studying content in a niche;
website position tracking.
Let's take a quick look at each tool.
6
Ahrefs Site Explorer Tool for Analyzing Backlinks and Competitors
From analyzing the backlinks of competitors to identifying toxic links that lead to your site, the Site Explorer tool can help.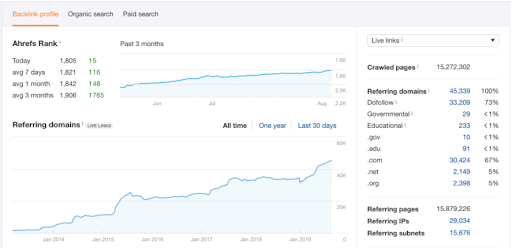 For any URL you can: 
view organic traffic: what keywords led the users to the site and to which specific pages;
identify how many external links and how many domains lead to the site;
analyze backlinks and evaluate the quality of donors that link to the site;
determine how the link profile of the site has changed (per month, 12 months, all the time);
see the ads that competitors in the niche set up on their site (landing pages and keywords).
Here we should separately say about backlinks. Ahrefs positions itself as the fastest crawler and largest backlink index in the industry. 

Let's highlight a few key points that will allow you to work more efficiently with the tool. 
Analyzing a site's link profile on Ahrefs 
To view links to a site (or page), enter the URL in Site Explorer.

A panel will open with information about backlinks, organic traffic, and other indicators
For a detailed study of the links, click «Backlinks» in the sidebar. Here is a complete list of referring domains. 
The functionality allows you to see the types of links: 

Two more useful filters —  «One link per domain» and «Group similar». After all, you, in fact, do not need to see every single link. There can be dozens of them on one site. It is enough to know how many sites (domains) host your link. 
Here's what you can do with this information:
Find pages that link to your competitor by analyzing their site. And get a link to your site too. For example, if you write about SEO and you see related pages in the list of competitor donor sites, then why not post there too?
Understand why people link to this site. For example, if the competitor's profile is dominated by thematic guides and instructions, then this content format is good for links and donor sites are more willing to publish it. 
Cross link analysis 
Link Intersect is a unique feature that not many people know about. The tool is located at the top of the screen in the More tab.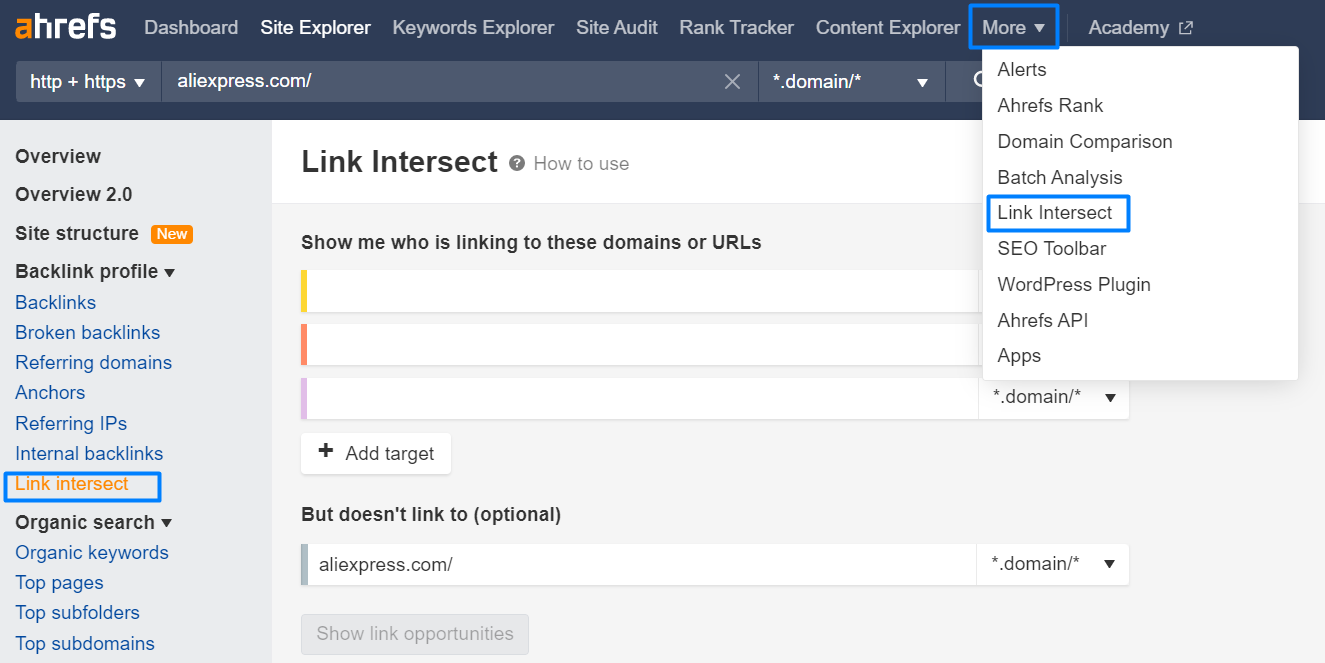 With it, you can identify domains that link to competitor sites without referring to you. 
Here's how the cross-link analysis on Ahrefs works: 
go to More — Link Intersect
enter two or more competing domains and click Show
get a list of sites that host links to competing sites.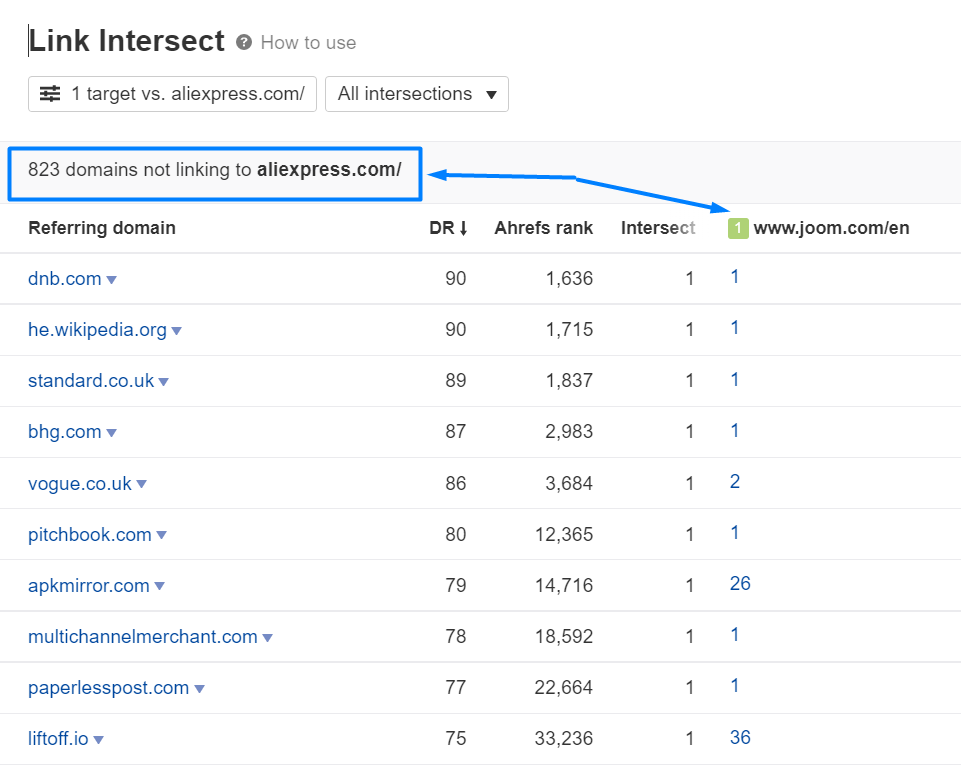 Why is it useful? If someone links to one of your competitors, there may be subjective reasons. But if a site links to three of your competitors (and not to you), it proves that they tend to link to sites in your niche. And when using a similar approach, for example, choosing the same content format, there is a high probability of getting a link from this site. 
Top inbound pages
A great feature for planning content format. By evaluating which pages lead to the most backlinks, we can see the formats that we want to share.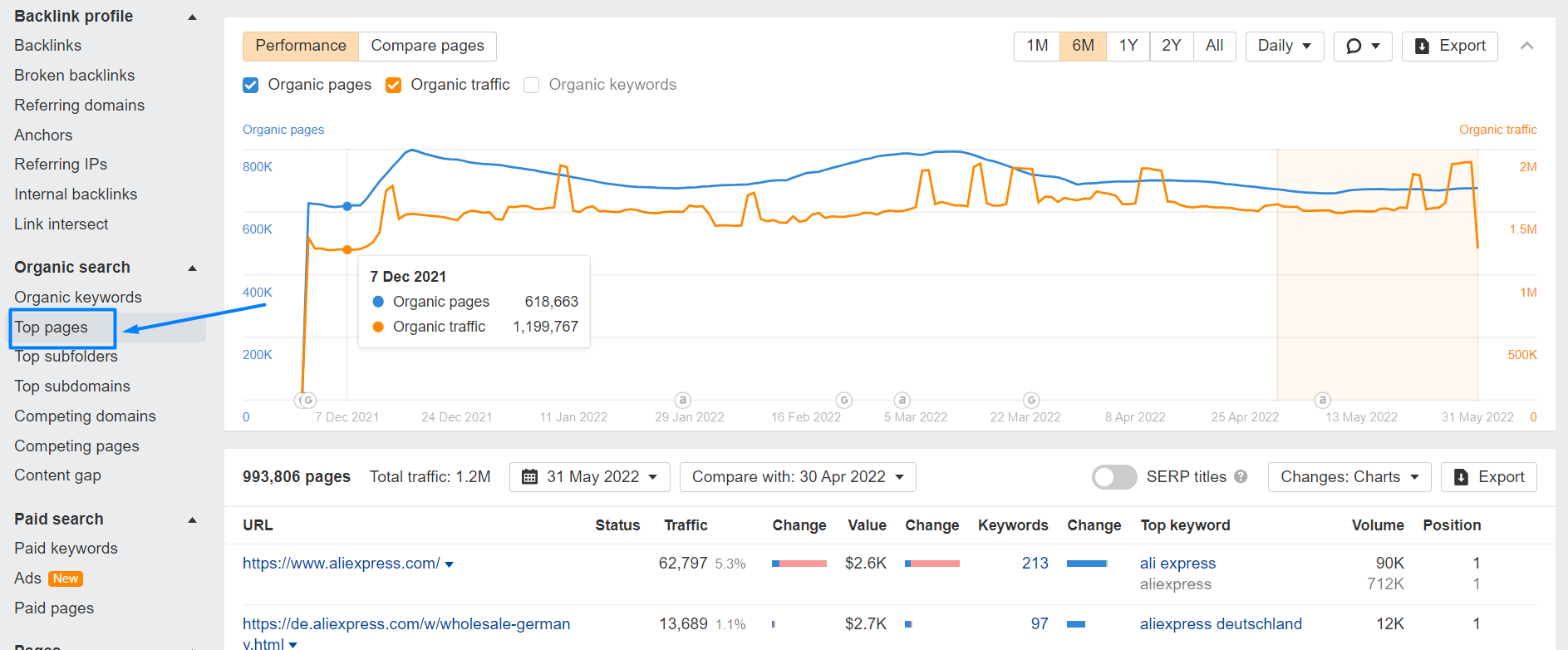 After analyzing the first page of this report (50 points) on the Serpstat Blog, we made the following conclusions: 
half of the headlines contain question words: how, who, what, how much, which;
6 out of 50 materials are research and surveys, and the same number are guides/instructions/manuals;
every 10th article offers a choice: these are reviews, descriptions of different ways to solve a problem, comparisons. 
This is how in 10 minutes you can schedule several articles that will be shared with a high degree of probability. 
New backlinks
This feature allows you to monitor the growth of link mass almost in real-time. For each day, you can track the list of sites that have placed your link.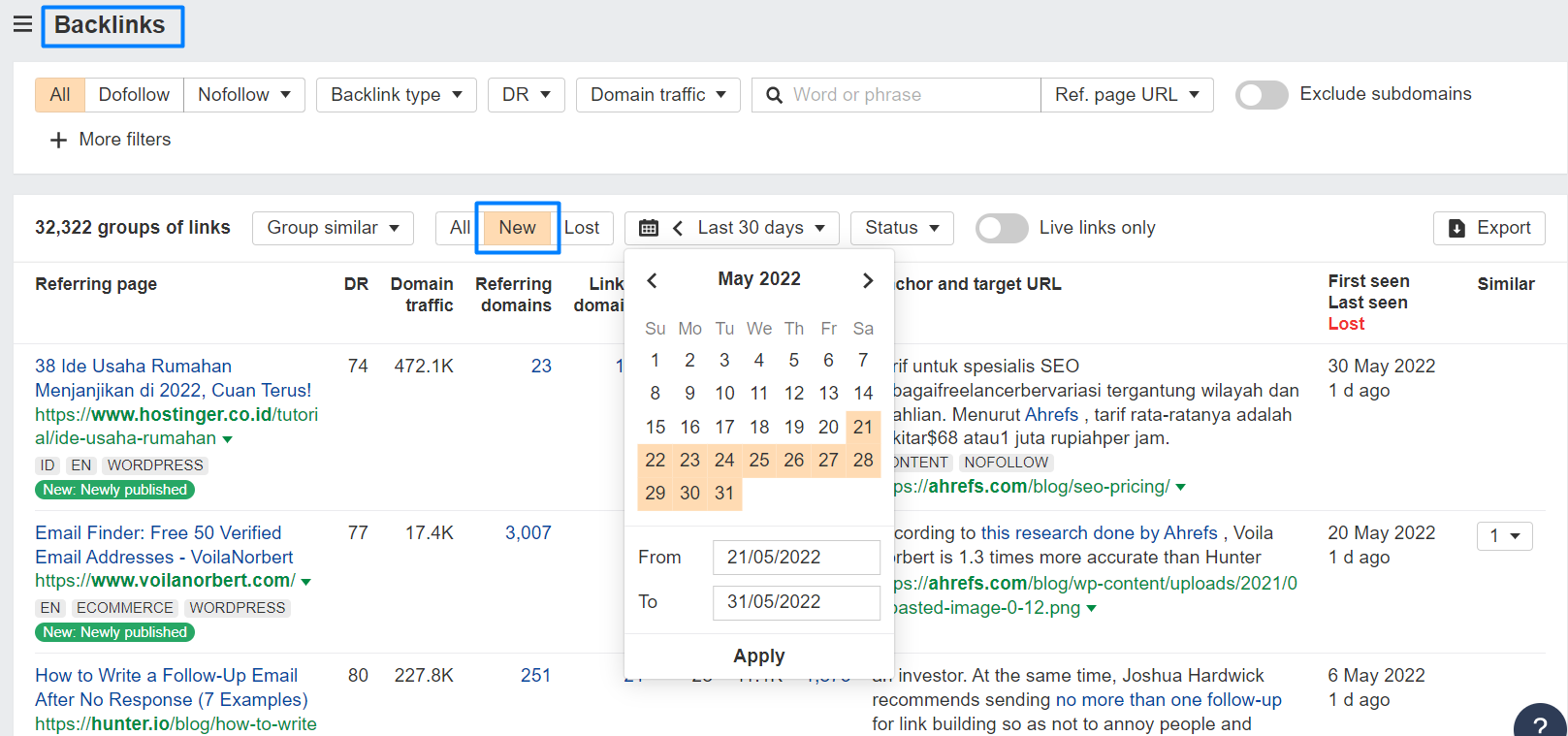 So you mark for yourself a list of domains that are relevant today and which can become a donor for you in the future. «Following in the footsteps» of the new links, you can establish collaborations with the site owners and mutually help your projects grow. Or look for similar sites and expand the network of donors.
Lost links 
Your link has been removed from a site — that's what the Lost Links report is about. It's so easy to keep track of the irresponsible donors you've backlinked to. You can return it by contacting the owner.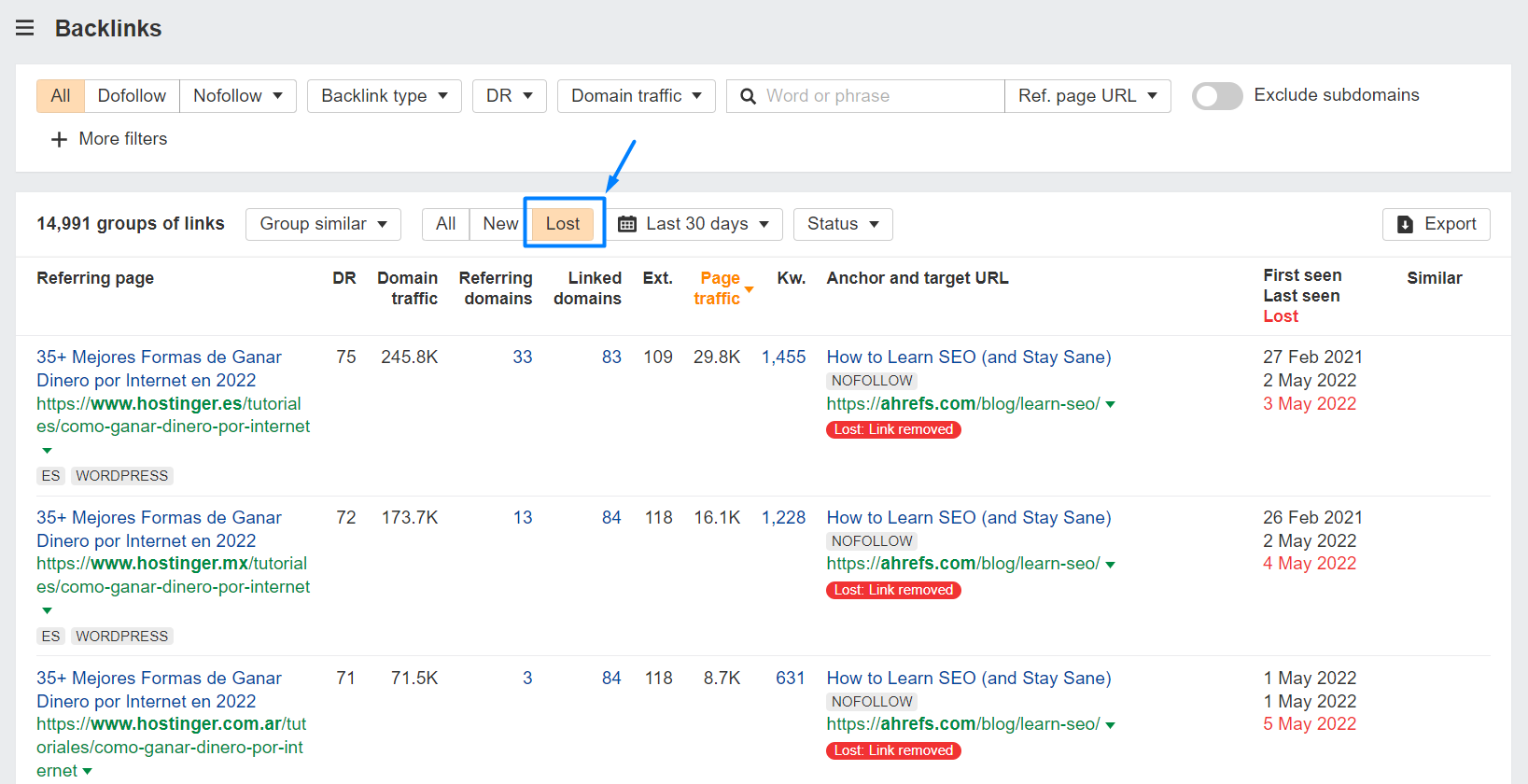 In general, the loss of links is normal. Sometimes scraping sites remove a page, or a new site admin updates the content. Meaning: Don't focus on losses, but use this report as a way to get back legitimate lost links.
Anchors
When planning a link-building strategy, anchors are important and often overlooked metrics. The Ahrefs report helps you track the distribution of anchor and non-anchor links, see how other sites are linking to your site, and adjust this work accordingly.

If your anchor text is too optimized (keys dominate), you may face Google penalties.
View link building history for any website or page 
Interactive graphs Site Explorer shows changes in the number of links and traffic over time/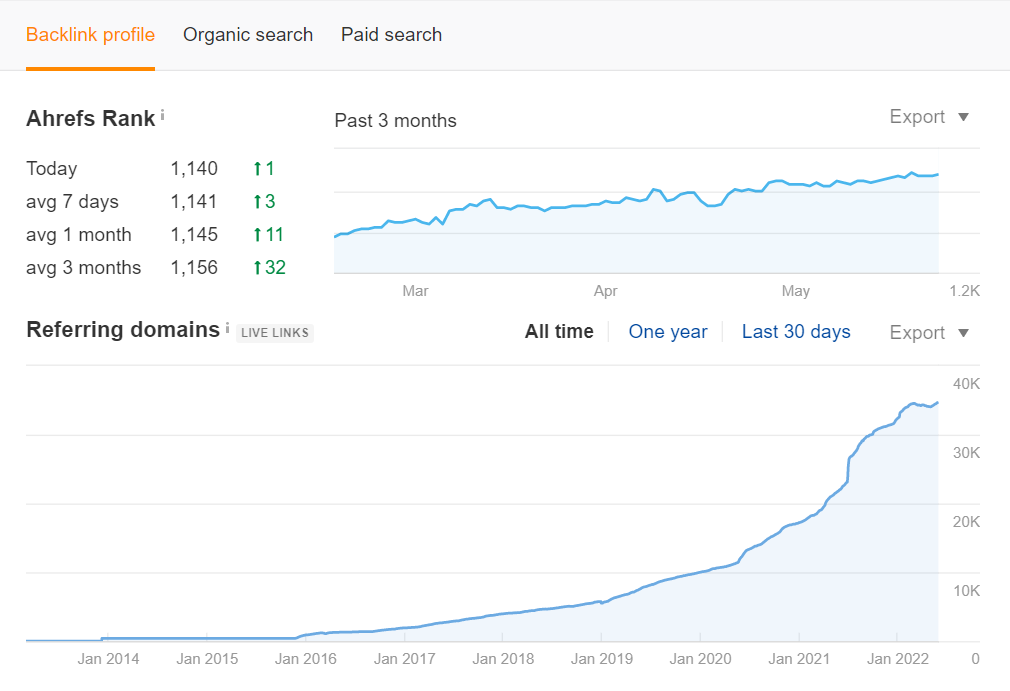 Ideally, these indicators are directly proportional and the graphs should be smooth. If there are sharp jumps, you should think about the sources of such traffic. 
Such a report perfectly shows the link profile of the site and will allow you to correctly select the donor site for your guest posts.
Go to the Site Explorer section on ahrefs.com →
7
Site Audit — a tool for optimizing a website
The tool shows the key technical characteristics of the site, including performance; HTML and social tags, content quality, localization, quality of inbound and outbound links, image issues, and other SEO metrics. The tool is suitable for the technical site audit. 
You will see the problems of your site, and the service will suggest ways to solve them. 
Such an analysis will help identify the reasons why your site is not ranked in the top. 
All data is categorized and displayed in the form of convenient and understandable reports.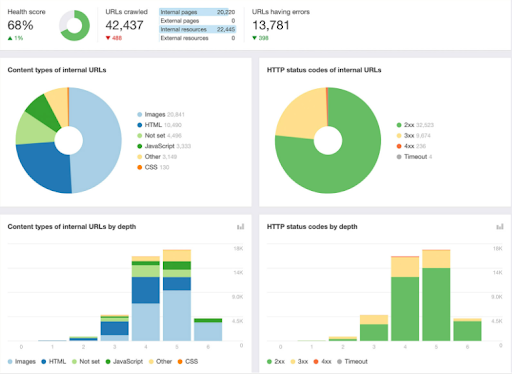 Go to Site Audit on ahrefs.com →
8
Ahrefs Keyword Analysis — search engine analysis tool
The tool shows you thousands of keyword suggestions, further analyzing their ranking difficulty and traffic potential. Ahrefs collects key data from a dozen search engines and forms them into convenient segmented lists. 
The trick is to analyze not just the number of requests, but a kind of conversion rate — how many times people clicked on the keys. This click metric is unique in the SEO functionality market.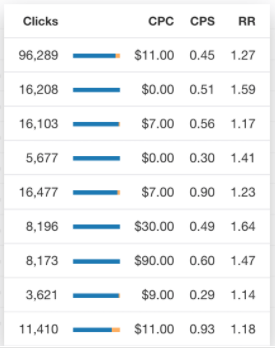 Ahrefs' Keyword Analyzer allows you to look at the search query in the complex. In addition to classic search volume and keyword competition, the Keyword Explorer overview panel also has unique options.

For example, «return rate» (RR, how often people enter a keyword query more than once) or the number of clicks per search (CPS). Together, these metrics allow you not only to see an abstract volume but to see the real behavioral reactions of people who are looking for something in a niche. 
Why is it important? Because search engines add more and more SERP features to their results every year. The «Zero position, the block «People also ask» and the abundance of advertising blocks on the first page of the search result ensure that your information is seen, but there are no clicks. 
The number of «search queries without clicks» has increased significantly compared to last year. It's no longer enough to just keep track of search volume, it's important to know how many people are actually clicking through the results. 
A simple example: for the query «weather», we have 60,000 queries, but less than half go beyond Google (25,000 is the Clicks indicator).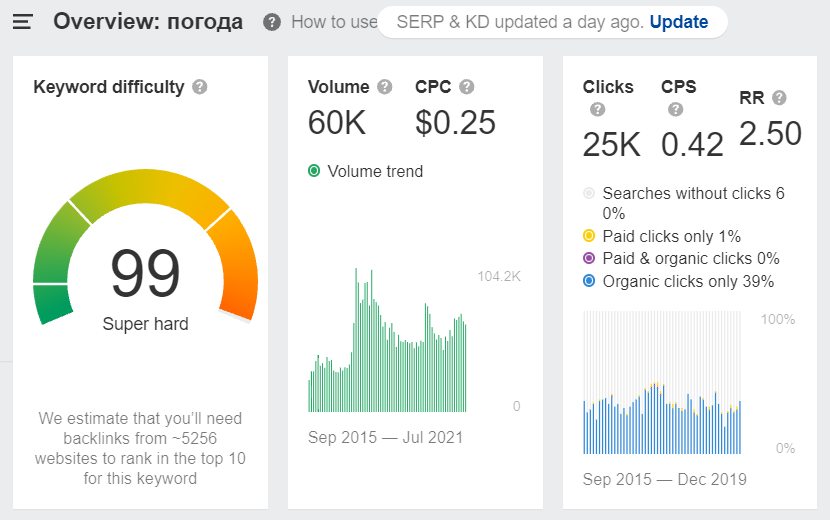 What else can Ahrefs' Keyword Analyzer do: 
generate new ideas for keywords, including those with a long tail (Keyword Ideas section);
view search history (Ahrefs — Keyword Explorer — History of search results): how rankings and positions by key have changed since 2016 (when the service started collecting statistics)
Why it matters: if you are looking at a search result that hasn't moved in the last 12 months, the chances of you walking in and messing things up is pretty low. If the search results are unstable and changeable, this means that Google has not yet found 10 results that it likes. And you have a chance to get into the TOP 10; 
analyze keywords for different search engines: YouTube, Amazon, Bing, Yahoo, Yandex, Baidu.
An example of keyword analysis by Ahrefs
How to analyze the potential of a keyword using Keyword Explorer, we will show the example of the query «SEO courses».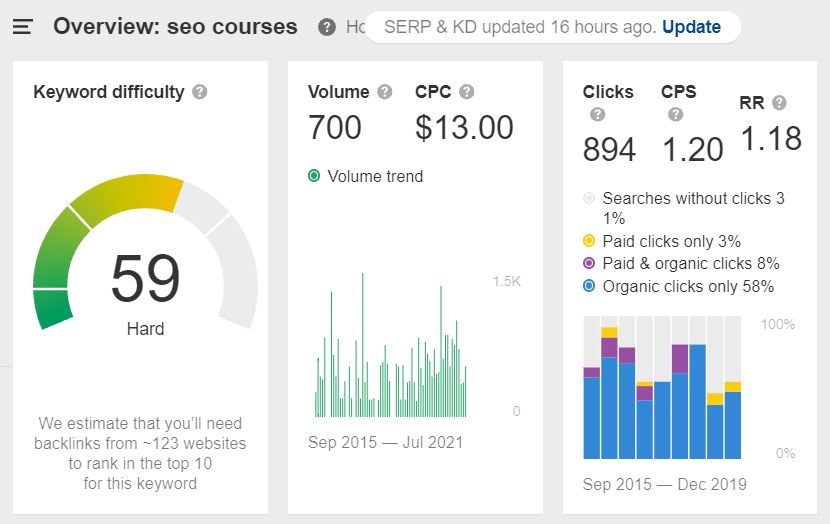 The search volume is 700. Few, but almost always, users go to the site (Clicks 894), and more than half click on organic results (Organic clicks only 58%). 
The keyword difficulty is 59. The optimizer will need 123 backlinks to get into the top 10.
The search intent here is more than unambiguous — pick up training. The cost of a click, respectively, is quite high — $13. That is, the topic is commercially attractive and people who search for that keyword are likely to convert.
The figures speak in favor of preparing a story on such a topic. 
Organic keywords and Organic search traffic
This is a very useful Ahrefs feature that allows you to browse through millions of Google results to see who ranks for which keywords. This allows you to quickly evaluate the position of your site in comparison with competitors.
Ahrefs' Organic Keywords and Organic Search Traffic features show you all the keywords a domain is ranking for and how much search engine traffic it's currently receiving. The data is presented in dynamics for a certain period.

By this criterion, it is good to evaluate your position against the competitors.
In many ways, this shortens the entire keyword research process. Instead of entering a bunch of random keywords into a service, you get a complete keyword profile of the site.
Traffic value
Traffic Value is another important underrated feature of Ahrefs. It shows the approximate cost of all the traffic a website receives from a search. 

The higher this number, the more valuable the traffic.
Why is it important? Because it speaks about the commercial attractiveness of the site. If you have 1 million visitors a month, but they only come to «look», then how valuable is your traffic? Another situation: 10,000 users come to you monthly, but the intention of the buyer is strong for the most part. Such investments will be more convertible. 
New (recently discovered) keywords 
Users' preferences (and therefore their queries in search engines) are constantly changing. And the semantic core, assembled 3-4 months ago, becomes not entirely relevant. To quickly supplement it, you can use the experience of competitors. Ahrefs has a report on the recently discovered keywords that a resource ranks for. 
It shows queries that have been added to the database by phrase match since the last update (approximately once a month). So you can find out topics that are of interest to the audience at the moment and that competitor sites are targeting. 
While exploring this report, you can also keep track of trends in the niche, because the keys can be filtered by dates. 

Analysis of SERP volatility (Search volatility)  
With Ahrefs tools, you can evaluate how volatile positions are for different queries. For example, the top 10 for «how to start a blog» is relatively stable.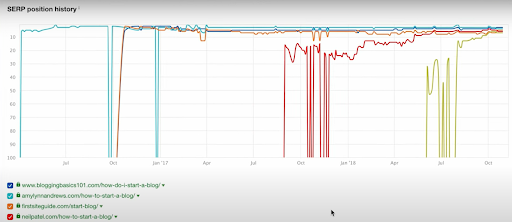 This suggests that with the competent development of an SEO strategy and getting into the top ten of the search results, it will be easier to stay here.
 And for the query «blogger», positions change more dynamically.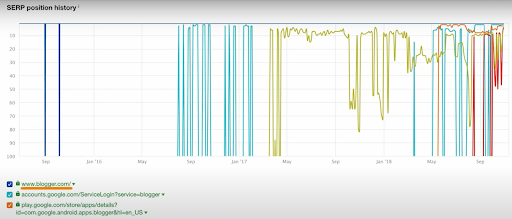 Therefore, you can quickly take a line in the top 10, but it is difficult to stay here for a long time. 
View ranking history across all pages for any keyword
When entering a page address in Site Explorer, if you go to the Organic Searches report, you can see all the keywords that a domain or subfolder ranks for. And for each of them, search history is available.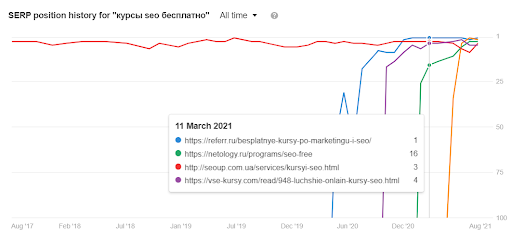 This will help identify ways to develop content. By looking at the popular pages (which were in the top) in the search history, you can post new or update existing content on your site, increasing the likelihood of success.  
You can also compare competitors here. It is enough to enter their URL and a panel with the corresponding data will open.  
Go to the Keyword Research section on ahrefs.com →
9
Ahrefs Content Explorer — a tool for exploring content in a niche 
Finding ideas for content on a site is a constant task of an SEO specialist. The Content Explorer tool will help you deal with this. 
This is a whole set of features that make up a mini search engine to meet the needs of SEO specialists and marketers. There are over 5 billion pages in the Ahrefs index and the number is constantly growing. 
The Ahrefs algorithm shows the most requested articles on demand and gives specific metrics of such popularity: 
DR, 
volume of organic traffic, 
how many donor domains link to it, 
how many reactions in social media, 
what is the cost of traffic bought through PPC, and others.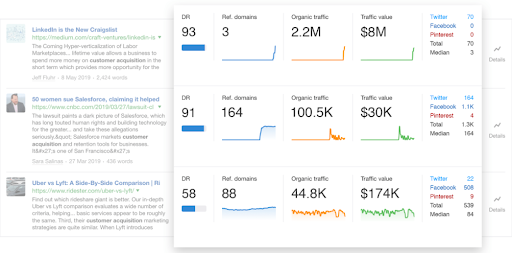 This way you can evaluate the popularity of the topic and social reactions to it, and filter only relevant and high-quality pages in the search. 
Another simple but very unique life hack in working with the Content Explorer is the ability to find pages that are not spammed with links but attract a lot of organic traffic.
To do this, you need to choose sites with good traffic (Organic traffic filter, for example, from 500) and a small number of backlinks (Referral domains filter, for example, up to 5). 
These websites can be a great base for building your link-building strategy.
Go to the Content Explorer section on ahrefs.com →
10
Ahrefs Rank Tracker — a tool for tracking the position of the site
Ahrefs allows you to constantly monitor the position of the site. By setting up the Rank Tracker, the owner (or SEO-specialist) will receive a weekly email report on changes in indicators in convenient graphs. 
The tool provides data on mobile and desktop versions, in dynamics over a certain period, in the context of SERP functions.
You can use the tool with any URL. So you will always be aware of the positions of competitors.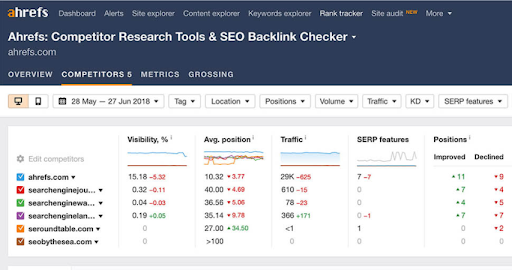 Go to the Rank Tracker section on ahrefs.com →
The described tools solve a complex of tasks and are available in paid plans. But the platform also has free functionality that is useful for an SEO specialist. 
11
Additional tools and functions
In addition to the main functionality, there are auxiliary tools. They close a specific task, for example: 
12
Free SEO tools from Ahrefs
How to use Ahrefs for free? Free SEO tools from Ahrefs are aimed at solving one specific task: for example, to analyze links or generate keywords for a specific search network. The possibilities are limited in comparison with paid tariffs, but they are quite enough for a superficial analysis and for evaluating the usefulness of the service. 
Here is a full list of the free SEO Ahrefs tools
No.

Tool

Knows how

1

Analyze: 

- status of the site (shows the top 100 problems and suggests how to fix them)

- backlinks and link profile as a whole

- keywords by quantity and quality (search frequency, complexity, cost of traffic)

A tool for site owners, therefore, to use it, you need to confirm the rights to the site

2

Show:

- domain and page rating

- total number of links and donor domains (with percentage of dofollow)

- top 100 backlinks, top 5 anchors and top 5 pages

3

Determine:

- Top 10 broken outbound links

- Top 10 broken inbound links

4

Describe:

- the «strength» of a certain domain — Domain Rating (DR) 

5

Match:

- top 100 relevant keywords with SEO metrics

6

Show:

- reliable search volume for the relevant search network

7

8

9

Analyze: 

- real-time top 10 search results for a keyword

10

Ahrefs SEO Toolbar (Chrome and Firefox extension)

Provide: 

- SEO data about the pages you visit

11

Conduct: 

- content audit

- monitoring of backlinks

- analysis of organic traffic and the number of links directly on the pages of the site

Read more about Chrome Extension for SEO

12

Track:

- the effectiveness of site ranking by target keywords

- competitors' positions in this direction

13

Evaluate:

- how difficult it will be to get into the top 10 for a certain keyword

14

Count:

- the number of words, characters, sentences, and paragraphs in your text
Ahrefs is not only a service with tools but also an educational platform. Users have access to training materials on SEO, marketing, content marketing, business, case studies, and recommendations from practitioners.
Ahrefs platform training 
The Ahrefs team helps its users understand how the platform works. To do this, there is a whole section on the site, which contains possible questions with detailed answers and clear explanations. And the Ahrefs Academy has collected video courses that tell how the service can help with the promotion of websites and businesses. 
Ahrefs blog and Youtube channel 
In the thematic blog and YouTube channel, materials are collected to help beginners and experienced SEO specialists on the most relevant topics in the field. There are checklists, useful collections, guides, and many other formats of materials.
Guide for beginners in SEO
To help those who are just getting started in SEO, the Ahrefs team has developed a beginner's guide to search engine optimization. Information is collected in a clear logical structure.
14
Partnerships and integrations: why Collaborator 
Collaborator is a marketplace for guest post, one of the official partners of Ahrefs. The services work in related niches because SEO specialists and marketers can order guest posts on high-quality sites through Collaborator. And Ahrefs helps to evaluate the same quality of donor sites and select reference articles for content preparation.
Why you should use Collaborator to find websites for article or press release publishing:
in addition to Ahrefs' 7 metrics, there are 25+ metrics you can use to analyze the site. Both commonly used (traffic, trust/spam, etc.) and internal (how long has the site been in the service, what is its rating based on completed deals, etc.). This expands the possibilities for evaluating a potential donor of a guest article or backlink;
convenient filter and sorting system. You can customize your catalog view by only the metrics you need;
interaction with site owners directly in the system interface. After choosing a site, you can download the text of the article here, complete the deals and receive a notification about the placement on the desired resource.
Collaborator is worth a try if you want to improve your site's position in search engines and increase your brand's visibility among the target audience.
Such Ahrefs features are useful for many offline and online marketing specialists, for everyone who needs to competently integrate into the online space. The tools and information that Ahrefs provides are used today by: 
online marketplace owners who optimize their websites on their own;
SEO agencies that promote online projects of several clients;
«In house» SEO-specialists and marketers who promote the employer's website;
arbitrageurs who have several different sites for promoting affiliate projects;
SEO consultants who develop an SEO promotion strategy for clients;
content marketers who plan the content of web resources.\
16
FAQ: frequently asked questions about Ahrefs
How to use Ahrefs more efficiently?
Ahrefs is a multifunctional tool. And even long-time users often need to learn all possibilities. In order to use the most of the service, we have prepared several tips:
test the filters. There is a lot of exciting
sign up for newsletters and social media. All news about updates you will see there,
take the training offered by the company. After all, there are also natively inscribed chips for using the service,
look for Ahrefs use cases from SEO practitioners.
Are there limits on the number of checks in the Ahrefs Webmaster Tool? And how to increase them?
Yes, there are limits. In the clawless tool Ahrefs Webmaster user is given a limited number of checks per month for each project. If you want to check the positions of sites without restrictions, subscribe.
What are the main alternatives of Ahrefs site explorer?
In addition to Ahrefs, the main players in the market of SEO analysis of sites are Semrush, SurferSEO, Mangools, etc. We described in detail the services for various areas of SEO activity in the material Top Best Link Building Tools.
Is Ahrefs content explorer Worth its Price?
Many SEO and marketing specialists recognize Ahrefs's content explorer as one of the best tools for creating content plans, finding ideas for publications, analyzing competitor strategies and niche trends. It allows you to save a lot of time and view in one tool a selection of references of trending and in-demand content and specific numerical indicators of its popularity.
Conclusion
We hope that our insight into the possibilities of the Ahrefs service will help you to find the right tools. To make your SEO promotion even more effective and professional, you can also use our free basic SEO Checklist.
Expand the possibilities of using Ahrefs data together with Collaborator. Analyze the authority and link profile of the site directly in the service interface, and for a more detailed analysis of sites sorted in this way, use the full functionality of Ahrefs.