How to Check Backlinks to a Website for Free. Tools for Testing and Analysis of Backlinks
In this article, we will tell you how to check backlinks quality and do it for free, as well as how to analyze your competitor's backlinks. We have put together a list of top linkbuilding software tools for checking the link profile, analyzing links to specific pages, etc. If you need to perform technical site audit, conduct keyword research, analyze content on your site, etc., you will also find a list of top tools for SEO which will be useful for your tasks on our blog.
After analyzing user requests, we realized that the article should give detailed answers to such questions: 
How to find and check the backlinks of any website? 
How do I know which sites are linking to mine? 
How to check how many backlinks a site has?
How can you tell good backlinks from bad ones? 
How to check backlinks in Google?  
How To Check Backlinks In Google Search Console For Free? 
How to check competitors' backlinks? 
Is it possible to check external links to a website for free? 
How to find out which pages of the site have backlinks? 
How to analyze the link profile of a donor site to buy backlinks cheap and reliable? 
We will now analyze all this in the article. 
Backlinks are hyperlinks that allow other sites to link to your domain. If another site links to you, then this is considered an external link to your site. Backlinks are also called incoming.

This is how an external link from another site to Collaborator.pro looks like.
2
Why do you need external links to the site? 
External links are an important search engine ranking factor. Experts say that getting quality inbound links to a site remains an important trend year after year.
Search engines rank external links as more influential than internal ones. This is because what others refer to you is more important than what you say about yourself. Therefore, the quantity and quality of backlinks can be regarded as an important factor influencing ranking. So, getting external links to your site is the fastest way to attract more traffic, and therefore increase your rankings.
At first, the search algorithm had the following principle of operation: the site, which is linked to more other resources, is considered more popular. And although the algorithm is now much more complex, the number and quality of inbound links remain an important ranking factor. 
3
How to distinguish quality backlinks from bad ones
Quality links are defined by the following parameters:
authoritative domain. The higher the authority level of the site, the more weight it is able to convey to others through the link;  
the presence of keywords in anchors. At the same time, remember that an excess of commercial anchors, on the contrary, will impose penalties on your site;
the donor site must be related to the topic. In other words, your link should look relevant.
Not all backlinks have a positive effect on rankings. One quality link can be more useful than 10 mediocre ones.
4
Why check incoming external links
Analysis allows you to identify links from non-trust domains and exclude them from your link profile.
To find out who links to you and responds to reviews about your site.
Detect spam links to your site. Sometimes competitors may place backlinks on sites with prohibited topics.
Analyze the link mass of competitors and plan your link-binding strategy based on this data.
5
How to check backlinks to your site: Tools&Services 
There are free (Google Search Console, Neilpatel) and paid services with more in-depth analysis (Ahrefs, Majestic, etc.) to check backlinks to your site and competitors' sites. Please note that Google Search Console only allows you to analyze backlinks on your site. If you need to understand the big picture of a competitor's link profile, you can use Neilpatel's free service. For a more detailed study, you will have to use paid services.
Services for checking backlinks: comparison table 
Functionality

Cost per month

Trial version

Neilpatel 

Referring domains;
the number of backlinks;
new and lost backlinks;
referring domain trust;
dofollow/nofollow links

Free

Free

Xtool 

number of backlinks;
the number of unique anchors and acceptors;
dofollow/nofollow links

Free

Free

Ahrefs

Domain Rating (DR);
the number of backlinks (new, lost and broken);
referring domains;
link anchors;
distribution of referring domains by zones and IP-addresses

Read more about the service in our Ahrefs review

$89 - Lite

$179 - Standard

$349 - Advanced

$879 - Agency

$7 for 7 days

Majestic

own database;
Citation Flow
Trust flow;
referring domains and IP addresses;
topic report.

$49.99 - Lite

$99.99 - Pro

$399.99 - API

Yes, but only allows you to check 5 domains

Moz

competitor backlink analysis;
DA (Doman Authority);
backlink spam checker;
anchor text analysis.



 

$99 - Standard

$179 - Medium

$299 - Large

$599 - Premium

Moz Pro free access for 30 days after signing up

Serpstat

check active links;
analysis of external links of competitor sites;
checking backlinks for malicious sites;
new reference index.

$55 - Lite

$119 - Standard

$239 - Advanced

$399 - Enterprise

Yes. To do this, you need to leave the phone number and discuss the details with the manager

Seranking

the number of external links;
determination of IP addresses and geolocation of referring sites;
anchor text.



 

$29 - Essential

$65 - Pro

$139 - Business

14 days free after signing up
6
Free Backlink Checker SEO Tools
Google Search Console
Google Search Console is a free webmaster tool from Google with link analysis functionality.

There are 4 subsections in the Links section: 
top linked pages;
sites that link most often (top linking sites);
the most common link texts (top linking text) are anchor texts from other sites that link to you. The more specific the anchor text, the more valuable it is. For example, the anchor "Collaborator direct ad exchange" conveys more relevance than "look here";
top pages that are linked to (for internal links).
To analyze external links, we are interested in the first 3.
You can also export a report by links.
Neilpatel
Neilpatel is a free service for checking external links with a fairly wide range of functionality. For analysis, just enter the site domain, select a country and click "Search".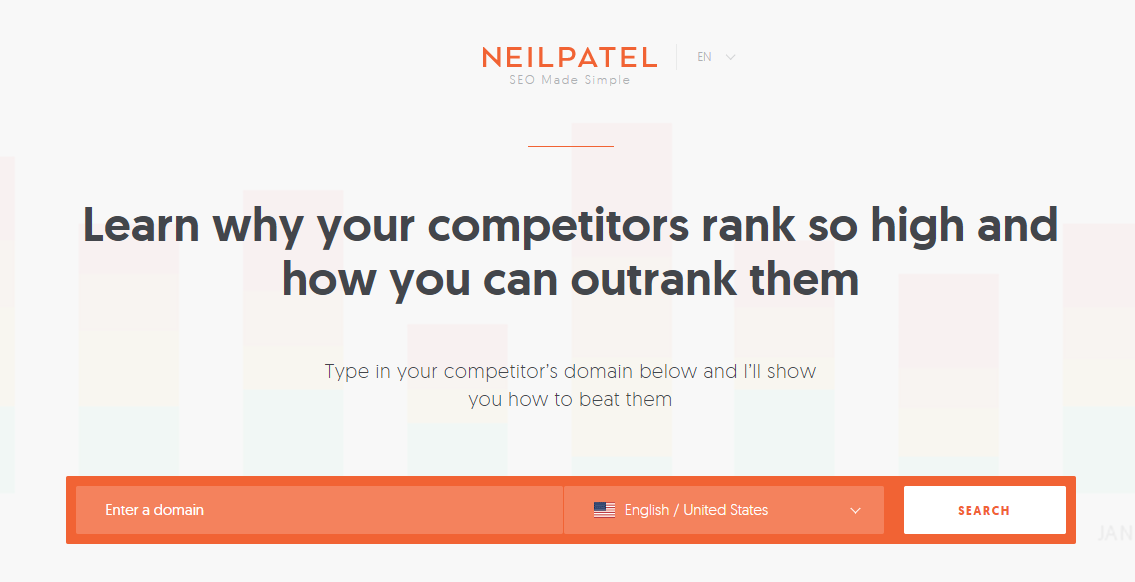 The following information is available in the "Backlinks" section:
the number of external links and the number of nofollow links is shown separately;
the number of referring domains;
which domains link to specific pages on your site. Also in the table you can see the score of the domain and the page that is being linked to, the type of link (image or text), and anchor text. You can filter this table by all links, nofollow, or dofollow.
Tools are more suitable for superficial analysis, so if you need more accurate data, pay attention to paid services.
7
Paid services for backlink checking
Ahrefs 
Ahrefs is one of the best services for checking external links which provides the most accurate data possible.
The cost starts from $89, there is a trial version for $7/7 days. 
The primary analysis will show you the following information:
UR (Url rating) shows the level of the link profile of the page. The higher this indicator, the stronger the link profile. Note that this figure is affected by both external and internal links;
DR (Domain rating) - an indicator of the overall strength of the site's link profile;
the number of backlinks;
the number of referring domains and their distribution by zones;
analysis and dynamics of the link profile with the possibility of choosing a period;
types of backlinks (text, image, dofollow/nofollow, sponsored, etc.);
distribution of links by Ahrefs rating.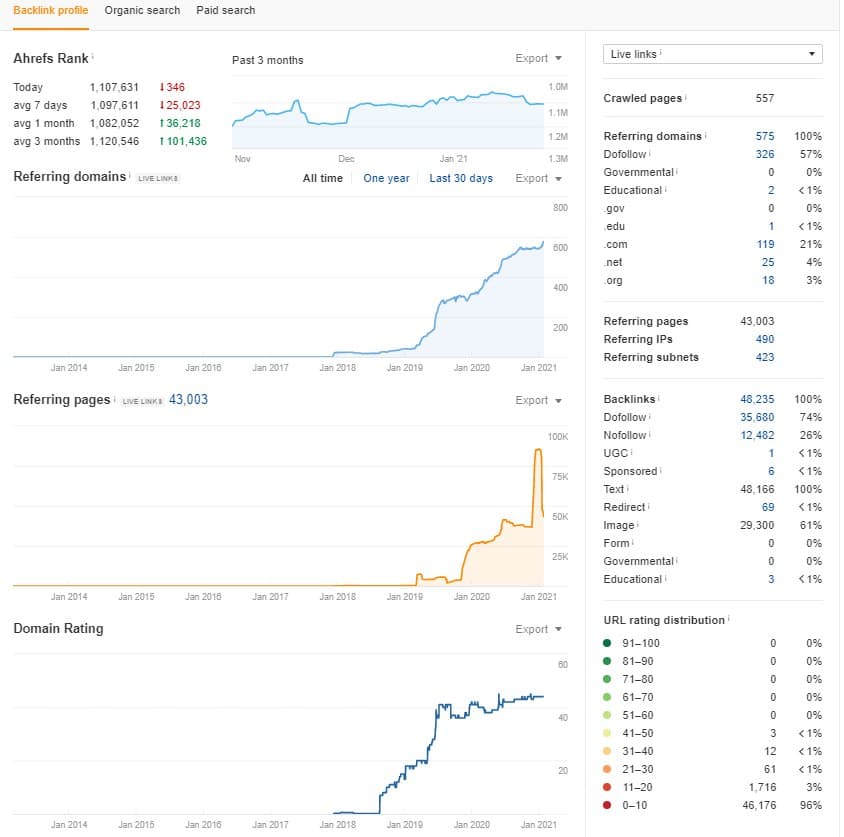 In addition, you can see new, broken, and missing links. Based on the data on new links, you can build a strategy for further cooperation with these sites. For broken and missing links, you can contact referring sites and try to get them back.
All in all, Ahrefs is a service that provides accurate information on the backlinks of your site and competitors' sites.
Pros: maximum data accuracy, free check shows the first 100 domains. 
Cons: the service is quite expensive, and the trial version is paid.
Majestic
Majestic is one of the oldest inbound link checking services, with a database of over 1 trillion links.
Unlike Ahrefs, Serpstat, and other services, it specializes only in checking backlinks. Therefore, Majestic has advanced functionality for a highly specialized niche. 
The general report shows the following parameters:
Trust Flow;
Citation Flow;
Topical Trust Flow;
backlinks;
referring domains and IP addresses;
indexed URLs and more.
Majestic also has a topic report feature that other tools don't have. Moreover, Majestic determines what your site is about based on backlinks, not content.
In addition, the service has a wide variability in sorting backlinks and the ability to export the received data to CSV or Excel.
Pros: wide functionality for checking exactly backlinks, the presence of functions that other analysis tools do not have, suitable for deep study of competitors, more analysis limits than Ahrefs.
Cons: narrowly focused functionality.
Moz
Moz is one of the first western services for checking backlinks. It has both a free version Moz Free for superficial SEO analysis, and Moz Pro, which has extensive capabilities not only for analyzing backlinks but also for SEO in general. 
Pros: Availability of an extension for Chrome, 
Cons: 3 checks per day for the free version.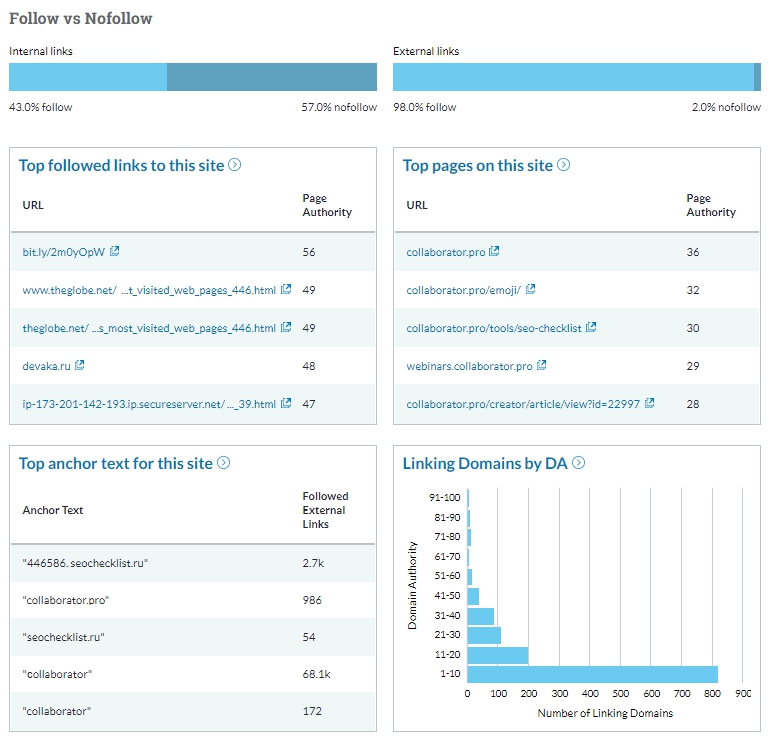 Serpstat 
Serpstat is a tool with its own link index, which appeared in May 2020. Great for analyzing the link mass of your site and competitors.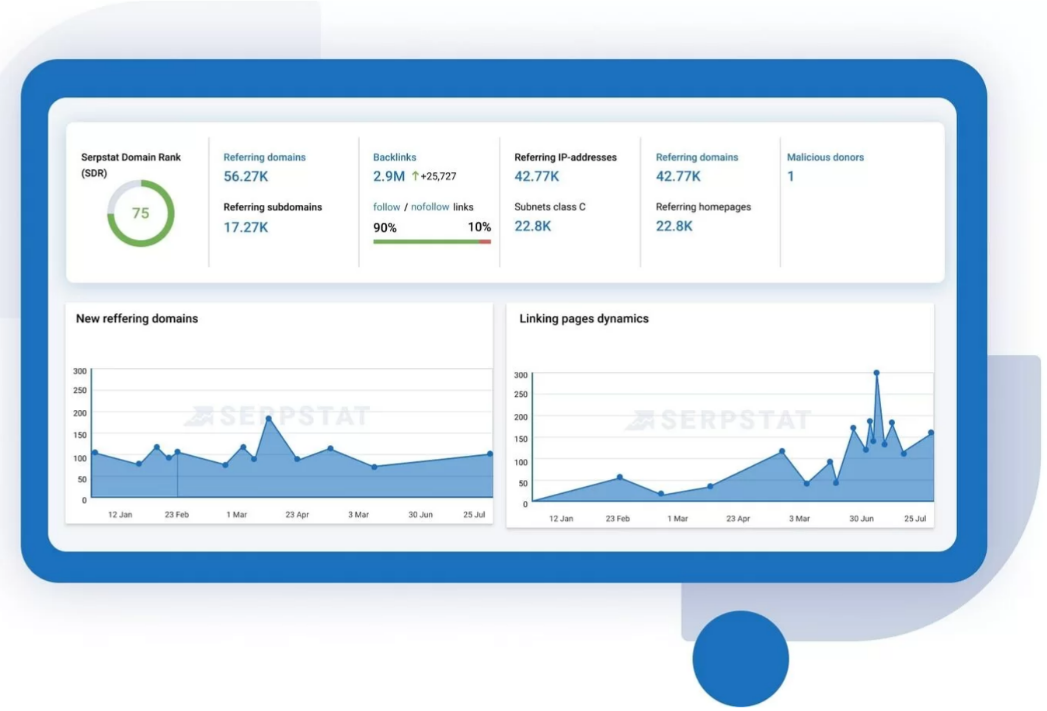 The functionality allows the following:
get data about backlinks to the site in one click (referring domains and pages, division by IP addresses and zones, Serpstat Page Rank, and Trust Rank);
view backlinks for the last 2 years - get detailed information about new and lost links;
follow the link strategy of competitors;
find out which pages of the site have the most backlinks.
Pros: updated base, a large limit on the number of checks, continuous improvement of functionality.
Cons: Communication with technical support sometimes takes time.
Seranking
Seranking is a service for in-depth analysis of incoming external links.
Seranking allows you to check the following parameters:
the number of backlinks;
URLs of pages with links to your website;
IP addresses and geolocation of referring sites (donor sites);
the number of reposts of the linked pages on Facebook;
anchors.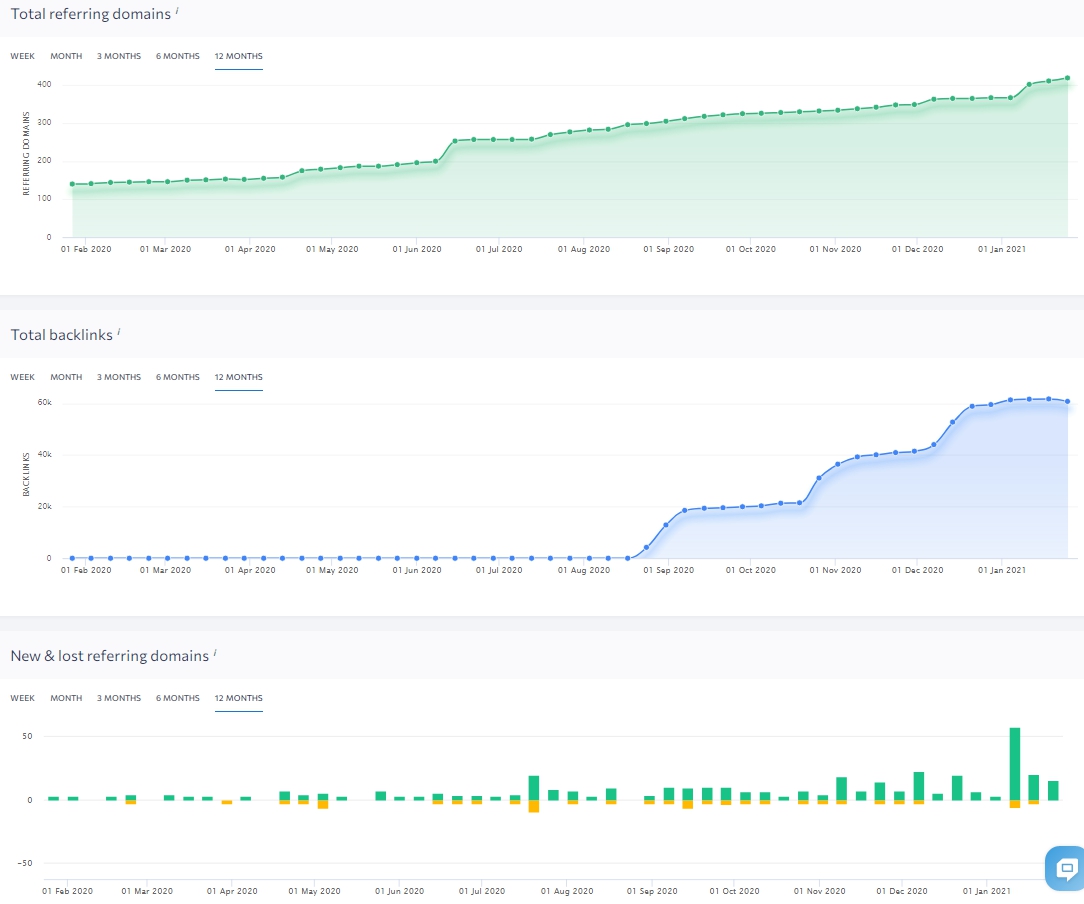 Seranking takes data from Moz DA, Alexa Rank, and Google index.
Pros: democratic pricing policy, no need to buy a monthly plan, you can check all links for one site for $1.
Cons: Communication with technical support sometimes takes time.
Read also: How to get high quality backlinks & Best SEO Chrome extensions.
8
Improving your link profile: How to reject low-quality external links? 
After analysis, you may find backlinks to your site from dubious sources. Links from non-trust sites, even if they were posted without your knowledge, can lower search engine results. In such a situation, you can contact the site owner and ask him to remove the link, or put rel = "nofollow" on it. 
How to disavow links with the Disavow Links Tool
To disavow links for Google, use the Disavow Links Tool. However, if used incorrectly, the tool can harm the site. Therefore, before using it, you need to understand the following things:
the Disavow Links Tool does not remove links from donor sites, but minimizes the negative impact on the position of the site;
disavow links if you are sure that they caused a decrease in positions or if you received an email about the detection of unnatural links from Google;
after removing bad links, search algorithms will automatically revise the positions. Submitted requests are processed for about a week.
Remember that removing backlinks takes longer than posting.