20+ Best Copywriting Services and Platforms for 2023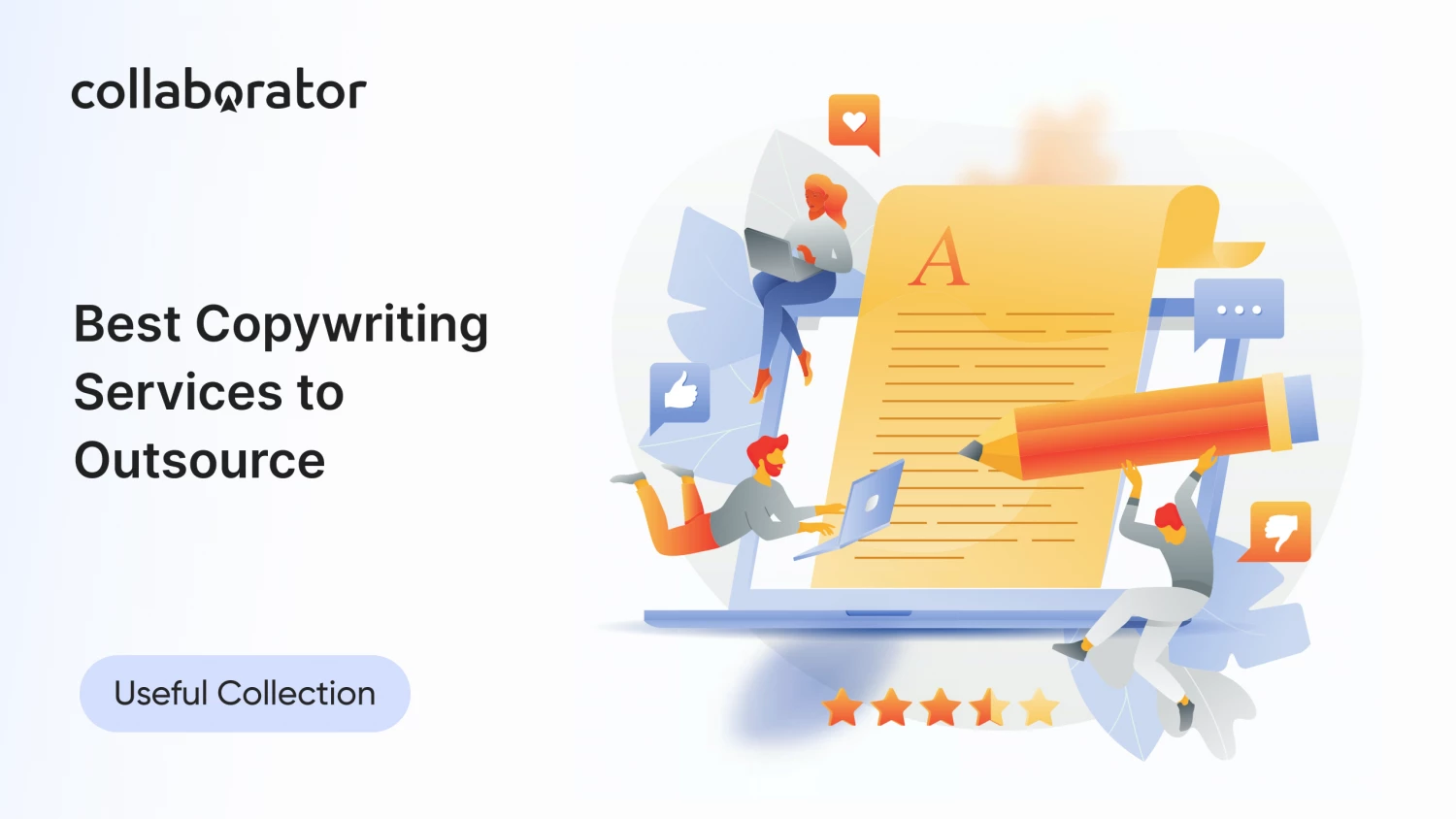 Whatever marketing strategy you will apply and whether you are engaged in eCommerce, crypto, or any other niche, captivating content is a core ingredient for success. It helps attract and engage an audience, connect with customers, and promote various products and services. All types of content are necessary, from comprehensive guides and press releases to social media posts and emails. 
At this point, everyone may think that having an in-house copywriter or a team of writers is essential. But let's be realistic. Sometimes the company has a limited budget and cannot afford to make it a reality. Or in-house copywriters can be overwhelmed with more important tasks. So what then? Should you settle for AI-generated content and try to get by with it and buy SEO backlinks? Certainly not. It is when online copywriting services become helpful.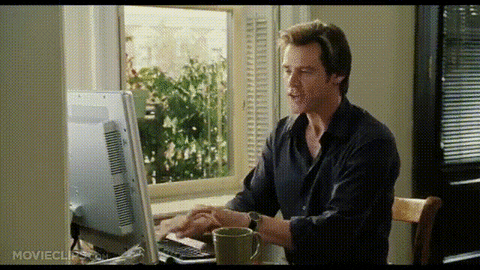 Numerous freelance writing platforms and copywriting agencies can provide you with quality content of any type. To help you save time searching for the best freelance writing sites you can rely on, we have gathered them here and reviewed each of them. Our lists are continually updated to make sure you have access to the most reputable content writing platforms.
When Should You Outsource Your Copywriting?
As mentioned above, companies can use freelance copywriting services if they lack in-house copywriters or their employees are overwhelmed with tasks. However, these are only some of the reasons for outsourcing copywriting. Here are a few more:
Firms don't cooperate with PR agencies, or their cooperation doesn't include writing advertising content.
Companies expand into new niches and markets and require diverse content for promotion and PR purposes. 
Seasonal businesses may need written content in a vast amount but not regularly.
Sometimes companies need many short texts to complete their website's pages.
As we live in the age of developing and increasing popularity of AI technologies, why not use one of them for your content needs? In a nutshell, AI tools gather information from their database and transform it into text based on your request. However, it will always need more creativity, personal experience, expertise, etc. It will also require human proofreading. While AI technologies can facilitate writing, they cannot replace human copywriters. To learn more about the topic, read our article on ChatGPT.
What Can Copywriting Services Do?
Whatever your business may be, you need various types of content to promote it with parasite SEO and other strategies. Their popularity varies depending on the niche. For instance, according to the research conducted by Content Marketing Institute, 89% of content marketers in the B2B niche use short articles/posts in 2023. It is worth mentioning that video comes in second place, with 75% of content marketers using it.
Let's find out which content you can expect to receive when using professional copywriting services.
Advertising Copy
You can use the best freelance copywriter websites for content that drives sales. It includes everything from posters, direct emails, and online ads to billboard scripts and texts.
Brand Copywriting
"Just do it" is one of the best examples of brand copywriting. This slogan was created by Dan Wieden in the distant 80s and remains relevant even today. Whether you only build your brand or want to refresh it, you can contact professional copywriting services for assistance in writing taglines and mission and positioning statements.
Business Articles
Long-form articles often contain an interview with an expert in the niche to demonstrate expertise. They aim to boost brand awareness and gain customers' trust. 
Copy Editing
Even the best writer with many years of experience is not exempt from making typos. Occasionally, you may encounter typos even on the most reputable resources, such as The New York Times. There is an account on Twitter where you can find mistakes that the owner of that page has found in various articles on this news website. Below, you can see one of those examples.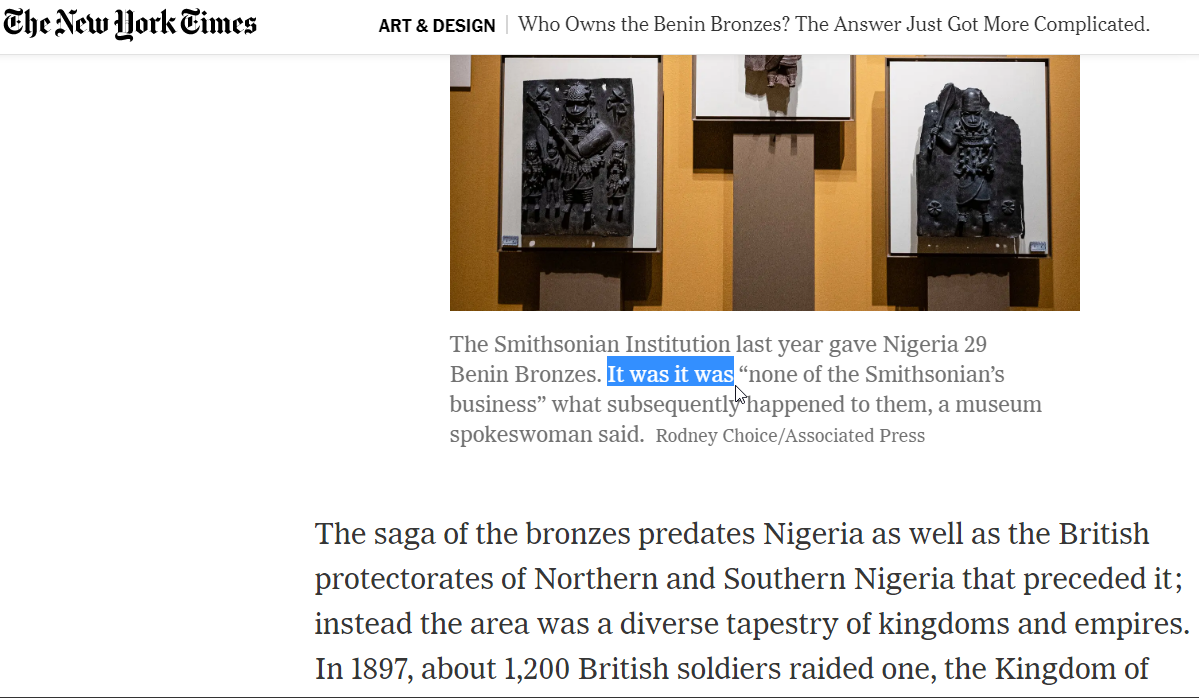 The repetition of "It was" in the article "Who Owns the Benin Bronzes? The Answer Just Got More Complicated" in The New York Times.
That is why ordering proofreading and improving your existing content is always a good idea.
eBooks
They contain content and visuals, so using the services of an agency that offers writing and design services is a good idea. Companies often use this type of content to show their expertise and establish themselves as leaders in the industry. That is also a good way to gather the content information of potential customers: they gain access to eBooks by providing their email addresses. For instance, Search Engine Journal offers a vast library of eBooks. 
The library of eBooks on Search Engine Journal.
Email Marketing Content
You can find a professional who can write emails that generate leads on the best copywriter websites. They can write captivating titles encouraging users to open an email and body copy with CTAs that generate leads, not annoyance.
Guest Posts
Guest posting is one of link building strategies. In addition to building links that help increase a domain authority for your website along with its visibility and ranking in the SERPs, it also assists in building online brand awareness. You can use the best freelance writer websites to order writing guest posts and then distribute them on free guest posting sites or with the help of special PR platforms such as Collaborator, which has over 16K websites, including blogs, in its catalog.
Infographics
Infographics are certainly more about visual presentation. However, they also include content that should be well-written and concise. In most cases, creating an infographic starts with writing the content, which is then given to the designer to bring to life. Sometimes, marketers take a different approach: they create an infographic template themselves, hire a designer, or use a ready template from special services such as Freepik and then order writing for it. 
Market Analysis, Keyword Research, & Content Suggestions
Some copywriting agencies can assist you in performing market analysis, conducting keyword research, and generating content ideas without necessarily providing you with writing services.
Sales Sheets & Catalogs 
Like eBooks, sales sheets and catalogs include lots of visuals. They also include content, which should be concise and provide precise information about your company or products. While sales sheets are one-page documents, catalogs can have dozens of pages with information about the company and its products. Let's take as an example the catalog of Bass Pro Shops. Below are its first two pages that provide information about the company.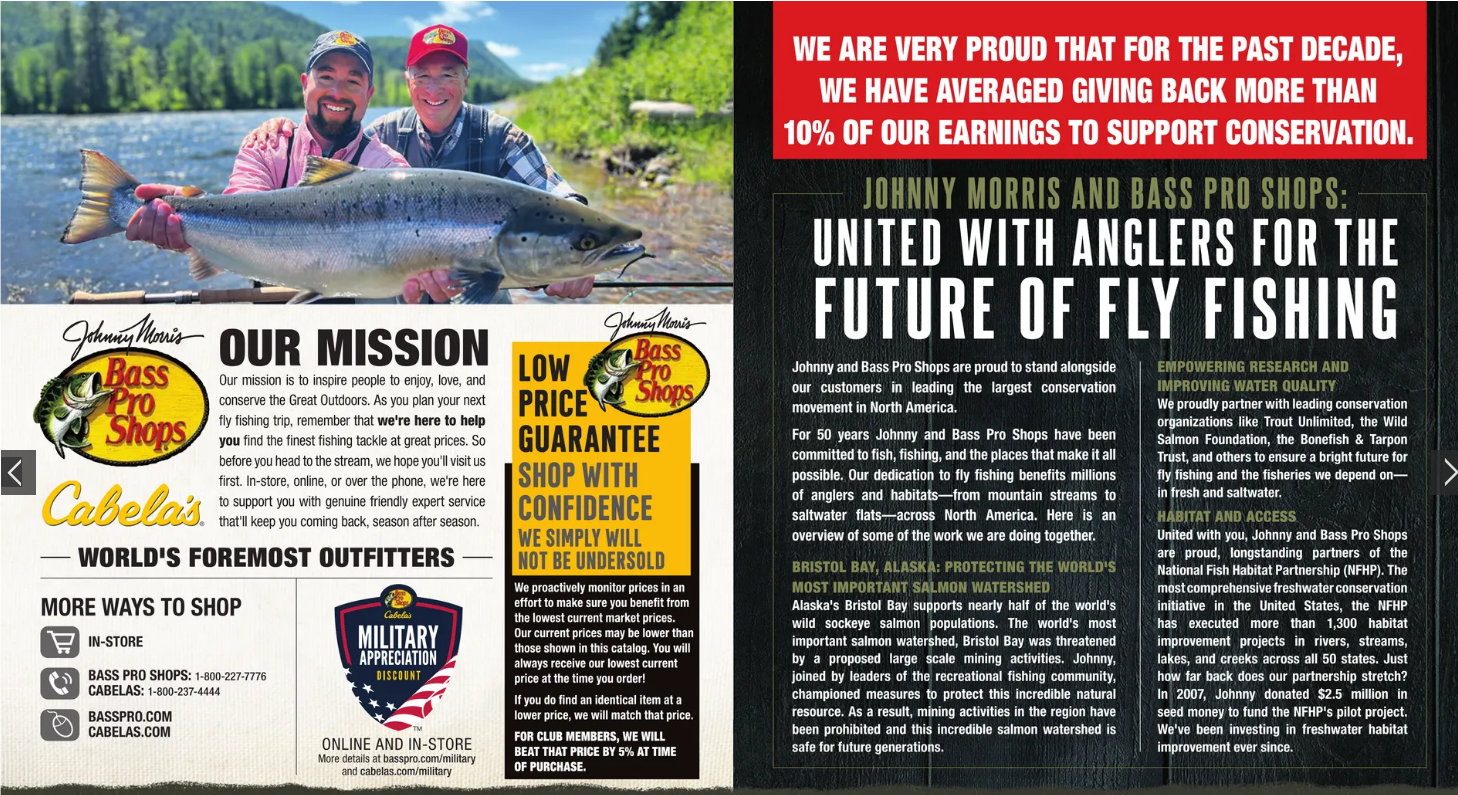 The catalog of Bass Pro Shops.
Press Releases
Are press releases still relevant? Surely, yes. A press release is an effective way to introduce your brand to potential customers and keep your audience informed about news related to your company, including reorganization, charity events, new and updated products, and so on. Writing a good press release is more challenging than it may seem. It requires deep research and experience in crafting this type of content. 
Product Descriptions
A good copywriter will create a product description with the customer in mind. That means a simple listing of features won't work well, regardless of your niche. The description of any product should show how it can be useful to the reader, motivating them to buy it. Not all copywriters are capable of creating a truly compelling product copy.
SEO Writing
You can outsource the writing of SEO-optimized texts of any type to improve the ranking of your websites in the SERPs and drive more organic traffic. 
Social Media Content
Today, nobody doubts that social media marketing is vital in promoting a brand. You can use copywriting platforms to find a freelancer who can create compelling content for your social media channels. 
Technical Writing
Technical writing is especially relevant to engineering, software, robotics, automotive, and biotechnology niche industries and includes guides and instruction manuals. Some freelance copywriters are specialized exclusively in creating this type of content. 
Video, Radio & Podcast Scripts
Creating video, radio, and podcast scripts is also included in the long list of copywriting services. You can use the services of an agency in the digital marketing niche or find a freelance talent on one of the copywriting platforms listed below in our article.
White Papers
White papers contain in-depth knowledge demonstrating the company's industry expertise and are an effective lead-generation tool. The creation process of white papers requires meticulous research. They should also be expertly formed. 
Web Copy & Landing Pages
Freelance copywriters can create content about us, our commitments, and any similar web page. That is how these pages are structured on the Michelin site: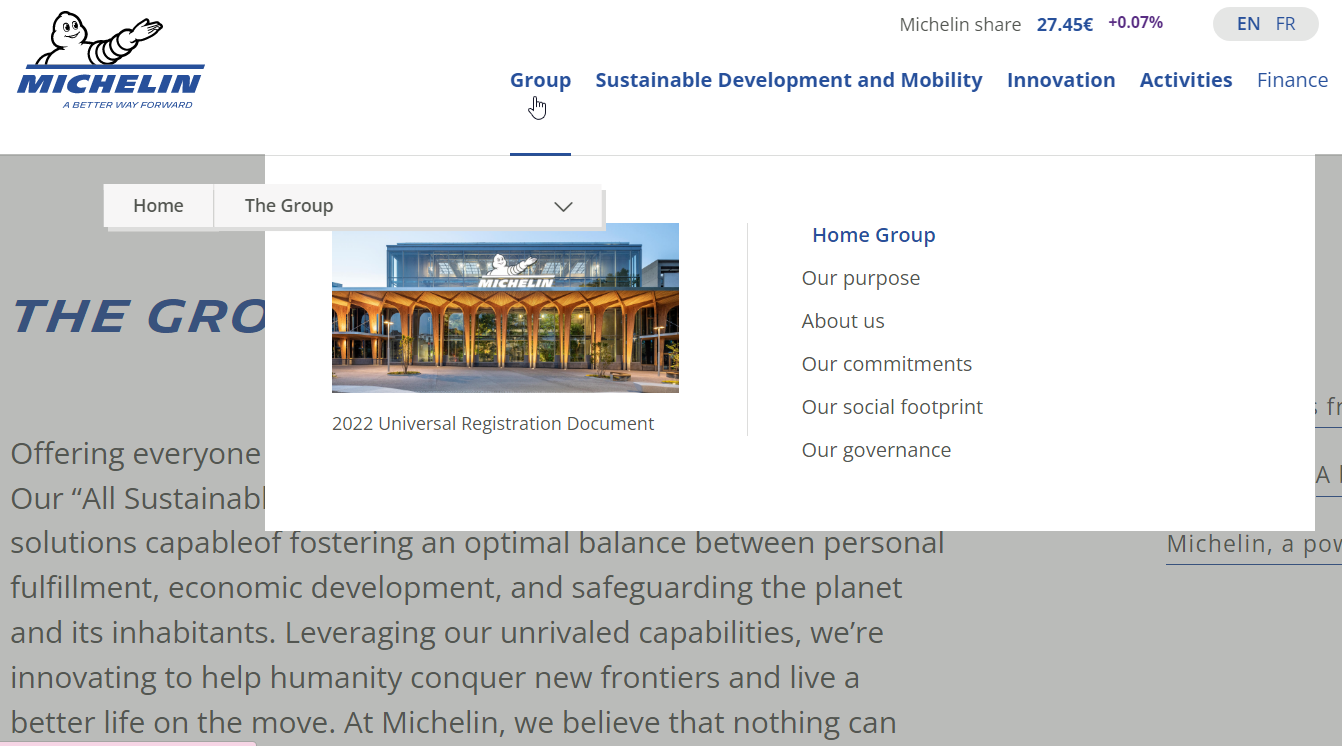 The home page of the Michelin site.
It is worth mentioning that this type of content can be used on not only the company's official site but also its distributors' websites. 
Strong copywriting can turn any landing page into a digital salesperson. It should communicate with visitors, demonstrate the benefits of choosing the company's services or products, and encourage them to register on the website, try the service or product, etc. In other words, landing pages are great lead generators.
An example of a landing page on Collaborator.
10+ Best Copywriting Platforms
Let's start with marketplaces where you can find a freelance copywriter to outsource your writing.
Best Copywriting Marketplaces

Type of Сontent

Price

All types of content writing, from blog posts to speechwriting and podcast writing

Editing

Translation

Per gig, from $5 and up

Website content

Resume writing

Books & eBooks

Proofreading & editing

and more

$15 - $100+ per hour

Blog posts

Web content

SEO content

Product descriptions

Content briefs

From $0.059 to $0.089+ per word depending on the chosen plan

Articles & news

Web content

Proofreading & editing

Advertising copies

and more

$5 - $3,000+ per hour

Resumes & cover letters

Technical writing

Business writing

Proofreading

and more

Offer-based/fixed cost pricing from $15 and up

Guest posts and long-form articles for various industries, including business, technology, automotive, real estate, finance, etc.

For using the platform, the monthly payment of the four-user plan costs $39, the five-user plan costs $99, the seven-user plan costs $299, and the unlimited-user plan starts at $499.

Content is paid separately.

Response copies

Products listings

Sales copies

Sales funnels & videos

From $5 to $75+ per hour or a fixed price for a gig

eBooks

White papers

Technical writing

SEO writing

Guest posts

and more

The platform charges 3% of the total project to the employer and 10% of the total project to the freelancer.

Content is paid separately.

Different types of content

You can post your job offer for $80. It will be active for 15 days.

Different types of content

Signing up for the platform and posting a job offer are free of pay.

There is also no pre-established amount for copywriting offers.

Guest posts

Technical writing

Editing

and more

Employers don't pay anything for using the platform.

Freelancers establish the price of their service or their price range per hour. 

Guides

Podcasts

Brochures

Guest posts

Social media posts

Press releases

Proofreading & editing

and more

Freelancers establish their prices.
1. Fiverr
There are freelancers with different levels of skills and experience in various niches. So you will find the talent to outsource your writing regardless of its type. To narrow down your search results, you can utilize a user-friendly filter.
In the profile of each candidate, you can view information about their work experience along with portfolios and reviews. 
Another benefit of this platform is its escrow payment system. That means your funds are released to the copywriter only when you have accepted and approved their copy.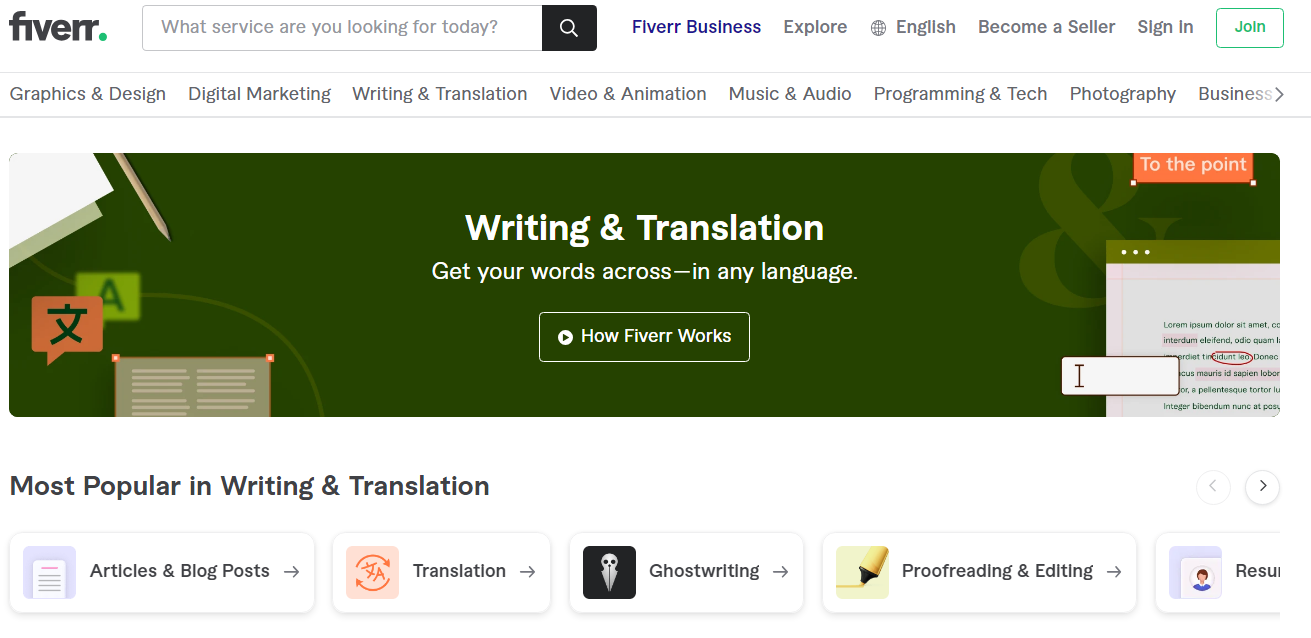 Fiverr's copywriting & translation services.
2. Upwork
Upwork's database contains 146K+ profiles of freelance copywriters, editors, proofreaders, and translators with 331 different skills in various niches. Each freelancer's profile includes work experience, portfolio, client reviews, and hourly rates. 
On this platform, you can also post a job offer if you have a specific project to be done.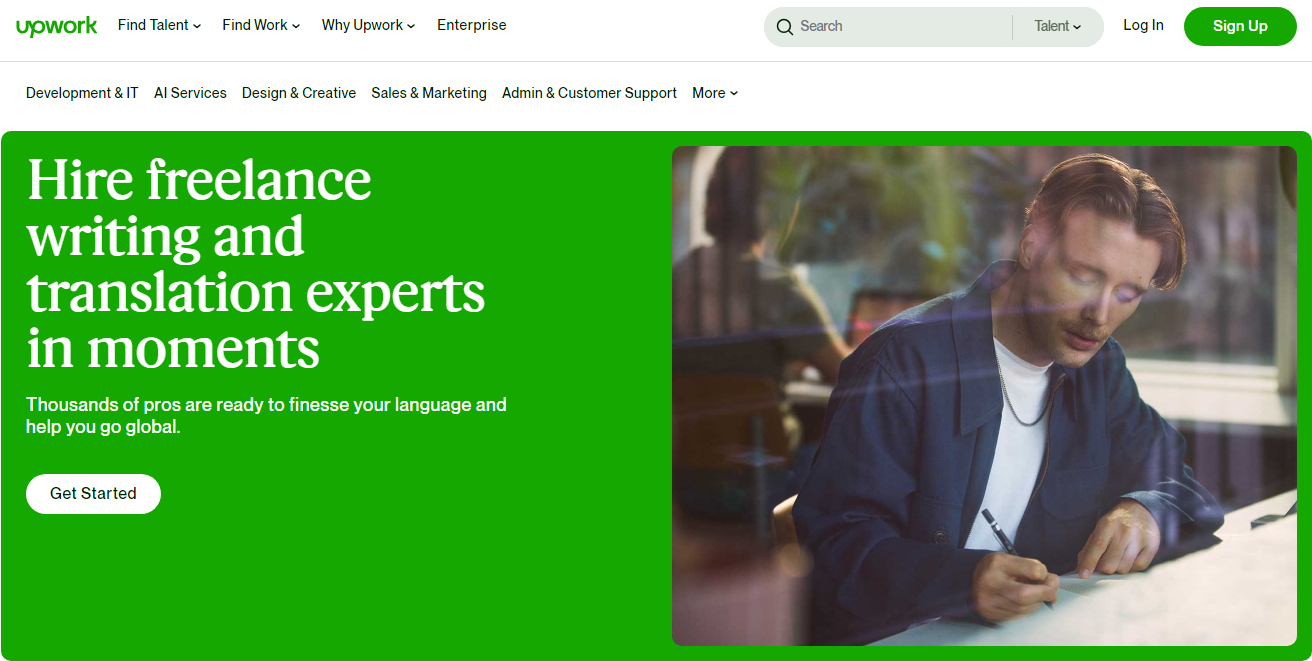 Upwork's copywriting & translation services.
3. WordAgents
Unlike most other freelance marketplaces, WordAgents manage the freelancers for the client. Each copywriter is vetted and approved by them. As WordAgents is focused on creating SEO-optimized content, they analyze the market and conduct keyword research as a standard part of their work. The client can request two rounds of edits.
The platform offers three plans to choose from: 
essential (AI-assisted content writing), 
elite (100% human writing), 
and exclusive (tailored content crafted by top copywriters).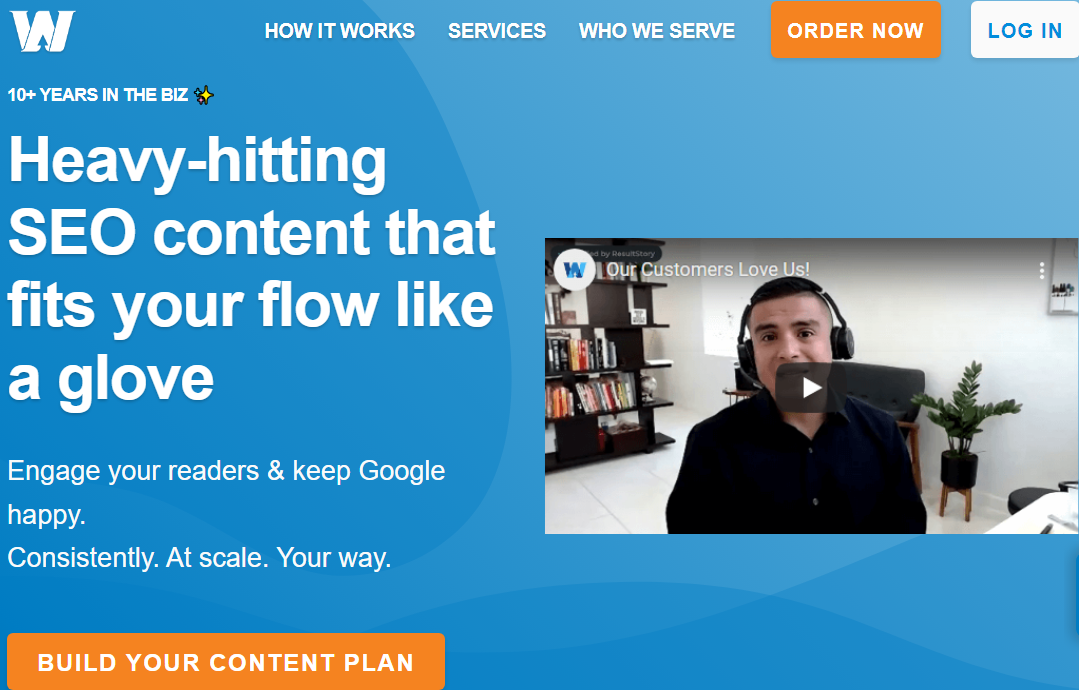 Content writing services of WordAgents.
4. Guru
This platform has over 800,000 copywriters from all over the world. Clients can browse freelancers' profiles and submit their job proposals directly or post a job to which freelancers can respond. Each freelancer's profile includes information about their earnings, portfolio, and reviews. It also shows the number of jobs they have completed through the platform.
Clients can choose between setting automatic payments to copywriters and using a manually released escrow system.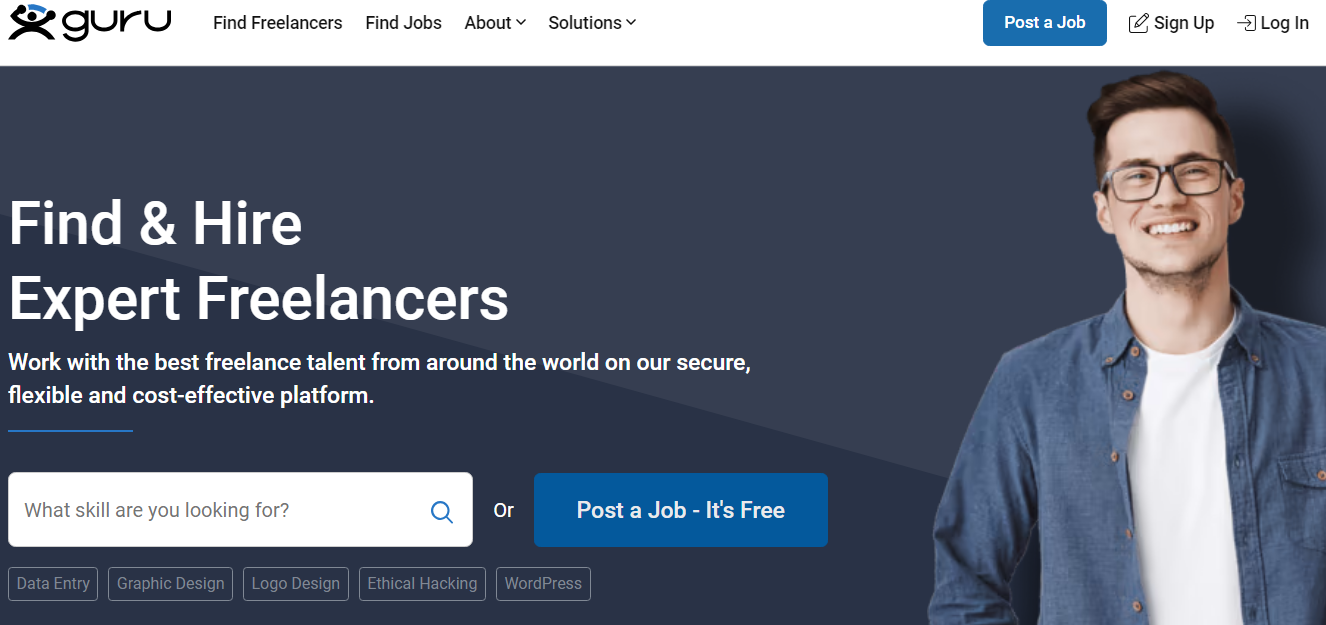 5. PeoplePerHour
On this platform, the client can create a job listing, and the system will use AI to manage a copywriter who meets all their requirements best and invite them to submit a bit. Then the client interviews them and hires the best fit. They can also leave a review and see the reviews of previous employers. 
PeoplePerHour offers an escrow system for payments.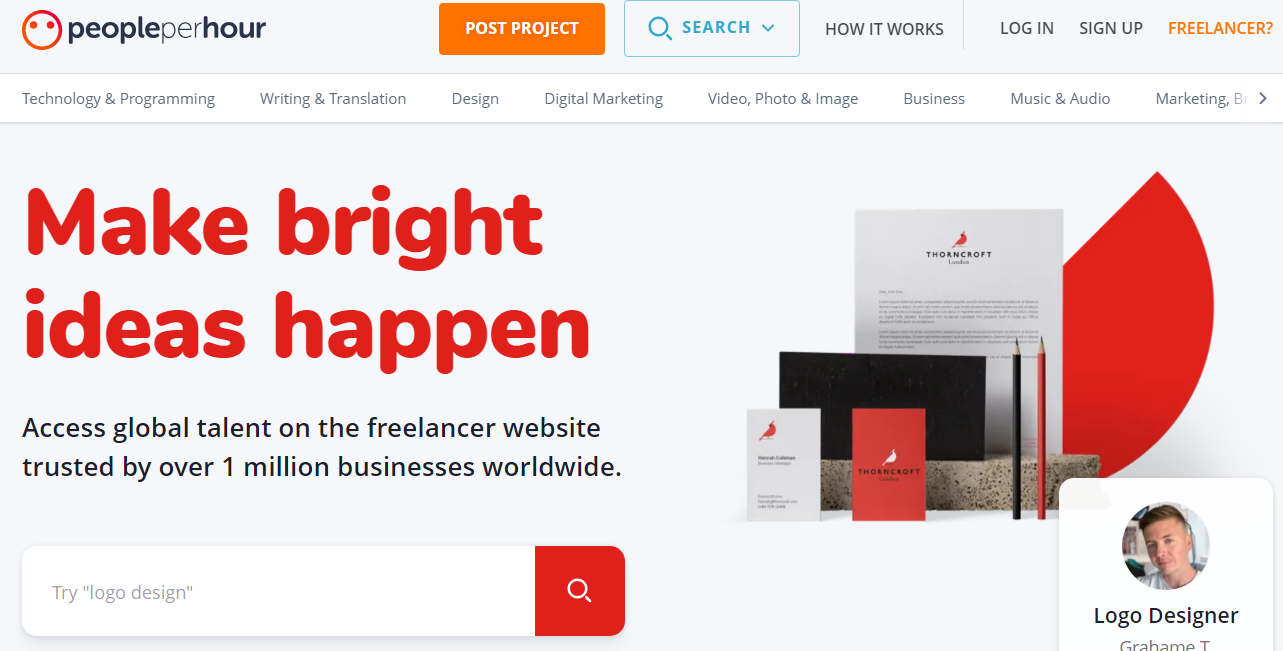 PeoplePerHour's writing services.
6. WriterAccess
In addition to providing access to talented copywriters, this platform offers many tools that help speed up marketing projects. For instance, users can access a library of 250 million images from Getty Images, Shutterstock, and Storyblocks. They can also set up publishing integrations to push approved content directly to their social media platforms with just one click of their mouse.
Users can use the advanced search, casting calls, or AI-powered matching to find a copywriter for their projects.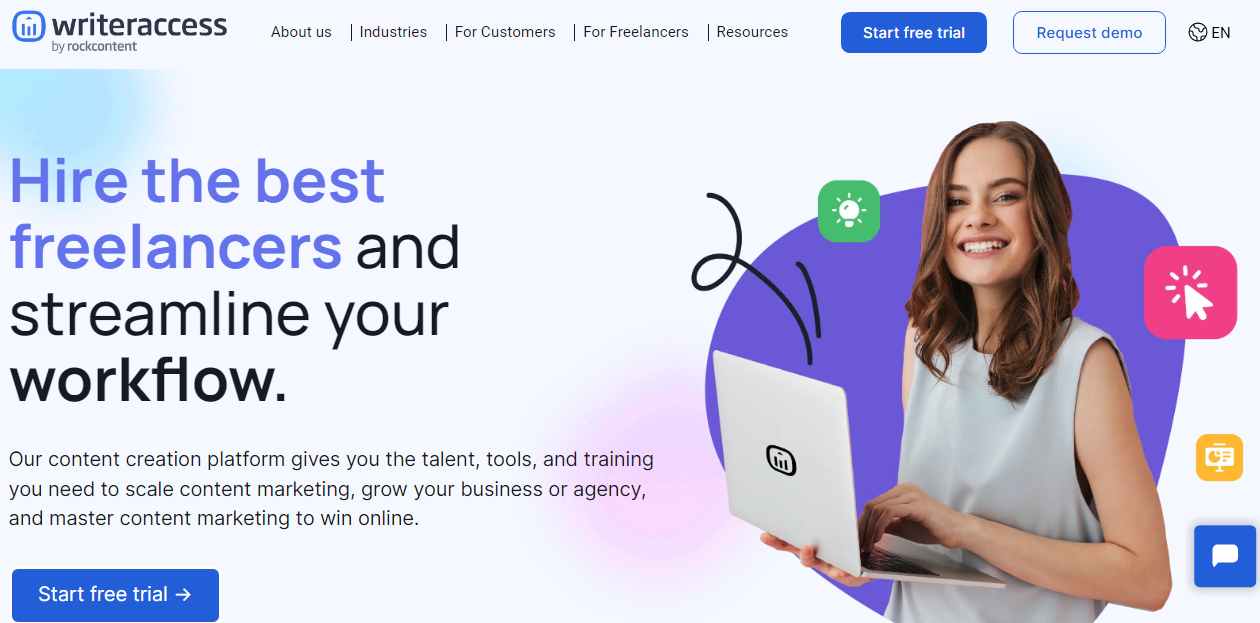 7. FreeUp
The platform carries out a strict selection process to let in the best copywriters only. Those with little to no experience hiring freelancers can contact one of the platform's account managers for guidance.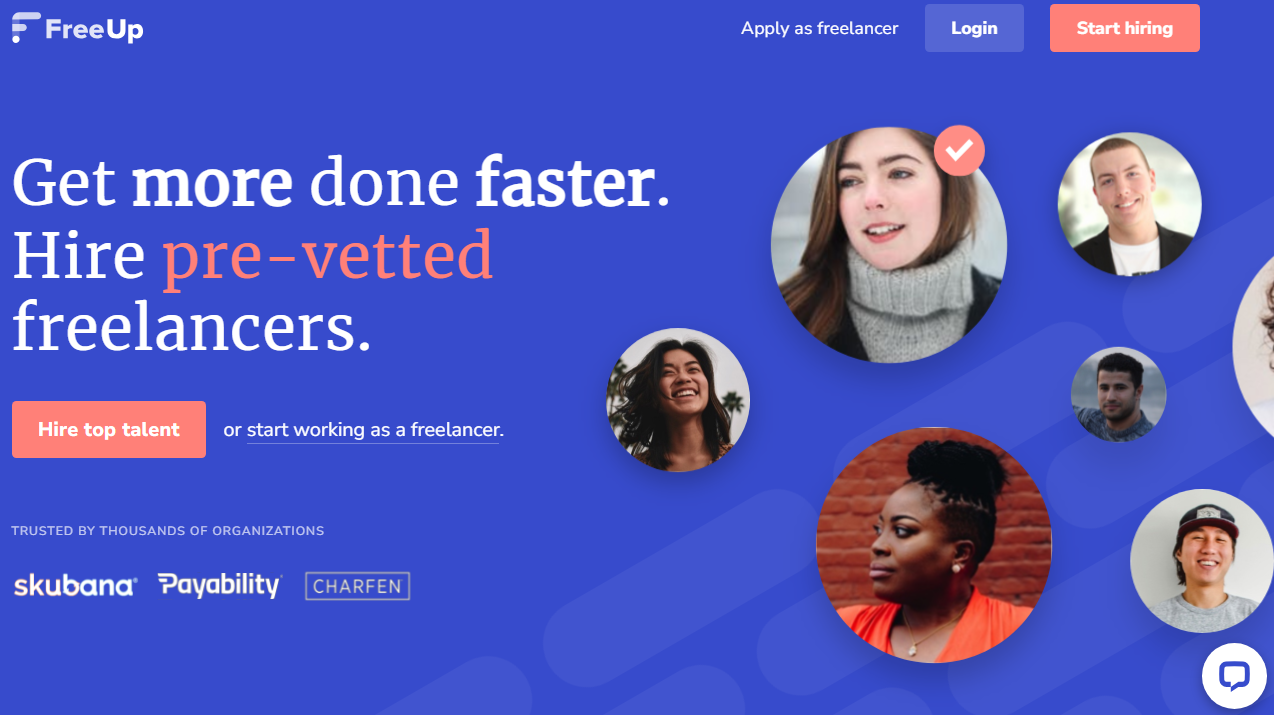 FreeUp's copywriting services.
8. Freelancer.com
Using this platform is very easy. You should post your job, mentioning the amount you are willing to pay for it (that depends on the type of project, duration, and so on). Then you will receive proposals from freelancers with the required skills to complete your project. You can choose the one who meets your requirements best and approve an offer.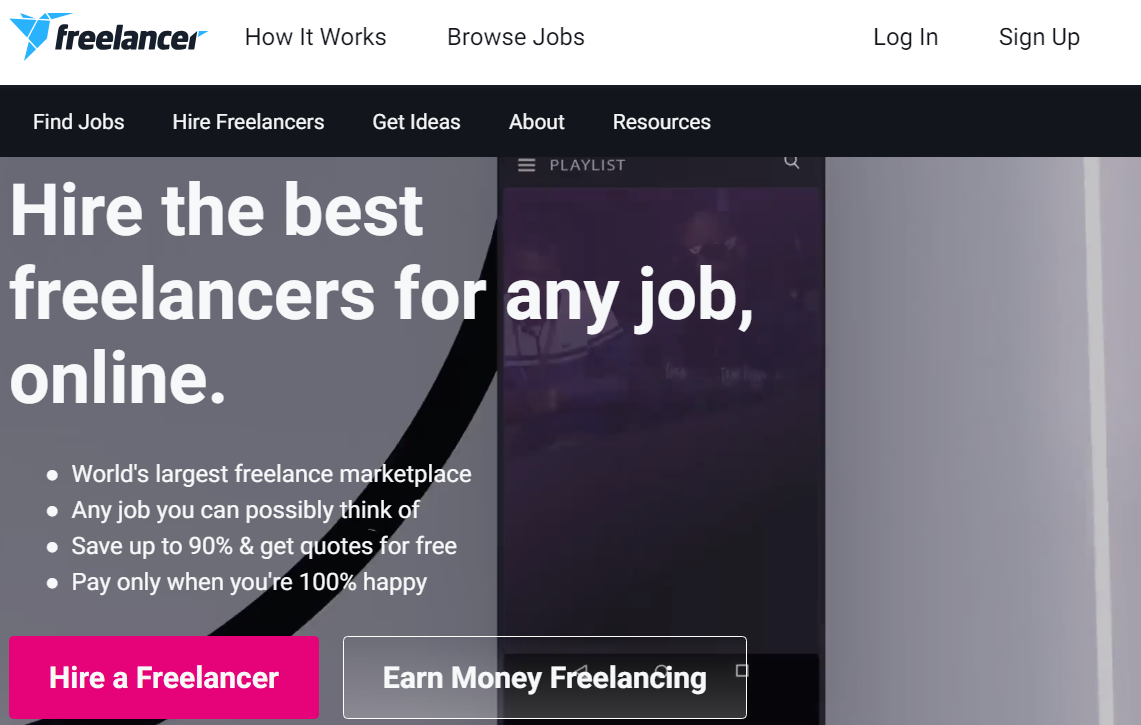 Hire a copywriter on Freelancer.com.
9. ProBlogger
In addition to providing bloggers and copywriters with a wide range of tools, ProBlogger also has a job board where you can post your job offer for a fixed price. The visitors of this website are trained copywriters who are up-to-date on market trends, so you can be sure to find the one who will fit your project best.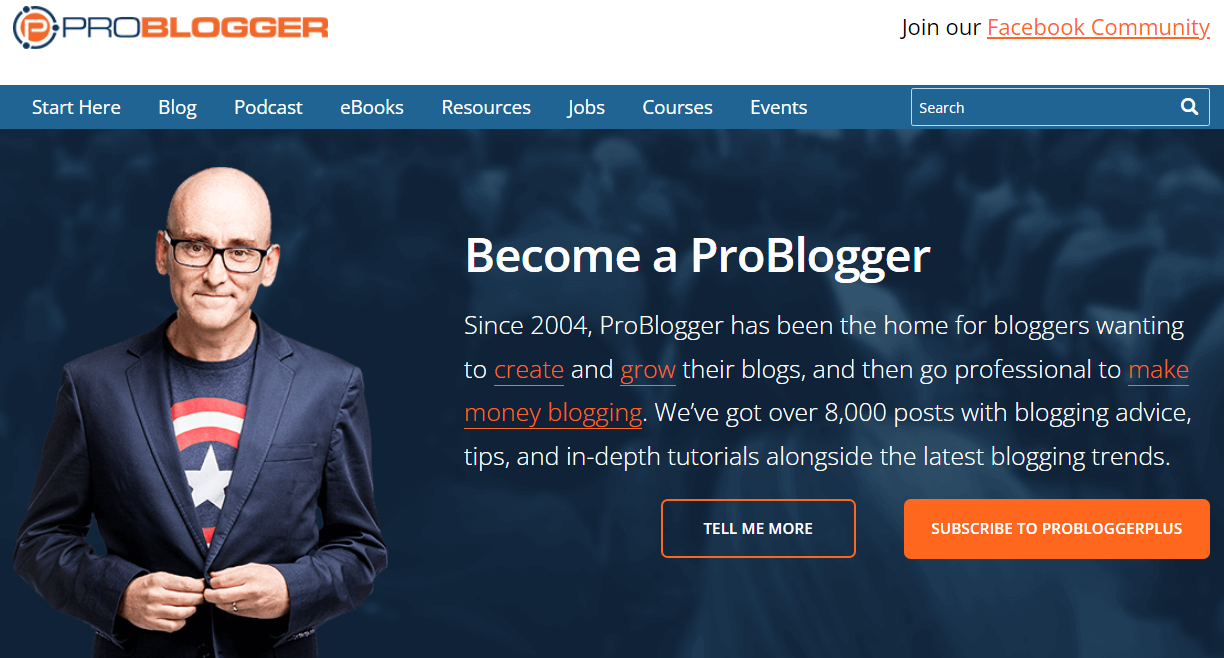 Post your job offer on ProBlogger.
10. Indeed
This platform has a significant number of subscribers all over the world. When posting your offer, it's up to you whether to pay for ranking among top jobs. Then you will receive an email containing freelancers who have applied to your offer.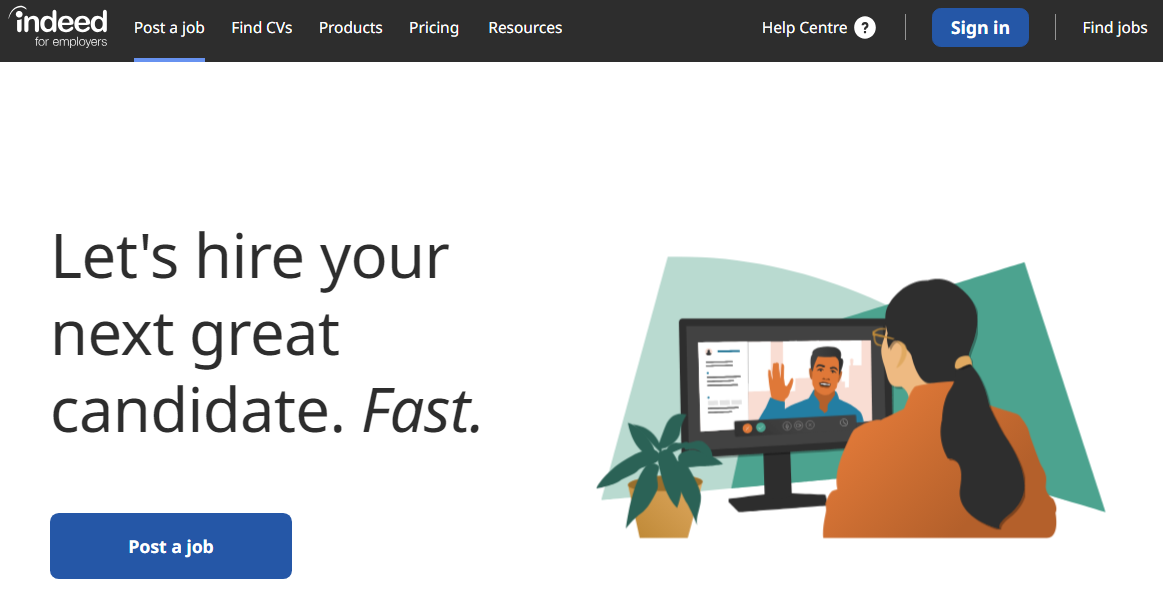 Post your job offer on Indeed.
11. LinkedIn
You'd hardly find anyone who isn't familiar with LinkedIn. It's a professional network platform that connects pros from various industries. Here you can find the right candidate for your project, regardless of your niche.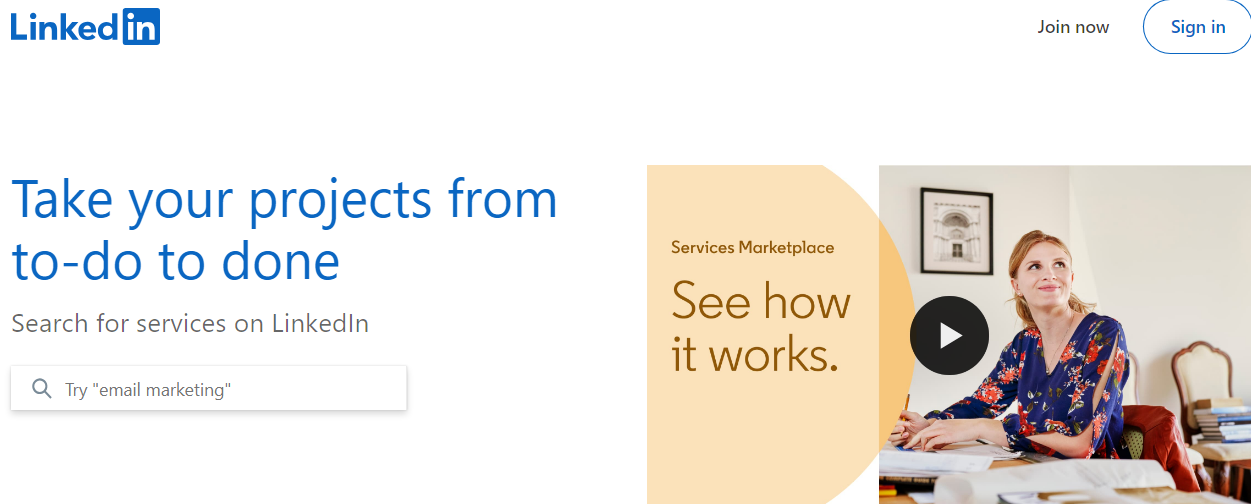 12. Textbroker
You can use this platform for free or pay for its managed services which include providing you with a personal account manager. The price for these services starts at $2,500 for a project.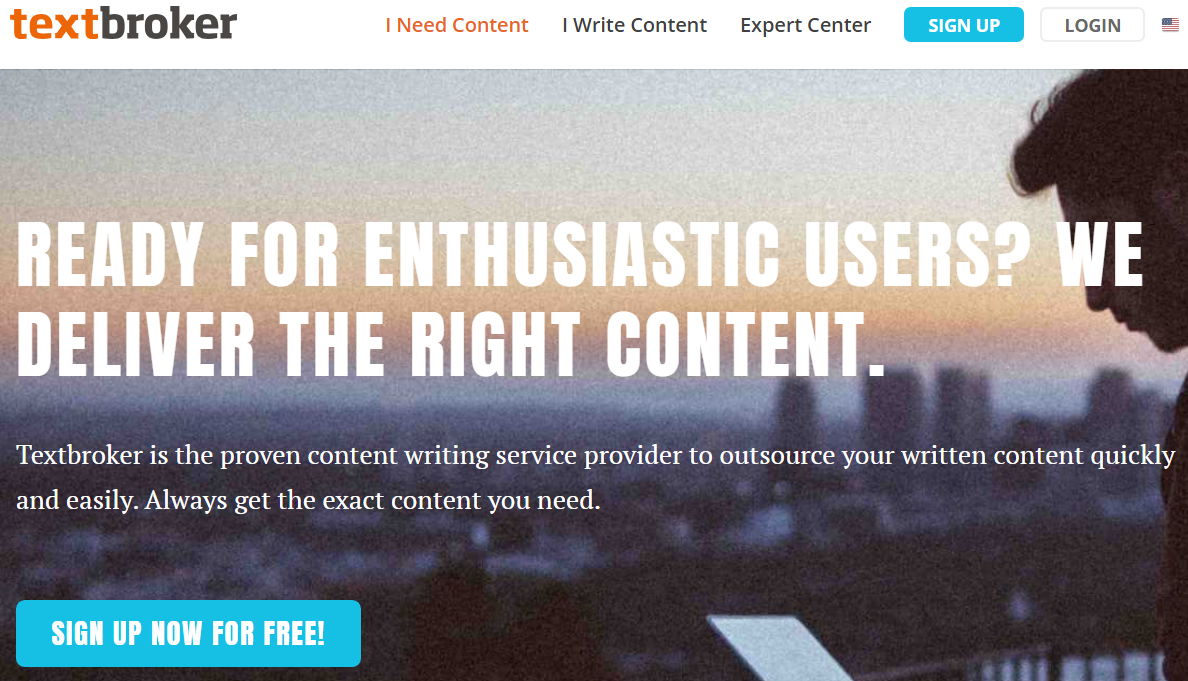 10+ Best Copywriting Agencies
Now, let's proceed with the best copywriting agencies. While some are well-known in the industry, others may be less famous but still provide high-quality content. Undoubtedly, content outsourced to an agency is not cheap in most cases, but it is certainly worth every penny. Again, let's begin with a comparison table. 
Best Copywriting Agencies

Location

Type of content

Price

Houston, Texas, USA

White papers

Technical writing

Books

Magazine articles

Ads

Proofreading

and more

The price depends on the type of content. For instance, technical writing costs $480 – $2200 (for the first page containing up to 450 words). Each additional page (up to 450 words) costs $200 - $500.

Manchester, New Hampshire, USA

Landing pages

Blog posts

and more

Custom pricing

Denver, Colorado, USA

Blog posts

Newsletters

Press releases

Web content

White papers

eBooks

Product descriptions

and more

From $34.95 to $359.95, plus extras.

Content is paid separately.

Human-crafted AI content: from $0.05 to $0.10 per word.

100% human content: from $0.10 to $1.00 per word

Bloomington, Indiana, USA

Blog posts

Email newsletters

Product descriptions

Web copies

The agency offers three plans:

Seed ($490 per month)

Sprout ($750 per month)

Bloom ($1350 per month)

+$199 one-time setup fee for every plan

Austin, Texas, USA

Web copies

Blog posts

Press releases

eBooks & guides

and more

Per gig, from $50 to $680, depending on the type

Victoria, BC, Canada

 

Blog posts

Articles

Web content

eBooks

Press releases

White papers

and more

Self-service: from $1.95 to $70+, depending on the type of content.

Managed services: custom pricing. 

London, UK

 

eCommerce copywriting

Blog posts

Web content

SEO content

and more

Custom Pricing

 

Leeds, UK

 

Articles

Blog posts

Web content

Press releases

and more

£0.08, £0.09, or £0.10 per word, depending on the complexity

Hertfordshire, UK

 

Social media content

Press releases

and more

Custom Pricing

 

London, UK

 

Brand copywriting

Web content

Landing pages

Brochures

Press releases

and more

Custom Pricing

 

Stockholm, Gothenburg, Malmö, and Uppsala, Sweden

Copenhage, Vejle, and Viby J, Denmark

Helsinki, Finland

Alicante, Spain

Oslo, Norway

Split, Croatia

Content in over 200 languages

Proofreading & editing

Custom Pricing

 

Offices in many cities in different countries, including the USA, United Kingdom, Australia, and New Zealand

eBooks

White Papers

Newsletters

and more

Custom Pricing
1. The Writers for Hire
This agency has a team of professional copywriters who specialize in various industries. The Writers for Hire is an excellent choice if you have some complex or technical writing project that requires a deep understanding of the subject.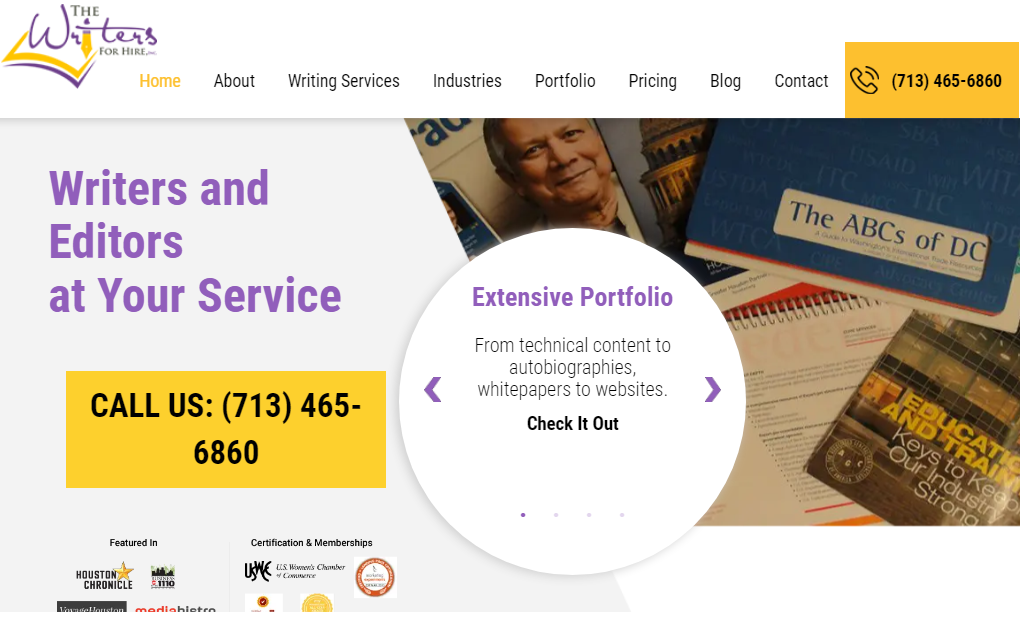 The Writers for Hire's services.
2. The Content Factory
It is a digital PR agency specializing in creating SEO-optimized content for websites and marketing campaigns. Whether it's the B2B or B2C space, this agency can provide you with the high-quality and expert content you need to promote your business. 
The Content Factory's services.
3. Verblio
The main benefit of this agency is that you are guaranteed a refund within 30 days if you don't like the writing you've received. You can also choose between human-crafted AI content and that which is 100% created by a human copywriter.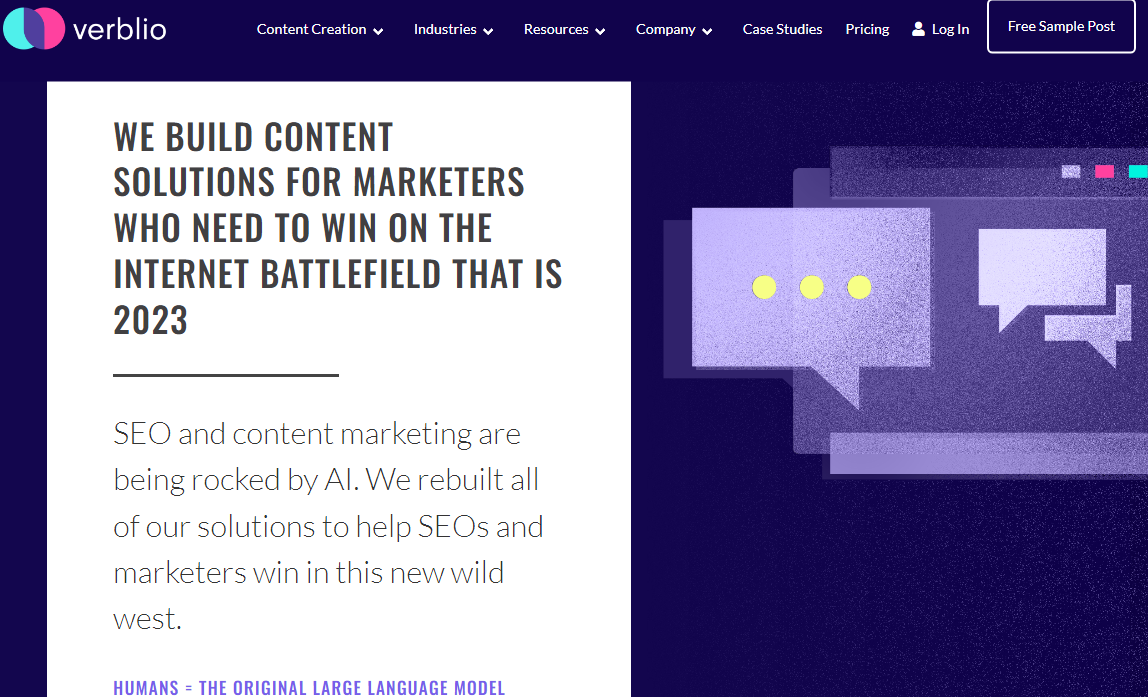 Verblio's copywriting services.
4. Content Cucumber
Using the services of this agency will make you feel like having a full-time copywriter on your team yet without too high expenses. The amount of content you get depends on the plan you choose.
With the Seed plan, you'll get 100 written words or 500 words of AI content editing per business day. Upgrading to the Sprout plan will double those numbers and allows for a meeting with a writer and access to premium stock images. With the Bloom plan, you'll enjoy all the benefits of the Sprout one and receive up to 400 written words or 2,000 words of AI content editing per business day.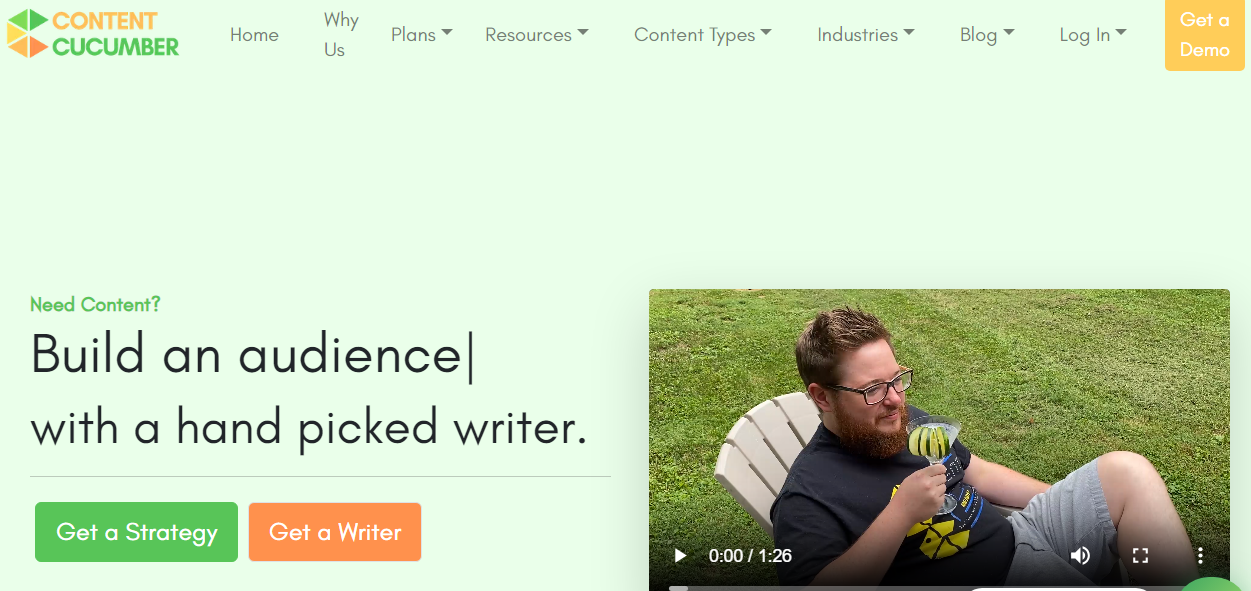 Reasons to give Content Cucumber a try.
5. Express Writers
It resembles a brick-and-mortar store. The client selects the type of content, fills out their project detail form after placing an order, and receives the content in their account. They can also request up to two free revisions and rate a writer.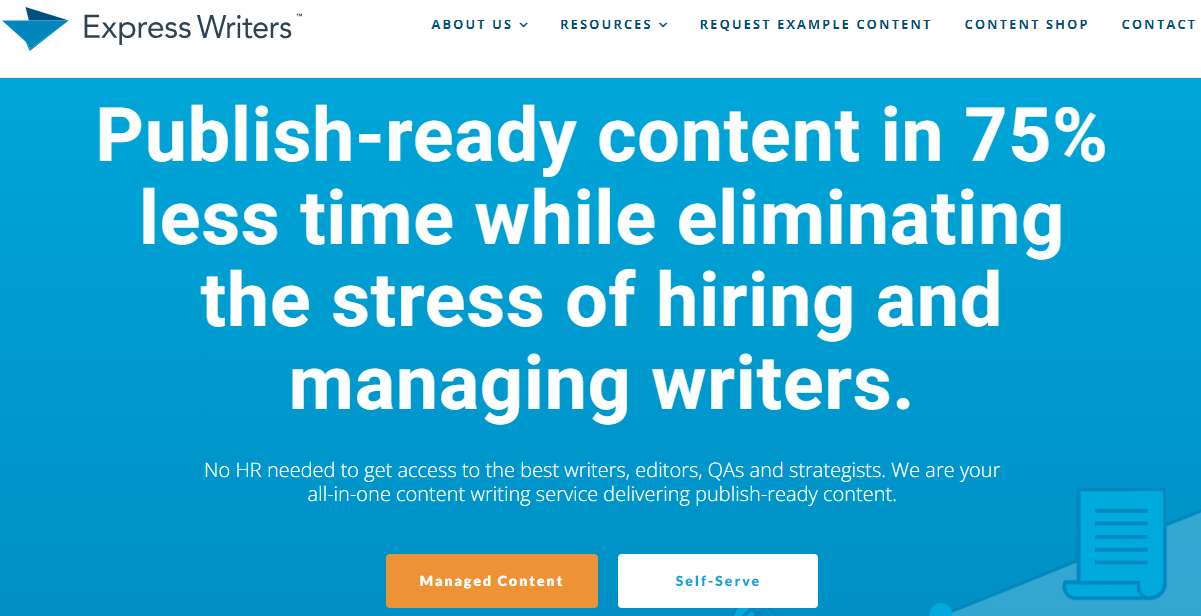 6. Crowd Content
This agency has over 6,000 professional writers from every imaginable niche. It offers clients the choice between self-service and managed services. If you choose the first option, you can visit Crowd Content's marketplace and hire a copywriter for your project.
If you don't have time, experience, or desire to do it yourself, you can hand over the whole process by opting for managed services.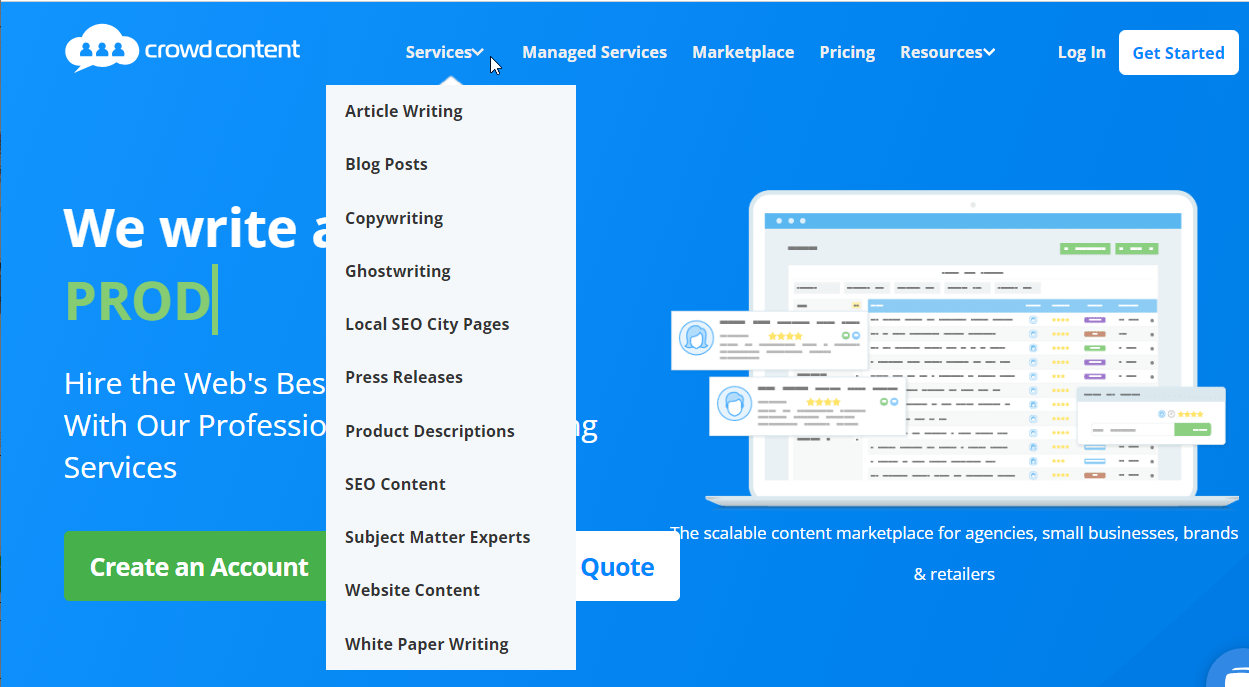 7. Copify UK
It is one of the most famous copywriting agencies with an extensive network of copywriters specializing in various niches. You can expect to receive high-quality content within 48 hours when using its services.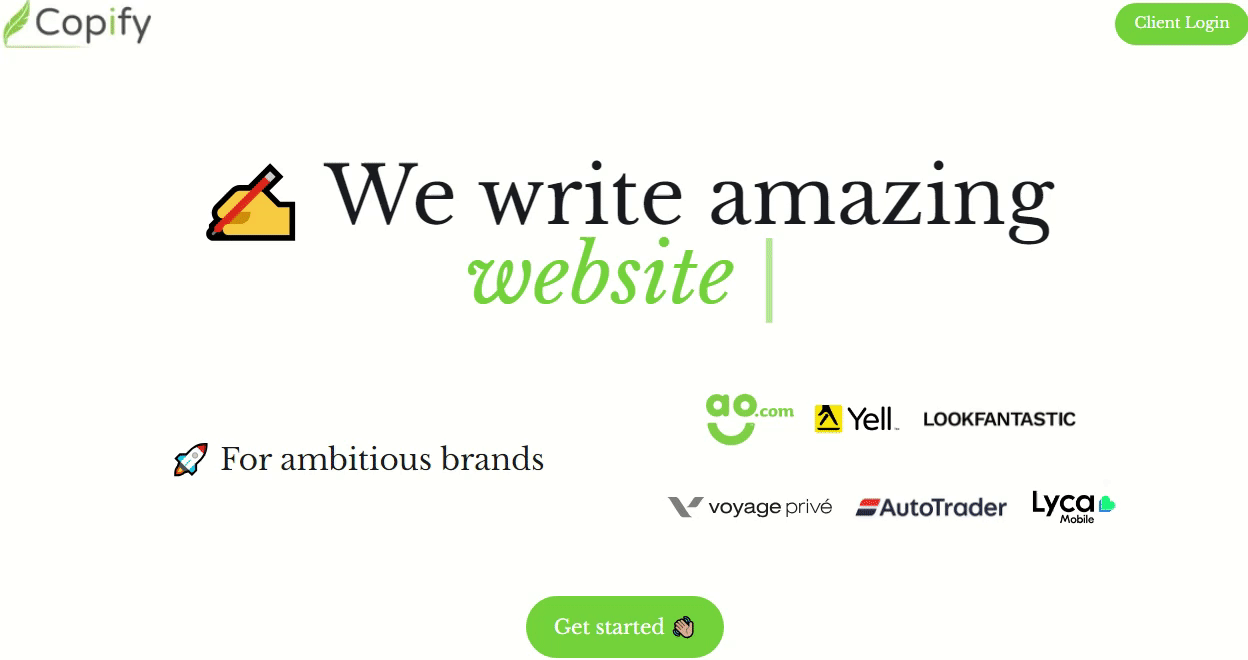 8. Content Hero
Content Hero has a team of expert writers who produce high-quality, SEO-optimized content, ranging from long-form articles and case studies to product descriptions and landing pages. Just check the list of their services; you will be impressed with the variety they offer.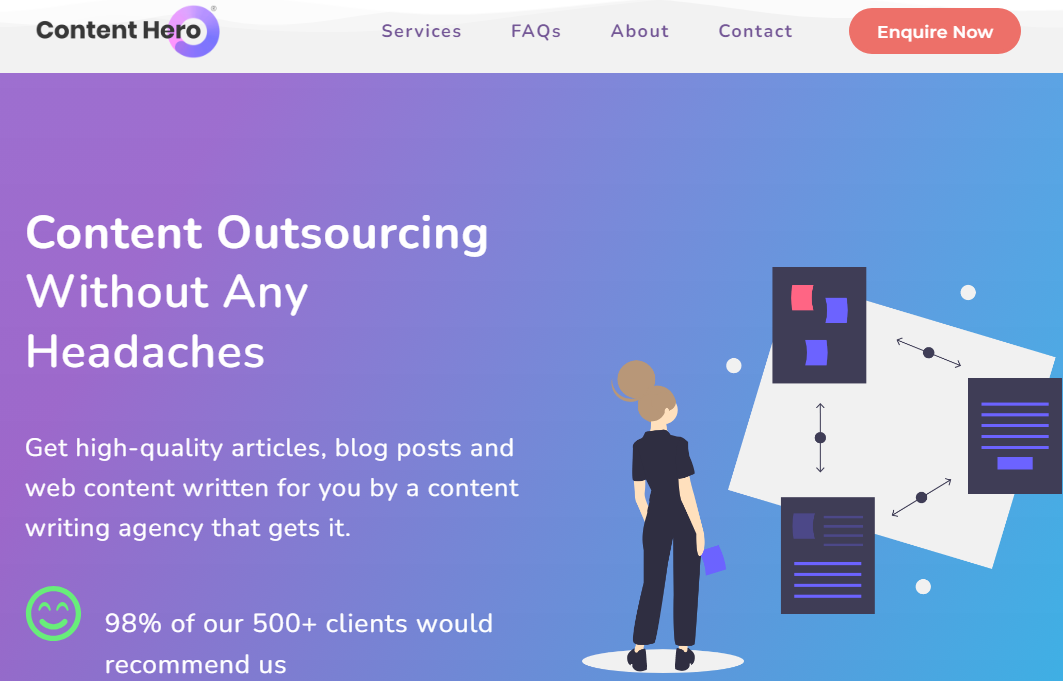 9. Strand PR
This agency offers a wide range of marketing services in addition to copywriting. Strand PR is a small, rural agency that works with businesses of all sizes in multiple sectors.
10. The Creative Copywriter
The Creative Copywriter is a small agency that has been in the industry for more than a decade. It works with businesses in various industries, including retail, SaaS, eCommerce, and so on, providing a perfect blend of creativity and data-backed strategy.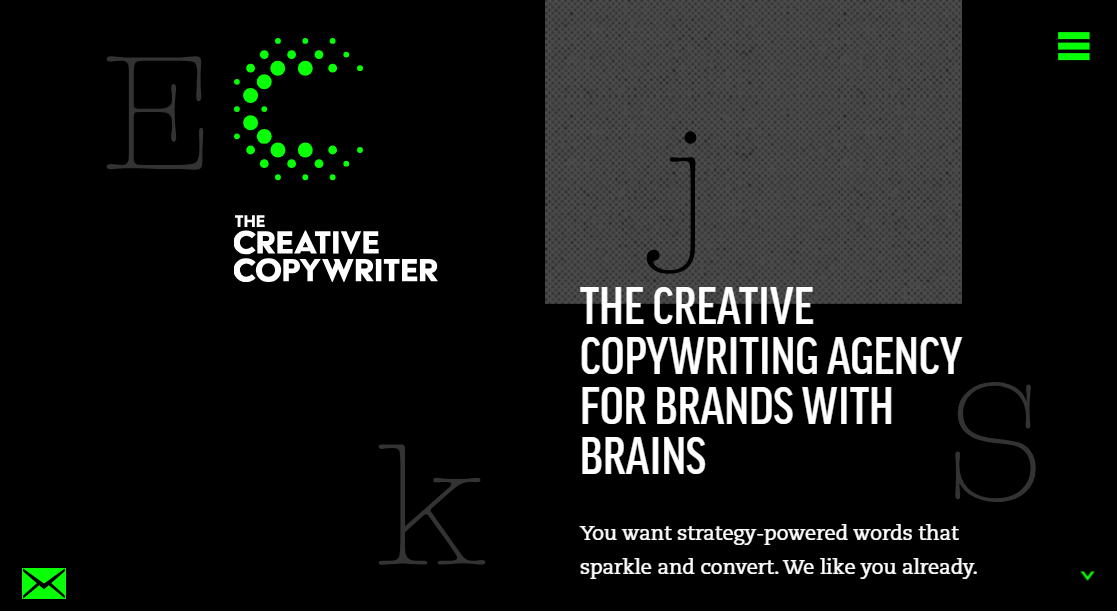 Contact The Creative Copywriter.
11. Semantix
Semantix has offices in many countries and a team of over 2,000 translators and language specialists fluent in more than 200 languages in its team. This agency is considered one of the leaders in its field.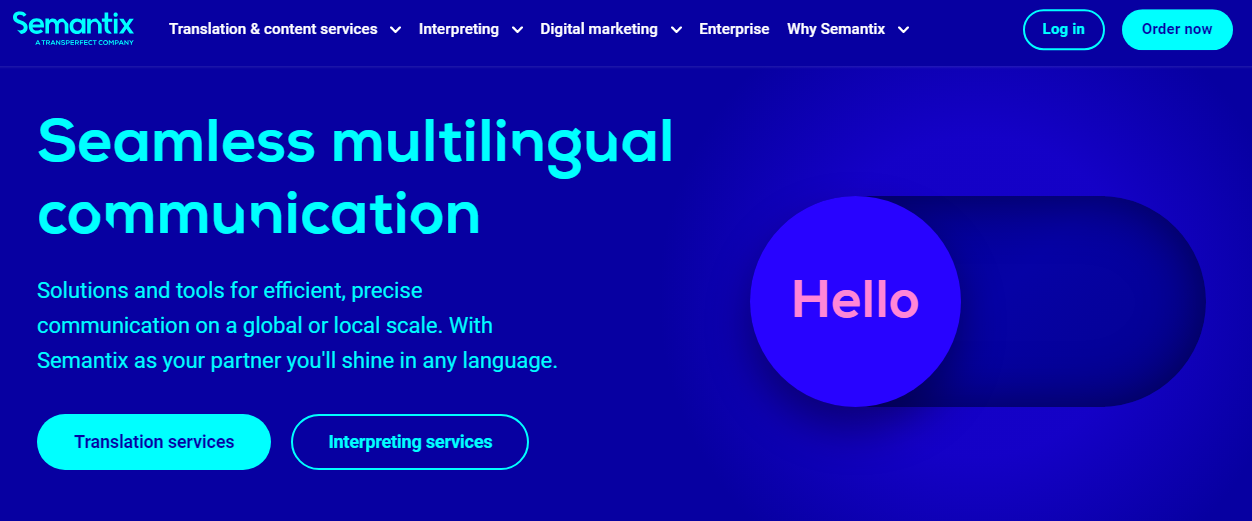 12. Brafton
It is a full-service content marketing agency with a team of skilled copywriters who know how to create high-conversion content. You can outsource writing content for your landing pages, banner ads, etc. to Brafton's specialists.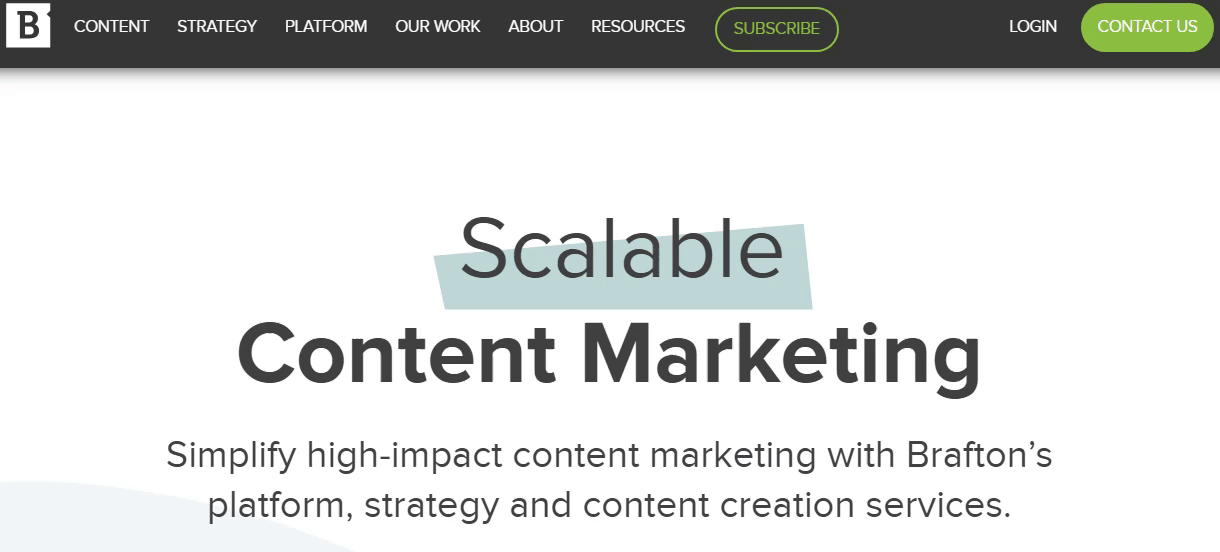 Brafton's copywriting services.
What to Look For in the Good Copywriter?
Searching for a good copywriter is not a walk in the park. Yet it doesn't mean that you have to interview every potential freelancer. Let's explore the qualities that differentiate a good copywriter from a bad one.
Creativity
Crafting words with finesse and the ability to generate bright ideas and ideal solutions should go hand in hand if you want to get engaging and captivating content. A good copywriter can describe the most mundane subjects in a way that leaves a lasting impression in the reader's memory.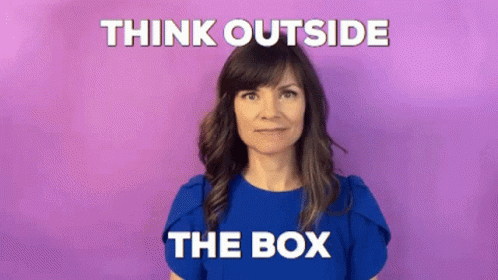 Experience
A copywriter with many years of experience is often a more desired choice. However, beginners are often filled with enthusiasm and open to acquiring new knowledge, which means they may do more detailed research and write just excellent content. How can you determine this? You can ask them to show you their work examples which are related to your topic, and then make a decision on whether you want to collaborate with them or not. 
Good Grammar & Punctuation
These are obvious things; we just wanted to remind you of them. Texts with poor grammar and punctuation will fail to help you gain the trust of readers and search engines.
Originality
The Internet is overflowing with content of different types. To stand out in that mass, yours should be sharpened to your specific target audience, contain perfect solutions to their most common problems, and be presented in a unique writing style. A good copywriter can get the job done.
Versatility
Different types of content require different writing approaches. Let's say an SEO guide and a product description. They will differ in length, structure, writing style, etc. Cooperating with a freelancer who knows how to write all types of content you need is beneficial.
Use Collaborator for Your PR Needs 
Successful distribution of content is not any less important than its quality. With Collaborator, you can share your news and stories on thousands of trusted websites and Telegram channels without wasting time searching for them on the web, hunting down the contact information of their owners, and engaging in long communication to convince them to publish your content. 
Using Collaborator, you get:
16K+ websites in various niches that accept guest posts & press releases.
Hundreds of trusted telegram channels with an engaged audience.
Opportunity to filter platforms by over 40 parameters, including Ahrefs and Serpstat metrics (Collaborator has official integration with both services).
Choice of three-month and one-year insurance options.
Fast publication.
Low fees.
Collaborator also offers several SEO tools, including a checklist for SEO audit, for free. 
Conclusion
As you can see, you can outsource writing content of any type to online copywriter services. We have gathered the best platforms and agencies in our article. If you have an experience using any of them or one we have not mentioned here, feel free to write about it in the comments below 👇 
If you are already distributing your content and want to speed up this process, consider Collaborator your reliable partner.
FAQ (Frequently Asked Questions):
Question 1: How to Find the Best Websites for Copywriting?
Today, there are numerous copywriting services available. Just browse on Google, and you'll come across hundreds of them. However, if you want to stay safe and opt for only reliable ones, scroll up and consider our lists of the best freelance writing sites and copywriting agencies.
Question 2: How Much Do Freelance Writing Platforms Charge?
That depends on the platform. Read pricing carefully before deciding on cooperation.
Question 3: What Value Can Copywriting Services Give Me?
By using professional copywriter services, you can get many benefits, including saving money in the long run. Instead of paying a monthly salary to the in-house copywriter, you only pay for a one-time job. Besides, you can free up your team of copywriters for more important tasks and get a significant amount of quality content quickly.