What is Parasite SEO? Best Strategies [2023] Ultimate Guide With Real-Life Examples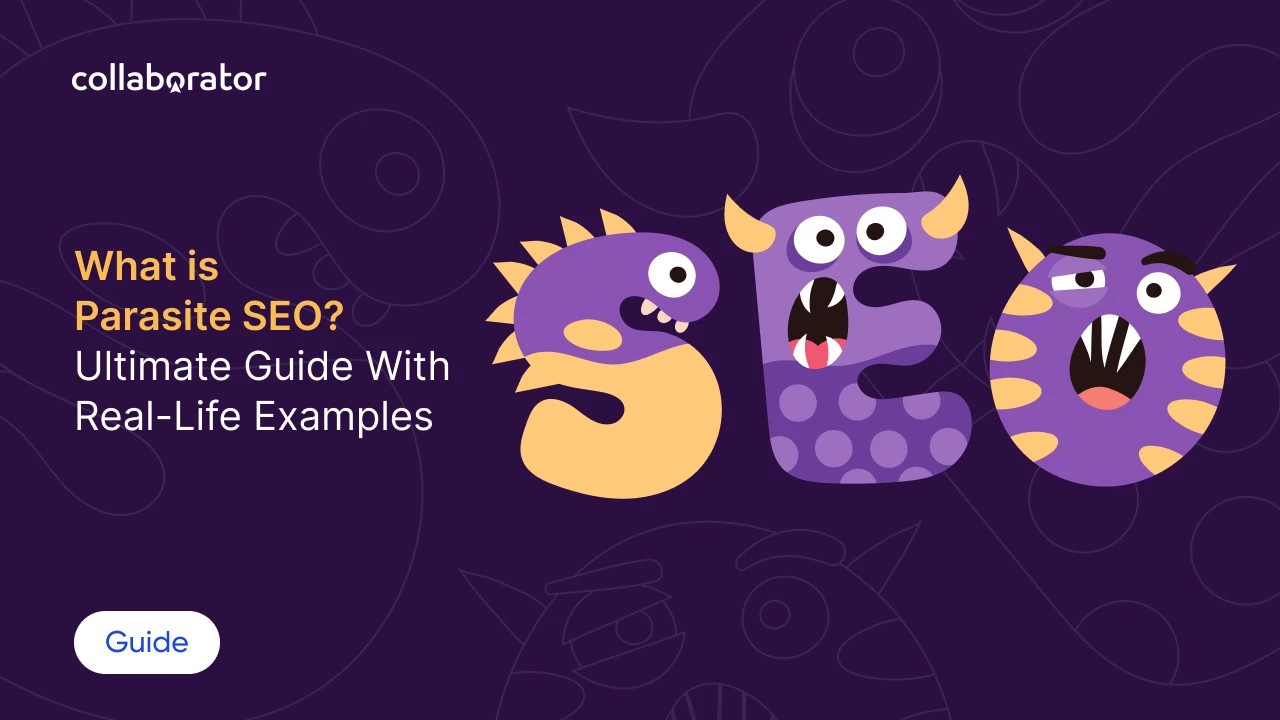 Can you boost your SEO in 2023 and break into highly competitive search engine results, reach your targeted audience online, and improve your business profit without having a high authority website? Absolutely yes, if you know how SEO works and how to use parasite hosting, also known as parasite SEO, in 2023.
It is not a new strategy for Google traffic. Digital marketers and link builders have implemented it for years to leverage the high domain authority of third party sites to make their tailored target audience content with competitive keywords rank higher in the SERPs (search engine results pages). 
To help you use this SEO technique safely and effectively, we have created an ultimate guide that includes real-life examples and answers to the following questions:
What is parasite SEO 2023? (its definition, benefits, and techniques)
How to find parasite websites?
Can high DA links be obtained using a free backlinks sites list?
What Is Parasite SEO? 
Let's start from the very beginning, namely, the definition of parasite hosting. It is an SEO strategy that involves publishing your content, a sponsored post in most cases, with competitive keywords and one or more backlinks to your online resource on high domain authority sites. And then building links to your parasite page, helping it rank search engines.
Why Is Parasite Hosting Important for Search Engine Optimization?
Today's digital landscape is competitive as ever before, and gaining visibility on search engines becomes a more and more challenging task, especially for low-authority sites. However, driving traffic to your website and generating leads remains a must. 
Google still considers the authority of a website domain as one of the key factors when ranking content and backlinks when determining whether a site is trusted, which impacts its visibility in search results, despite numerous algorithm updates made over the years. That means all sites need backlinks to have good visibility in search results.
What parasite SEO does to achieve the goal is offer an effective way to obtain high DA dofollow links along with nofollow ones from established online resources. What results are achieved with these SEO efforts? Your content can get a high ranking in the SERPs, as does your own site, since there is a backlink to it. It is the main reason why parasite hosting is important for SEO.
Does Parasite SEO Work?
Let's proceed with real-life examples. Suppose you are a subscriber of the Dallas Morning News and read this newspaper regularly. In that case, you'd probably notice many articles marked as "Branded Post", which means a sponsored post.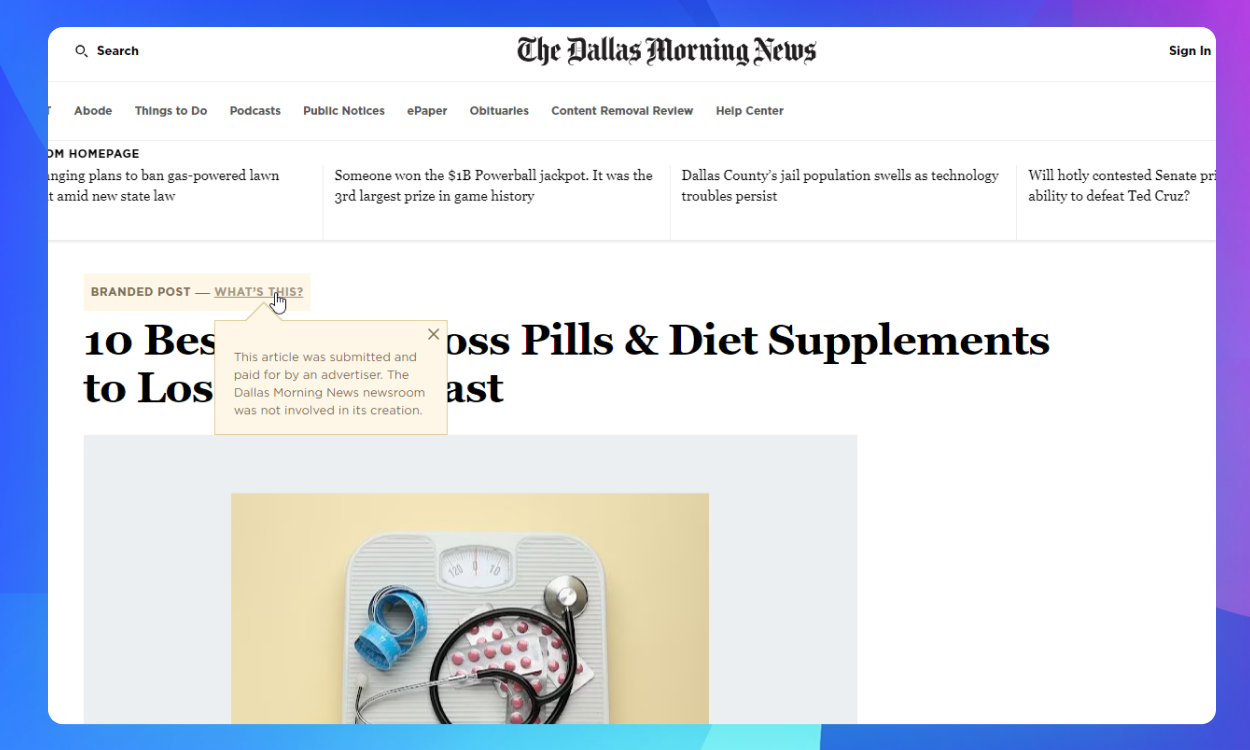 Article in The Dallas Morning News.
We checked this article with Ahrefs for keywords it ranks for in the USA. Below you can see the result of our investigation.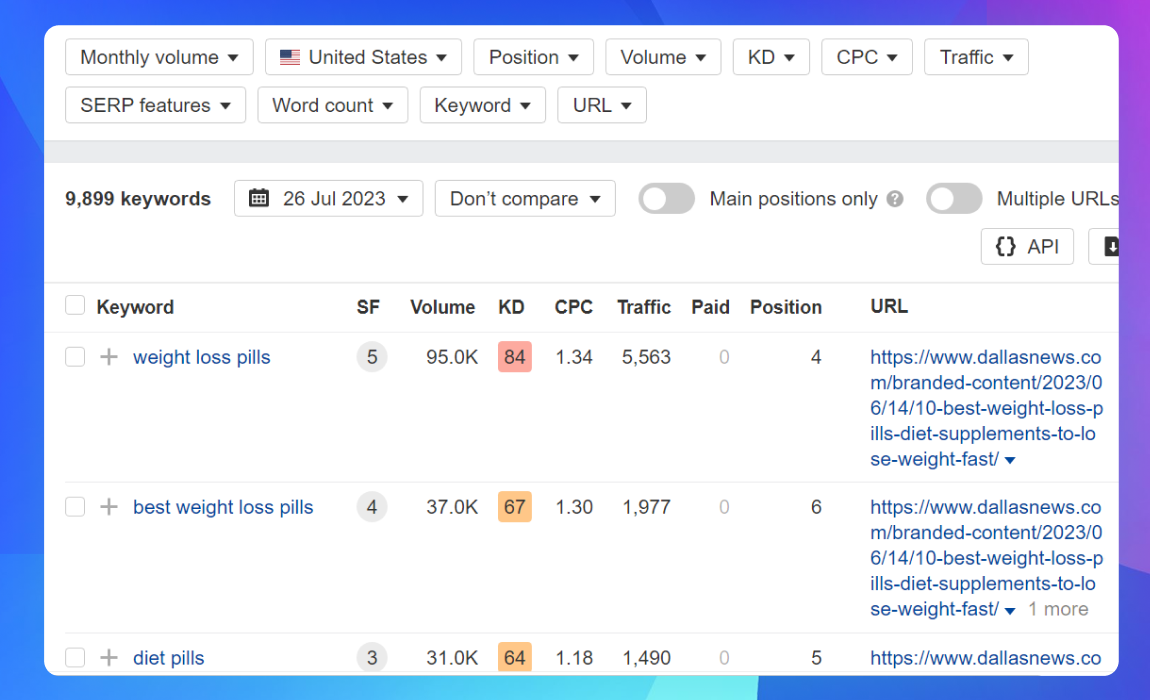 Keywords the article "10 Best Weight Loss Pills & Diet Supplements to Lose Weight Fast" is ranking for provided by Ahrefs.
We used the most difficult keyword to rank —  "weight loss pills", as a search query on Google. As you can see below, this article by Norcal Marketing, published on the media news website, ranked high in the SERPs. It takes fourth place in search results among other articles on medical sites.
The "10 Best Weight Loss Pills & Diet Supplements to Lose Weight Fast" article on Google search results.
What's the reason for that? The answer is easy. The Dallas Morning News is one of the most high authority websites. That gives its content an advantage over others regarding ranking in the SERPs. Below, you can see that the authority of its domain is counted at 89 by Moz's tool.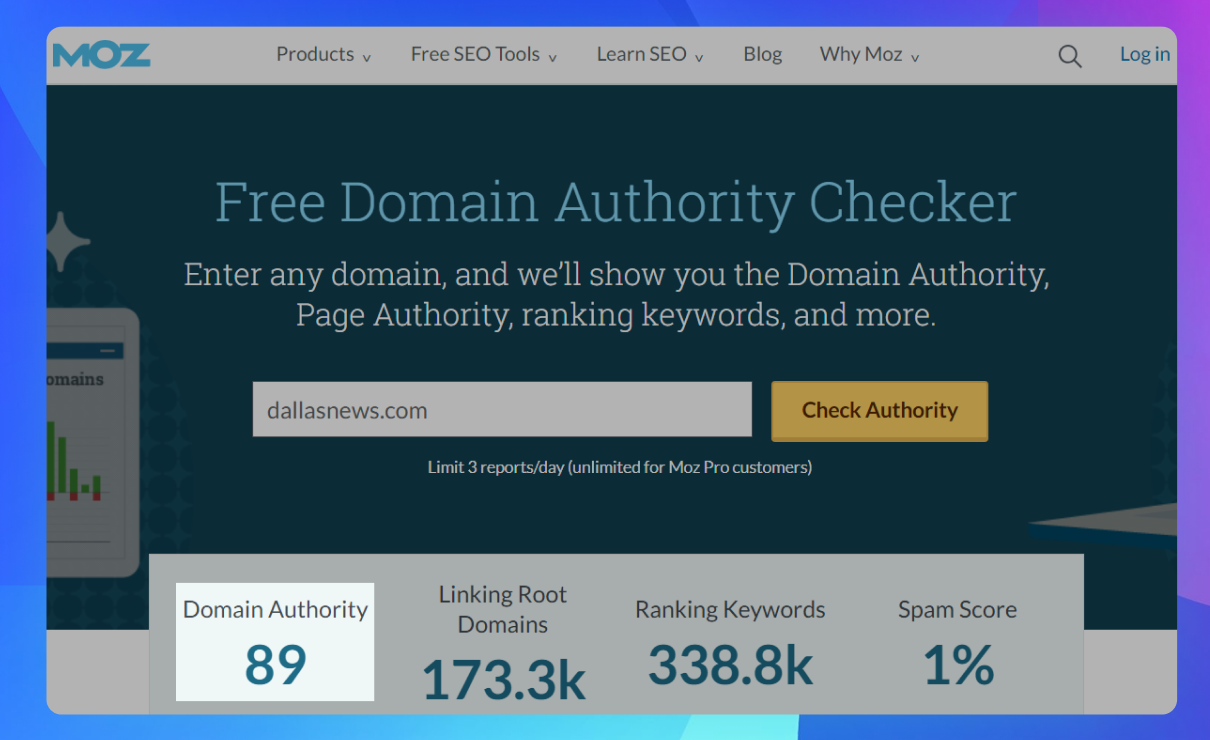 The domain authority of the Dallas Morning News website was checked by the Moz tool.
Like many other best SEO agencies offering brand reputation management and link building services, Norcal Marketing uses this SEO strategy widely. It posts dozens of sponsored posts on The Dallas Morning News as a guest author to promote their clients. Below you can see just a few of them.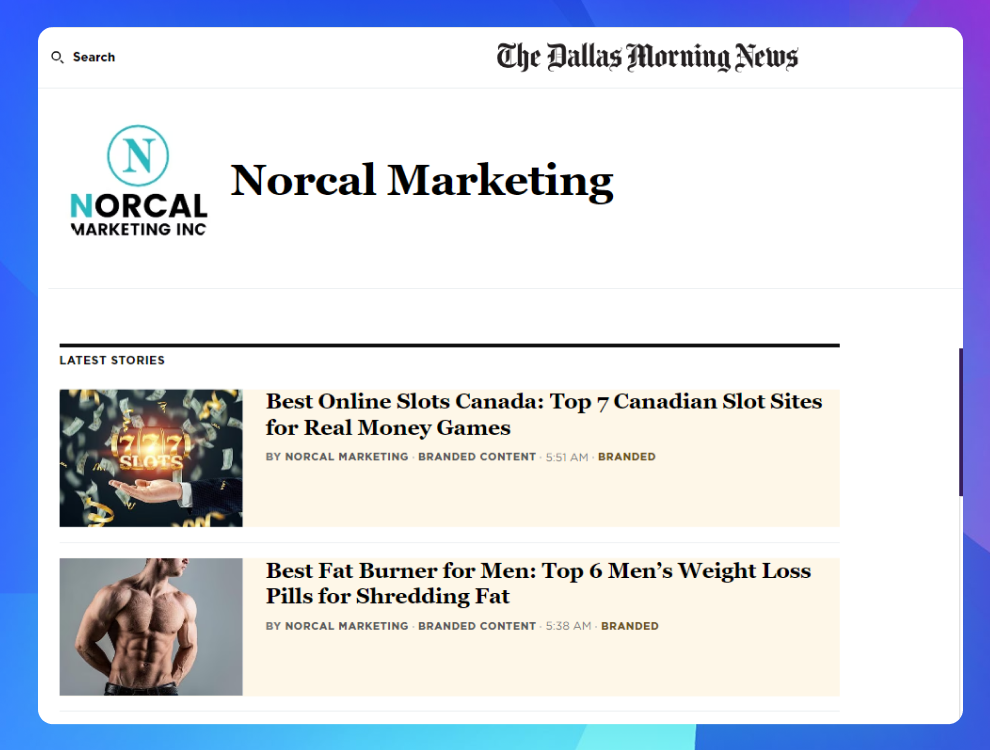 Norcal Marketing's author page on The Dallas Morning News.
We decided to dig deeper and discover more parasites within this topic. We looked at the SERP "best diet pills" in Ahrefs to make that happen.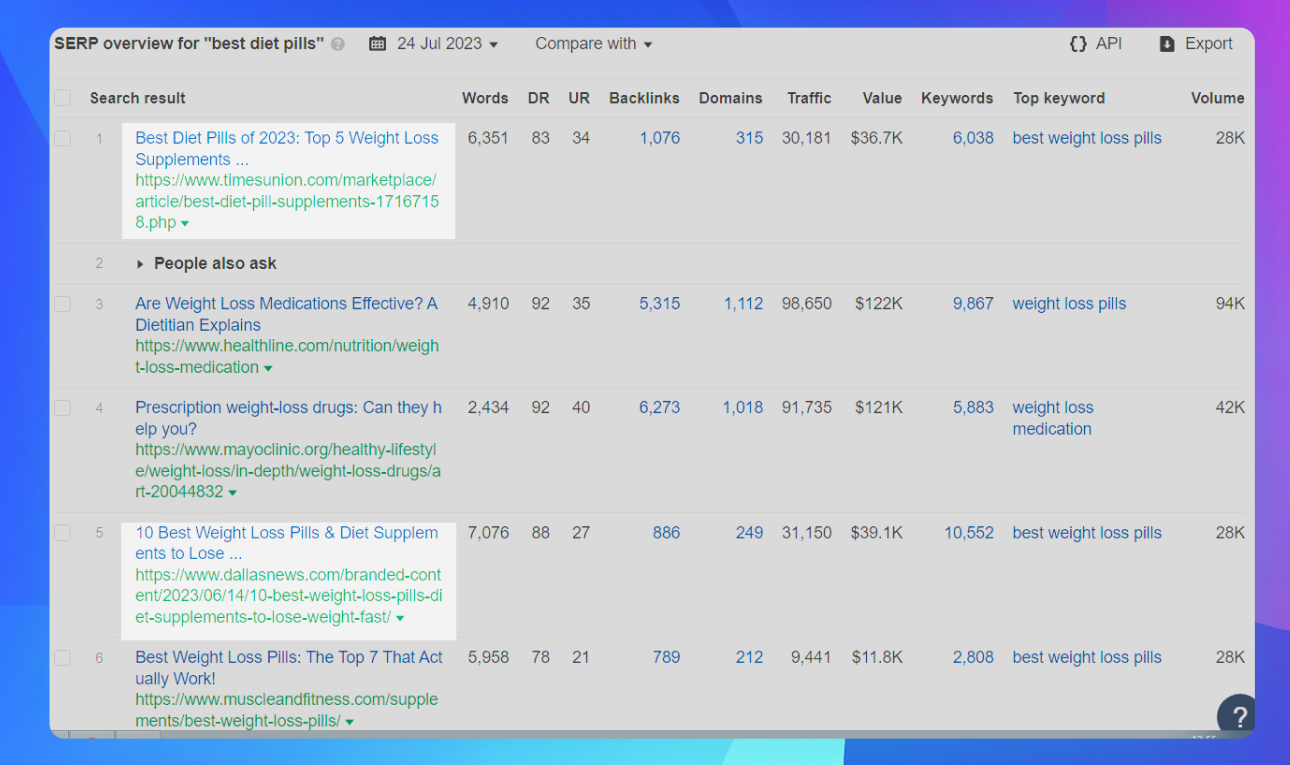 SERP overview for "best diet pills" using Ahrefs.
The article we have discussed above is in fifth place. At the same time, similar content published by none other than Norcal Marketing on the Times Union website (an American daily newspaper) outranks even Healthline and Mayo Clinic. It looks like a search monopoly, right?
So if you ask us whether parasite SEO works, we will confidently answer "yes." 
When Should You Use Parasite SEO? Its Pros & Cons.
As we have written above, parasite hosting may solve many of your issues if your website is pretty new or has a low domain authority and you want to improve its ranking and reach wider audience. However, the coin has two sides, as does parasite SEO. Before diving into its SEO tactic with great hope for impressive results, you should understand its pros and cons. 
Pros:
Powerful backlink profile;
Improved brand awareness;
Increased traffic;
More leads.
Cons: 
You pay for each publication, so you need a certain budget to implement this SEO strategy.
The articles you have published on authority websites can be deleted at any moment as you don't own them unless you use the Collaborator platform that offers insurance from deletion and non-indexation. 
Google may decide the site is no longer authoritative, and all your efforts will be lost, bringing little to no desired results.
Parasite SEO posts are vulnerable to search algorithm updates, especially if they contain competitive keywords. That means they may obtain a high ranking immediately and lose it fast, affecting your ROI (Return On Investment).
If you feel okay with those cons and are ready to implement parasite SEO with a tailored target approach, keep reading to discover how to do it effectively.
How to Implement Parasite SEO. Best Strategies.
Now that we know the topic's theoretical side, let's delve into all tips and tricks for using parasite hosting. Below, we'll discuss this process step by step. 
Find High Authority Websites Accepting Parasite SEO Articles 
You should analyze your competitors and find backlinks they have from high-authority websites. You can do it using Ahrefs:
Go to Keywords Explorer.
Enter your seed keyword.
Scroll to the top pages ranked for it. 
Then you can see the backlink profile of each website ranked for your seed keywords.
Suppose you or your client sell electric grease guns. With the help of Ahrefs, you can see that the Toolsid website is ranked for this keyword.

Keywords the Toolsid website is ranked for.
Now if you check the backlink of this website, you'll see the online resources they have backlinks from and try to gain links to your website on them too.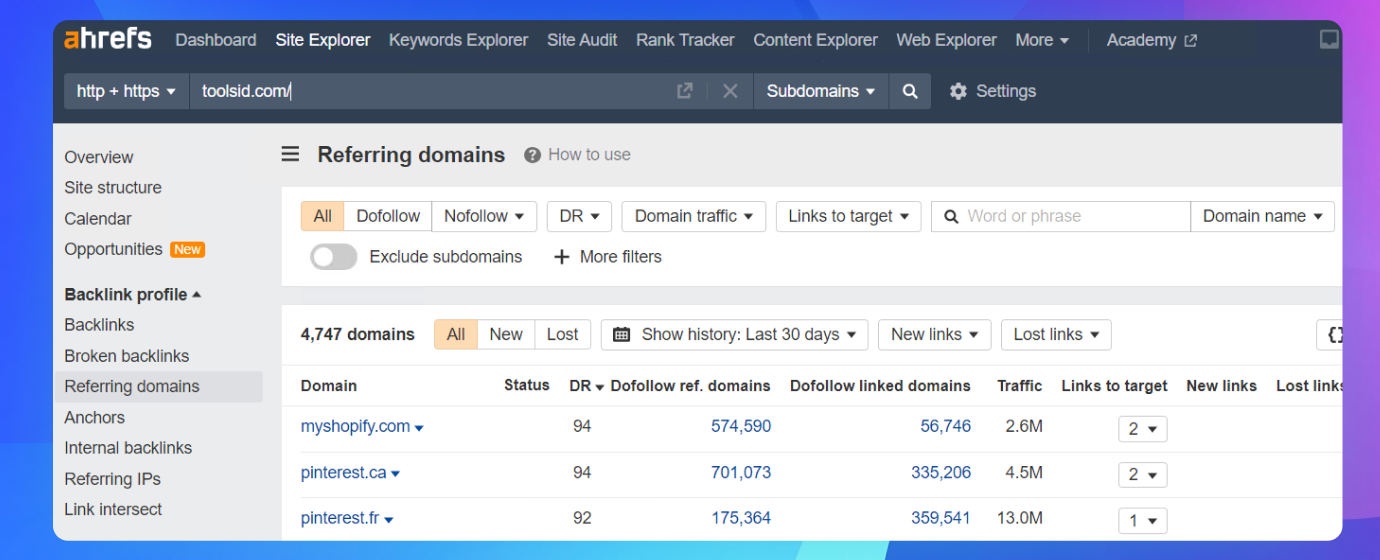 The referring domains of Toolsid.
Whether you use paid or free guest posting sites to post your content, its domain authority is what matters. You can check it with the Moz tool mentioned above or use Ahrefs Site Explorer to check its domain rating.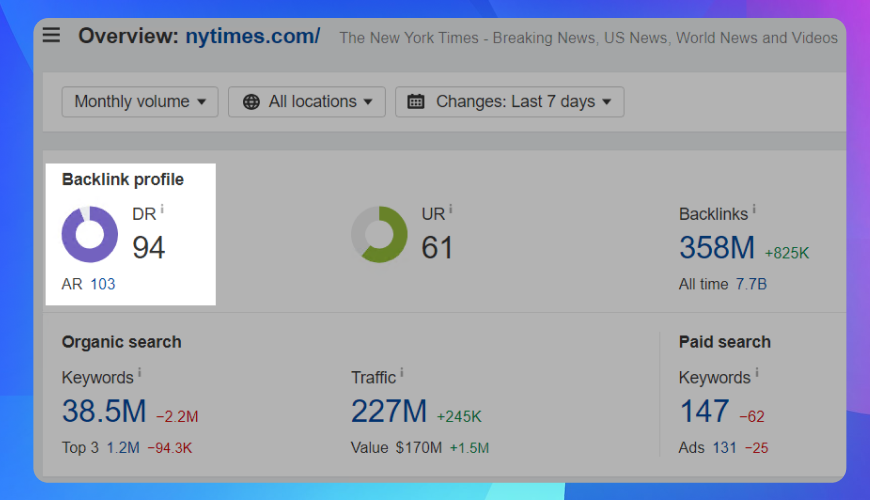 DR of The New York Times provided by Ahrefs.
How to Create a Parasite SEO Article
SEO experts know that creating high-quality content is essential. It isn't as easy as it might look. Let's discuss how to do it the right way.
1. Analyze your competitors.
Never neglect this step. To overcome your competitors, you should know where they post their content and what it is about. Find those that are famous enough, their pros and cons, and what benefits you have compared to them: a wide catalog of products or services, lower prices, etc.      
2. Conduct keyword research.
Before writing any article, take your time to find an exciting topic for your audience and collect a semantic core. It is a time-consuming yet necessary SEO process. Again, you can use the Ahrefs service to simplify your workflow.
Go to Ahrefs Keyword Explorer.
Choose the targeted country.
Enter your seed keyword.
Analyze keyword ideas.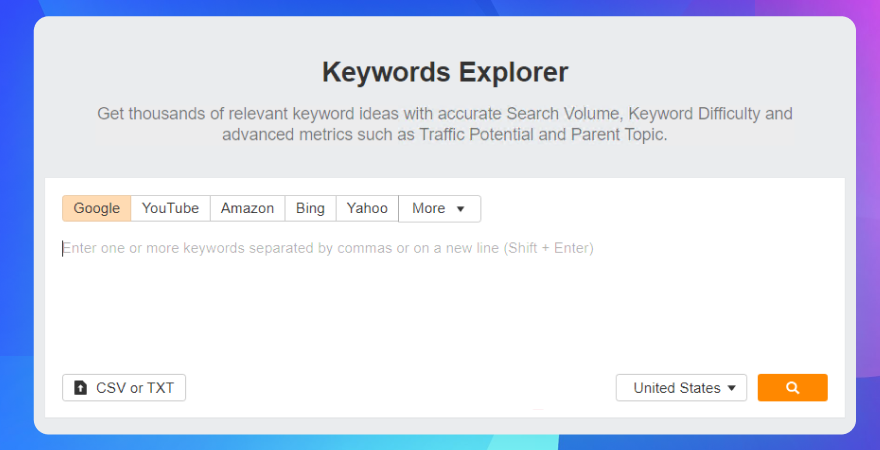 Ahrefs Keywords Explorer.
Remember to consider on-page search engine optimization. Your content won't be ranked high on the SERPs just for the domain authority of the website it is published on. So ensure it contains each competitive keyword you need and is well-structured and informative. 
3. Order content writing.
Then give a task to write an article to your in-house copywriter. If you have none, you can opt for one of the best copywriting agencies or platforms to get the job done. Aside from all the required keywords, the article can and even should contain the benefits which you can offer, as being next to big names in the industry, you should demonstrate your advantage. For instance, you can offer discounts. 
Pay For Sponsored Content (Or Guest Post)
Buying backlinks and publications is not a bad thing as long as articles and links don't go against Google's policies. This content is typically marked as Sponsored, Branded Content, Advertisement, or Paid.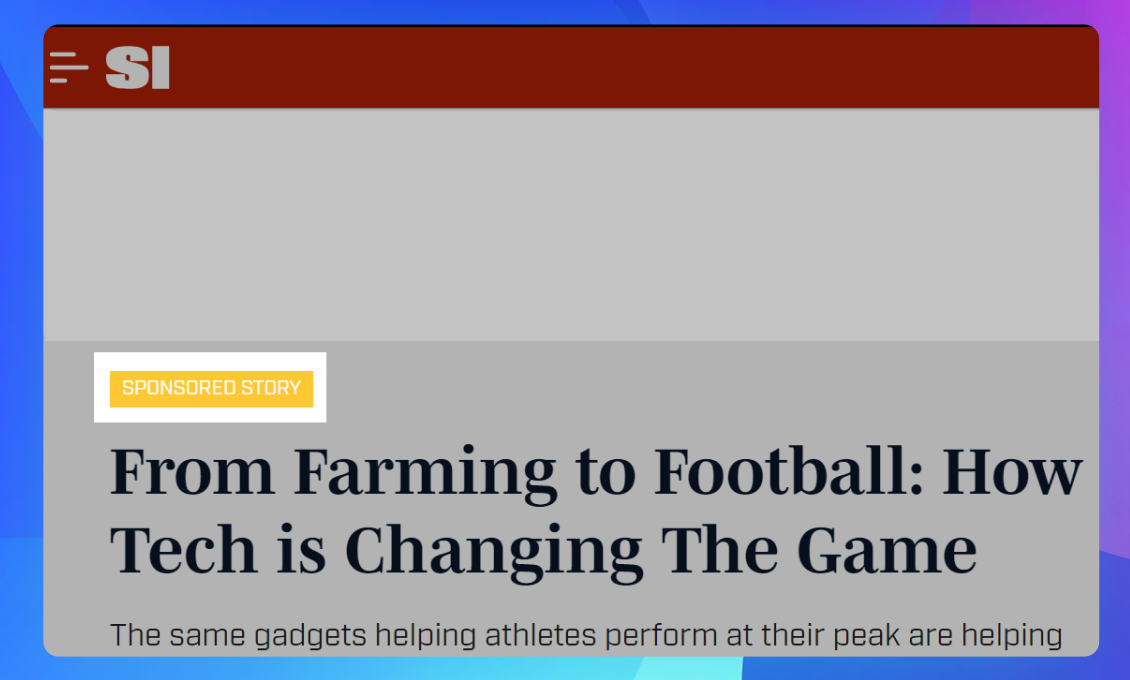 An example of a sponsored article on Si.com.
The price you will have to pay depends on several factors, including the category and how high the domain authority of a website you want to post on is. Typically, pricing varies from $600 to $2000+.
Build Links to Your Parasite Page
When dealing with keywords that are very hard to rank for, leveraging the high authority of a trusted website is only half the battle. You should also build links to your parasite page to get on the top of Google search results. It is when you should decide whether to remain stuck to white hat link building tactics or try your luck manipulating Google algorithms. 
Keep reading to find out the difference between these two approaches 👇
Black vs. White Hat Parasite SEO
Black hat parasite hosting involves publishing high-quality articles on topics interesting to the targeted audience, as only this type of content can hit the goal. However, black hat parasite SEO is defined by its specific link building style that includes obtaining backlinks to your parasite content by using special tools in most cases, in other words, filling content up with spammy backlinks. 
Can Google detect gray or black-hat SEO techniques? Believe it or not, despite all the efforts of Google, parasite pages can quickly reach the top search results and stay there for quite a long time. Whatever that may be, we highly recommend you stay on the safe side and use only white hat link building for SEO.
On the contrary, white hat parasite SEO suggests building only legitimate links without any spam or link wheels.
30+ Best Free Backlinks Sites List
How can you get backlinks to your parasite page and your own website for free? You can use social media platforms like LinkedIn, Facebook, Twitter, YouTube, etc. to get the job done. The truth is that there are numerous high-authority websites from which you can get quality backlinks without paying a penny. Please feel free to use our parasite websites list 👇
| | |
| --- | --- |
| Name | DR by Ahrefs |
| | 97 |
| | 96 |
| | 96 |
| | 95 |
| | 95 |
| | 95 |
| | 95 |
| | 94 |
| | 94 |
| | 94 |
| | 94 |
| | 94 |
| | 93 |
| | 93 |
| | 93 |
| | 93 |
| | 92 |
| | 91 |
| | 91 |
| | 91 |
| | 91 |
| | 90 |
| | 90 |
| | 87 |
| | 86 |
| | 86 |
| | 85 |
| | 81 |
| | 78 |
| | 77 |
| | 70 |
| | 68 |
| | 63 |
If you have some websites in mind to add to our list, please write about them in the comments below this article 👇 We'll check their metrics and add them to our table.
How to Use Collaborator for Parasite SEO?
Collaborator saves time and effort for everyone seeking a high authority website to post their content. This platform has a wide catalog with hand-moderated websites accepting guest posts and press releases. Users can easily sort out those sites by category, domain authority, and over 40 other parameters. That means you will need a minute or so to find the right website for posting your article.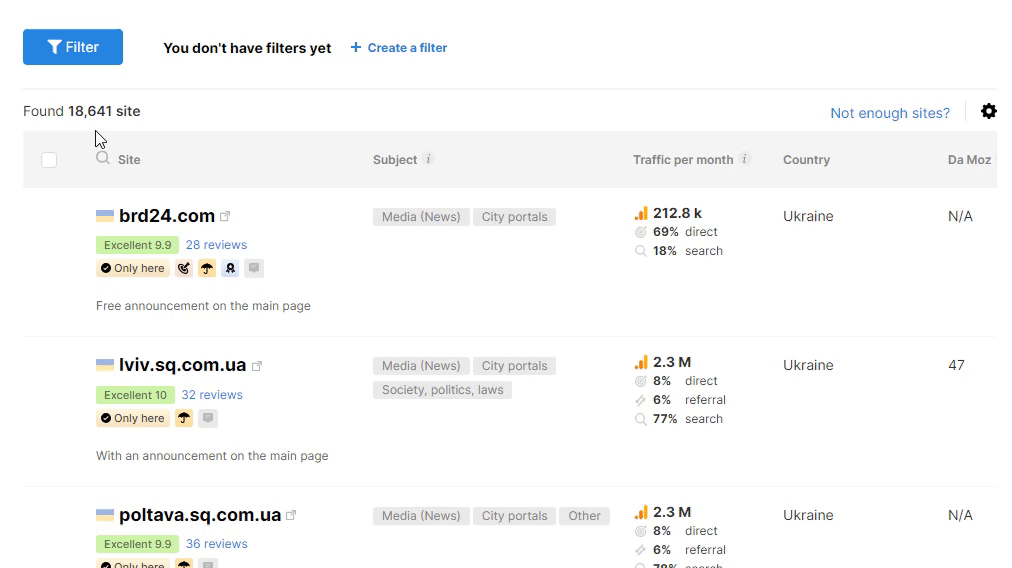 How to filter websites available on the Collaborator platform by DA.
Another benefit of using Collaborator to share your company's news is that you get free three-month insurance against deletion and non-indexation. One-year insurance is also available as an option.
Conclusion
Parasite SEO has been part of business promotion strategy for many years already. It helps low-authority websites to quickly rank search engines, introduce small businesses to a wider audience, and generate more leads. 
Surely, along with those benefits, this SEO strategy also has some cons, which are discussed in detail in our guide. So before implementing parasite hosting in practice, make sure you know and are okay with them. Also, keep in mind that spamming will not only bring little to no results but may even ruin the fruits of your SEO efforts. 
Using parasite SEO is not rocket science, and with Collaborator, it is even easier and safer. This platform saves you time and effort searching for high authority websites and offers insurance that your article won't be deleted shortly after publication.
FAQ (Frequently Asked Questions):
How much does parasite SEO cost?
The total sum includes paying for copywriter services ($100-$500+), publication of a post ($600-$2,000+), and building backlinks to your page ($50-$450 per link). Prices are formed based on the authority and reputation of the third-party online resources you use, how compelling your market is, and whether you perform all tasks yourself or hire an agency or freelancer. 
How effective is parasite SEO in improving website rankings?
Parasite hosting can be very effective in improving website rankings. It allows for obtaining desired backlinks from high authority websites and reaching a wider audience. However, it is only a short-term strategy. 
What are the potential risks of implementing parasite SEO techniques?
You may face several issues if you spam or use low-quality content. To be most precise, you may be penalized by Google, and your website's reputation will be ruined.