Are Press Releases Still Relevant in 2023: Dead & Buried or Alive & Kicking?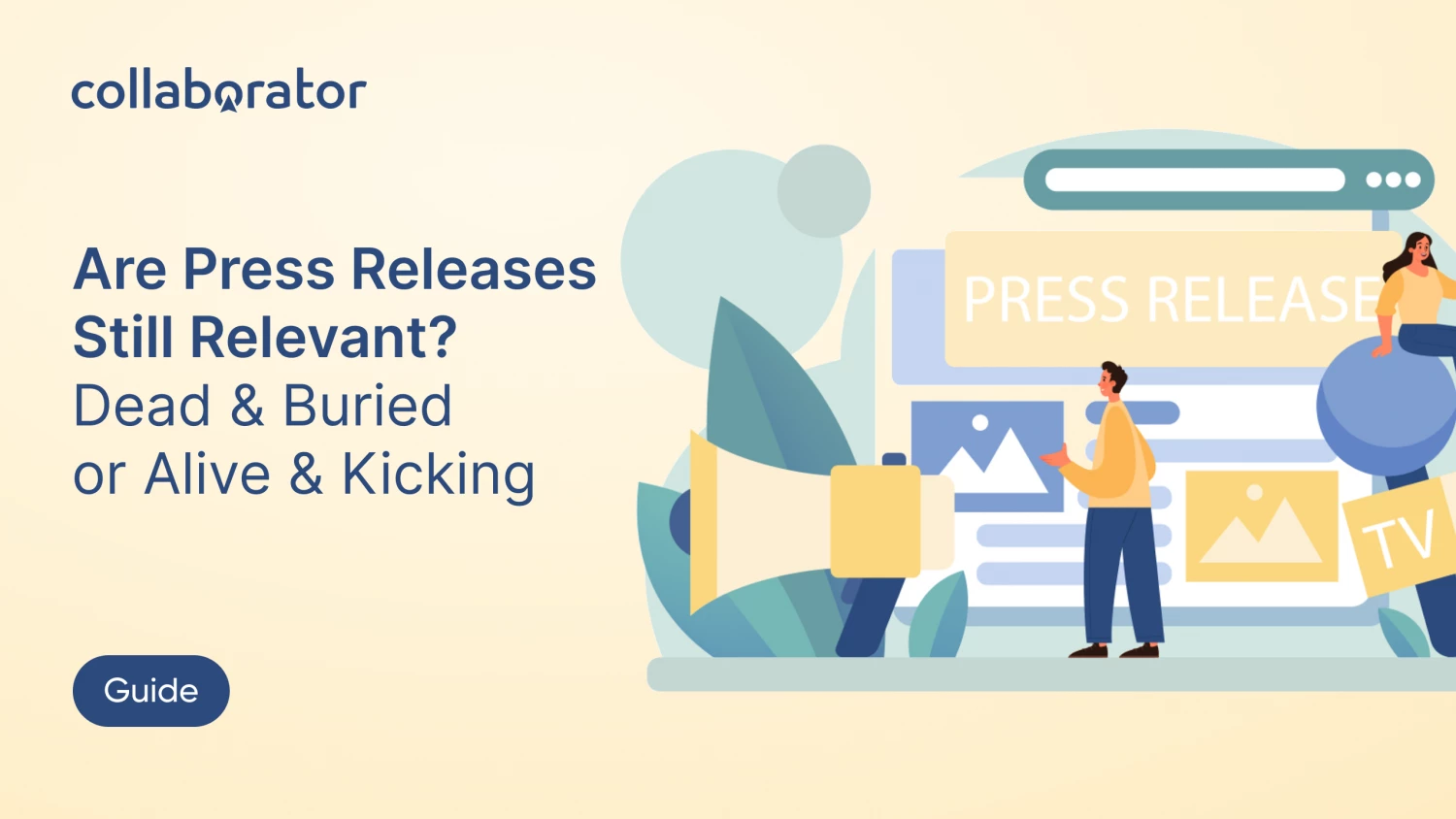 Are press releases still relevant in 2023? You may be surprised with an answer. 
In short, the answer is surely yes. Press releases remain relevant in 2023. 
Despite social media channels being widely used by PR (Public Relations) pros to introduce a company to a new audience and build brand awareness across the media landscape, the press release is certainly not dead. It remains one of the key strategies in PR and is still relevant for SEO (search engine optimization). Otherwise, why do businesses of all sizes and shapes keep publishing press releases on news media websites? 
So don't rush to write off the press release as an outdated, ineffective media outreach strategy for those who have used newswires to promote their business for years and are simply not flexible enough to adapt to the realities of modern life. 
Call off the funeral 😉 
In this article, we'll answer the question "What is a press release in marketing?", discuss how online press releases help with media connections, and discover whether press releases are good for SEO.
What is the Press Release? 
A press release is an official statement made by the company to share news like opening new facilities, introducing its new head, making an announcement on the arrival of a new product, etc. 
So what are press releases used for? Keeping company clients informed about its news is not the only purpose of a press release. It is also a great way to attract prospective customers and get higher rankings in search engine results.
Publish a press release to generate buzz about the company: provide millions with information about its 'life', building brand awareness and customer trust and getting higher in the SERPs. 
What Businesses Publish Press Releases? 
The principle "no press is bad press" doesn't work in the business landscape, where a strong, reliable company reputation is crucial for success. Therefore, creating positive and effective press releases remains relevant for enterprises of any size and industry. You can find many PR writing examples, including a press release for a new product, a company acquisition news release, etc.
Below is an example of a marketing press release published by SoundHound, one of the best startups in 2023, according to HubSpot.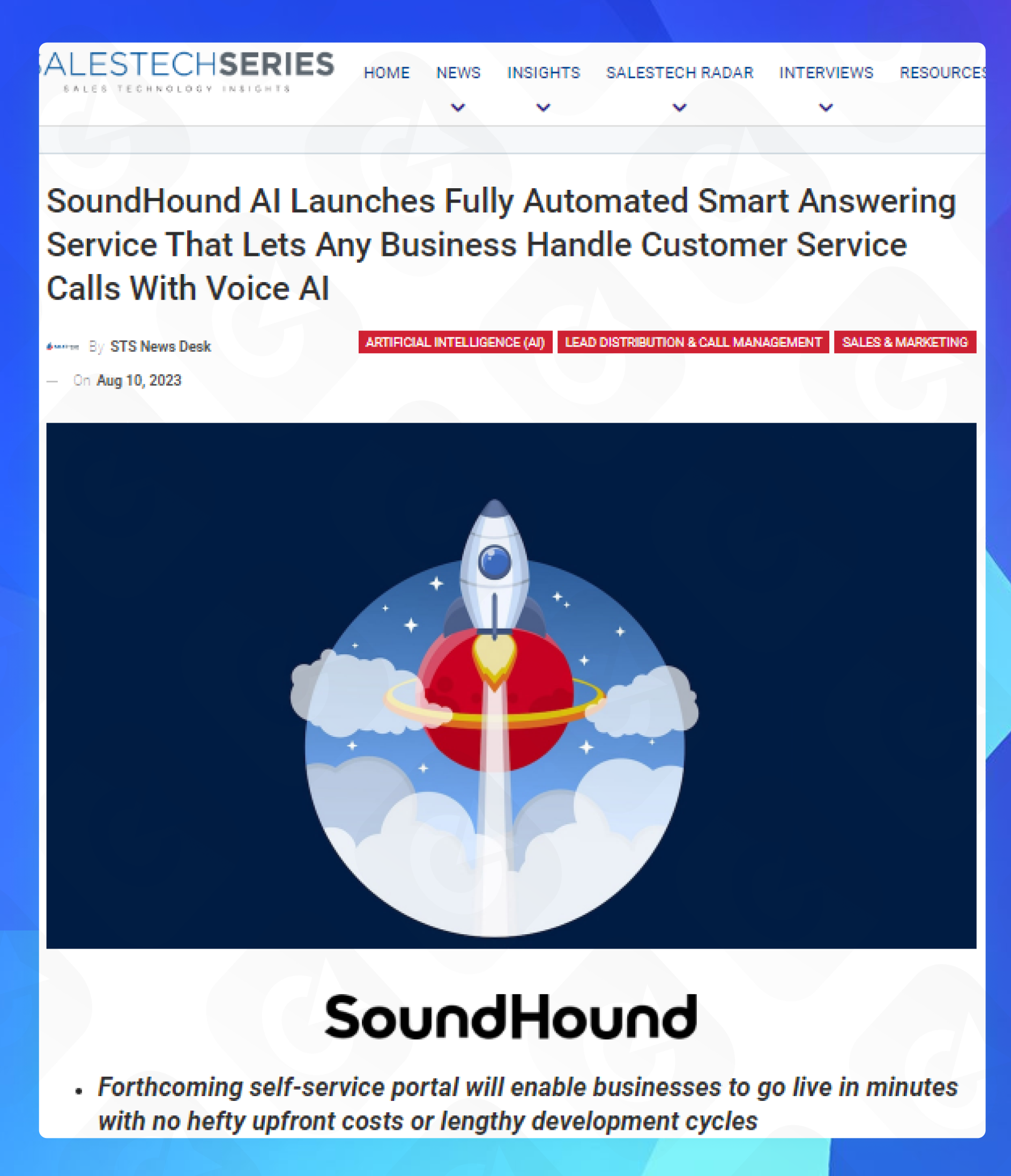 Source: SalesTech Star
When analyzing search engine press releases, you can see that not only aspiring businesses aiming to create a dent in the market but also large global enterprises use news releases in public relations.  
Below is an example of a business press release published by Disney Corporation.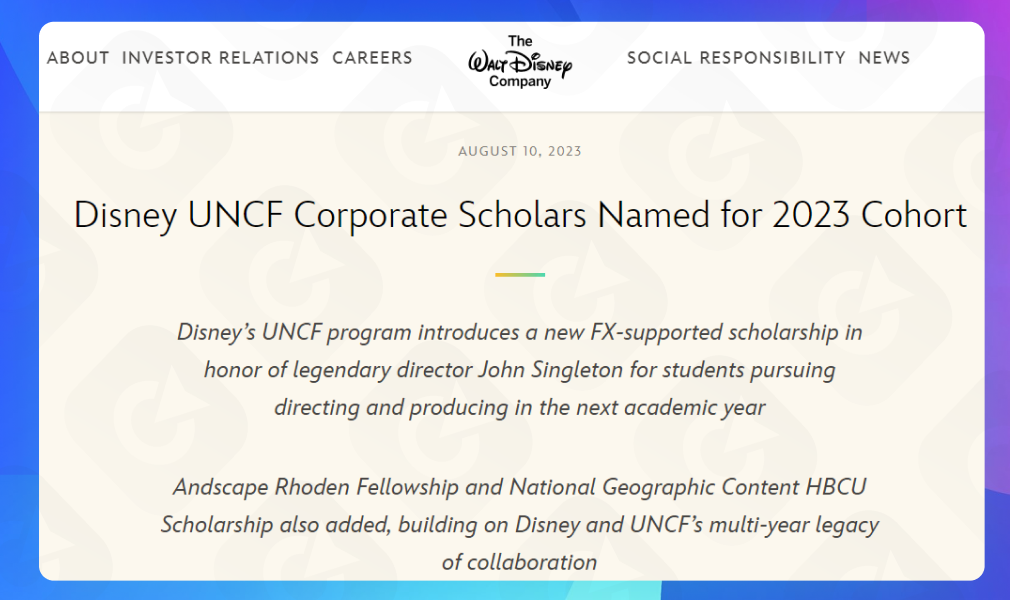 Source: The World Disney Company 
What is the point of a press release regarding a big company with millions of customers worldwide? We have answered this question earlier in our article: keep their clients informed about news, sales, etc. There are also lots of event press release examples, meaning businesses thus demonstrate their expertise and public activities. But in addition, it is also a great way to prove that the company does not lie on its laurels but continues to grow, develop, and care for its clients.
Benefits of Press Releases: 5 Reasons for Writing Them
Now let's roll into the most engaging part of our article: the benefits of writing a press release which are hard to overestimate. Keep reading, and you will see why your business needs to do a press release.
Build Valuable Relationships With the Media
Why are press releases important here? Journalists are constantly searching for a good story to tell and deal with dozens of press releases every day. This is because they are sources of accurate information from verified sources. However, it happens quite often that companies send out press releases irrelevant to the topic a journalist is working on, poorly structured, or non-informational.
Suppose you send press releases or pitches of high quality to journalists from your niche. In that case, you will undoubtedly gain their attention and most likely cooperate with them in the future, if not now. By forming good media relations, you'll get good chances to enjoy earned media (free press releases) in the long run instead of using paid services.
Help You Control the Narrative
As mentioned above, an "any press is good press" approach is destined for failure. By crafting accurate press releases on a regular basis, you can drive the narrative around your brand: build a positive brand image and credibility over time with potential customers. It is an especially valuable opportunity if you own a small startup with which people are not yet acquainted.
Boost SEO Traffic
Press release marketing strategy serves a double purpose. It helps you introduce your company or its service/product to a wide audience as well as improve traffic flow to its website and increase its domain authority and visibility in search engines. 
How do press releases help SEO? Much like guest posting, submitting press releases to high-authority websites gives your site quality backlinks, enriching its backlink profile and demonstrating Google crawlers its credibility. That means you can leverage press releases to dominate Google search results.
Logically, this is when you may ask, "How many press releases are required to improve SEO?" There is no sure answer. You may post a couple of them and boost your SEO in some niches and dozens of them and fail to get to the top in others. The sure way is to analyze your competitors and discover how many press releases they publish. 
Be that as it may, when combining it with effective link building techniques, you can gain your most ambitious goals.
You may also be interested in reading:
Link Building for SaaS: 20+ Best Tactics and Strategies 
Link Building for E-commerce: 21 Best Tactics and Strategies
Increase Customer Engagement
By distributing press releases, you can inform your customers about your charitable initiatives, sales, and improvements from the company's name, keeping them engaged with your company's developments and products. Moreover, when you target press releases at the right audience (publishing them on relevant websites), you can generate interest among potential clients for your products or services and effectively convert them into leads, increasing sales numbers.  
Affordability 
Writing and distributing press releases are much more budget-friendly than other advertising and publicity activities. How much do press releases cost? The final price depends on your industry, whether you write a press release yourself or use copywriting services or platforms, and whether you pay for publication. Surely, when you opt for paid release distribution services, you will have to spend much more money than if you'd do it yourself.
When & How to Write Press Releases
Any time you have news to share is a good time. The main thing is to develop a press release 'hook' — an attention-grabbing part of an article that intrigues readers and delves them deeper into the press release. It can be a catchy headline, a surprising statistic based on or denying a state media report, or a provocative question. 
So knowing how to write a standard press release is only half the battle. We don't say you should neglect a press release inverted pyramid style, which suggests writing the most important information first and then less essential details. You can take a press release template and fill it in with engaging information for your target audience.
Let's dive deeper and discuss the main press release strategies you should implement for the best results.
Define your target audience. You should know who you will tell a story to make sure the subject matter interests them. 
Consider the requirements of the chosen media outlets. Make sure your content conforms to their PR guidelines. Many publishers have specific requirements you need to follow when writing content.
Pay attention to details. Remember you are writing a press release where metaphors, poetic language, jokes, and so on are unacceptable. So get your tone right, and don't forget about essential details like datelines in press releases. Besides, consider adding a press release image to any story to make it visually appealing. Summing up the above, the final version should be informative and structured correctly.

 

Note: AP style press release dateline is written in the top left corner of the press release.

Get the most out of quotes. Using quotes allows for humanizing your story by creating an impression of direct communication.
Publish often. Writing and publishing press releases should be regular so your brand name will be frequently seen online, increasing awareness. 
Don't forget about monitoring: measuring the impact press releases make on your target audience is important to discover how to improve your PR strategy.
What Media Outlets to Reach Out to for Your Press Release
In addition to posting media releases in your online newsroom, you should publish them on third-party websites relevant to your industry and have your target audience or media news portals. However, as a first step, you should also analyze your competitors and determine where they publish their content. 
After creating a list of sites that meet your requirements, you'll need to find their owners' contact information (an email address, social media profile, etc.) and negotiate to publish your press releases. This is when a keen understanding and skillful implementation of the best outreach strategies become crucial to achieving your goals.
Willy-nilly, you will spend hours distributing your media releases. If you want to streamline the process and quickly reap the results of your efforts, consider using a specialized PR platform like Collaborator, which makes it easy, convenient, and safe to spread the word about your company. 
Benefits of using Collaborator:
Ever-growing catalog. All websites accepting press releases are hand moderated before being added to the catalog. There are over 19K sites from 100+ countries and 35+ categories. The number is growing every day. 
User-friendly filter that allows filtering websites by over 40 parameters, including country, region, and city. You will especially appreciate this opportunity if you are searching for an easy way how to get local press releases for SEO.
How to filter websites by country, region, and city in Collaborator's catalog.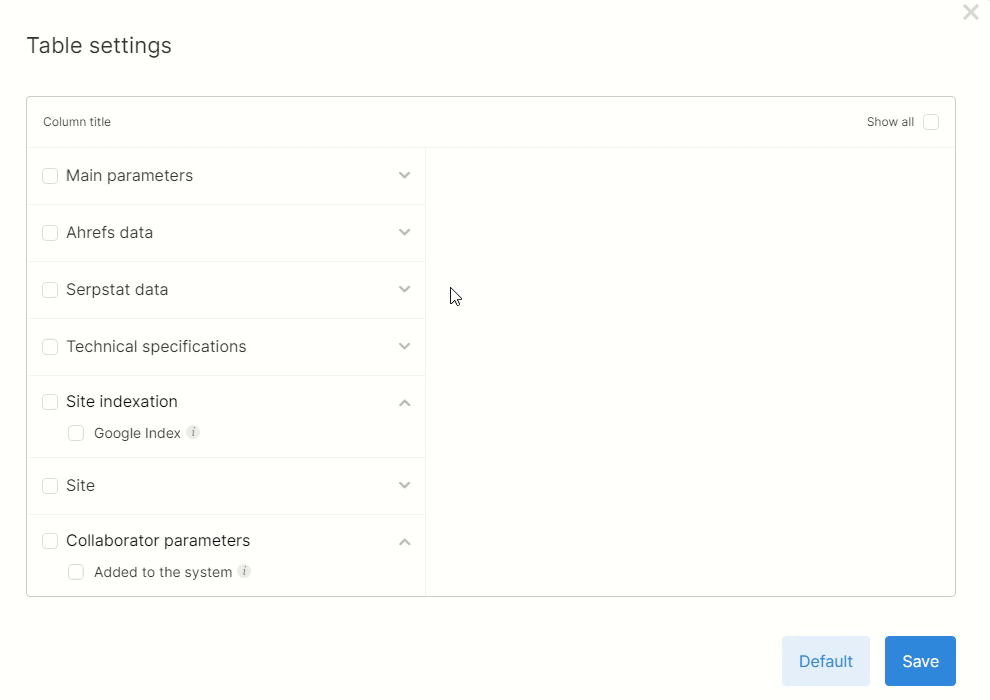 How to set filter parameters on the Collaborator platform
Free three-month insurance from deletion and non-indexation. Collaborator also offers paid insurance that lasts one year and can be prolonged. 
We have mentioned all the main benefits advertisers can get when using Collaborator's services. Register with the platform and try it for free. 
Final Thoughts
Is the press release alive? Absolutely, yes. Using this PR strategy, you can reach millions worldwide, building and improving your brand awareness and generating more traffic to your website. However, these are not all benefits you can get by writing media releases. Read more about the advantages of implementing this strategy.
Writing an accurate press release is only half the success: the website you publish on also matters. This is when you should analyze your competitors to discover the third-party websites they publish their media releases on, look for sites relevant to your niche or media news portals that have your target audience online, and communicate with the owners of the chosen websites about publication. 
Or you can go the easier and safer way - use the Collaborator platform that offers thousands of high DA websites from different niches and countries accepting press releases. Make your business grow and thrive with Collaborator 💪