Link Building for SaaS: 20+ Best Tactics and Strategies
The number of SaaS (Software-as-a-Service) companies is continually growing. According to Fortune Business Insights, the global Software as a Service (SaaS) market size is expected to be valued at $ 883.34 billion by 2029. Obviously, the competition in this niche is extremely high. SaaS companies offer various software products, some of which are nothing short of brilliant. However, even the best of them can fail to succeed just because nobody knows about it. 
What's the main point? If you have a great digital product, make sure people who can benefit from it know its existence. In other words, you need more organic traffic on your website that further generates leads and profit. 
Focusing on your website's search engine optimization and link building as its essential part is highly recommended to reach your goal. Link building for SaaS companies is one of the main SEO tactics for successful ranking in search engines, which means good visibility of your website on SERPs and increased authority of its domain. 
This can be achieved with the help of SaaS link building services. Or you can save money and independently create a successful link building strategy and then apply it effectively instead of paying them a SaaS link building agency. Read our article to learn how to do it.
Here we answer the following questions:
What are the benefits of link building campaign for SaaS projects?

What are different SaaS link building techniques to acquire dofollow and nofollow links?

How to choose the best SaaS link building strategy for your business?

What are SaaS link building challenges?
By the end of this article, you will be ready to build a well-planned link building strategy for your SaaS company, which will help demonstrate to search engines that its website deserves top SERP positions. 
Why is Link Building Important for SaaS Businesses?
Link building helps to enrich the website's backlink profile. Every business benefits from a strong backlink profile; the SaaS one is no exception. The greater number of high quality backlinks a SaaS company site has from trusted and niche-relevant websites, the better its chances of gaining the TOP position in search engines.
That helps to achieve the main goal, namely, increasing the traffic of your potential customers and boosting your company's income without wasting lots of money on an advertising campaign. In other words, your link building efforts pay off handsomely.
Also, read our article on How to get quality backlinks to promote your website.
Why is this so? Because, along with relevant and quality content and mobile optimization, backlinks are one of the key factors to Google's algorithm. Below, you can see what Google says about it.
Benefits of backlinks for SaaS companies:

Increased domain authority. Google will trust your website more and rank it higher in SERPs;
Increased organic traffic. If you rank higher for your targeted keywords, more users of your targeted audience will see you in search results and potentially visit your website and convert into leads.
Long-term referral traffic. Unlike ads, backlinks will give you referral traffic as long as they exist.
Build brand credibility. The more resources relevant to your niche link to your website, the more users trust it.
SEO Traffic for Successful SaaS Companies
Let's look at real examples of whether backlinks are essential for SaaS companies. Here, we will analyze the backlink profile of three successful SaaS brands. 
It is a CRM platform that offers different software, integrations, and resources to everyone who needs to connect marketing, content management, customer services, and sales.
HubSpot was founded in 2006 when the SaaS niche wasn't as compelling as it is now and had enough time to build up its SEO traffic. Below, you can see how the number of referring domains and organic traffic have increased since 2015.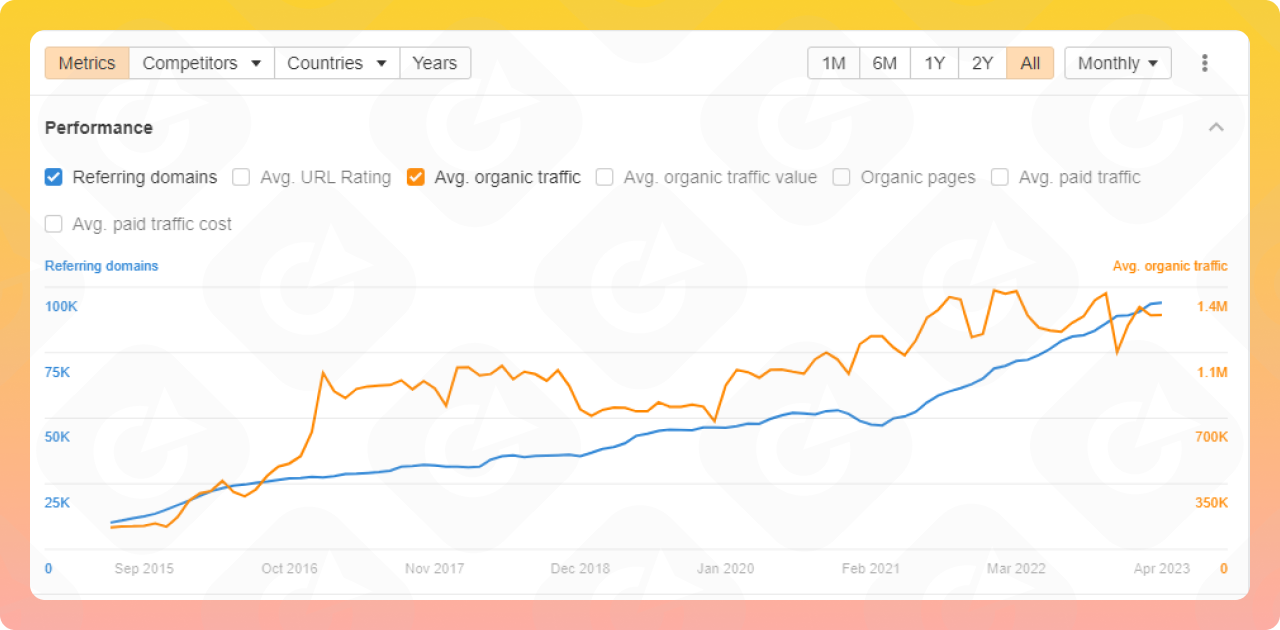 If you are at the beginning of your path in the SaaS industry, you certainly won't have the same level of SEO traffic for now. But pay attention that the traffic and the number of referring domains are increasing.
Here you can see the overview of the HubSpot website in Ahrefs that shows the number of backlinks and referring domains that have been added over the past three months (February - April 2023):
This SaaS company was founded in 2013 to provide a unified analytics platform that helps streamline data ingestion and management. Below, you can see the changes in the backlink profile of this company over the last three months (February - April 2023) in Ahrefs:
As you can see, the number of backlinks and referring domains is increased, as is organic traffic, while paid search has a negative meaning. 
Now, let's see the graphs of referring domains and organic traffic.
Based on it, we can assume that the company started with link building in July 2022 as the number of referring domains increased. Here, we can see the streamlined growth of organic traffic.
Founded in 2014, DealHub offers sales teams tools to improve sales efficiency and increase deal velocity. This platform is used for B2B companies. Like with the two brands mentioned above, we'll see the changes in the DealHub backlink profile over the last three months.
Again, the number of backlinks, referring domains, and organic traffic are increasing while paid traffic is decreasing. That says the company focuses on gaining organic traffic through link building instead of wasting money on ads. 
Below, you can see how the organic traffic graph virtually simultaneously increases with referring backlinks.

As you can see from the examples above, making a SaaS company successful doesn't mean you need a lot of money for advertising. You can gain more organic traffic through link building. Keep reading to learn effective link building strategies to obtain high quality backlinks.
Best Link Building Strategies That Work for SaaS Projects
As we already know, building links for SaaS projects is valuable since the volume of traffic heavily depends on the number of links to Software-as-service pages. Let's explore link building strategies for SaaS that will help your site get closer to the TOP of the search engine result pages.
Strategy 1. Link reclamation & unlinked brand mentions 
The unlinked brand mentions link building tactic includes looking for sources that have mentioned your brand name. You can turn those mentions into backlinks, which will lead visitors to your website. Surely, before asking for link insertion, you should check the authority of the recourse to make sure you'll get a quality link. 
Unlinked Dropbox mentions from businessinsider.com
Besides, you need to audit all backlinks to your site. If any of them are broken, you can ask the site owner to replace the link with a relevant one. 
In both cases, you need to write to the owner of the site where your brand was mentioned and politely ask for a request to insert or replace the link. You can do this via email or social media.
Strategy 2. Guest posting
The main benefit of guest posting for SaaS link building is that it helps SaaS sites gain the trust of search engine algorithms faster. Whether you promote an early-stage SaaS startup or a company that has already built its name, guest posting works well and remains one of the most popular link building tactics. We should mention that press releases are also relevant.  
How to apply this link building method effectively.
First of all, you should create valuable content.  
Content should be helpful to readers.
The subject of an article should be relevant to the topic of the source on which it will be published.
Content should be unique.
Do not forget about keywords. SEO-optimized articles are better perceived by search engines.
The guest post should not contain more than three links. If there is only one link, it is better to insert it at the beginning of the text to make readers notice it.
The second step is to find sites where you can publish guest posts to get high quality backlinks. Fortunately, there are many free guest posting sites, so it won't be a big deal.
You need to select platforms for content publication and read the articles already available on them to find out what topics are missing and can draw users' attention.
You can search "guest posting platforms" or "write for us" pages on Google.
The method mentioned above is free, and this is its main advantage. On the bad side of things, it takes lots of time. If you'd like to save time, you can try Collaborator. It already has a database of guest posting sites in different niches and a user-friendly built-in interface for quick communication and publication. 
Strategy 3. Reviews
It is a proven link building strategy for SaaS companies. It helps to create strong brand awareness and attract new customers. Moreover, many reviews are filled with relevant keywords, which is essential for SEO. 
To get a product review with a backlink, you can, for example, offer a blogger in your niche a free trial period for using your tool and ask him to write an honest review. Below is an example of a Shopify review published on the Style Factory blog.
Existing users of your resource can give a review on it, too. Ask them for it via email, and offer some bonus for feedback. Try it!
Strategy 4. Outreach
The SaaS link building outreach strategy is acquiring links by communicating with representatives of the target site. Simply a request to publish a link on the relevant platform through all possible communication channels: 
email,
instant messengers, 
social networks, 
phone calls. 
We have created a detailed Outreach strategy Guide where you will find the ultimate link building outreach tips.
Strategy 5. Building linkable content assets
We always want to share helpful and high-quality content. Here, it is worth noting the need to create a blog, the content of which will answer the most common questions of the target audience. 
The main benefits of creating a blog:
For SEO — enter keywords and phrases in any quantity and form.
Exchange guest posts with other blogs, therefore building up your site's link profile.
The blog serves as a platform for communication with customers. It is a channel for announcing updates and providing instructions and guides for using your services and products.
You can post expert articles. Doing this will increase the credibility and trust of blog readers and search engines.
Content formats that will definitely bring you backlinks (proved by experts): research, practical cases, infographics, lists of tools or resources, articles with useful links on a particular topic, why-, what- or how to posts, videos, etc. 
Strategy 6. Utilize widgets & product embeds
SaaS companies can create product-embedded links. That means when the user embeds the product of the company on their site, the link to its website will also appear. This tactic is also called "widget link building."
For instance, when people embed a client consultation form template from Typeform to their website, they also include a "Powered by Typeform" link that leads to the company's site. 
If you analyze the page of this template in Ahrefs, you will see the number of backlinks it has.
Typeform has hundreds of templates, many of which are embedded, which means they can potentially bring backlinks and increase the site's domain authority. 
Strategy 7. Competitors' Backlinks
Analyze your competitors to discover their link building strategies: see the number of needed backlinks and find the most important of them. The analysis can be made with Ahrefs, SemRush, and other SEO tools. With the Ahrefs Site Explorer tool, you can get a list of all backlinks of your competitor's websites.
To check the link profile of your competitors, you should do the following:
Go to Ahrefs Site Explorer;
Enter the URL of the website you want to get link data from;
Click the "Backlinks" button (you'll see all links, even if all of them are placed on one and the same site) or the "Referring domains" button (you'll see all unique web sources).
Now, you can analyze the sites that link to your competitors and negotiate with them for backlinks to your website.   
Strategy 8. Broken Links
You can find a broken link on a site in your target niche and contact the site owner to offer your article for publication instead of the lost one. You can check broken links with Ahrefs service.
Additional SaaS Link Building Strategies
In addition to the above-mentioned SaaS link building best practices, you can also use methods summarized in the table below.
| | |
| --- | --- |
| Podcasting | The method works on the principle of guest posting. Each podcast has a website that describes it, so you can get quality backlinks to your site and mentionings of your product. |
| Roundups  | SaaS business fits in well with this link building tactic because articles like "The 20 Best Design Tools: Designers Roundup" and similar titles are popular with readers. |
| Infographics | You can offer a quality infographic to the blog you want to get a backlink from. It seems to be an equal exchange. |
| Image credit | Ask for photo credit from those who have used an image from your site. |
| Integration partners | Creating integrations with partners could be exactly the boost your backlink strategy needs. |
| Rankings and Competitor lists | Content comparing or ranking companies and businesses. |
| Anchor Text | Using keyword-rich anchor texts is essential for a result-driven link building process. |
| Testimonials | You can leave a review about the company and ask in return for the placement of your brand logo or a backlink. |
| Q&A Sites  | What problem can your SaaS company solve? Answer on a relevant site. |
| Surveys and Studies | Webinars, guidelines, instructions, buckets, and lessons.  |
| SaaS Statistics Page | Content which includes facts, statistics, and graphics is still popular.  |
| UGS | Users generated links in Social Media. |
| Cooperate With Other Content Creators  | Cooperate with content creators in your industry. Make reviews for each other and get backlinks. |
| SaaS Partnerships  | Get links from brand partners' pages. |
How to Create Your Own SaaS Link Backlink Strategy
These SaaS link building tips will help you create the most suitable strategy for your business.
Know your audience
Analyzing your resource to identify the target audience is part of the link building process. Create a portrait of a loyal customer and an ideal client. Collect and analyze feedback. As a result of this research, you will know what content the audience consumes, how often, and through what channels. Do not forget about competitor analysis at this stage as well. You should know what they are doing right and wrong to develop your unique strategy.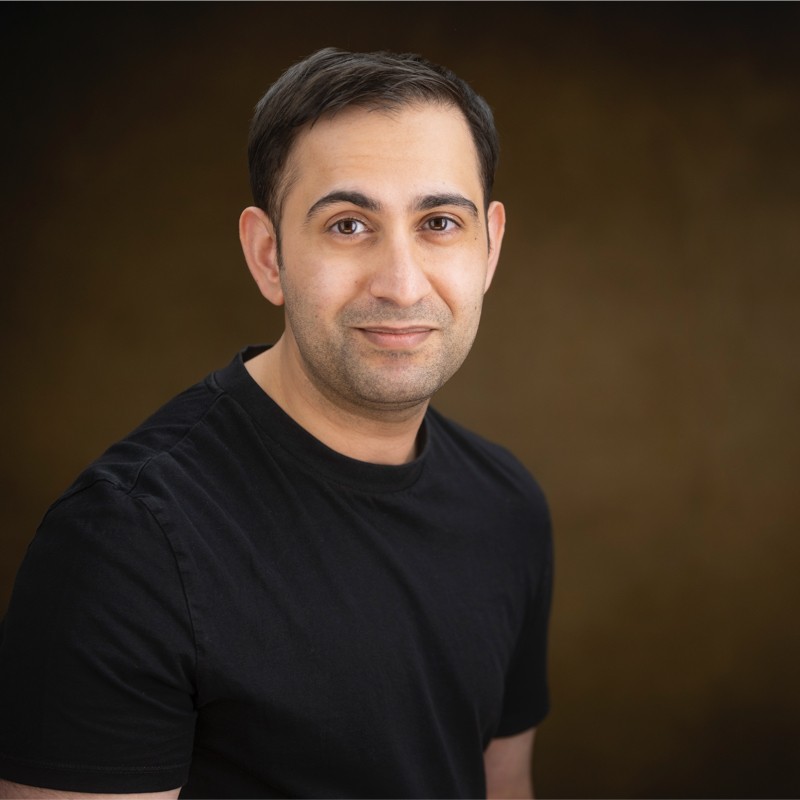 The best place you can place links - depends on your target audience and what you deem relevant to your site and its goals. Dial in on that, and perfect your process - and you'll secure some of the best links you'll ever get.
Find the semantic core
Collecting semantics allows you to find out the needs and requirements of your potential clients and optimize the content of your website to their search queries.
Below is an example of keyword variations, popular questions, and related keywords gathered in SEMrush for SaaS businesses focused on cloud storage services.
Find where to post your content
Find websites that are currently ranked for your desired keywords. Collect all the data down to the table. The next step is to find authoritative domains you'd like to mention your site. This is when you should conduct a backlink audit of the competing domains for the same (or similar) keywords. We describe how to do it in the paragraph about competitor analysis.
You can also search for relevant platforms to publish your content on Google by entering the following search query: a keyword/phrase that reflects your activity + "guest post" / "become an author" / "write for us" / "I will publish a guest article" (optional). After that, you can contact the resource owner via Facebook, Twitter, or email. See an example below:
Conduct an audit of potential donor domains 
Carefully check the metrics of the site where you want to get a backlink. First of all, pay attention to domain authority. It shows the strength of the backlink profile compared to other sites. The higher the score, the better. Additionally, you should consider the website's traffic and its sources, as well as its backlink profile and relevancy. 
Make your communication successful
If you want a positive response to your publication submission, you should pay attention to the quality of your outreach email. Stick to the general rules of business correspondence. Emphasize why your content will benefit the site owner.
Here is an example of an outreach email:
Main things to remember:
Demonstrate that you have read the content of the website before writing an outreach email;
Your email should be personalized and engaging;
Do not limit communication with site owners to email correspondence. You can also use social networks such as Facebook, LinkedIn, Twitter, and so on;
Be ready to write a polite follow-up email if you don't receive a response.
Thank the webmaster for their cooperation. It is important to establish friendly relations for further collaborations.
Check content placement
Don't publish an article and call it a day. You should check its availability on the donor site from time to time. In case of its unavailability or broken links, contact the owners of a site to solve the issues.  
Most Common SaaS Linkbuilding Mistakes
Making mistakes is a normal part of any work, and link building is no exception. But you are not a pioneer in SaaS link building, so you can learn from others' mistakes.
Over-promotion (spam)
Spamming your site link on social media will lead your website to a red flag. Do not abuse backlinks, and carefully select sites to host them.
Misleading links
Don't post content just to get a backlink. It makes little sense if it doesn't match the site theme. 
Link farming
Don't waste your time and money on link farms and other black schemes. As soon as site owners knew that the number of backlinks affects rankings in Google, link farms immediately appeared. Later on, search engine algorithms began to analyze not only the quantity but also the quality of links. Do not risk your company's reputation by using dishonest ways to get backlinks.
Illegal websites can and will destroy your backlink profile. Make sure that you disavow them. A quick result is not always high-quality and effective. Using white hat link building strategies is a safe and effective way to reach your goal.
Hidden links and text
Do not try to fool Google by inserting a link in a website page's footer or using white text on a white background. This method also gets a penalty and low ranking.
Using One Anchor Text For All Backlinks
If all your backlinks use the same anchor text, that looks unnatural. Use several anchor texts. 
Keyword stuffing sites
Experienced marketers and SEO specialists know that keyword spamming in an article leads to rejection by site visitors, a low rating of the site, and even penalties. 
Poor quality content
SaaS companies should, first of all, care about creating link worthy content for their sites. The quality of the content also plays a role when building communications with a resource to place a backlink. No site wants low-grade content. 
Ignoring internal links
The internal link structure of the site introduces search engines to your site. Internal links also affect direct link equity and site usability.
Poor quality analysis of donor sites
Links from sources with boosted indicators, low traffic, and authority can work in the opposite direction. And the search engines will lower your rankings because of this. Therefore, it is necessary to analyze the metrics very carefully. 
Streamline Your Link Building Efforts With Collaborator
The above-mentioned SaaS link building tactics are free ways of building your website's link profile. The main downside is that they take much time to reach your goal. Collaborator helps to streamline link building processes. 
Collaborator is a marketplace where you can find relevant sites for posting your content. The platform has collected more than 15,000+ verified sites and 1,000+ active Telegram channels for publishing articles, press releases, and other types of content. 
On Collaborator, you can filter websites by the appropriate category for the field you are engaged in with just a few clicks and order publication. For instance, you can choose business and finance, web design, technologies, web development, or another relevant category. 
Benefits of using Collaborator:
Live thematic sites with metrics for the last six months.
User-friendly and understandable interface that doesn't take time to learn.
40+ parameters to filter platforms.
Live data on the results of publications in the form of graphs and reviews from advertisers.
Complete security of data and transactions carried out on the platform.
Collaborator also offers a number of tools that can help you make your daily SEO routine easier:
Conclusion
In this article, we explain the TOP SaaS link building strategies that you can use in 2023. Summing up, your SaaS website needs backlinks not to get lost in the SERPs. Use one  SaaS link building strategy or several of them, find your ideal combination of methods for making your site rank higher, and avoid the most common mistakes. 
You can also use Collaborator to improve your backlinks profile quickly and safely.
FAQ: Frequently Asked Questions About SaaS Link Building
Question 1. How long does it take to see results from building links for SaaS companies?
Link building requires a long investment of time. However, after just a few weeks of regular backlink building for a particular page, you can expect it to rank higher.
Question 2. Should I hire an agency for SaaS link building consulting?
Link building is a voluminous work. If you are short in time and have enough budget, you can buy link building services. Many professional SEO agencies offer them.
Question 3. Is SaaS link building still relevant for SEO?
Yes, it is. Link building campaign for SaaS sites remains a priority and effective strategy for promoting a company's website in search engines. Your link building efforts will greatly impact the overall success of your SaaS project.
Question 4. Should I pay for links?
You will find the detailed answer to this question in our Buy Backlinks Guide for SEO. 👈
Question 5. How much does link building for SaaS cost?
It depends on a number of factors, including but not limited to whether you opt for a SaaS link building agency or can do quality link building yourself, what your current backlink profile is, and how many link building techniques you want to implement.