What is Link Building and Its Importance for SEO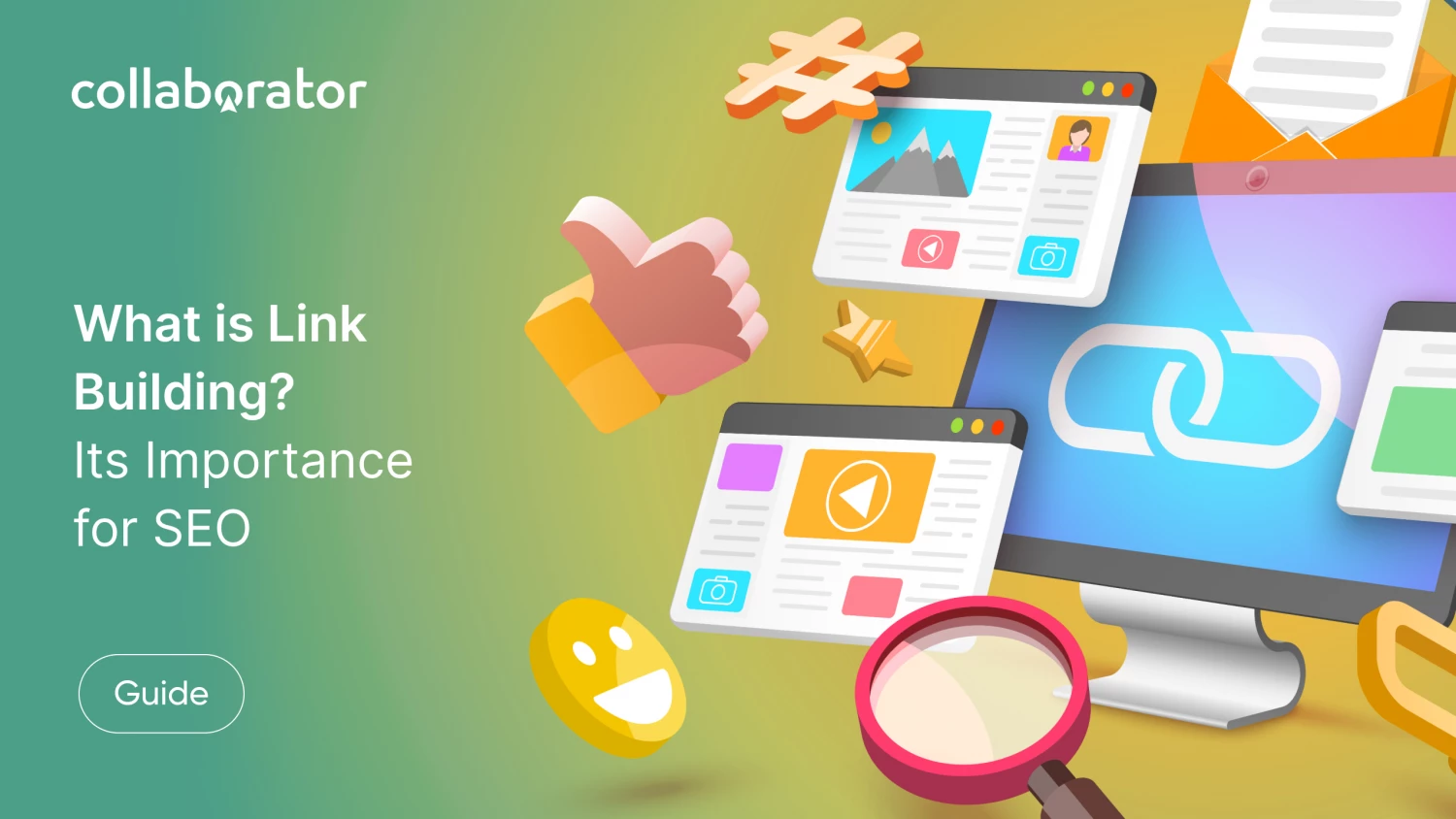 Want to build permanent backlinks that will help you boost your website's performance in search results? Our link building guide provides valuable tips with real-life examples of how to do it quickly and safely. 
Here we not only provide link building definition but also answer the following questions:
What is link building in SEO?
Can you achieve success without building backlinks?
What are the benefits of link building?
What metrics should you consider when building links?
What are the best techniques to implement?
Our SEO link building guide provides all the knowledge you need to succeed.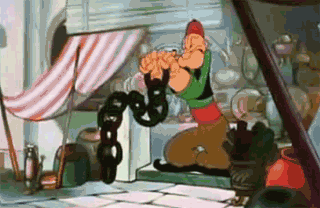 What Is Link Building?
Link building is the process of getting backlinks from other websites to your resource to increase its visibility and ranking in search engines. That is an answer to the question, "What is SEO link building?" 
Google says that backlinks are one of the main factors that its algorithms consider when identifying whether the content is quality, in other words, whether your site is worthy of citation. Therefore, SEO experts define link building as an essential part of site promotion. 
To get the best results, you should use only the best SEO link building software and adhere to white hat link building strategies instead of buying a link package from some agency if you don't want to be penalized by Google. 
You can proceed with link building when:
once your project has been started;
when your website has already been launched.
The former is likely preferred to ensure links start working immediately after the website's indexation. You can make a website placeholder and start building links to it. The idea is that the website should start ranking by brand queries, for instance, Collaborator. 
However, suppose you have no experience in link building. In that case, you'd better build links to your website when it has already been launched.
The Anatomy of a Hyperlink
When speaking about link building, we should discuss the anatomy of a hyperlink. That is because understanding the components of a link is essential to maximize the benefits of implementing link building techniques.
Let's take an example of a backlink to the Hunter service placed in our article on How to use ChatGPT for SEO.

If you check the code of this webpage, you will see a hyperlink the same way search engines see a hyperlink:

Start of a link tag. "A" stands for an anchor. It is an anchor tag that opens the link tag and indicates to search engines that there is a link to something. 
Link referral location. "Href" refers to "hyperlink referral". The URL to which a link is pointing is between the quotation marks. That can be a web page URL, a file, or an image. Sometimes, you may see here an URL beginning with a # sign. This link will take you to a specific section within the same URL.
Link type. It indicates whether crawlers should follow this link or not. 
Visible/anchor text of a link. Typically, it is blue and underlined. However, sometimes it can be displayed in other formats. For example, it can be underlined or blue-colored only, bolded, italicized, or formatted in any other way to signal users that it is a clickable link. 
Closure of a link tag. It closes a link tag.
Why Are Links So Important for SEO?
Do you truly need backlinks for SEO, or is it possible to achieve a high ranking without them? As already mentioned, Google's algorithms consider backlinks as one of the key factors in determining the quality of content and the credibility of a website. Let's dive deeper into this topic and find an answer to a common question: How does link building help SEO?
External links are a powerful tool that should be used correctly. As with other marketing and SEO tools, they can be used for good or harm. Keep in mind that even if you don't actively work on building backlinks, they will naturally occur during site development this way or another and impact its performance. 
If you own a website and want to attract traffic from search engines, you should know how backlinks work.
The importance of link building for SEO can not be overestimated. By including it in your promotion strategy, you can develop your website more quickly. In other words, while it is possible to develop a website without building backlinks, the pace is significantly slowed in this case. 
For starters, backlinks work effectively because they play an important role in searching algorithms. Let's recall how the Internet evolved. Initially, individual web pages emerged, followed by the development of a search engine that started to find these pages by content relevance. That meant that if you wrote the word "laptop", the searching algorithm would find pages where this word had been used more frequently and show them first.
It couldn't last long as it was easy to manipulate search results. That is the reason why the Google revolution took place. It began to consider backlinks and their mass, which formed the basis of the PageRank algorithm. 
Then numerous other algorithms were added on top of that base. Still, fundamentally, things remained the same: your website is in the center, surrounded by other resources, and there are some connections between them. 
Here is an example of how it looks: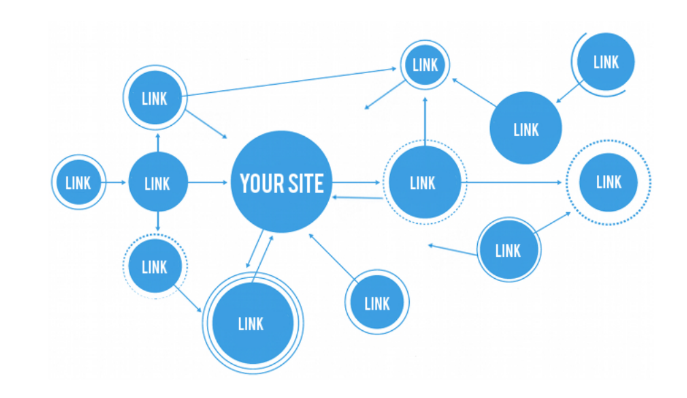 Your site is in the middle. Links are connections around it. 
Search engines cannot stop taking these connections, which are essentially links, into account. Although their impact may have changed over time, we cannot claim they don't work. Let's see how it works in practice. We entered "laptop" into Google's search line and examined the page that ranked first in Ahrefs Site Explorer. Below you can see the result. Pay attention to how many backlinks it has.

The backlink profile of CURRYS's page selling laptops
If you don't purposefully build links, it doesn't mean your website has none. If you have marketing departments, such as content marketing or PR, backlinks will inevitably appear in one way or another. 
If you don't control this process, it can play tricks on you one day: low-quality links may lead to dropping in search rankings and get you fired by Google, and you may not even understand why. That is why even if you are not going to engage in link building, it is crucial to know how it works. 
Now that you know the link building definition and why backlinks are important for site promotion, let's discuss all the benefits you can gain by implementing an effective link building strategy.
Strong Backlink Profile
The more resources link to your website, the stronger its backlink profile and the better it will perform online. Surely, those websites should be relevant to your niche and have good SEO metrics, as backlinks from them will be considered high quality and bring many benefits:
higher domain authority (also read our article on How to increase domain authority);
better visibility and ranking in the SERPs; 
increased organic and referral traffic, and therefore, more leads and profit.
Brand Awareness
Users will see your company's name on the trusted resources more frequently, get familiar with it, and start trusting it. That will help you introduce your company to a new audience, build brand awareness, and develop a reliable reputation. What's the main goal for it? You will gain more customers and, therefore, increase profit. 
Build Up Relationships With Other Sites
Communicating with representatives of other websites related to your niche will help to establish successful cooperation, such as mutually beneficial advertising partnerships.
The Basics of Link Building Metrics
To build quality links to your website and analyze its backlink profile and that of your competitors, it is important to have a good understanding of various metrics provided by top SEO tools. 
In this section of our link building guide, we'll cover what SEO metrics affect the value of a link in the context of organic search rankings. 
A link from a website with higher SEO metrics will have more impact than one from a site with lower ones.
Domain Authority
This metric is calculated by Moz and shows how strong the domain of your website is in comparison to other domains. It runs from 0 to 100 and predicts how well the domain will perform in the SERPs. 
You can track this metric using the SEMrush service or Free Domain Authority Checker by Moz. The free version is limited to 3 reports a day.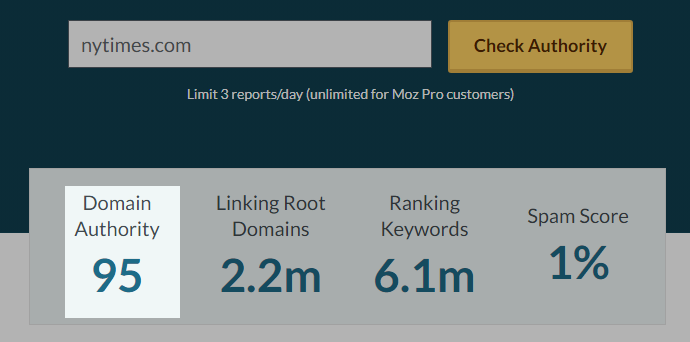 The domain authority of The New York Times was checked using Moz.
Domain Rating
This metric is calculated by Ahrefs and demonstrates the rank of a backlink profile of an entire website.

The domain rating of the Ahrefs Blog
URL Rating
This metric shows the strength and authority of a backlink profile on a specific web page. In other words, it determines the ranking potential of that particular URL. You can track it using Ahrefs.

The URL rating of the Ahrefs Blog
Page Authority
It is similar to domain authority but isn't the same. This metric is provided by SEMrush based on not only the quality and quantity of backlinks but also on-page optimization and social signals of a single webpage rather than the entire site.
Trust Flow
This metric is developed by Majestic and indicates the credibility of the backlink profile and the trustworthiness of domains linking to a website. 

Trust Flow of RHS
Citation Flow
This metric is also provided by Majestic. It evaluates the link popularity of a domain or webpage based on the number of backlinks it has. The higher the score, the more backlinks are pointing to a web page or domain.
Citation Flow of RHS
Traffic
It is very important to consider this metric. Whether you use Ahrefs, SEMrush, or any other tool, the number of visitors to the website is essential. You certainly want people to see the link to your site; that's one of the aims of link building in SEO. The higher the traffic flow of a referring site, the bigger the chance that more users will see your link, click on it and visit your site, increasing your referral traffic and generating more leads.
3 Best Link Building Strategies
There are many types of off-page link building strategies that SEO experts implement to promote the websites of international and local companies. Today, you can also use ChatGPT for link building. While it won't do all the job for you, it can provide valuable suggestions on improving your strategy, assist in writing outreach emails that get replies, and more. 
Here we will discuss 3 of the best techniques and provide tips on how to effectively implement them. 
Broken Link Building
After you have found the relevant website with good SEO metrics from which you want to get a backlink, you can use Ahrefs to find all broken links on it.
Here is how you can do that:
go to Ahrefs Site Explorer;
enter the URL of a website into the search bar;
scroll down to the section "Outgoing links";
click on the "Broken links" button.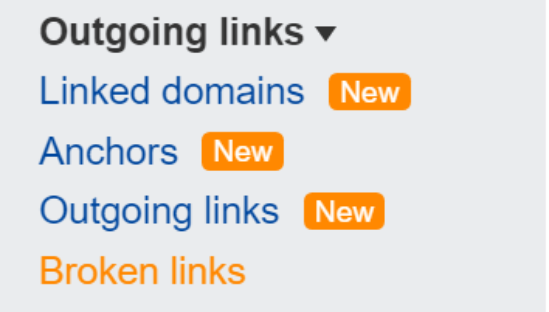 Ahrefs' sidebar
Then you can analyze all broken links to determine if you have any relevant page on your website that can serve as a replacement for any of them. If you do, reach out to the webmaster to let them know that some link is broken on their website and provide your URL as a good replacement for it. 
It is a win-win situation for both you and the owners of a website with broken links. This is because you can obtain the desired backlink while they get rid of a broken link that may make a bad impact on their website's ranking.
Guest Posts
Publishing your content on third-party websites is an effective approach for several reasons. First of all, you can find many free guest posting sites and not pay any money for publishing your articles. 
Secondly, you can demonstrate to a wide audience that you are an expert in your field by publishing cases, guides, and articles that provide solutions to the most common issues faced by users in your niche. 
However, searching the relevant donor site with good SEO metrics, communicating with its owners, and actually getting your content published can take a lot of time. If you want to speed up this process and achieve excellent results faster, you can utilize special services like Collaborator, a trusted content marketplace with thousands of websites from various niches and countries in its catalog. 
The Skyscraper Technique
This strategy involves finding the best content on your subject with many backlinks, making it even better, and distributing it, namely asking linking resources to the original content to link to yours (which is now not just good but super content). This strategy works well as all of us strive to have better than we already have. 
Finding Top Content on Your Topic 
Method 1. You can search for it with Ahrefs Content Explorer:
Go to Content Explorer.
Enter your topic into the search bar.
Sort by referring domains.
Choose an appropriate language.
Below you can see how we used Ahrefs Content Explorer to search for top content with many backlinks in the link building topic.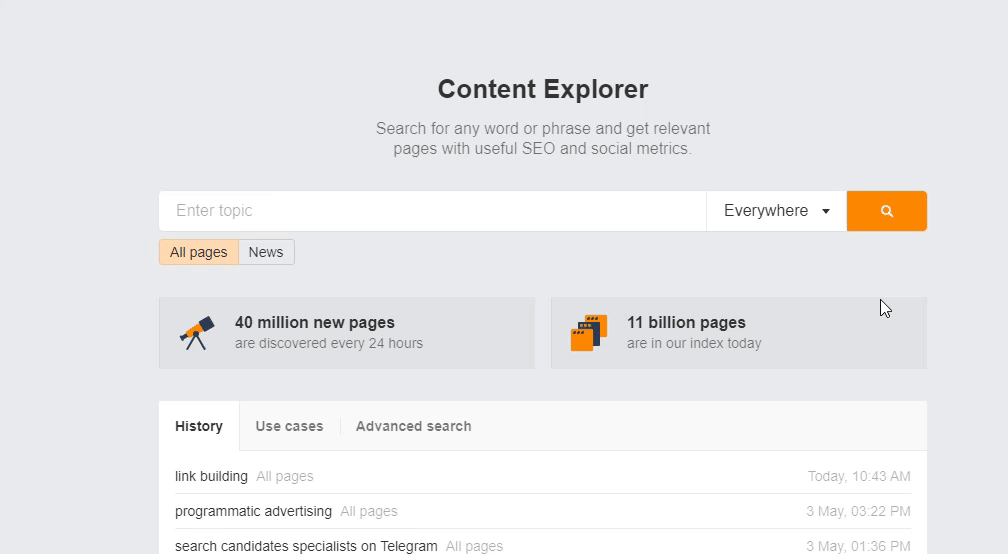 How to find top content with many backlinks using Ahrefs
Also, keep in mind that homepages should be excluded. You can see how to do it in the screenshot below.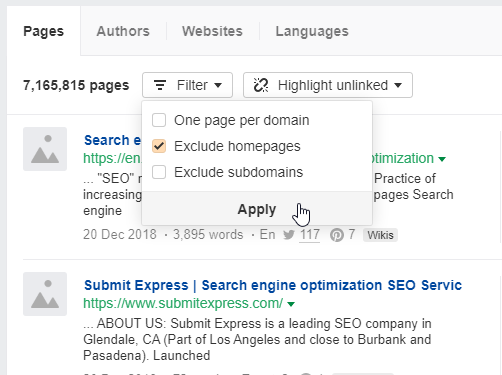 How to exclude homepages from the search results in Ahrefs Content Explorer
Method 2. You can also use Ahrefs Keywords Explorer to find top content on your topic.
This is because Keywords Difficulty (KD) in Ahrefs is calculated taking into account the number of referring domains. Here is a step-by-step instruction on how to do it:
Go to Keywords Explorer.
Enter your topic into the search bar.
Click the "Matching terms" button.
Filter KD to a minimum of 40
Click on keywords and see the results in the SERPs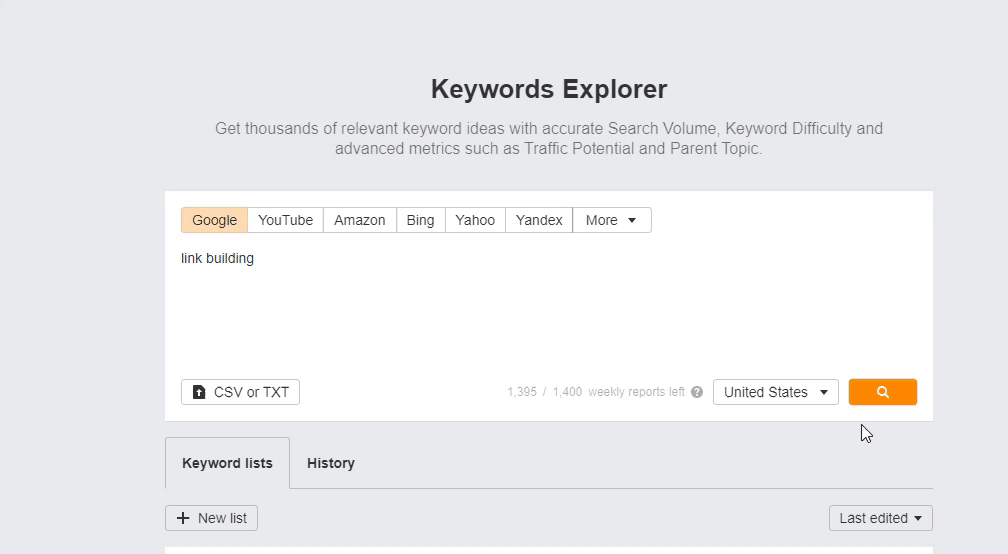 How to find top content on your topic using Ahrefs Keywords Explorer
Method 3. You can also start by searching on Google.
Enter your topic "link building", "dog training", "body health", or any other into the search line on Google, take top pages, and check their backlinks using Ahrefs or SEMrush. 
As an example, we entered a "wooden furniture" query into the Google search line and took the first non-sponsored webpage: an article on The Dos and Don'ts of Painting Furniture on Bobvila. Then we checked its backlinks using SEMrush.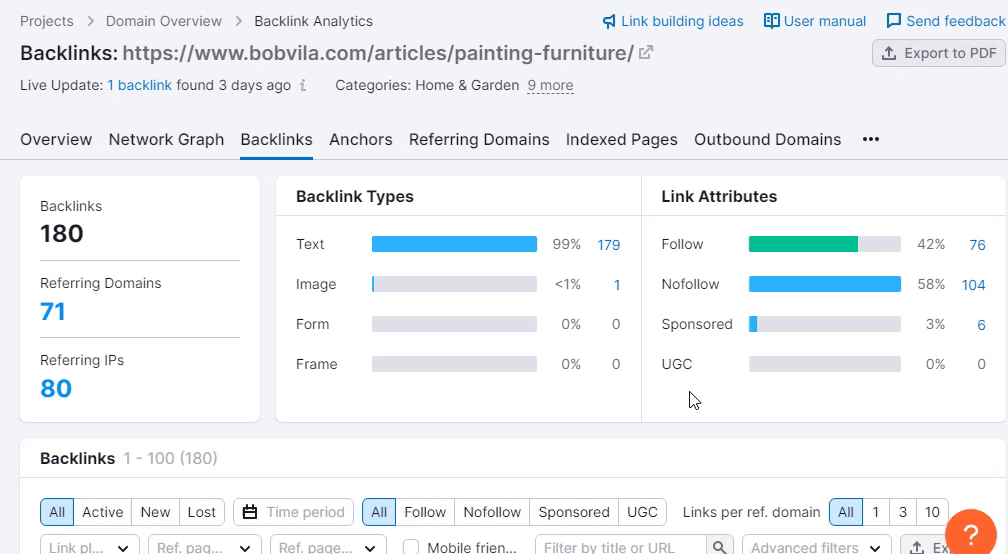 How to find backlinks for a particular webpage using SEMrush
Create Superior Content
That is when you take the top content and make it even better. For starters, you should identify what the existing content lacks. Typically, articles lack visual elements, aka graphs, screenshots, statistics, etc. Besides, they may give general information on the subject without explaining how to solve specific problems in detail. Create your content taking into account everything they are missing, and you'll get a super article that attracts everyone interested in the topic. 
Reach Out to the Owners of Linking Resources
To distribute your high-quality content, you need to find the contact information of the owners of websites that link to the original content. An outreach email should be engaged, polite, and personalized and explain why your article is better than the one they have already linked to.
Consider Collaborator Your Trusted Partner
If you want to achieve your link building goals quicker, you should know how to buy backlinks for SEO without risking getting fired by Google. You can also try the Collaborator service. This platform has an extensive catalog of websites accepting guest posts and Telegram channels from over the globe that is continually growing. 
Whether engaged in cryptocurrency, building, e-commerce, technology, or any other niche, you will find the right website to publish your guest post. Using a filter with over 40 parameters simplifies the process of choosing it.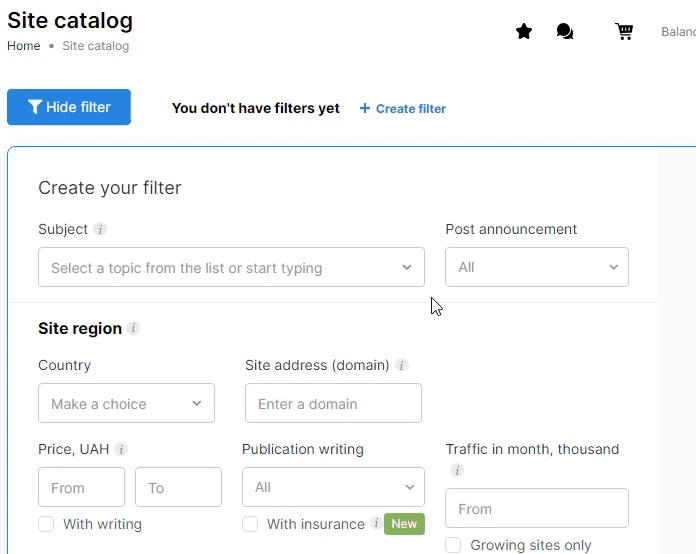 Collaborator's filter of websites in the catalog
Moreover, you can also create your own filter and receive notifications when a new platform from your niche is added to the catalog. 
Other benefits of using Collaborator:
Ahrefs, Serpstat, and other metrics are shown directly in the catalog;
opportunity to directly communicate with the owners of a platform;
master account that makes teamwork more convenient;
affiliate program;
three-month free insurance;
low fees.
Final Thoughts
You can promote your website without actively building links, but this requires patience, as climbing in the SERPs will take a long time. Remember that you will still have to track backlinks that occur naturally, as they may harm your website's performance instead of improving it. In the event you want to promote your website more quickly, you cannot do without link building. Additionally to implementing the best link building strategies, you can also try the Collaborator service to reach your promotion goals more quickly without risking being penalized. 
FAQ (Frequently Asked Questions):
Question 1: How does link building help SEO?
Since Google algorithms consider backlinks as one of the factors that indicate the quality of content, building links can help you improve your website's ranking in the SERPs. You are welcome to read our SEO link building guide for more information.👆 
Question 2: What's the importance of link building for SEO?
The greater the number of authoritative resources linking to your website, the better its visibility and performance in the SERPs. That will help you improve your brand awareness, increase traffic, and generate more leads.
Question 3: Does your SEO link building guide include practical examples?
Yes, it does. We provide a link building definition and how to implement it in practice using real-life examples.