Telegram Marketing Guide: How to Use Telegram to Promote Your Business in 2023
The previous year showed that Telegram Channels can gather hundreds of thousands of subscribers and the messenger itself is convenient for communication. Telegram influencer marketing has steadily increased all around the globe and actually, many people continue to make money with Telegram up to date.
You might find our article on How to Make Money on Telegram useful 👈
Below, you can see growth in the number of active Telegram users between March 2014 and November 2022.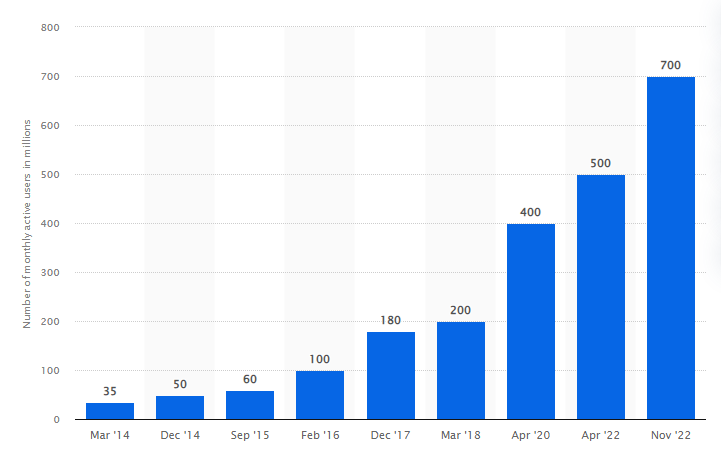 Resource: Statista
At the same time, businesses often do not dare to use Telegram for marketing or have difficulties with its usage. Our friends from Looqme talked about Telegram marketing as a business trend, and why brands have time to start their communication and find their audiences here.
In this article, you will find out how to use Telegram for marketing effectively to level up your branding awareness, build up a loyal community around your business, and increase your company's income.
Telegram's Advantages as a Marketing Channel
Announcing a new Telegram features on June 19, 2022, the team shared the analytics as well. As it was noted, during the year 22 Telegram became one of the Top 5 most often downloaded mobile applications worldwide and has more than 700 million active users every month. The team of the product indicated that such growth happens exclusively thanks to personal recommendations and Telegram has never paid for advertisements.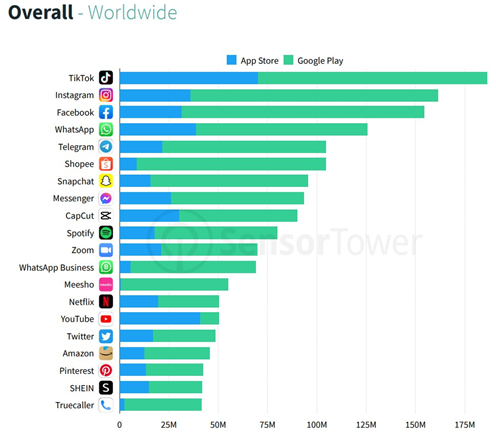 Pic.: Durov's Channel
A great example of active Telegram audience growth is the official channel of the President of Ukraine Volodymyr Zelenskyi. A month before the start of a full-scale war in Ukraine the President's telegram channel had 51,700 subscribers.
Source: backlinko (material for January 25, 2022)
As of October 2022, more than a million people have already subscribed to the messages from the Head of State.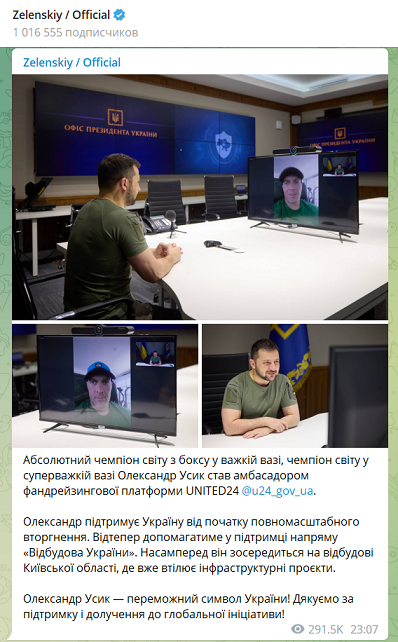 Screenshot of the Telegram channel Zelenskiy / Official (October, 2022)
Undoubtedly, the push for such rapid growth was a full-scare invasion: people wanted to receive operational and verified information.
Facebook, Twitter or Instagram recommendations are presented in the tape-form, so it is easy to miss something important or to see one new from different sources several times. Telegram does not have a recommendation tape and channels with groups look like chats for users, as well as in the example with the President..
Own Telegram channels have become popular among opinion leaders. As the impetus for this, there were other social networks (mostly Instagram), which can shadow-ban, block and delete pages of their users. Telegram has a more loyal attitude to the content in comparison with other social networks.
Telegram Marketing Examples
Let's see a few examples of how well-known brandings use Telegram for marketing. We'll take several brands from different niches, so that you will see that this messenger can be used for promoting virtually any type of business.
It is a global community. This platform allows experts from various fields to share their experience and ideas with people from around the world. TED Talks offers studies and conferences on its YouTube Channel and has a Telegram Channel where it shares the most popular videos from YouTube. 
Screenshot of the Telegram channel TED Talks
It is one of the largest newspaper and media companies in the United States. Undeniably, it is one of the most recognized brands in the world. How to do Telegram marketing for news recourse? They simply post the breaking news on their Telegram Channel.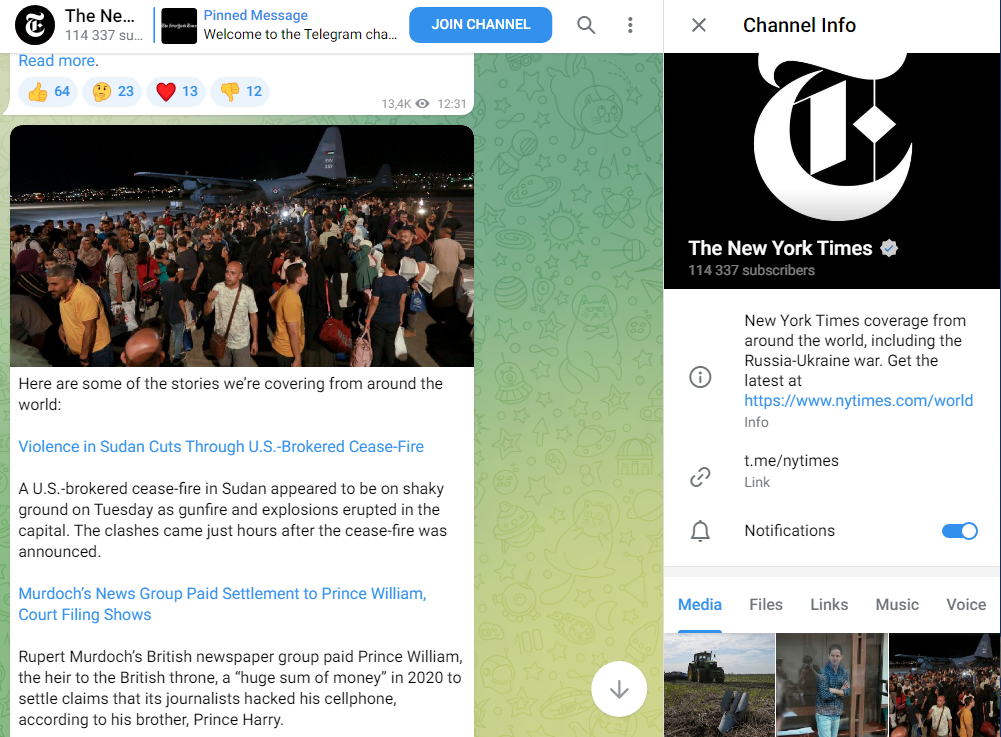 Screenshot of the Telegram channel The New York Times
The messenger is an effective tool for e-commerce as well. For example, the Ukrainian clothing, footwear and accessories brand THE LACE runs its channel in magazine form about lifestyle and fashion. Stylists select looks from the brand items, publish outfits for inspiration, film backstage, collaborate with influencers, make collections, talk about the fashion history and do ruffles. Comments are also available on the channel, so readers share their impressions under the posts. The team also uses a bot for feedback.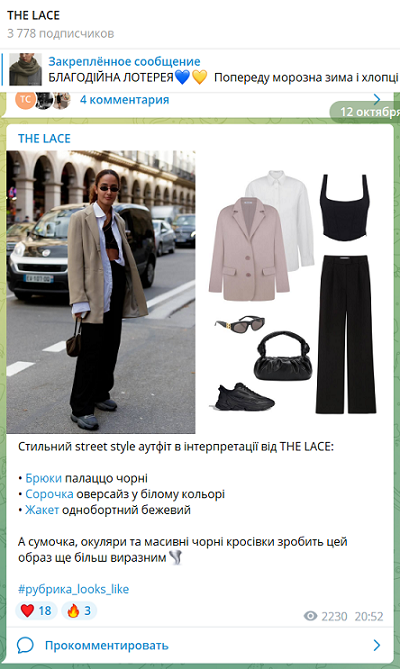 Screenshot of the Telegram channel THE LACE
It is a well-known health and beauty retailer. The company has a Telegram Channel where it informs its customers about sales, new products added to its catalog, and so on. In other words, its channel functions as an announcement board.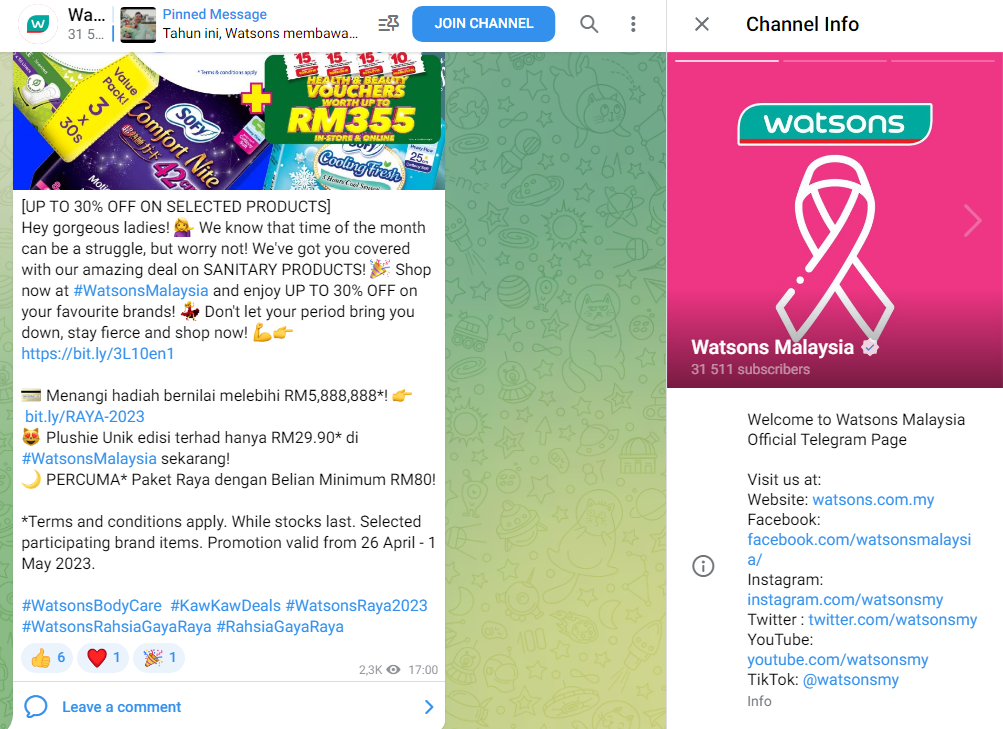 Screenshot of the Telegram channel Watsons Malaysia
Why to You Use Telegram Marketing for Your Business
With millions of users worldwide, Telegram is a great platform for everyone who wants to reach their potential customers and turn them into leads. So let's discuss how marketing on Telegram can make a difference, namely how you can benefit from doing it.
Keep Your Audience Informed. 
No matter whether it is a big corporation or a small business, keeping its customers aware of its news is always beneficial. It is one of the core principles of how to do marketing on Telegram. You can share pictures and videos of your products by utilizing a video editor to create and edit engaging content, write about updates on your websites (i.e. new filter features of your catalog), introduce members of your team, notify about incoming sales, and so on. 
Directly Communicate With Your Customers
If you create a group, its subscribers can leave their questions about your products, services, sales, work schedule, and so on where and you can answer them establishing friendly and trusted communication. They can also communicate with each other creating a community around your brand.
24/7 Customer Support
You can set up a special chatbot that will serve as an online assistant consulting your clients 24/7. You will kill two birds with one stone by doing it: support your clients 24 hours 7 days a week and lessen the load on your support team.
Increase Traffic to Your Website
You can share links to the pages of your website in your Telegram group or channel, therefore, encouraging subscribers to visit them. As a result, social traffic will increase.
Make Your Clients Engaged
You can use Telegram polls with answers, so that your clients can share their opinion on your products and services, leave suggestions on how to improve them, and share what they'd like to see in your product lineup. You can also create various interesting quizzes with explanations of the wrong and right answers.
Telegram Communication Formats for Brands: Which one to Choose
Telegram gives an opportunity to create dialogs, group chats, channels and bots. All these communication formats can be used by brands as well.
Dialogues
More official questions should be discussed in an e-mail. However, to quickly clarify the details of, for example, flowers, coats or garden tools orders, you can contact the client via Telegram.
The client can read messages in Telegram at a convenient for him time. However, the most valuable thing about using dialogues is the growth of trust to the brand. Thanks to proper and personal communication, clients feel that the company is attentive to them and ready to use the time for satisfying the personal needs of customers. Such an approach increases loyalty to the brand.
This tool should be used for sales communication and product feedback.
Group chats
If the brand managed to form a circle of like-minded people around it, a group chat can be created for them. Your audience can discuss common issues there, and the brand organizer can act as a moderator. People from your audience in a such group chat can be your product testers, a source of feedback and reasonable criticism.
Also read in Collaborator's blog about the best Telegram channels for learning English and how to buy cheap backlinks that work. ➡️
Channels
The Telegram channel of the brand allows telling news about the company. It can be different formats of news: for someone – it can be main changes, which influence the use of the company products, and for others – the posting of all products and sales via Telegram. In addition, channels provide an opportunity to open comments for users and establish communication with them in this way.
However, the Telegram channel of the brand does not necessarily have to be related to sales. Expert channels, which are not directly dedicated to company products, increase brand awareness and trust.
The Company should choose one public tool: either a group chat or a channel. They are similar in their essence, because in both cases the messages are shared with a wide audience with an opportunity of discussion. However, the basis of a group chat is the community, but it is a brand in a case of channel. You have to understand why you need a public tool in Telegram before making a choice.
Chatbot
It is the opportunity to provide customers with informational support 24/7, simplification, and boost of their communication with the brand. Bots simultaneously reach a lot of users and save time for company employees.
In addition to answering basic questions, you can program a chatbot to conduct sales: so that the user could choose products and make a purchase directly in the interface. If it is hard for the user to decide on an order, the bot can offer to take a test and find out which product fits him/her. It is not so hard to program the bot for such functions as it may seem at first glance. There is a free open platform to help.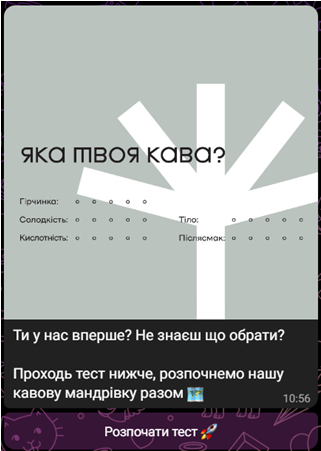 An example of using chatbot by company Idealist Coffee Co.
A chatbot is a flexible tool that you can customize for your needs. For example, the product by LOOQME MyNews Bot sends users fast notifications about mentions in the media. Customers can choose keywords for tracking and add details for the most relevant results: select countries, stop words, links, and limitations. All these functions are available 24/7 and you should not wait for a response from the support team. Three keywords can be tracked for free.
These are only a few examples of using bots in business. The form depends on tasks, which are planned to be solved with the help of the bot. Anyways and first of all, it saves employees' time in solving typical customer questions, but only if a personal analysis of the situation is not required.
Choosing the communication via Telegram (dialog/chat/channel/bot), you should remember: your message will be situated among your personal messages from your mother, wife, or manicurist. Why is your content valuable to the reader?
Also read our article Telegram Bot List ✅
A Telegram Channel/Group/Bot Promotion: Basic Methods
The same as other social networks, Telegram has paid and free promotion methods.
Free methods
The channel administrator can add people from his/her contacts to the subscribers. However, users can complain about you, so do not add strangers without their agreement.
Tell about the Telegram channel on your pages on other social networks. Add the link to the site and the design of your letter.
If your CEO or department director is a public person, ask him/her to tell about your channel on social networks and mention you in speeches.
Mutual PR with channels that have a related audience. For example, if your company is engaged in the manufacture of lamps, and the channel is about illumination, then the related audience can be found in channels for interior designers. During the mutual PR, you have to tell about the benefits of another channel and that one tells why is it worth subscribing to yours. You exchange your audiences in this way.
Selections of Telegram channels can also be a part of mutual PR. In this case, your channel about illumination will be next to the resource about kitchen furniture production, legal issues solutions during renovation and construction, and the channel with ready-made design projects. Or for instance, if you are the owner of a private English school, you will benefit from cooperation with Telegram channels for learning English. 
The second option of selection is media selection. Tell about yourself in Telegram or media, indicating that you would like to enter the selection of Telegram channels. However, you have to understand that sometimes such placement has paid basis.
Paid methods
Pay for advertising in Telegram channels or other social networks. The audience of the page or a blogger you will pay for post have to be potential interested in your content. You can buy advertising in Telegram cheaply and safely through special advertising exchanges.
Targeted advertisement in social media.
Media material, which tells about your production or shows your expertness and refers to the Telegram channel.
Before using paid or free advertisement, you need prepare your channel: design and fill it with content. After all, it is important not only to attract subscribers, but also to retain them with interesting content.
Best Telegram Marketing Software & Tools
When speaking about how to promote business on Telegram, we cannot miss such an important theme as marketing software and tools. They save lots of time by allowing the user to send bulk messages, export members from your competitors' groups, and add subscribers to your group or channel from a CSV file. By doing it, you can increase the conversion rate and click-through rate to build your brand awareness and trust, which leads to more profit in the long run.
Below, we mention some of the best ones. 
It helps to find active users in your niche and add them to your channel or group. This software also allows for sending bulk messages to active niche-related users. 
Main Features:
Finds active users in the required niche
Adds active users from CSV files
Sends bulk messages
Works with Groups and Channels
Safe with Telegram terms
Pricing:
It is available in both free and paid versions. The former allows for adding up to 50 members a day, while the latter increases that number up to 5,000 members per day.
This software allows for exporting members from the groups of your competitors and adding them to your group. With Telegram Auto, you can also send bulk messages.
Main Features:
Enables to use multiple Telegram accounts
Adds members to a Group
Allows for sending bulk messages
Works on Windows 8 and above
Pricing:
With a free version, you can export 30 members and add 10 members. With a paid version, 8,000 members can only be added to a group per day.
This is also a multi-purpose software that helps to make your Telegram marketing even more effective. 
Main Features:
Allows for exporting members from other niche-related groups into a CSV file
Offers search settings to filter users to your particular requirements
Allows for sending messages to any group or channel or contact
Complies with Telegram's TOS
Pricing:
With a trial version, you can add 5 members a day. With a paid one, you can add up to 8,000 members per day and export an unlimited number of users. 
How to Measure the Effectiveness of Advertising in Telegram
Most often, the effectiveness of Telegram ads is measured by the growth of subscribers, coverage, reactions, and comments. Both for brands and public persons it is important to monitor mentions and their quality. This data helps to control and build the brand reputation.
More about the indicators, which should be paid special attention to:
The tonality of mentions. News spread very fast. Especially the negative ones. You have to monitor the tonality of mentions about the brand to avoid a crisis situation, to react in time or to use positive stories as your advantage.
Quality of sites. You have to analyze the indicator in the reputation context of the Telegram channels that publish information about you.
The role in mention. There are the main and episodic roles in mentions. Analyze your roles and the roles of your competitors and work to get more posts in main role.
Share of Voice. SoV (%) = total number of publications / number of publications about the company. Share of voice can be used to compare mentions in targeted and non-targeted media, national and regional ones, in main or episodic role, etc. SoV is easily adjusted to communication priorities, so it is often used for KPIs.
In addition to the analytics provided by Telegram itself, there are services with wider functionality. For example, the Ukrainian monitoring and communication analytics platform LOOQME Hub collects and structures mentions of the brand and competitors in the media and social networks, including Telegram. Also, the platform automatically creates clear dashboards that update in real-time.
Advertise on Telegram Effectively With Collaborator 
Collaborator is a trusted platform where you can not only buy high-quality backlinks,  but also advertise on Telegram quickly and safely. Here you can find hundreds of trusted Telegram Channels with a live audience in different niches which are open to posting your advertisement. So that you can find the right ones for link building for cryptocurrency, e-commerce, and other sites.
You can easily filter them by category, country, number of followers, and so on. 
Here is a step-by-step instruction on how to do it:
Go to the catalog of Telegram channels
Click a "Filter" button
Choose your settings
Click a "Show" button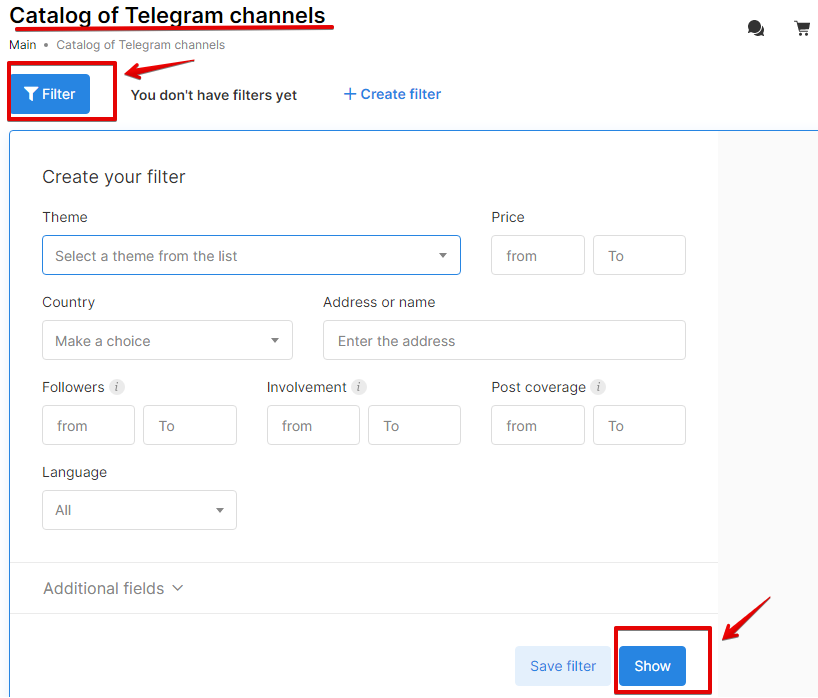 What are the benefits of using the Collaborator service?
Save your time searching for relevant Telegram channels for advertising
Get a wide choice of trusted channels with a live audience
View detailed analytics of every channel and examples of publications
Telegram bot will inform you of any changes in your deal
Posting within 48 hours
Besides, you can directly communicate with the owners of a channel to discuss all details of your deals within the platform.
Conclusion
Telegram is one more marketing tool for promoting a product, showing expertness and building brand trust. Additionally, Telegram can be used for implementing link building strategies for ecommerce, crypto, and other niches. 
The popularity of a messenger is growing in the world, so for brands it is an opportunity to be in a comfortable area for customers. Nowadays there are a lot of free niches and formats here, so learn about the possibilities of Telegram marketing for your business as well.
You can use a special platform like Collaborator to save time searching for trusted Telegram Channels to advertise on.
FAQ (Frequently Asked Questions):
Question 1: Is it possible to use Telegram for marketing?
Absolutely, yes. Read why is it so and how to do it in our article above.👆
Question 2: Can Telegram marketing be used for any type of business?
Yes, it can. Whether it is an e-commerce, cryptocurrency, healthcare, entertainment, or any other niche you are dealing with, you can increase your brand awareness, build trust, reach more potential clients, and generate leads by implementing Telegram marketing.
Question 3: How to use Telegram for marketing effectively?
You can create a group or a channel to create a community around your brand and keep your subscribers informed about new products, services, and updates of your company. If you have no idea what to write about in your channel/group, you can ask ChatGPT, an AI-language model, to suggest the topics for your posts and even help to write them.