Telegram Ads Cost: What's the Minimum Budget to Boost Your Reach & Revenue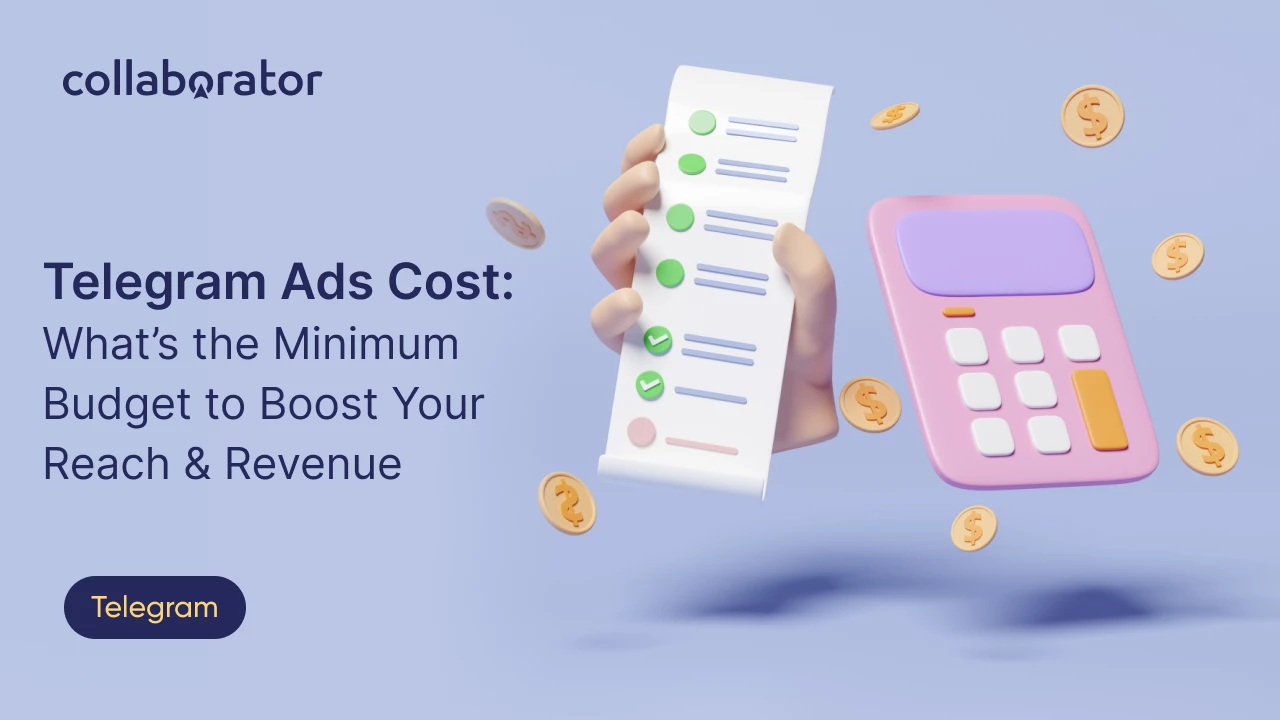 Telegram is an increasingly popular messaging platform, becoming an additional tool for marketers to promote various products and services. While including Telegram paid ads in any marketing strategy has become common, setting an advertising budget that accounts for these activities and avoids the wastage of marketing funds remains tricky.
Join us as we explore Telegram advertising rates, pricing principles, and whether it is possible to spend little money on sponsored posts and get a big impact.
Telegram Advertising Pricing Research
How much does it cost to advertise on Telegram? There is no sure answer, as it depends on numerous factors, including your niche and the frequency of your advertising posts on Telegram. 
Also, keep in mind that advertising cost depends on the way you've chosen to promote your business. You can use a Telegram Ads platform or advertise on Telegram channels through a content marketing marketplace such as Collaborator.pro. Ideally, you should use both methods.
Let's delve into details on how Telegram advertising cost varies depending on the factors mentioned above.
Pricing for Posts on Telegram Channels in Collaborator's Catalog
As of October 25th, there are 2,204 TG channels from 40 categories and 60+ countries in Collaborator's catalog. Each is moderated by our team, and that means all channels have a real audience and good post coverage. 
Note: That number is increasing daily. For instance, 46 channels have been added to the catalog from the 17th to the 25th of October. 
With such a variety of channels, we can conduct detailed research to understand how geography and category influence the prices of advertising messages and identify other factors that also impact the cost. 
Geographical Pricing
As mentioned above, the Collaborator catalog includes Telegram channels from over 60 countries in North and South America, Europe, Asia, and Africa. Their owners use accepting posts as one of the ways to earn with Telegram.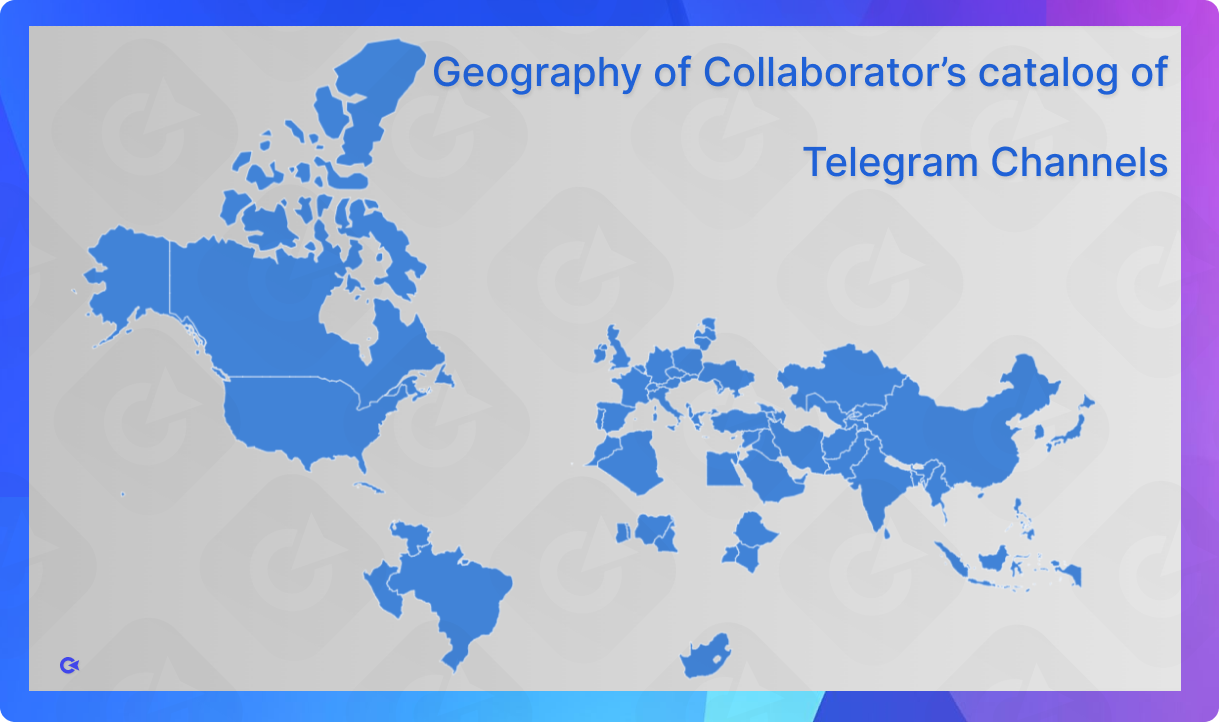 Five top countries by the number of Telegram channels available in the catalog:
Ukraine;
USA;
India;
Ethiopia;
Uzbekistan.
Now, let's see how the post price varies depending on the country. We took 20 countries from different continents to see whether and how much the Telegram ad cost would change. For greater clarity, the comparative information is shown in the table below.
| | |
| --- | --- |
| Country | Lowest & Highest Price per Post |
| Ukraine | $0.32 — $1950.47 |
| USA | $0.82 — $866.88 |
| India | $1.08 — $812.70 |
| Ethiopia | $2.17 — $1625.39 |
| Uzbekistan | $1.08 — $216.72 |
| Kazakhstan | $4.88 — $541.80 |
| United Kingdom | $1.08 — $86.69 |
| Italy | $5.42 — $342.58 |
| Poland | $1.23 — $82.12 |
| Germany | $10.84 — $433.44 |
| Kenia | $2.17 — $162.54 |
| Sri Lanka | $2.17 — $21.67 |
| Spain | $1.14 — $570.97 |
| Israel | $16.25 — $108.36 |
| Indonesia | $2.17 — $189.63 |
| Turkey | $1.08 — $54.18 |
| Latvia | $1.08 — $5.71 |
| Brazil | $27.09 — $216.72 |
| Singapore | $10.84 — $162.54 |
| Venezuela | $3.79 — $21.67 |
As you can see in the table, there is a great difference between the lowest and highest post cost. In most cases, it is hundreds of dollars. In Ukrainian and Ethiopian channels, it is over a thousand dollars. 
Why is it so? This is because the channel's category, number of subscribers, and post coverage matter. Actually, these parameters are essential in digital advertising pricing and for Telegram marketing in particular. You can choose them with Telegram analytics tools.
Telegram Advertising Rates by Categories
Below, you can see how TG channels available in the catalog are distributed across categories in percentage terms.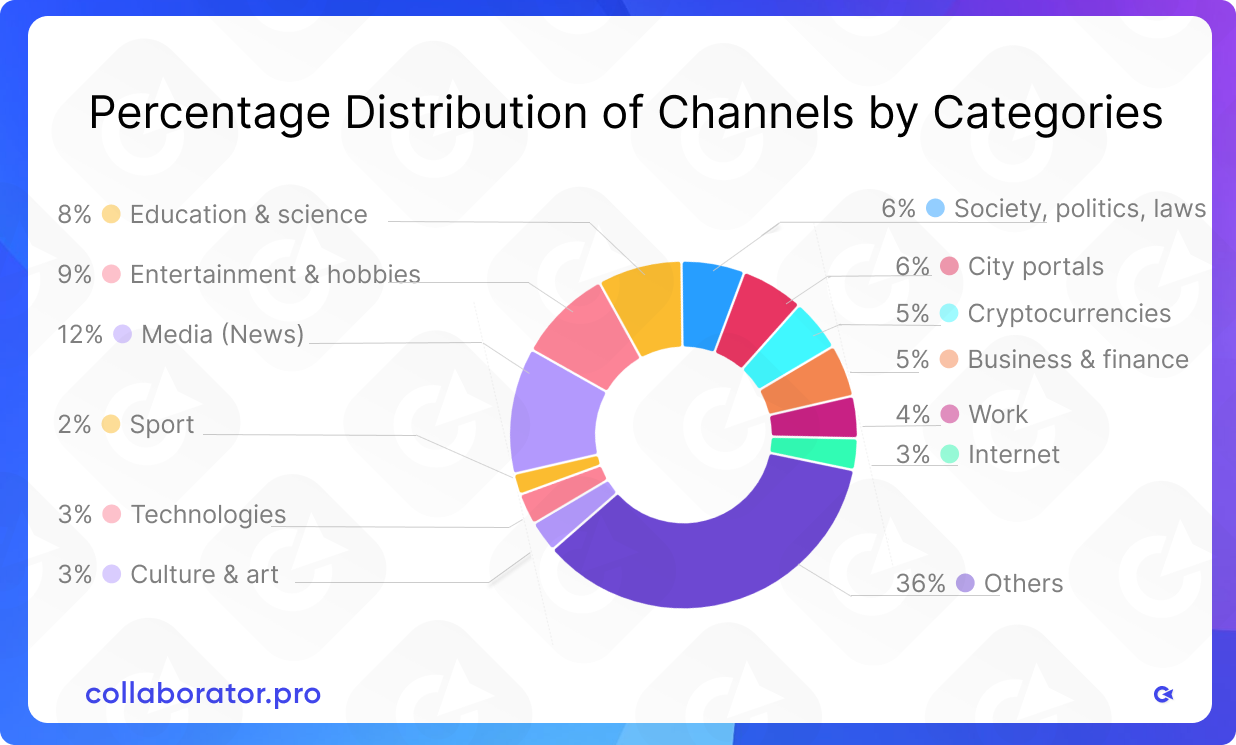 According to the investigation, the most popular categories are:
Media (News);
Entertainment & hobbies;
Education & science;
Society, politics, and laws;
City portals.
50% of deals completed on the Collaborator platform from the beginning of 2023 are with Telegram channels belonging to the categories mentioned above. In the picture below, we demonstrate the percentage distribution of deals between those popular categories.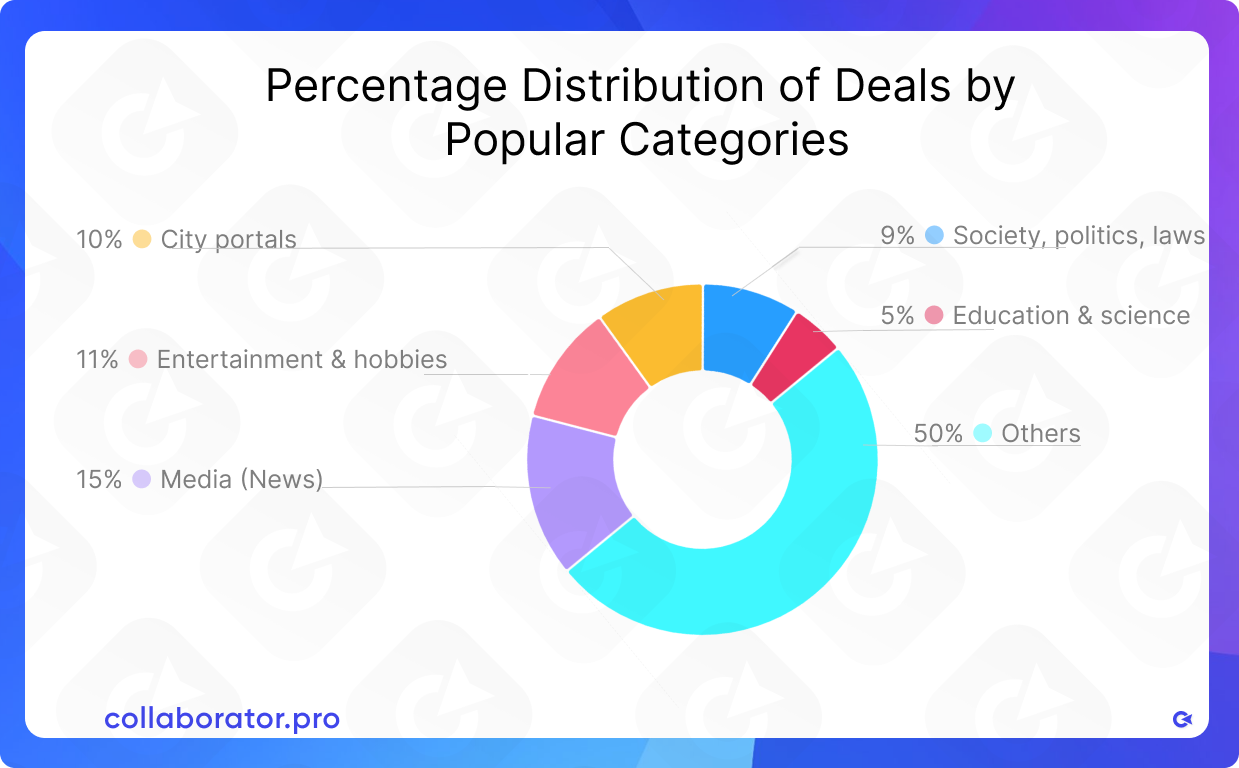 The most active channels complete over 10 deals a month, and the least active ones complete 1-2 orders a month. 
Now, let's see how the post price varies among them. Again, we provide the comparative information in the table.
| | | |
| --- | --- | --- |
| Category | Lowest & Highest Price per Post | Average Post Cost |
| Media (News) | $0.14 — $1628.12 | $20 |
| Entertainment & Hobbies | $0.33 — $272.43 | $10 |
| Education & science | $1.09 — $217.95 | $11 |
| Society, politics, laws | $0.41 — $1198.70 | $14 |
| City portals | $0.41 — $274.20 | $12 |
We also compared the lowest cost of advertising messages on media Telegram channels from 5 countries. Please see the results below:
Ukraine — $0.41;
USA —  $3.36;
Poland — $5.43;
Spain — $54;
Germany — $16.
Price Changes Based on the Number of Followers & Views per Post
These factors determine the value of a channel for your ad campaign. And surely, they impact the price of sponsored messages published in it. Let the facts speak for themselves: they are always persuasive. 
We will compare three media channels from the USA: Washington Insider, Business Finance News USA Edition, and EARLIEST OF ALL | NEWS, each of which is available on our platform.
| | | | |
| --- | --- | --- | --- |
| TG Channel | Followers | Post Coverage | Post Price |
| Business Finance News USA Edition | 19.4 k | 1.03 k | $43.42 |
| EARLIEST OF ALL | NEWS | 14.16 k | 2.19 k | $40.16 |
| Washington Insider | 9.42 k | 983 | $21.71 |
As we can see, TG channels with more followers and higher post coverage charge more per ad. 
Typically, the number of subscribers has more impact on pricing. For example, consider Business Finance News USA Edition and EARLIEST OF ALL: the latter has higher post coverage but fewer followers, and it charges less per post than the former.
How Much Does it Cost to Advertise on Telegram With Collaborator?
Registering with the platform is absolutely free, and there is no minimum advanced payment or the number of orders you should make. You will pay only the price per post set by the owners of a Telegram channel and 10% of the amount of your balance replenishment.
It gives you lots of options when it comes to setting your advertising budget: you can advertise on dozens of cost-conscious channels in your niche, choose a few ones with a much larger target audience, or combine them. You can also broaden the boundaries and order posts on local or global media news channels and decide on the number of publications per week or month. All that is entirely up to you.
When publishing posts on Telegram channels through Collaborator's platform, your ad message isn't limited to 160 symbols and can contain up to 5 visual elements. 
Below is an example of how such advertising posts look.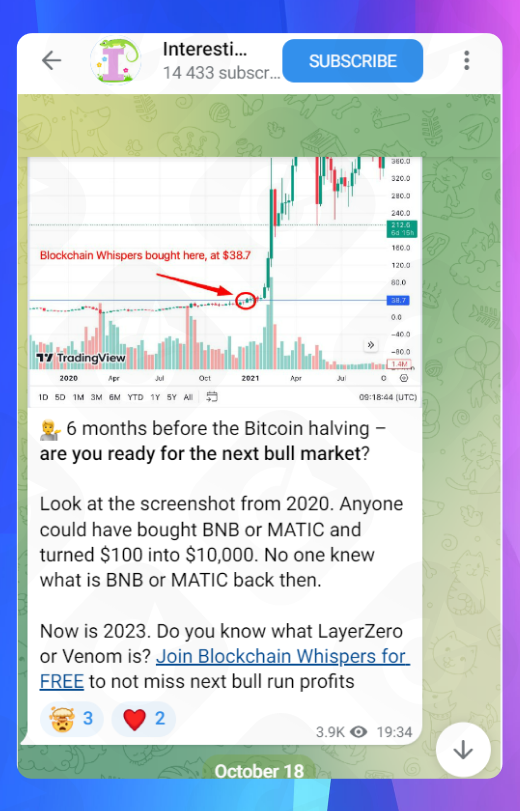 A post promoting the Blockchain Whispers channel was published in the Interesting Things channel.
How Does Telegram Ads Work?
It allows all users with a Telegram account to create sponsored messages in many channels with 1K+ subscribers. Those posts should be no longer than 160 characters.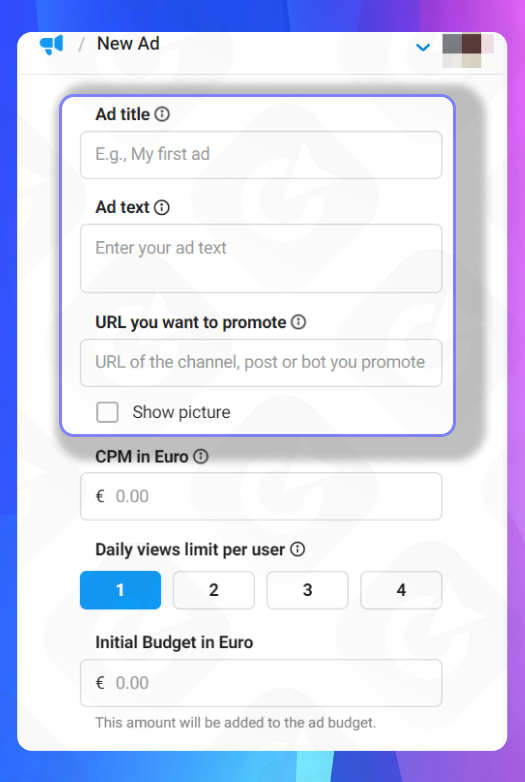 Type in the title and text of your ad message into the appropriate fields and input the URL you want to promote. It can be the URL of a channel or post you're promoting or a Telegram bot. 
If you choose to promote your channel and enter its URL, your sponsored post will look like this: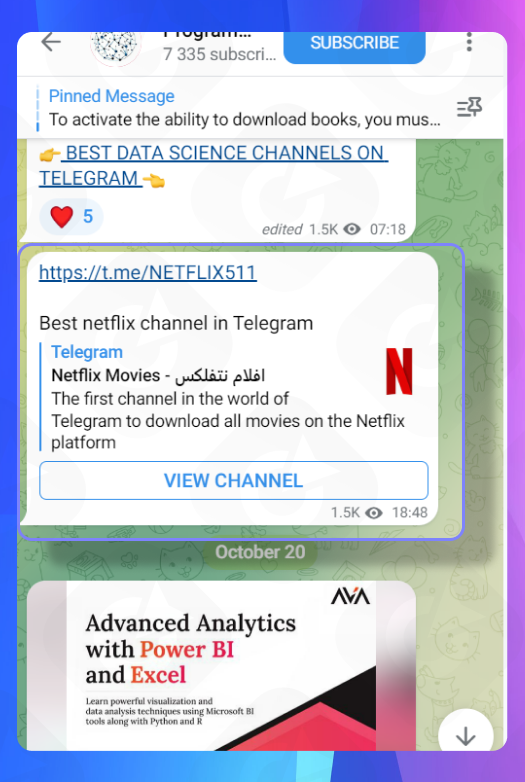 One of Telegram ads examples. A sponsored message was published in the Daily Programming Books and E-Books Programming Languages channel. 
The Telegram Ad platform offers advertisers several targeting options, namely the topic and language of channels in which your advertising message will be shown. They can also choose specific channels where they want or do not want it to be displayed.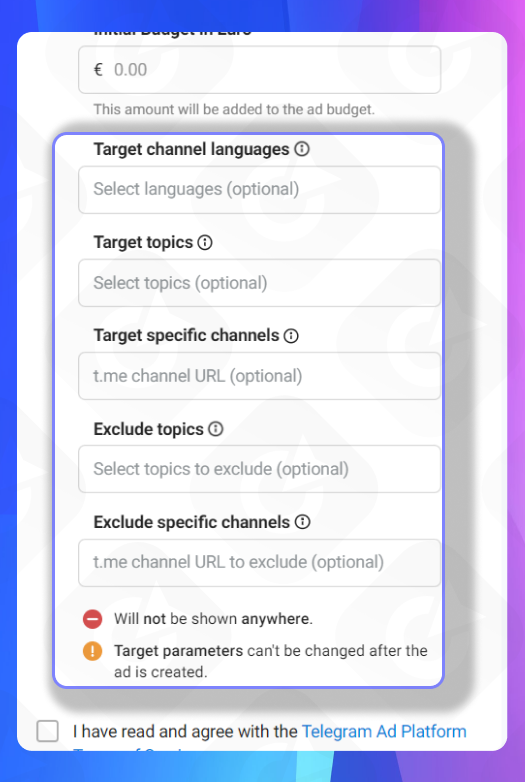 Customize your advertisement by selecting the targeted languages and topics of channels your ad will be displayed. Enter target topics and/or specific channels or exclude specific topics and/or channels if needed.
The Telegram Ad budget is set using CPM (Cost-Per-Mille). That means advertisers are charged for every one thousand views of their ad message. The minimum ad budget is €2 (around $2.12). They can also set an initial budget they want to spend on their ad campaign.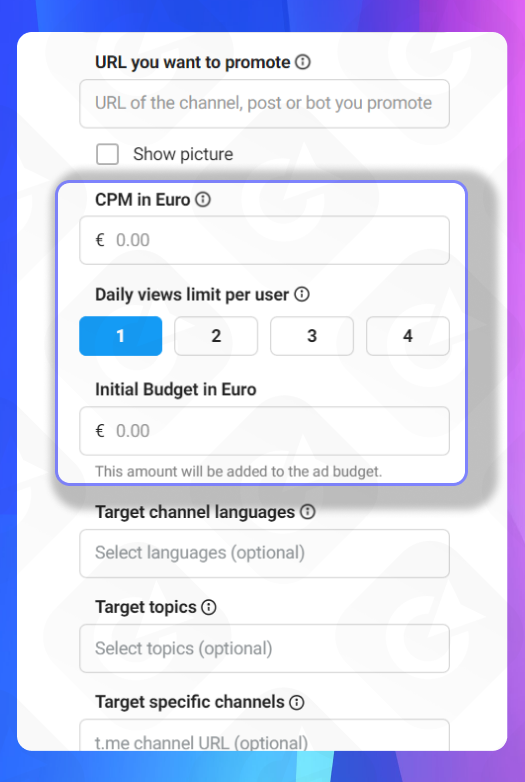 Set your Telegram Ad budget.
However, to use this platform, you should make a minimum payment of € 2,000,000 (approx. $ 2,117,870). It's a significant amount, especially for small businesses. This is why hiring SEO agencies to start their advertising campaign through Telegram Ads is variable. The prices for such services are custom and vary in a wide range.
The minimum advance payment of €2,000,000 (approx. $ 2,117,870) is required to launch ads on the Telegram Ad Platform. Half of that sum is held as a deposit and will be returned if the advertiser spends more than €10,000,000 (approx. $10,589,350) on advertising within a year.
How to Avoid the Wastage of Marketing Funds?
First of all, you should create a converting post. Write it focusing on your target audience.
Secondly, choose channels that are relevant to your niche. Otherwise, they won't accept your post at best. One of the most common reasons for rejecting the deal on our platform is the inconsistency of a post text to the subject of a channel. 
Note: If your niche is narrow and you cannot find many channels to advertise on, you can opt for media ones.
Thirdly, publish your advertisement on 1-3 channels (the best ones from your list) and track the results (subscribers, conversion rate, clicks, etc.). If you see positive dynamics, proceed with other channels. If there are no positive changes, make sure you've selected the channels with your target audience, edit your post, and try again.
Final Thoughts 
The minimum advertising budget on Telegram depends on several factors (niche, number of subscribers, and post coverage) mentioned and explained in this article. It is also impacted by the way you've decided to go: Telegram Ads or a content marketplace platform. 
What is more cost effective? Typically, the cost is nearly the same. For instance, a channel with over 900 post coverage (average views per week) charges $3.26 per advertising message and has $3.36 CPM (the price you will pay for 1K views on Telegram Ads). 
Which way is more result-driven? Certainly, the latter. This is because your advertising campaign will be better targeted, and a post won't be limited to 160 symbols or include only one visual element, giving users more details about your products/services.