20 000+ Websites in Collaborator's catalog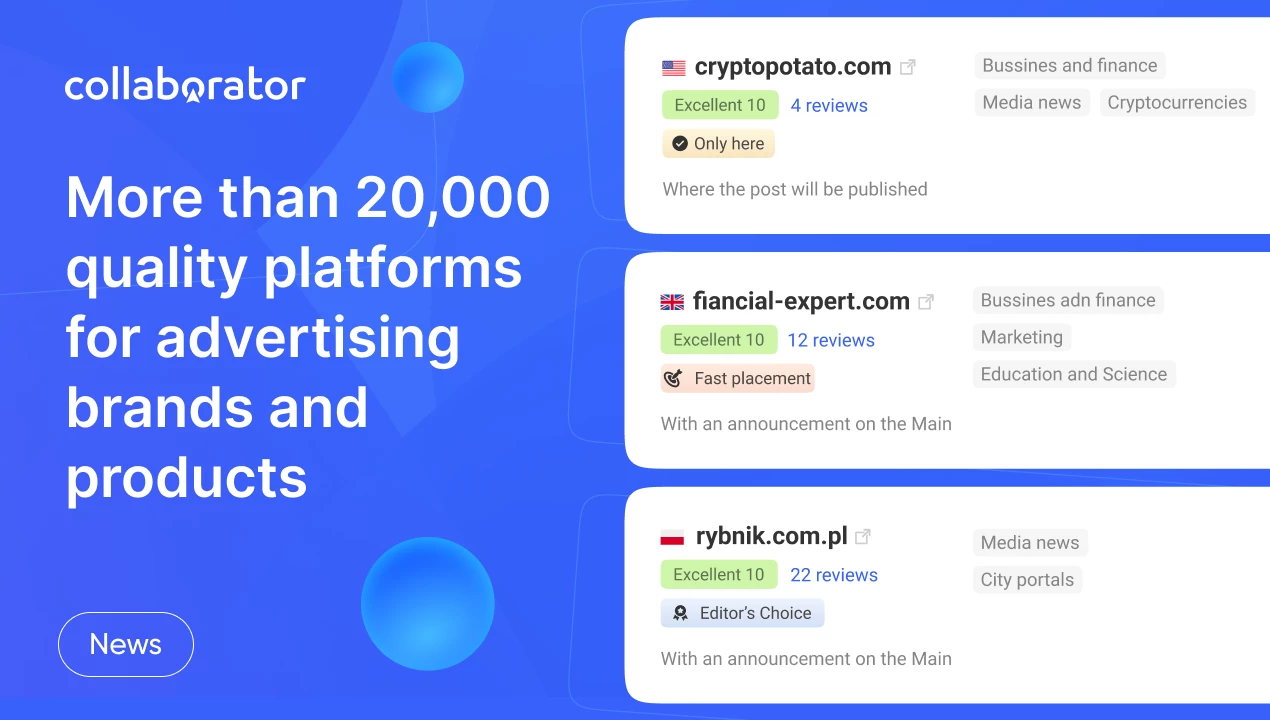 Collaborator keeps growing 🥳 So right now, over 20,000 websites from over 100 countries are available in its catalog. It means even more opportunities for placing publications, boosting traffic, and growing the reference mass for resources.
We add new websites every day to open new horizons for businesses by expanding the catalog with sites from countries in South and North America, Europe, Asia, Africa, and Australia 🌎 And it means even more opportunities for branding or product advertising and active market promotion in the EU, USA, Latin America, and other regions:
websites from over 109 countries from around the world;
a huge choice of sites from more than 35 thematic categories;
endless opportunities for promotion in American, European, and other international markets.
You can publish an article on the site from any country in the world in just three clicks.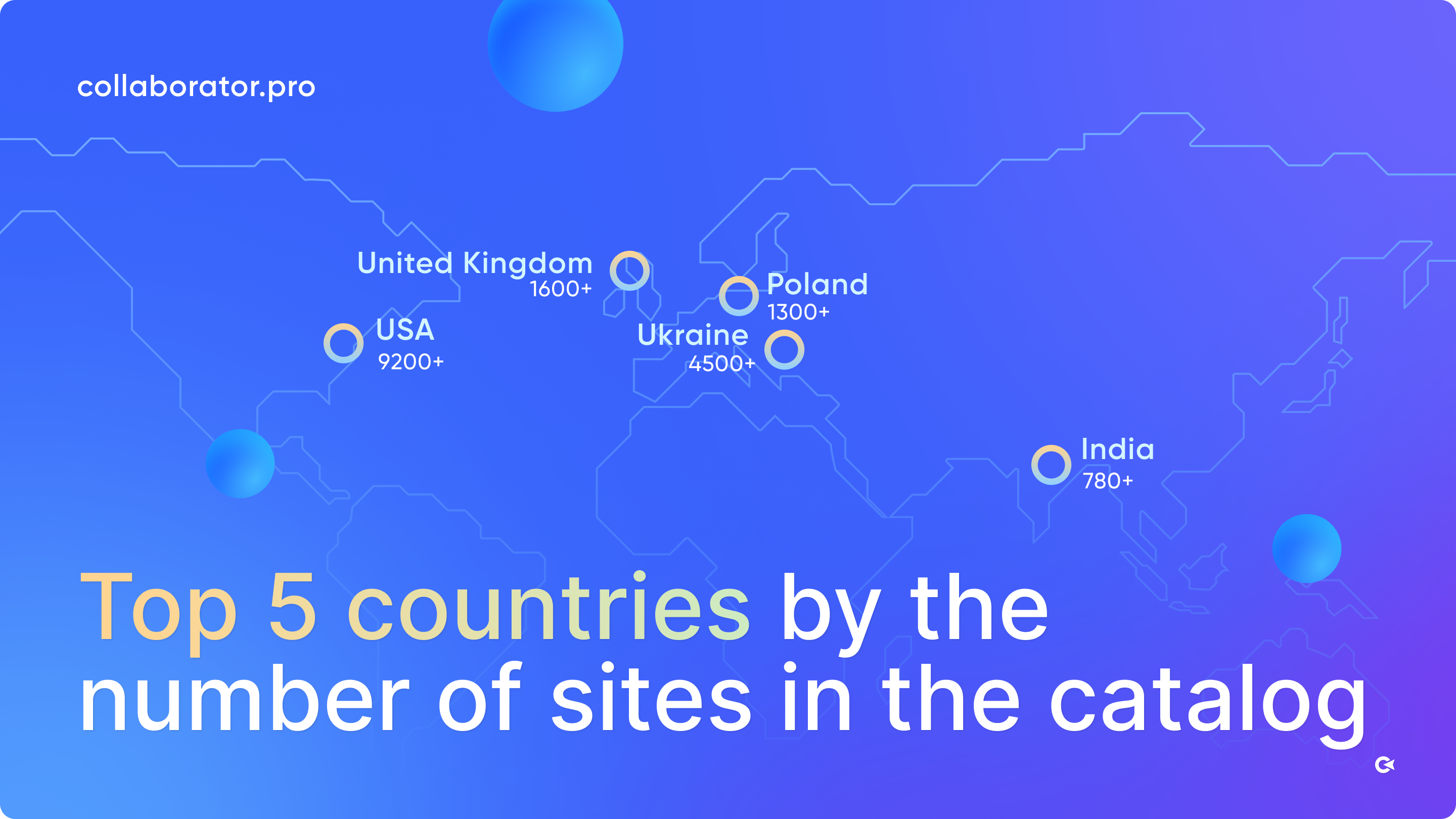 20 000+ websites from 109 countries of the world are available in the catalog. Top 5 countries by the number of websites are USA, Ukraine, United Kingdom, Poland, India
We expand geography and actively add new authoritative websites verified by Google Analytics to the system. You can see them in the catalog. Convenient filters will help you choose the right website for specific requirements 😉
We are accelerating the pace and actively working on expanding the assortment so that you can promote projects in any niche.
Undisputed leaders among popular subjects:
Over 54% of deals per year are made within these categories on the Collaborator platform 💪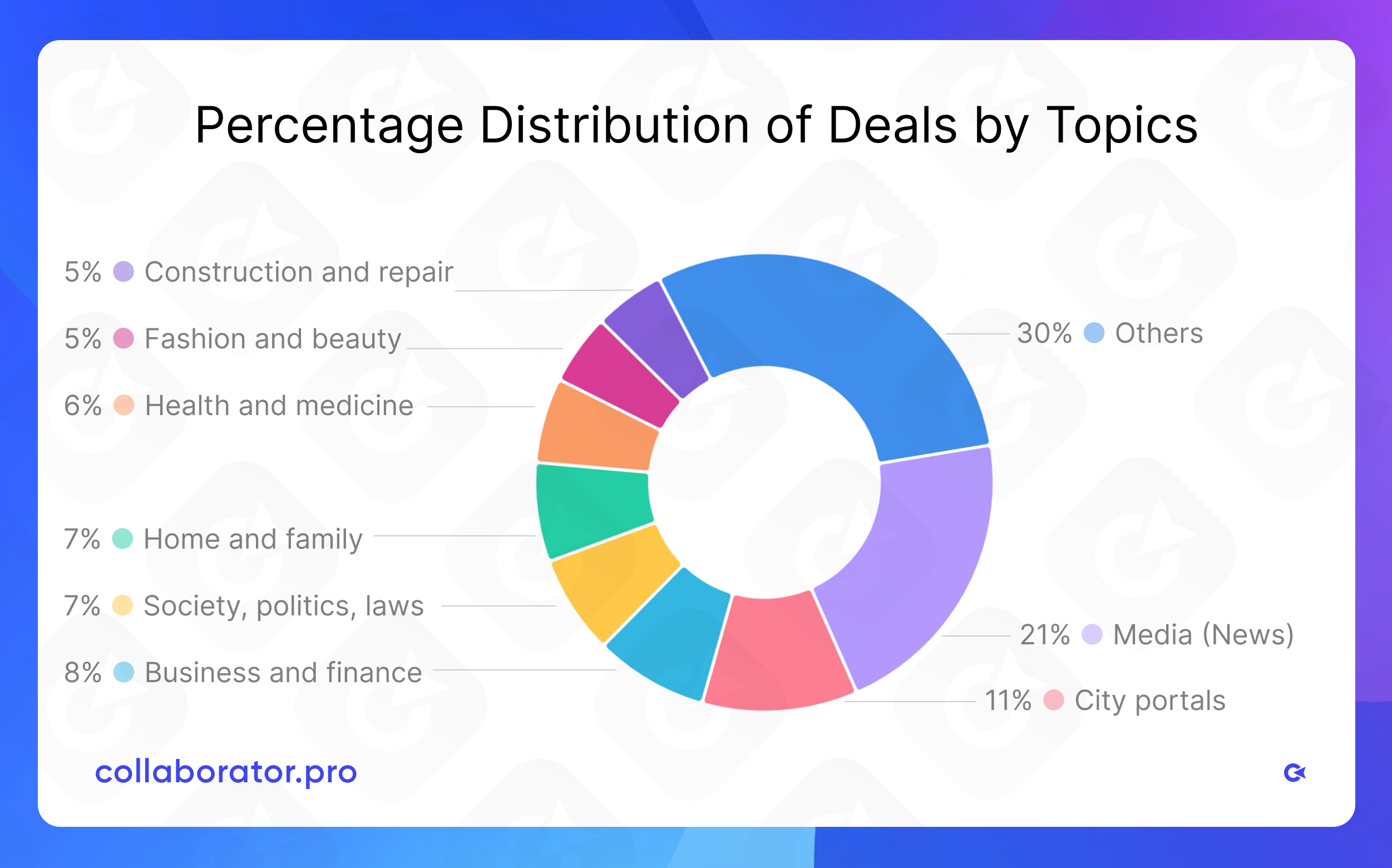 Percentage distribution of deals by topics in Collaborator's catalog
In the catalog, it is easy to choose websites in not only popular but also narrow specialized categories: Cryptocurrencies, Sports, Health and medicine, Fashion and beauty, Culture and art, etc.
It is becoming even easier to reach the top in the local and international markets, increase traffic, and improve website rankings with Collaborator. Advertisers get great opportunities to choose an appropriate website and publish articles, while website owners receive numerous interesting orders.
Working with the catalog is convenient and easy thanks to a range of useful features:
over 40 filters to choose an appropriate website;
searching agent that informs you about the addition of new sites meeting your query to the catalog;
verified analytics, which makes the process of choosing a website easier;
real reviews from other advertisers about completed deals right in the catalog.
Along with expanding the catalog, we also continually work on optimizing the process of website selection. We take care to make using Collaborator convenient for our users.
We appreciate your feedback and suggestions. You motivate us to become even better 🤜🤛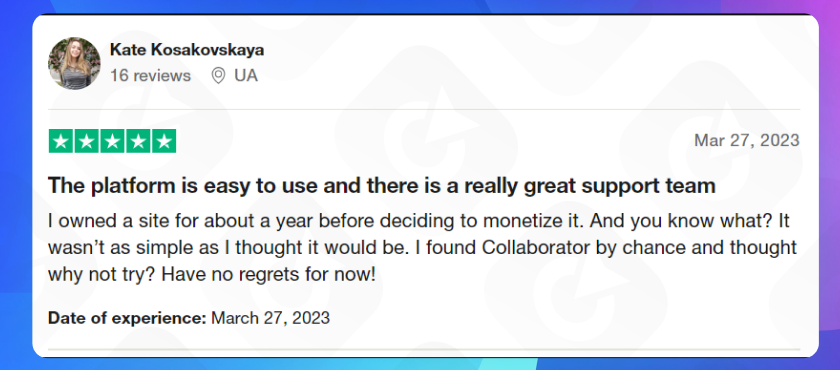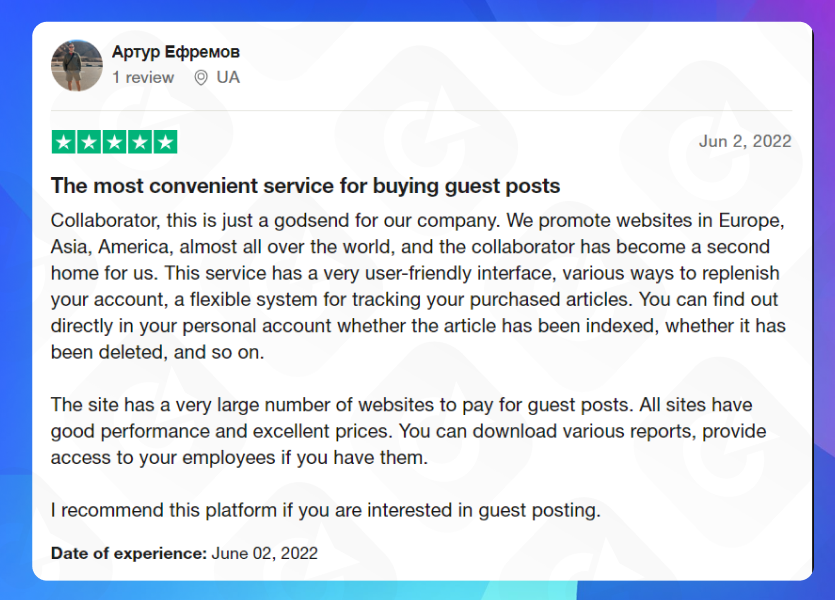 Your feedback helps us grow and develop
We are confident that continuous catalog updates will help you find relevant websites faster and achieve the best results.
We will be glad to receive feedback and your questions. Write them in the comments or in the chat of our support service.
Wishing you successful deals 💙