TOP-70 Telegram Channels, Groups and Bots for Learning English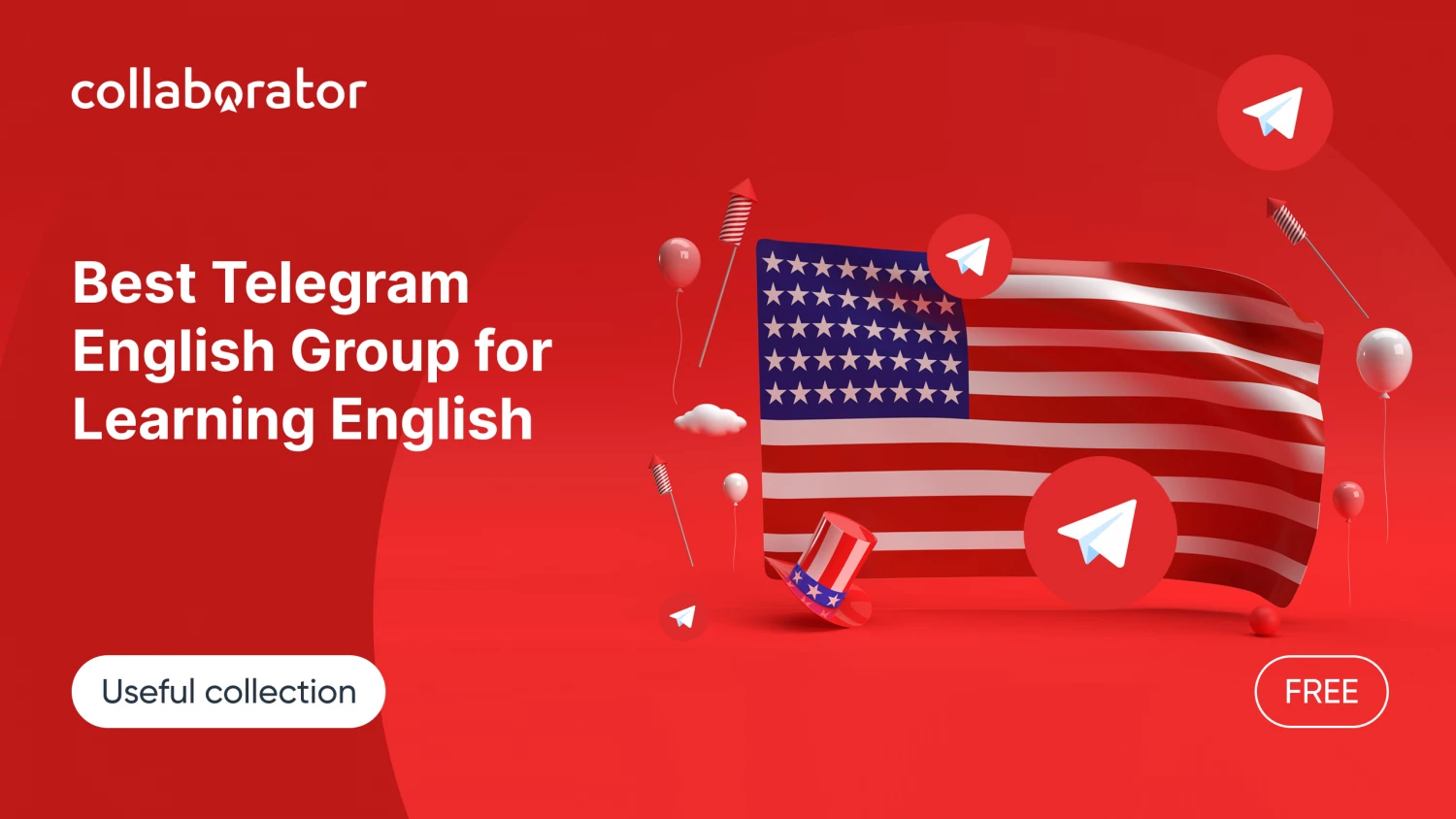 For members of the IT community learning professional and spoken English is a must-have. The urgency for Ukrainians has increased since February, as a significant part of projects and businesses began to change vectors en masse to Western markets. The article contains TOP-70 Telegram channels that will help you learn English in Telegram online at home, for free, and at your own pace.
Also read our article on how to promote business on Telegram.
The collection will be useful for marketers, content, and SEO professionals. Also, anyone who needs the language for work and communication, will find an English learning Telegram channel for himself.
Immerse yourself with us in the English-speaking community and culture of English-speaking countries. Learning English is mastering 4 basic skills: speaking, reading, writing, listening/comprehension.
If you manage to successfully balance these four skills, you can consider yourself almost native😊
Study our list of best Telegram channels for learning English and choose a comfortable format and author for yourself. It is based on the number of subscribers (as of May 2022).
In the finale you'll find a BONUS! Read on — and get a classified list of channels by topic and task.
Also read: How to use Telegram for marketing
Also read: TOP SEO Expert in the World: List of best SEO bloggers to follow to do SEO globally as a skilled specialist.
How to choose English practice Telegram groups?  
First of all, you need to determine your level and your own goals in learning English. You need a language: for work or study, to communicate with a native speaker for work or for fun. What areas of English do you need to improve: vocabulary, idioms, grammar, etc? After that, go through our list and choose the channels, groups, or bots in which you like the way the information is presented.
What to pay attention to:
how often the information is updated,
how the information is presented: official-business, neutral, entertaining,
does it cover any aspects other than language? For example, culture, media, etc,
are there examples of the use of vocabulary,
is there feedback? Some channels have separate groups for communication and questions.
Is it effective to learn English in Telegram?
Yes, effectively. However, it depends on the user's background. The use of Telegram channels and groups for language learning is more of an auxiliary practice for education and will be most effective for those who already have a certain level of knowledge. They help improve vocabulary, apply knowledge in practice, and expand the range of use of language constructions. If you need to learn a language from scratch, it is best to look for other options (teacher, courses), and leave Telegram channels to strengthen your knowledge and immerse yourself in the language environment.
Important: It is possible to achieve efficiency only with regular practice.
How to use the Telegram channel for English speaking?
In order for the subscription to the English learning channel to become your effective tool, you should remember the following:
set aside a certain amount of time for studying. For example, half an hour to process posts from channels,
after viewing a post, for example, with new words, immediately say them out loud and write them down,
 if possible, find examples of the use of a word/phrase or the application of a rule on your own,
tell new information to friends or colleagues — so you will remember it better.
Modern big brands and small online entrepreneurs use Telegram not only for personal purposes (learning or communication) but also for professional and business development.
So, if you run your own blog in this messenger, you can monetize Telegram channel with the Collaborator content marketplace. To do this, just register in the system and add your resource to our catalog. Among the main advantages: 
ease of communication with customers: directly in the system, without third persons, 
speed of deals execution, 
guarantees of payment and convenience of withdrawal of funds.
Collaborator can also be used as a Telegram ads platform. For those who have channels or promote third-party businesses in the messenger, it is easy to order advertising on relevant platforms with a live interested audience. In addition, advertising platforms are easy to filter by important parameters, and your ads will be published in a day or two.
Read also: How to Make Money on Telegram
Explore the possibilities of the Collaborator for your projects and use the capabilities of Telegram channels and groups to the maximum.
Telegram is an unusual and fascinating tool for acquiring knowledge in the modern world. The interactive platform allows you to transfer educational content in various formats: Telegram English speaking group, a channel with memes, or a bot that sends new words. This promotes greater involvement, engages different types of attention and memory, and directs the process in an important direction. Choose the best Telegram group for learning English for your own purposes. And use the opportunities of messenger to learn the language and reach the desired level in a short time.