How To Promote A Restaurant Online: 7 Strategies for Effective Digital Marketing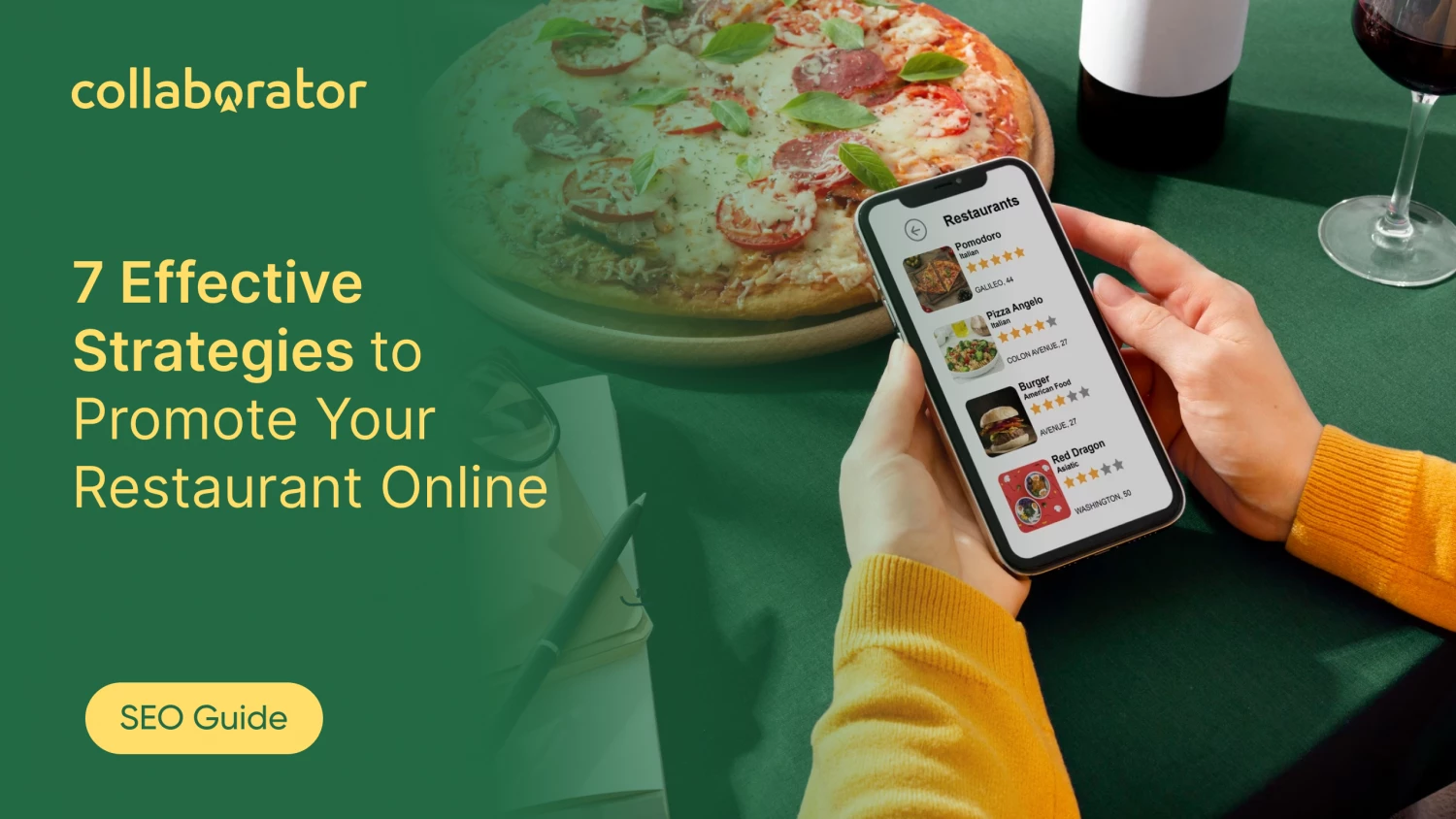 According to the Dining Trends Report, 80% of diners nearly always look at a restaurant's website before deciding on a new one (as of 2022). Based on the same stats, 41% of diners check out the new establishment's social media before giving it a try. With the dining prices getting higher and the competition becoming more fierce, you need a strong online presence for your business to grow and flourish.
How to create online advertising for restaurants that boosts your business? How to get to your prosper customers online and make them fall in love at first sight? Good news - we have a lot of tips and tricks we are willing to share with you. In this post, Poster experts will cover the basics of digital marketing for restaurants in 2023.
Disclaimer

All the tips and strategies mentioned in the article are general guidelines applicable to the food services industry. These recommendations should be tailored to the specific needs and goals of a given restaurant. We strongly encourage you to seek professional advice to discuss your unique business goals and needs in regard to online marketing for restaurants.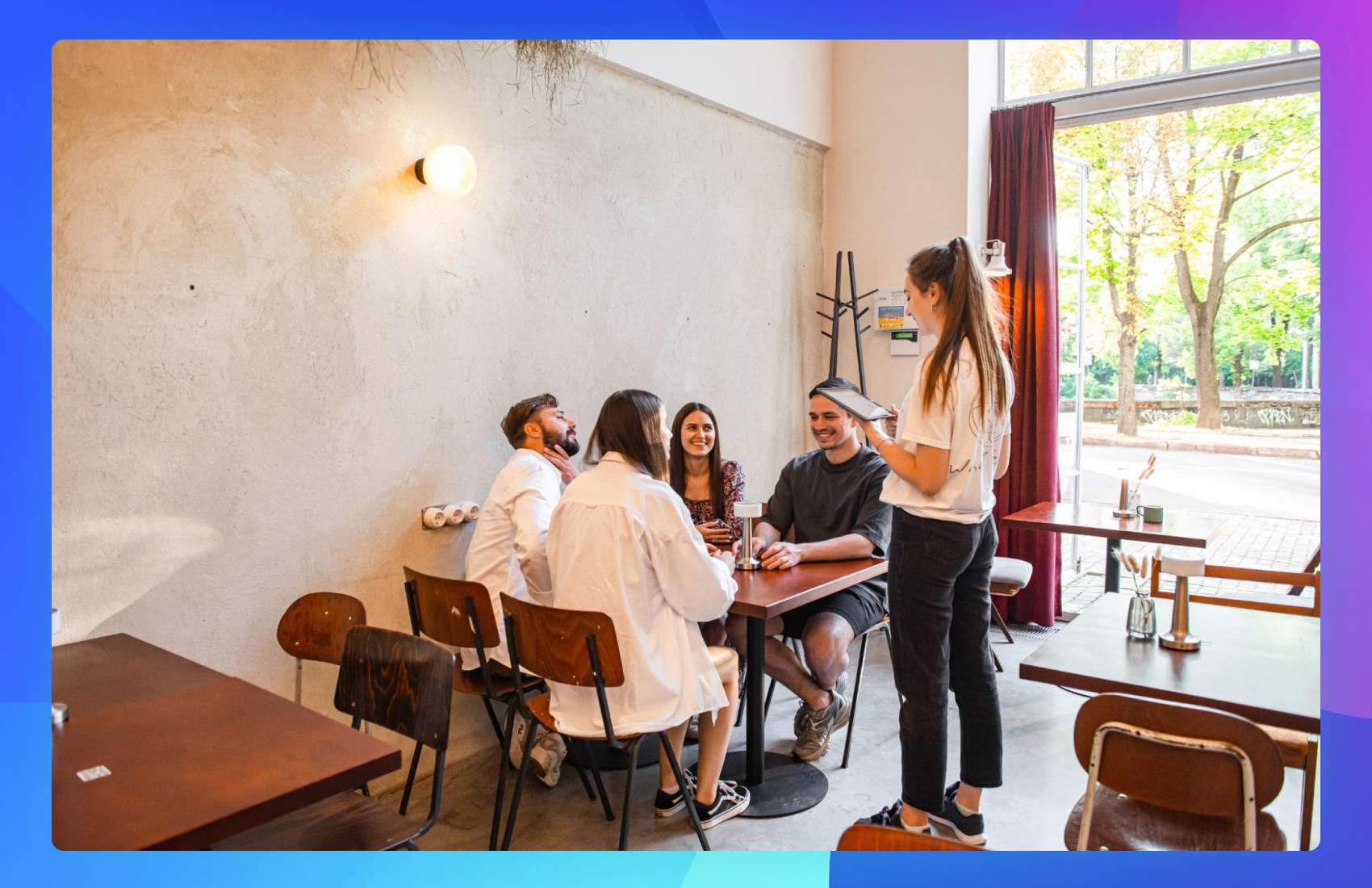 Know Your Audience
Whether you are working on a marketing strategy for an online food business or a local restaurant, the starting point is the same - study your audience carefully. Study the demographic characteristics of your target customers (the key parameters are age, sex, income, education, and geographical location). Also, learn behavior typical to your target audience (parameters like spending habits, digital behavior, buying habits, and so on). In addition to that, study the values and attitudes of the people you target.
A thorough analysis will help you understand how to promote a restaurant online in the best way. When you know who your customers are, what they love, and what habits they have, you will be able to center your business around providing the best experience for them in your restaurant. After all, the target market defines every step of your business plan, from menu decisions to staff hiring choices.
Benefits of Digital Marketing for Restaurants
Do you want to learn what benefits can restaurant digital marketing bring and how can it help your business grow? Let's jump right in and discuss how it can help increase brand awareness, reach a wider audience, generate more leads and bookings, build customer loyalty, and improve customer engagement.
Raise Brand Awareness and Recognition
First of all, restaurant marketing helps to raise brand awareness and recognition. With the help of online marketing, you can establish your brand identity, tell your narrative and share your story with a large number of people. You can build your reputation by sharing your values, showing the quality of your food, and boasting of customers that enjoy your establishment. By building your brand identity on social media you will be able to differentiate your establishment from the competition.
Tip: before promoting your restaurant on social media, ensure you have a unified vision of your brand and a clearly shaped brand identity.
Keep Your Customers Updated About Your Business
Similarly, restaurant online marketing helps to keep your present and potential customers updated on the life of your restaurant. After all, there is nothing more disappointing on a Friday night than coming to your favorite place only to discover your favorite items have been removed from the menu or the hours have changed. We strongly believe that having outdated information online undermines trust in the business and pushes customers to look further to get their needs met.
First off, keep your audience updated on your location, contact details, menu, and working hours. But that's not all! In addition to that, post timely updates about possible special offers, themed parties, changes of menu, promotions, and so on. Ensure that info about your business is unified across all of the platforms you use.
Reach Out to a Wide Audience
Digital marketing is vital for a restaurant that wants to expand its customer base within and beyond the local area. As the old saying goes, you eat with your eyes first. Show your potential customers what food you are offering, show happy customers enjoying your meals on a busy night, boast of ingredients growing on local farms before they get to your tables, etc.
The more your target audience sees you and hears about you, the more they are likely to give it a try. Naturally, people only want to buy from places they know or have a connection to.
Generate More Leads and Bookings
If you create engaging and original content on your social media on a regular basis, you will create a brand personality people will reach out to.
In other words, online marketing can make your restaurant more popular. With the help of social media, you can encourage people to make reservations at your place or order takeout from it. Email marketing can also help you generate leads in times of special offers and promotions. 
All in all, skillful and thoughtful restaurant advertisement and marketing online can drive traffic to your website and social media and turn leads into guests.
Build Customer Loyalty
With the help of restaurant marketing campaigns, you can increase customer loyalty. You can launch campaigns to encourage people who already tried your restaurant to come back more often. Inform your audience about the rewards they can get when doing regular business with you.
Let's see exactly how this works: you can send information about your loyalty programs to your customers via email, remind them of the points and bonuses they accumulate, and send coupons for discounts or free menu items. 
Improve Customer Engagement
To top it off, restaurant promotion online helps a business to improve customer engagement. If you are online, you can communicate with your customers in real time, answer any questions your potential guests have, inform them about your business, and share your updates in a way that attracts your audience.
As you go on with your marketing efforts, you see what strategies bring better results and what decisions gain more traction. This way, you can study your customers to serve their needs best.
Sounds impressive, right? So, let's jump right in and discuss 7 effective strategies to promote your restaurant online in 2023.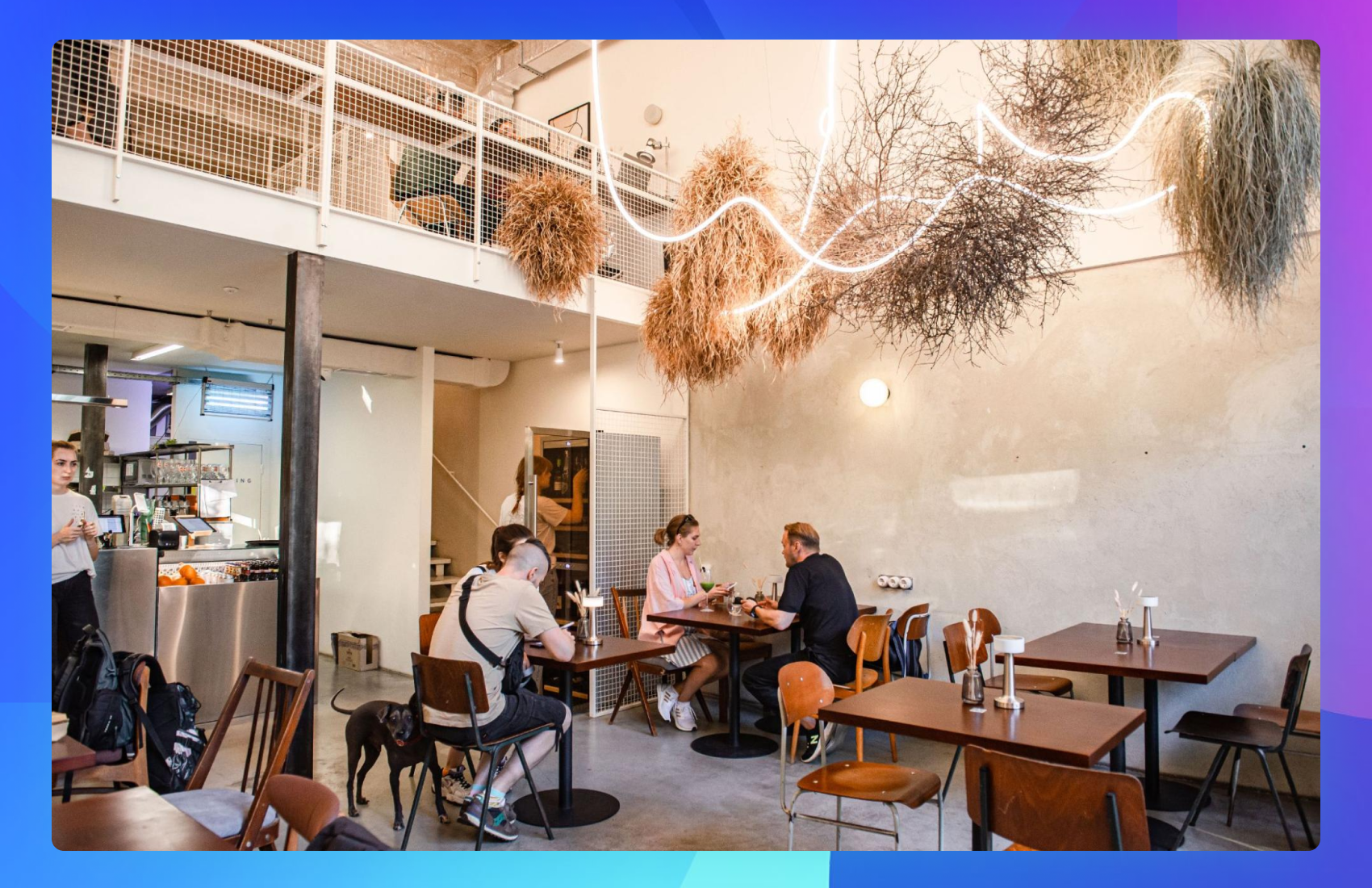 7 Effective Digital Marketing Strategies for Your Restaurant
Create a Professional Website
If we had to choose one restaurant marketing tip, that would be it - make a website that looks and works well. In 2023, your storefront is not what most of your customers check out first before deciding to give your business a try.
Perfect your website so that it is informative, intuitive, up-to-date, and mobile-friendly. In general, the layout of your website should be visually appealing, the navigation should be easy and the responsiveness to different devices, mobile or desktop, should be perfect.
Make sure visitors can easily find your menu, opening hours, contacts, and location. Publish information about your special offers and promotions on your website to get even more traction for your business. Add high-quality pictures of your establishment, tasty dishes, and happy staff serving customers having fun on a busy night. Visualization is crucial for conveying your vibe online, and your website is a perfect place to do it.
If you already have a well-functioning website, you can facilitate it by adding an online ordering system directly to your website. This way, you will be able to capture orders directly. Make sure ordering from your website directly is a hassle-free experience.
Optimize the website for search engines (SEO) to increase visibility in online searches. In order to reach this goal, post high-quality information that is interesting and valuable for your target audience. Keep posting content that is valuable to your audience and SEO-friendly at the same time on a regular basis. Also, use the Google webmaster tool to identify errors your website might have and fix them. Next, use relevant keywords in your website content. Make sure your guests can easily share something from your website to their social media.
To improve your website's visibility and credibility in search engine results, you can implement the best link building strategies, including guest posting. You have two ways to implement this SEO strategy:
Search for relevant websites (paid or free guest posting sites), find contact information, and communicate with their owners in an attempt to agree on publication by yourself. If you choose this way, you should know how to make your outreach effective.
Use special platforms like Collaborator. This approach saves you lots of time on searching as you get access to a catalog of websites accepting guest posts and press releases and don't need to search for them on the web. When you use the Collaborator platform, you get a number of benefits:
Ever-growing catalog of websites from various niches and countries;
Over 40 parameters are available in a filter, which makes it easy and fast to find the right site for your project;
Fast publication (most deals are completed within 48 hours);
Insurance from deletion and non-indexation.
All in all, the work on a business website is never done, but as you reach the quality and visibility your customers and Google appreciate, you can move on to the next step.
Utilize Social Media
​​Here's the deal: social media presence and visibility are vital for growing and engaging your customer base. Nowadays, people are more digitally oriented than ever, so to win their attention, you need to create a strong social media identity. 
At this point, a social media presence has different purposes, allowing a restaurant business to:
drastically increase business visibility;
reach out to a wide target audience;
convey the business mission, values, and benefits;
show legitimacy and professionalism;
communicate with the audience directly;
show your foods and restaurant in the most appealing way.
Usually, restaurants choose the most popular platforms like Facebook, Instagram, Twitter, LinkedIn, and TikTok. Some invest in longer content and post cooking videos on YouTube.
Tip: don't try to be in all of the places at the same time. It is unlikely that you will be able to handle a bunch of social media channels at the same quality level. The good news is you don't even have to try. If you know your audience well, the best you can do is choose up to three social media channels to connect with them. Usually, restaurant owners find it best to market and advertise their business on Facebook and Instagram, further going to TikTok, LinkedIn, or Twitter if it makes sense to them. 
The start is easy. Create your business profiles that look legitimate and professional. Make sure to add your basic info, location, hours, contact details, and a link to your website. If your website has a direct ordering system, add a link to it to your social media. Post high-quality visuals of the food you offer, your menu, and your location vibe.
How to run social media for a restaurant from there? On Instagram, you need to put the aesthetics of your profile first. It's a good idea to have a professional photographer at hand to tell the story of your brand beautifully and consistently. Encourage your audience to follow you on the app, comment and repost posts you are tagged in, and create polls and contests for your followers to boost engagement. It's always a good idea to partner up with local influencers to increase the visibility of your restaurant.
On Facebook, you don't have to post so often compared to Instagram, and you don't have to polish the visual aesthetics as much. On this platform, you need to set up a "Local Business or Place" account, fill in all the information and add your online ordering links. It should be enough to post regularly as you have promotions, special offers, or any changes you would like to notify your clients of.
TikTok is quite different when it comes to marketing. Here you can show your brand's personality in the form of short videos. Here are a few ideas that you can post: new menu items, showing your vibe on a busy night or a themed party, showing the top skills of your cooks, and taking part in the challenges on the platform. Don't hesitate to repost your TikToks to Instagram reels.
You can also create a Telegram channel and share your company news, updates, and so on with subscribers. You can also cooperate with the owners of other channels to promote your business. Collaborator can also help you here: it has over a thousand trusted Telegram channels with engaged audiences in its catalog. On this platform, you can order a post in any platform relevant to your industry in just one click.  
In general, there is no manual on how to market a restaurant on social media, and the steps you need to take will change as you learn more about your audience as well as the trends of the platform change.
Tip: when you have social media channels where customers leave reviews and comments, make sure you react to them timely and professionally. Thank your guests for their positive comments. But most importantly, show your audience that you can react to negative comments and solve issues right away. When you get a negative comment, reply to it professionally and offer the guest to get the solution offline. 
For instance, you can inform an unhappy customer that you now have more waiters on a busy night to avoid long waiting times, accept more payment options, have options for a particular diet need, and so on. Next, invite this very customer to come again and let you provide them with a positive experience at your restaurant. With every social media platform you use, it is important to interact and communicate with your audience professionally. This will allow you to build a strong online community.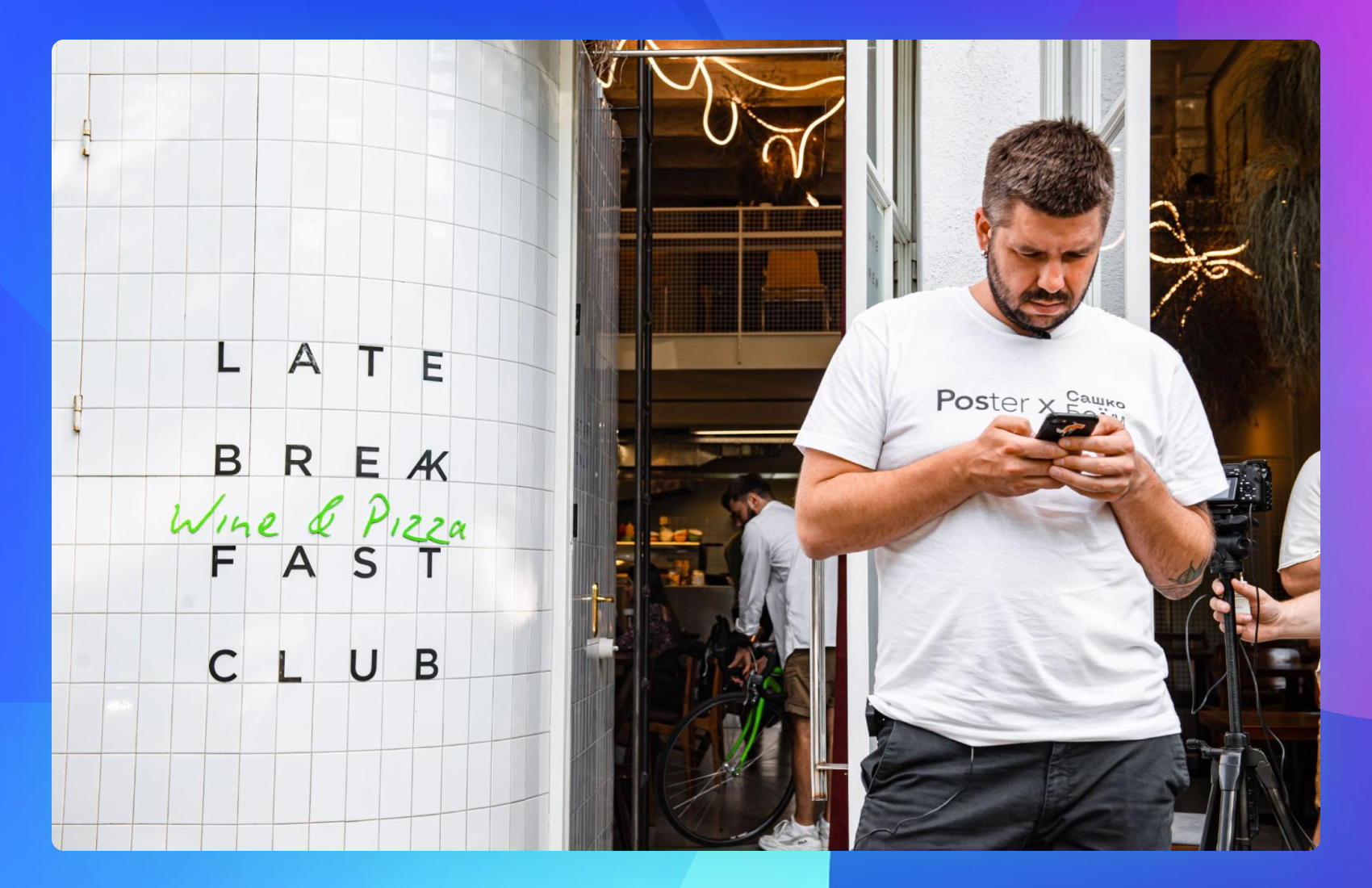 Leverage Online Advertising
Online marketing is free and available to everyone. Yet, to get the most out of your marketing efforts, you will need to invest in paid ads from time to time. Online advertising can do so much for your business.
Here are the main benefits you can get when advertising your business online:
Build brand awareness
Stand out in the competition
Persuade customers to try your food on-sight or get it delivered
Boost sales and profit
Restaurant owners usually explore various advertising options such as Google Ads, Facebook Ads, Instagram Ads, TikTok Ads, etc. 
Here are our tips on running a successful ad campaign online:
Before launching an online ad campaign, make sure your website and social media are well-organized, appealing, and informative.
Set clear goals for your ads (for instance, increase sales, raise brand awareness, and grow your social media following).
Choose an advertising channel that can help you reach the desired goal better.
Always use location targeting in your ads to avoid paying for irrelevant clicks. 
Choose the right time for your ad campaign (for instance, around lunch, when most of your target audience is already thinking of a meal option and boom, you're there).
Study your ad analytics carefully to see if you meet your campaign goals and optimize your ads after you launch them to drive better results.
Launching a pilot ad campaign for your restaurant is just the beginning. As you grasp how to advertise a restaurant on social media, you can experiment with your ad settings, targeting, budget, and so on. The main thing here is to keep a close eye on your ad analytics at all times to make sure you are paying for reaching your campaign goals. 
Implement Email Marketing
A digital marketing strategy for restaurants usually incorporates email marketing. It is one of the best tools to get in touch with your audience, share promotions, special offers, and discounts, and drive repeat visits and online orders. Email is a great place to have a conversation with your customers about seasonal menu changes, a new chef you hired, happy hour promotions, loyalty program details, birthday greetings, surveys, etc. Don't forget to include your contacts and online ordering link in your emails.
How to promote a restaurant via email effectively? Firstly, you need to get a subscription base for your newsletter. You can achieve this goal with the help of your social media, ad campaigns, affiliate websites, and on-sight, for instance, when you hold themed lotteries and collect your guest's business cards into a fishbowl. You can encourage your repeat visitors to subscribe to your newsletter as well by offering them a treat or a discount when they do. 
Segment your audience based on the type of content you will send out. Automate your email chains so that each recipient receives a timely and relevant message from you. For instance, welcome emails to new subscribers, birthday discounts and promotions, and coupons for loyal visitors whom you haven't seen in a while, and so on.
Tip: don't flood your recipient's inboxes, show that you appreciate your guests by respecting their digital space and reaching out only when you have something important to say. We believe there's no need to send weekly emails just to remind recipients of your business. If your email doesn't have any valuable info, your guests will simply stop opening them.
So, how do you write an email that promotes your restaurant business best? Start your email with a tasty subject line that makes your audience open and read your email. Personalization comes next. You can use your customers' names, favorite dishes or drinks, birth dates, and other information they shared with you to send personalized emails that will be interesting to them. 
Also, keep your branding consistent and recognizable, so that your recipients recognize your business immediately. Optimize your emails with A/B testing to see which subject lines, sending times, offers and other options gain more traction. And last, but not least - add your social media and ordering links to every email.
Update Your Google Business Profile
Google Business account, formerly known as Google My Business, is a virtual storefront for a restaurant. On this profile, you can show your customers your business details like location, working hours, contacts, and website link. Include the right keywords in your restaurant's description (added via the Google Business Profile dashboard) to increase visibility. Make sure to fill in all the information fields available on the profile. Include information about any amenities you have, like parking, indoor and outdoor seating areas, air conditioning, Wi-Fi, wheelchair access, children's area, board games, etc.
If you're a restaurant owner, you know how important visibility is for your business. Your customers are on Google every day, searching for places. Make it easy for them to find you and like what they see! The first thing you need to stand out among other businesses on Google is to add high-quality images of your food, menu, and location. Then, you need to earn as many 5-star reviews from happy customers as you can. The more top ratings you have, the better visibility in online searches your place will have. 
Encourage your customers to leave you reviews on your Google Business profile. You can do it by sending follow-up messages to your customers after they place an order with you, asking them on social media, or in person after they had a pleasant time at your restaurant. When you ask your customers to leave reviews, you should dedicate time to read them and respond professionally. Thank your clients for their positive reviews and respond to any concerns they may have, so that they know you care and want to deliver the best dining experience possible. 
Encourage Online Reviews and Testimonials
We've already talked about this briefly when we discussed how to promote a restaurant on social media and Google. And yet we can't stress enough the importance of using customer testimonials for the marketing of your restaurant.
People look for the credibility of a restaurant online. According to a BrightLocal survey, 88% of consumers pick a business if the owner responds to all reviews, positive and negative. What's more, the same stats suggest that only 19% of consumers did not leave a review after being prompted to do so by a business, so don't hesitate to ask.
How to encourage customers to leave reviews? Social media is an excellent place to start. You can ask your followers to provide feedback in the form of reviews on the platforms you suggest. For the restaurant industry, the most popular review sites are Google, Yelp, and TripAdvisor. 
After one completes their reservation at your restaurant or orders from it online, you can send them a short text or an email asking them to rate your service, followed by a link.
Next, you can put stickers, cards, and displays showing your presence and rating on different reviewing platforms. Showing your real score adds to the legitimacy of your business and gives your visitors a slight prompt to make their contribution as well. As your guests finish their meal, a waiter can politely ask them to leave a review as well.
All the best practices for responding to reviews boil down to this: respond promptly, professionally, and friendly. Show gratitude for positive reviews and say you will be expecting your guests again soon. Respond to negative reviews immediately and inform the author as well as the rest of the readers how you resolve the issue most promptly. Make sure to apologize and invite the unhappy customer again to take the conversation offline and show them that you can provide a happier experience.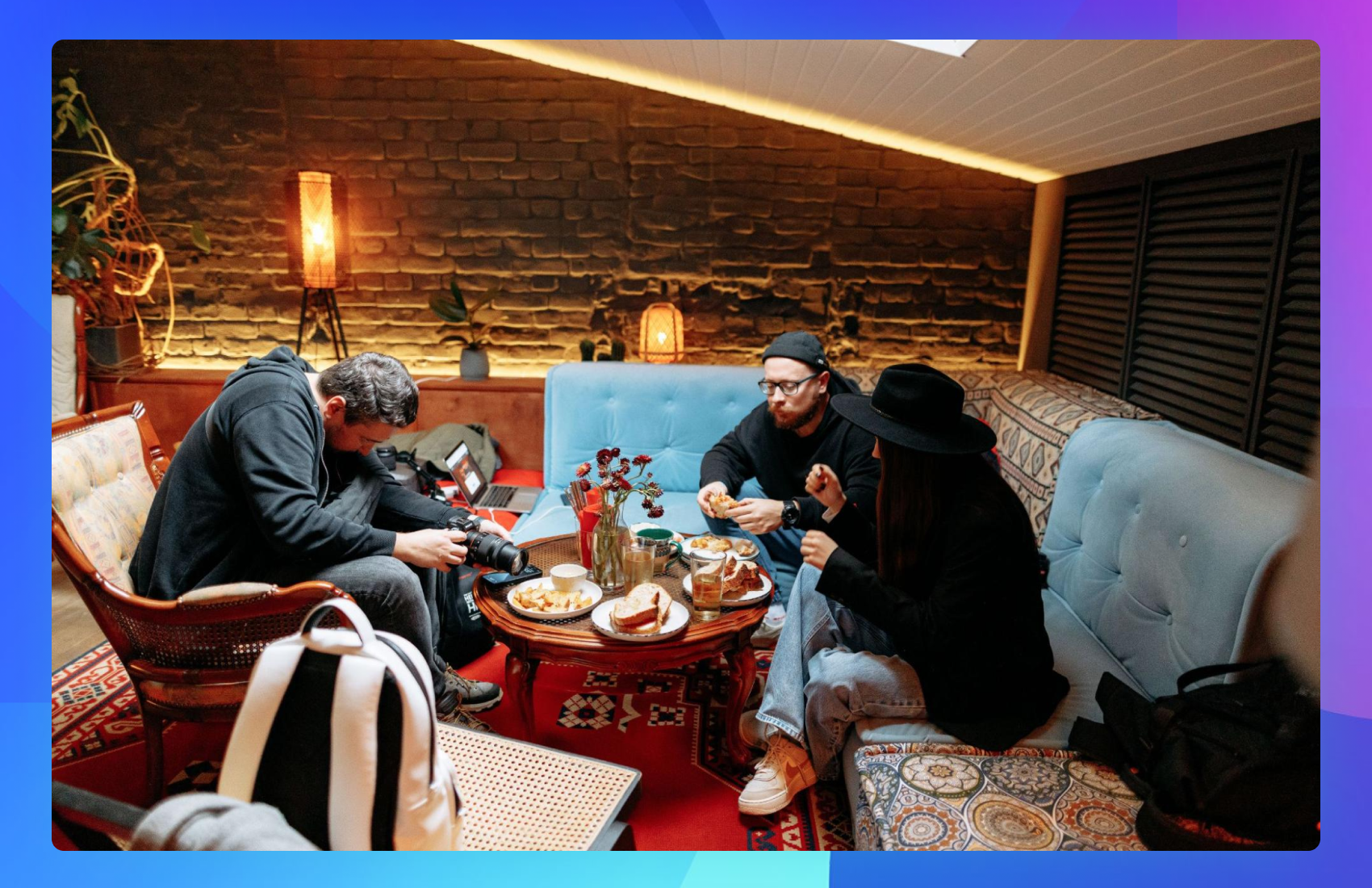 Collaborate With Influencers and Bloggers
One of the best ways to market a restaurant on social media is to collaborate with influencers and bloggers. The trend of influencer marketing is only growing and everyone else is using it, so why not leverage it for the promotion of your restaurant?
What are the benefits of influencer marketing? To start with, it helps you increase brand awareness. Next, it allows you to build trust with your customers and increase your sales. What's more, it allows you to save time on advertising (you agree on promotions and their details with the influencers, and they do the work).
How to identify relevant influencers and bloggers in the food and hospitality industry? Firstly, you should know there are two types of influencers - macro-influencers and micro-influencers. Macro-influencers are bloggers with a massive following, known way beyond your region or even state. Usually, advertising with such bloggers is quite pricey. Micro-influencers, on the other hand, can have fewer followers but a more closely-knit community. Local micro-influencers can offer more affordable advertising options compared to macro-influencers and help you get more leads from the local community. Reaching out to your local micro-influencers is often the best way to promote the food business. 
You can search for the influencers on your own on social media. Check not only the following but the engagement of the audience. Also, make sure that the values of the influencer coincide with those of your business. Next, reach out to the chosen influencers from your business account to see if you can cooperate. Define clear goals of cooperation (increase brand awareness, drive website traffic, or boost sales), brief the influencer on your campaign, be clear about your expectations, and monitor and measure the success of your marketing campaign. 
To get influencers of a different scale to promote your business, make sure you are appealing to them! It means you should have excellent service, a great atmosphere, and tasty food. Some restaurants take a step further and create Insta-spaces in their locations to make their business attractive to bloggers. For instance, take a look at this inspiring selection of the best floral walls to see in the UK.
Conclusion
In this post, we discussed how to do social media marketing for restaurants. As you know now, social media is a great place to raise brand awareness and recognition, update your customers about your business, reach out to a wide audience, generate leads, build customer loyalty, and boost customer engagement. Platforms like Instagram, Facebook, and TikTok can help you get the most out of your marketing efforts. Partnering up with local and large-scale influencers can help you get better visibility, credibility, more visitors, and sales.
While social media is fun and popular, don't forget about the Google Business profile of your restaurant. Make sure your profile has all the needed info, links, and high-quality images of your business that attract you at first sight. Good old online marketing is also your friend in restaurant marketing, as long as you don't flood your recipient's inbox and share only valuable info.
And last, but not least - read your reviews, respond to them professionally, and don't hesitate for more. 
So take the next step and try implementing the tips and strategies discussed in the article to effectively promote your restaurant business online and stay ahead in the competitive food industry.